Do you want your dog to roam free without running outside the safe boundaries? Do you want to establish the safety sense in your dog even from a distance? With the WhiskFub, you get 2-in-1 benefits – a wireless, invisible fence, and a remote dog training collar to help your dog stay in the safe areas!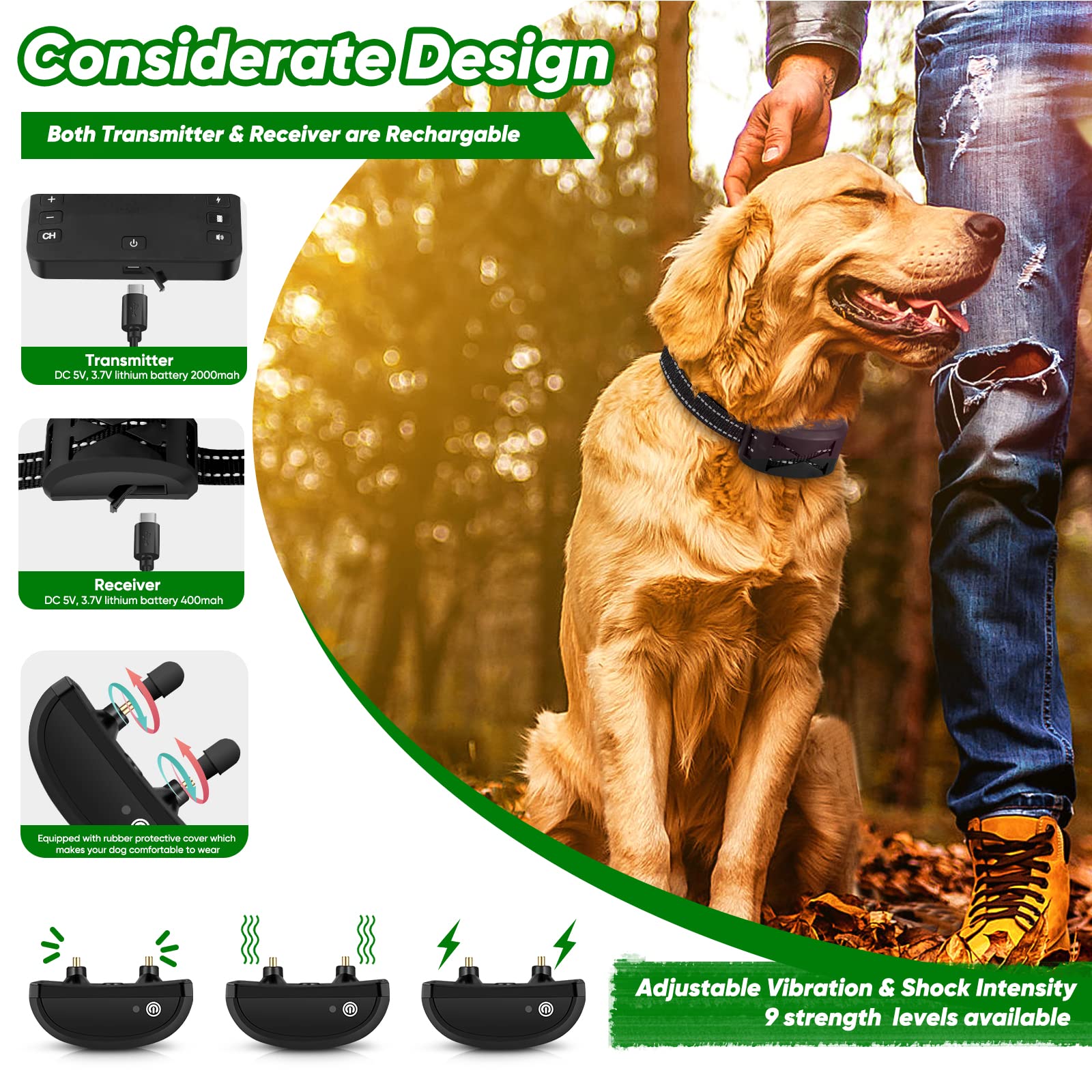 WhiskFub Wireless and Invisible Dog Fence Features
If your dog is prone to running into dangerous areas, the WhiskFub will keep him secured even without you having to whistle or scream! 
✅The WhiskFub comes with 16 levels of distance that you can adjust based on how wide you want the coverage to be. 
This invisible dog fence has a signal range of 30-800 feet. You have the choice how wide you want the coverage to be. 
The WhiskFub can cover an entire yard! 
✅Expert-designed invisible dog fence that has topnotch accuracy – no more accidents to worry about. We hear you, furparents. You're worried that the device will fail and your dog will accidentally wander off! The good news is that WhiskFub is actually designed to ensure the fences work 100% all the time. 
The fences now come with 2.4GHz Signal Source which is much more accurate and stable than other old WIFI signal transmission. No fail signals ensure no glitch can cause accidents. 
✅Sends a distinct warning tone and low-current sensation to your dog to alert them when they're near hazard zones. 
Your dog will instantly get a distinct, recognizable sensation that tells them they're reaching the off-limits zone. This sensation will help train them avoid dangerous areas. 
✅You can train multiple dogs with just one signal source. 
The WhiskFub can control up to 3 remote collars. These collars work for both big and small dogs. 
WhiskFub Remote Training Collar Features
Train your little dogs and adult furpets with ease with the WhiskFub. 
The remote training collar with 3 modes you can fit for your dogs' training. 
You can choose from beep, vibration, and shock – each option is suited for training either beginner or advanced dogs. 
The shock mode comes with a low-current sensation of static electricity that won't hurt your dog. You can adjust intensity up to 9 levels.
Equipped with rubber protective cover which makes your dog comfortable while wearing the collar. 
The collar won't cause blisters to your dog's skin. 
Chargeable and Waterproof Collar
Both transmitter and receiver collar are rechargeable and made of IPX6 waterproof material, which means your dog can get wet in the grass, mess with the sprinkler or play in the rain with this wireless training collar.
Modes
Mode 1: Wireless Dog Fence Syestem
Set a range on the transmitter,then put the receiver collar on dog's neck.
When dogs are out of the setting range, the receiver collar will make a warning tone – vibration and then shock to remind your dog to go back.
The receiver collar will switch to standby mode if it does not work for 5 minutes.
Mode 2: Remote Dog Training
Under Dog Training Mode, one transmitter can control up to 3 dogs at the same time.
There are 3 functions could be chosen from the panel directly: Sound, Vibration & Shock.
Vibration and Shock have 3 intense levels to adjust.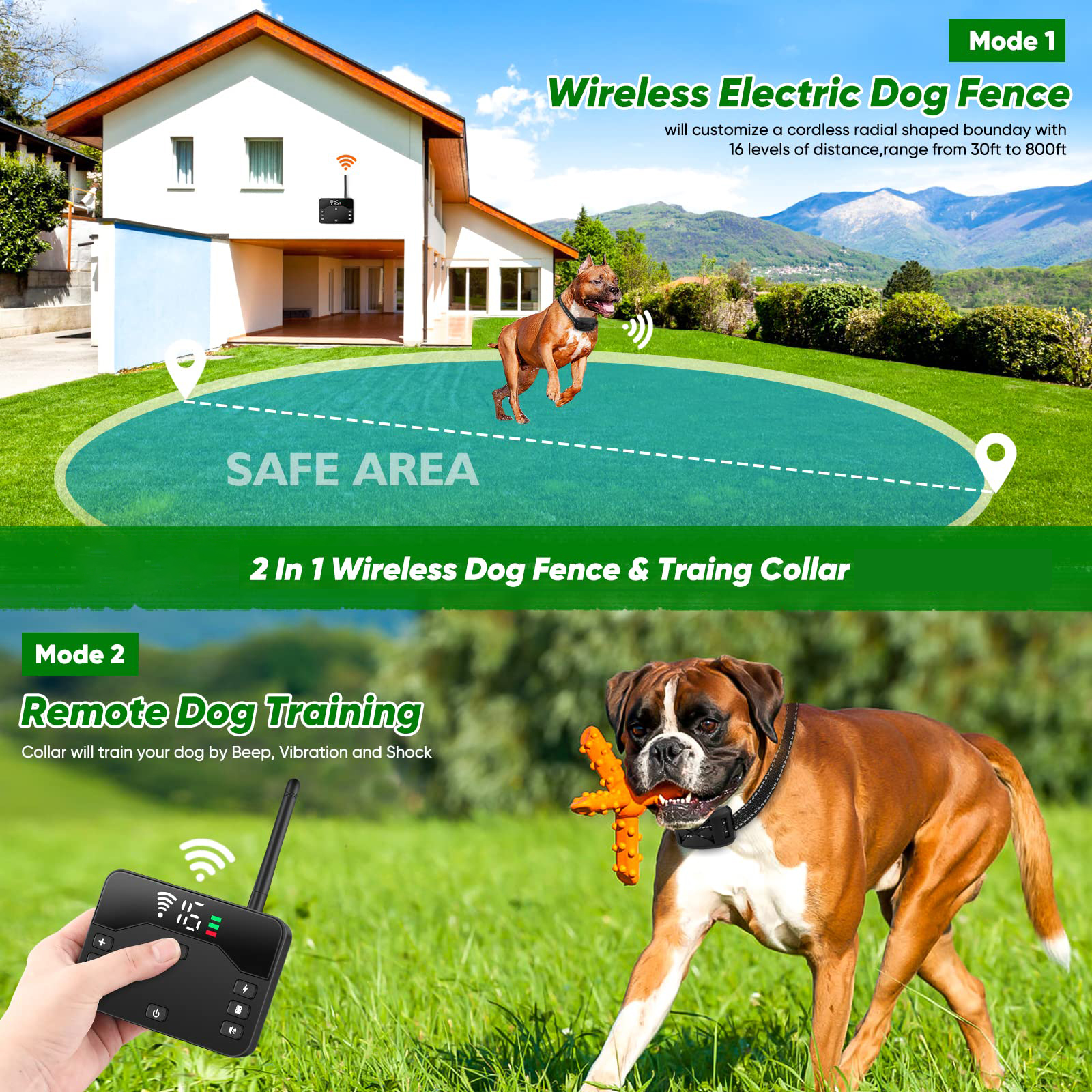 Specifications:
Material: ABS
Waterproof grade: IPX6
Transmitter: 3.7V2000MAH
Receiver: 3.7V400MAH
Fit Type: 15-120LBS
Intensity: 0-9 files adjustable
Controllable range: 10-300 meters
Operation Mode: Sound + Vibration + Electric Shock
Package includes:
1 x Wireless fence main unit
1 x Dog collar receiver
1 x Test light
1 x Charging cable
1 x English manual