BoundaNyn: Creating safe boundaries for your dogs to play
Are your dogs free-spirited? Do they love to run free, swishing grass and dirt along the way? If you enjoy seeing your furbabies have the time of their lives on the ground, you're also wondering how to keep them safe while they run outdoors. Installing a permanent fencing system can take a lot of time and money! So how do you keep your dogs from running into trouble while they're enjoying the time of their lives? Simple – with BoundaNyn Invisible Electric Dog Fence.
The BoundaNyn is your quick and easy solution in creating a safe space for your dogs to play, lounge, and explore. This invisible pet fence system is way cheaper than traditional fences, yet outperforms in terms of establishing consistent and predictable boundaries for your furry friends.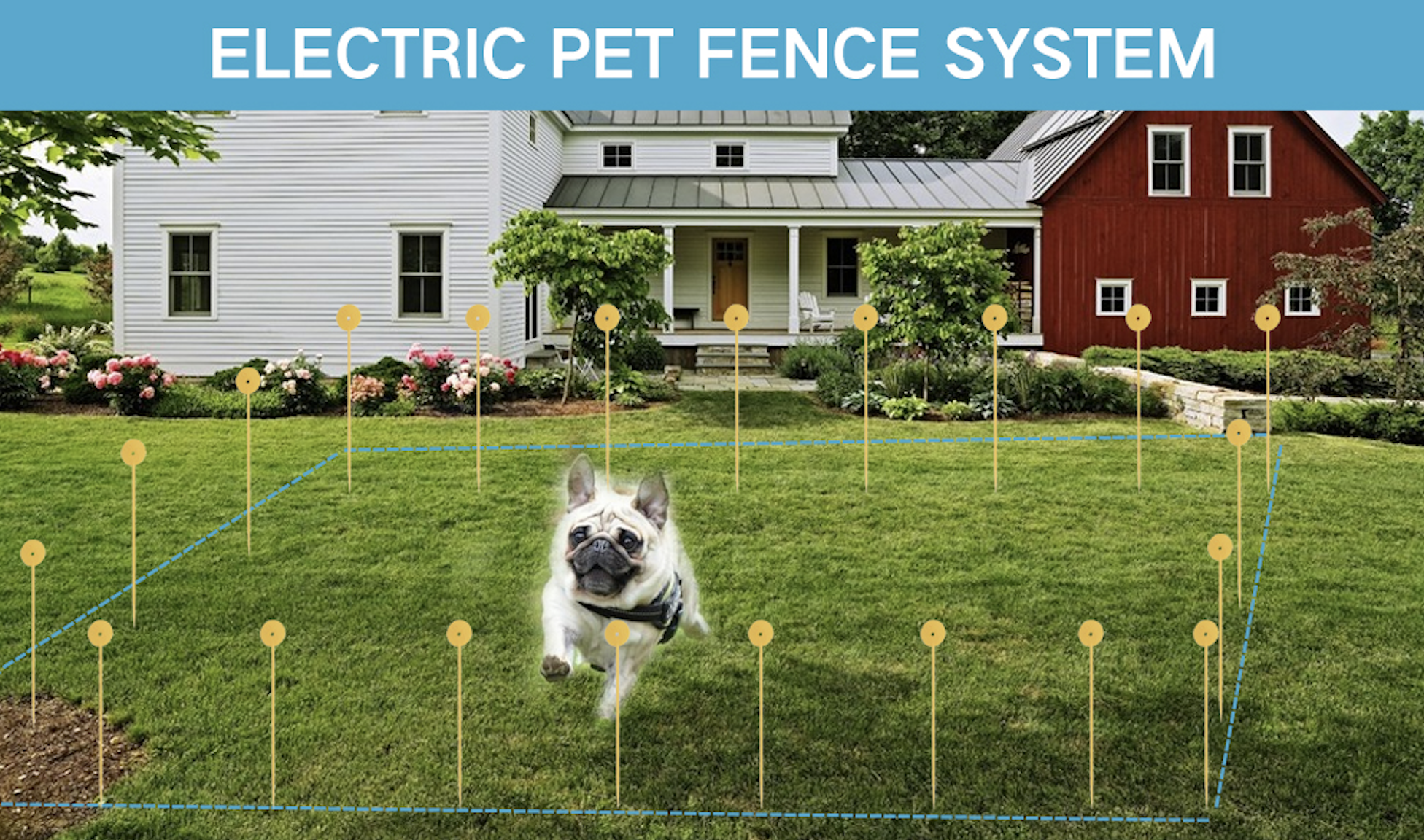 Equipped with vibration alerts to prevent dogs from crossing the boundaries
The BoundaNyn offers up to 7 alert systems, including tone-only mode, to help notify your dog that they're approaching a danger zone. It functions similar to constructive behavior training that uses static correction to modify a dog's behavior.
How does the BoundaNyn work? Well, simple…
When the dog approaches the border, the device will sound off its first warning.
If your dog continues to approach the boundary, the system will make a slight impact to notify them it's off-limits.
Designed with high-tech features, the sensations of vibration will get stronger as your dog attempts to come closer to the invisible fence. This sensation will be new to them and will make them feel that they'll be stepping into a dangerous and unfamiliar zone if they will continue.
Designed for all types of dogs and breeds
Do you have a more active dog than most? The faster the dog moves, the higher the level of intensity. This device offers a wide range of control. You can monitor a dog's safety for up to 5,000 square meters, equivalent to a football field. The device's scope is big, and caters to a wide variable range, and is quite flexible.
A device dedicated to dog's safety and security
The BoundaNyn is all about your dog's safety. From preventing them from straying away to providing top-notch security to ensuring a nice and comfortable fit—this device has it all.
How can BoundaNyn keep your dog safe?
In-Ground System: The BoundaNyn buried wires to create boundaries, which is suitable for both flat and inconsistent areas like slopes.
Customized Boundaries: Create your dog's safe space according to your property's area. You can either set circular or custom-shaped perimeters to prevent blind spots.
Wire Damage Protection: Once the buried wires are damaged, the wire damage indicator will give a loud warning and flash to notify you.
Lightning Protection: This feature on the device's converter prevents lightning strikes and dog electrocution.
With BoundaNyn, your dog will naturally seek to avoid correction and will be content staying within established boundaries. This will train your dogs to know where to stay.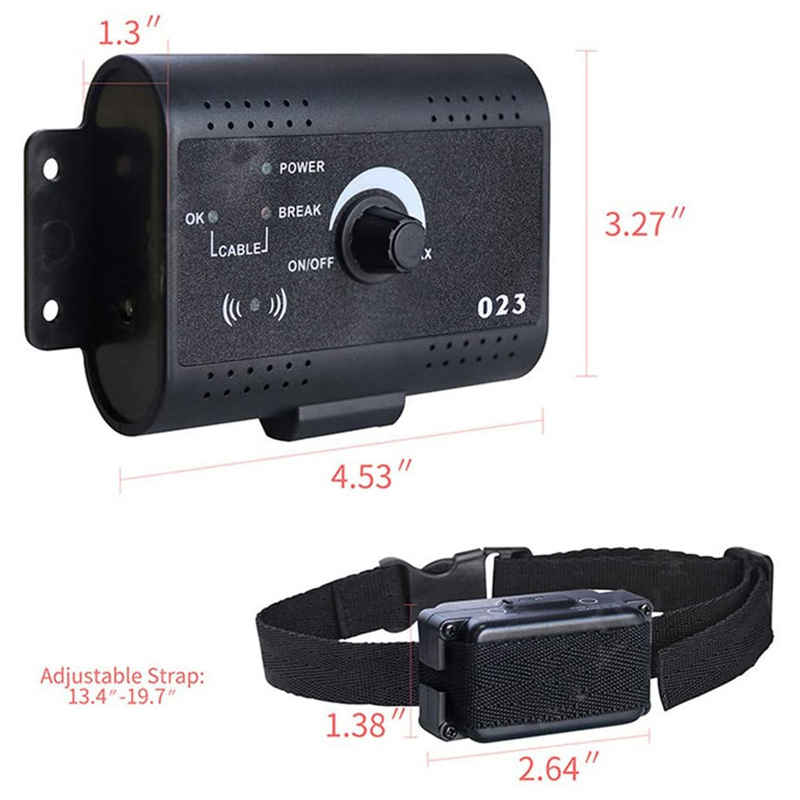 Features and Benefits:
Can service-wide areas of up to 5,000 sq meters. Yes, you read that right – this device can set safe boundaries for your dogs inside an area as big as a football field. The sensor's area of coverage is totally customizable and you can set the perimeter that is appropriate for the size of your yard.
Comes with a pet collar that is suitable and adjustable for all dog sizes! Dogs 8 lbs. and up with neck sizes from 8 to 20 inches (Small/Medium/Large/Extra Large Dogs). Each collar will vary slightly vary in overall sensitivity (the larger and active the dog, the higher the sensitivity is).
Delivers a safe warning. The BoundaNyn delicately trains your dogs. The low current sensation that your dogs will feel is not painful or harmful—it's just enough to keep them alert that they're about to step out of boundaries.
Features a collar system that works for 2-3 dogs. Do you have several dogs at home? Don't worry – they will all get covered. The BoundaNyn's transmitter can accommodate up to 4 collars so that you can ensure all your dogs will be safe, protected, and happy to run free outdoors.
Water-resistant and rainproof collar receiver. The receiver delivers safe static correction shock stimulation when your pet strays into the warning zone. And with its high-end technology, no walls or bad weather can interfere to ensure your dogs are 24/7 protected.
The device that will not leave you blindsided when it comes to pet safety. The last thing you have to worry about is missing any errors or wire breaks on the device that could cause harm to your dogs. When there's an issue on the device or wire concerns come up, the device will send you a real-time alarm.
Functions:
Progressive Tone Stimulus – A warning tone will be issued first, then a shock stimulus if your dog continues to move closer to the boundary.
Pulsed Proportional Stimulus – The closer your pet gets to the boundary, the more intense the shock.
Power Boost Switch – The warning's width can be adjusted using the field width adjustment knob in the transmitter.
Audio Wire Break Alarm – The system's control center has an audible alarm to alert you if it senses a break in the wire or if the boundary system is not functioning correctly.
Speed Detect Anti-Run Through – The faster your dog is moving, the quicker and higher the level of intensity is issued.
Visual Wire Break Alarm – The system's control center will sound an alarm if it senses a break in the wire.
Quick Disconnect Terminals – This alarm notifies a quick and secure connection or disconnection of the wire to the control center.
Low Battery Indicator – When the light on the collar is green, it is working properly.
Red means time to replace the battery.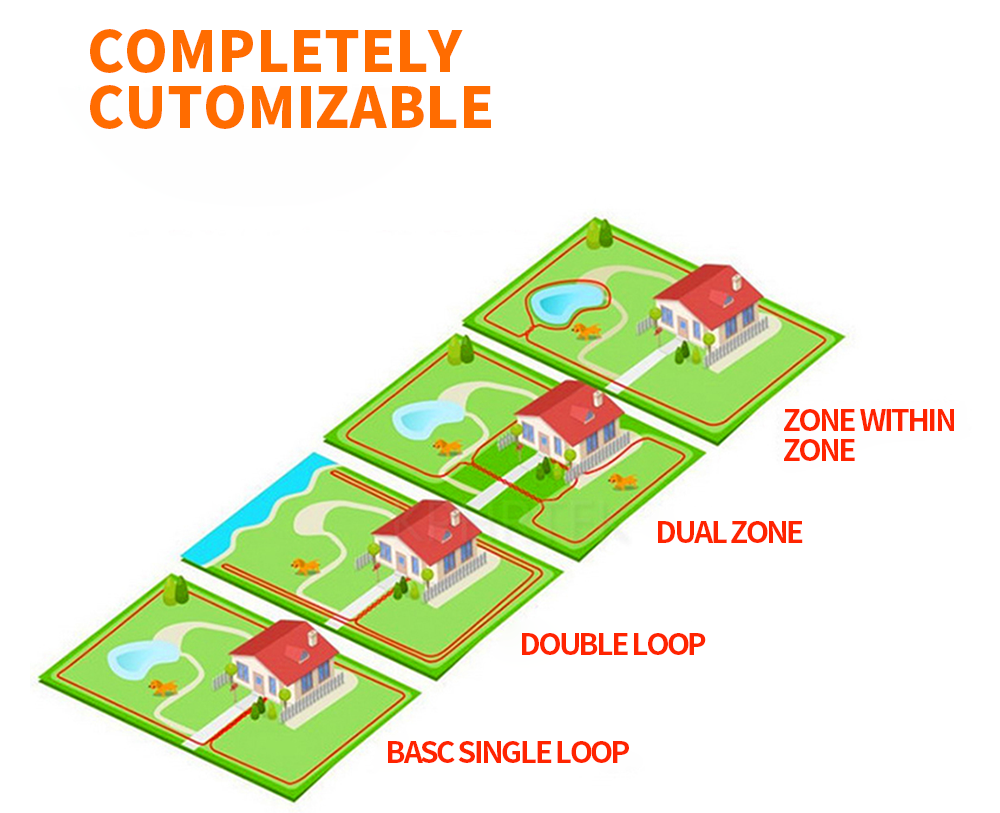 Customize how your dog's safe space according to your property's area or preference to ensure all-day protection. Since the BoundaNyn uses buried wires to create an invisible fence, you can follow different set-up methods.
Basic Single Loop: This installation circles the entire area of your property in one single loop.
Double Loop: This method is effective in preventing your dog from jumping over the invisible fence. One loop is on the top of the fence, while the other is on the bottom to ensure your stay within perimeters.
Dual Zone: This setup is used to create specific access to where you want your dog to play. It locks both the front and backyard so that you can choose which part your dog can stay.
The Zone within Zone: This method is effective in creating exclusion zones or areas you don't want your dog to access, like pools, gardens, etc.
How it works:
Wall-mounted transmitter: The transmitter is the central controller to the entire electronic system. Make sure the wire is set to a loop.
The receiver collar: Receiver (collar) will make a warning beep first and then fire a continuous stimulation if your dog attempts to approach the wire boundary.
How to install the system:
Design your containment area and calculate the amount of wire needed.
Install the wall transmitter.
Layout the perimeter wire.
Connect the perimeter wire to the wall transmitter.
Verify the transmitter is functioning without a problem.
Set up the receiver and then, test the containment system and adjust the field width.
Install the boundary wire and training flags.
Fit collars to your dogs and train your dogs.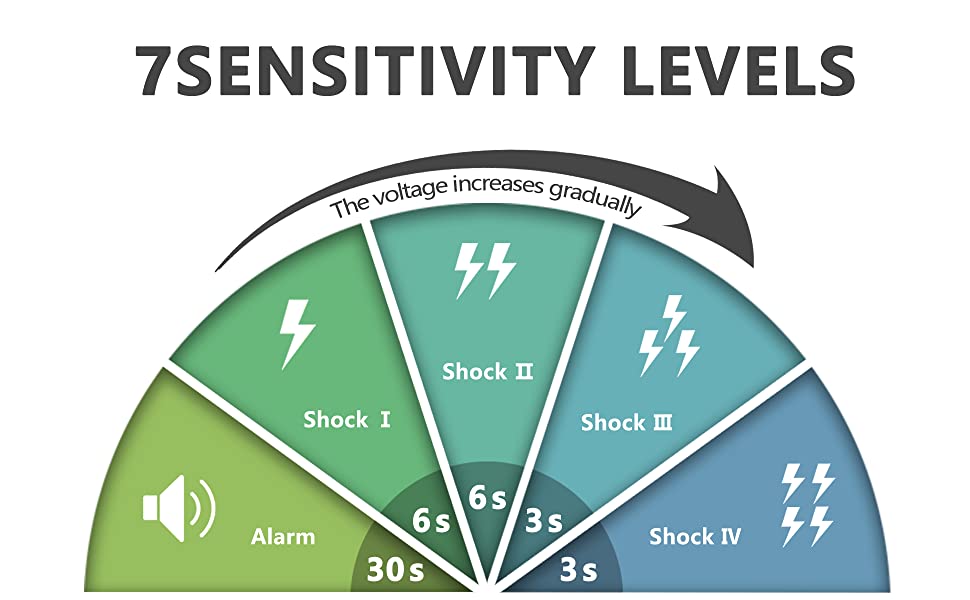 Package Contents:
1 x Indoor wall-mounted transmitter
1 x Power plug
1/ 2/3 x Adjustable receiver collar
1/2/3 x 6 Volt battery for collar
1 x boundary wire of 300 meters
2 x Extra metal contact points
20 x Training flag
1 x Test bulb
4 x screws
1 x User's manual

Comments:

Use it only for your dog and not for other pets.
Let your dog adjust to the collar before training. You should let your dog accept the collar as part of her life.
When the collar is in your dog, don't set the program.
Keep away from children who may touch this area.
Please read all instructions before using this product.
The collar comes with a 6V battery, the battery is not included, customers need to buy by themselves