For big dogs, you need a sturdy harness that could withstand their powerful pulls. We know it isn't easy to find one, so we're proud to present TactiPull Dog Harness—the all-in-one harness designed specifically for large dogs.
The TactiPull is fitted with a heavy-duty vest and finished with unique stitching to increase the harness's durability. Although it looks tough on the outside, the TactiPull ensures a breathable and comfortable fit for your dog to support his/her strong movements anytime. It even comes with a Molle System Technology to guarantee versatile use, perfect for hiking, camping, and other outdoor activities.
This one-of-a-kind harness focuses on comfort and strength, which is required for large pups like yours. It lasts longer and better than any harness available on the market today. It's even designed to follow military standards to ensure you get better control once you take your dog outside.
Features:
Large Dog Molle Vest: Neck girth: 24.8" – 34.6" (63 – 88cm), chest girth: 31.5" – 41.3" (80 – 105cm),belly length: 13.3" – 17.7" (34 – 44.5cm), back length: 11.4" (29cm). Ideal for large breeds such as German Shepherd, Belgian Malinois, Golden Retriever, Huskie, Labrador, Akita, etc. A professional working dog vest for service, police, or military dogs, but also good for hunting and all outdoor companion dogs.
Military Standard Material: Heavy-duty vest made of 1050d nylon with sturdy stitching for extra durability and wearability, making this harness suitable for all field use. It includes two metal shoulder buckles that can bear great pulling force and ensure your dog is safely harnessed during training, hunting, working, and any other occasions. It's also well-padded in every pressure load point to protect your dog's skin, while the breathable air mesh keeps your dog ventilated and comfortable.
Practical Design for Versatile Use: The TactiPull takes advantage of a Molle System equipped on both sides for pouches, water bottles, and dog tactical gears. It comes with multiple hook and loop panels for morale patches and badges to showcase your dog's personality. A wide range of use for personal service, law enforcement, hunting, or outdoor recreation.
Maximum Control & Security: This dog safety harness features 2 metal leash attachment points for safer dog walks—one front clip for no-pull control or dog training and one back clip for casual walking or jogging. There's a reinforced top handle for additional control and easy lifting aid in general and treacherous situations.
Easy Use with Full Adjustment: The TactiPull offers an easy put on and off dog harness with 4 quick-release buckles with no hassle. There are 5 fully adjustable straps (2 shoulders, 2 chests, 1 belly) that allow a snug fit with maximum mobility.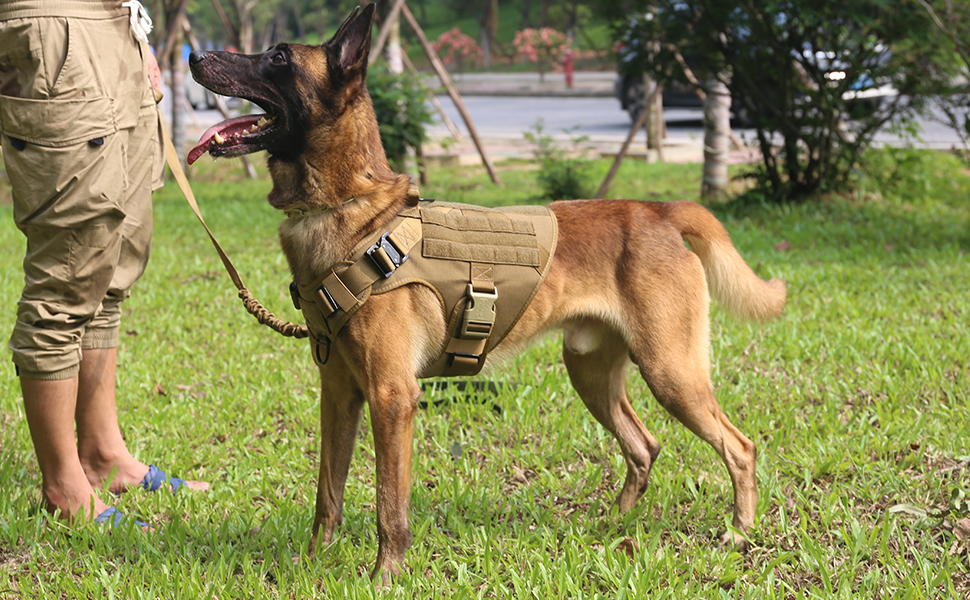 Why Choose TactiPull?
TactiPull Dog Harness is specially engineered for Walking, Working, and Hunting. The overall design of this harness makes it the perfect Vest for big dogs such as German Shepherd, Husky, Malinois, etc.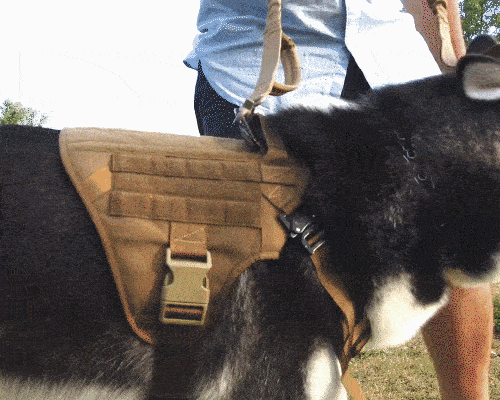 Maximum Safety Control
No Choking, Better Walk
Patches & Utilities for an enhanced Working, Hiking, and Hunting experience
So, whether your treasured canine is a service dog or a domestic pet, he or she deserves a trusted harness, no matter it's for working, exercising, hunting, or recreational purposes.
The Tactical Vest is best for:
Police/Military/Working Dogs – Maximum control, given protection, and extra storage for equipment
Service Dogs – Can carry water bottles, ID, and tags
Hunting/Outdoor Companion Dogs – Your dog can actually carry its own stuff/supplies with comfort and safety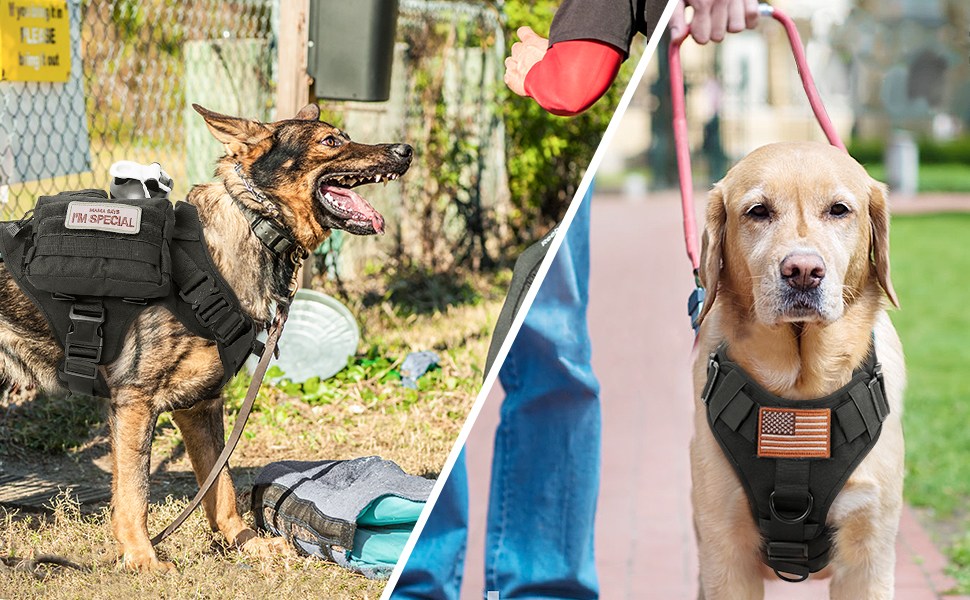 The TactiPull Dog Harness comes with a 2x Metal Buckles with 1000lbs Proof-Load test on Dog Shoulder Position—the most load point when Dog Pulling.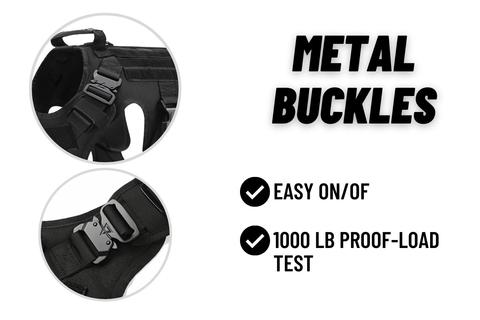 Comfortable Handle For Better Control
All that power comes with a comfortable handle that makes it easy for you to control your dog outside. This handle is designed to lessen the tension once your dog starts pulling too hard to prevent burns, cuts, etc.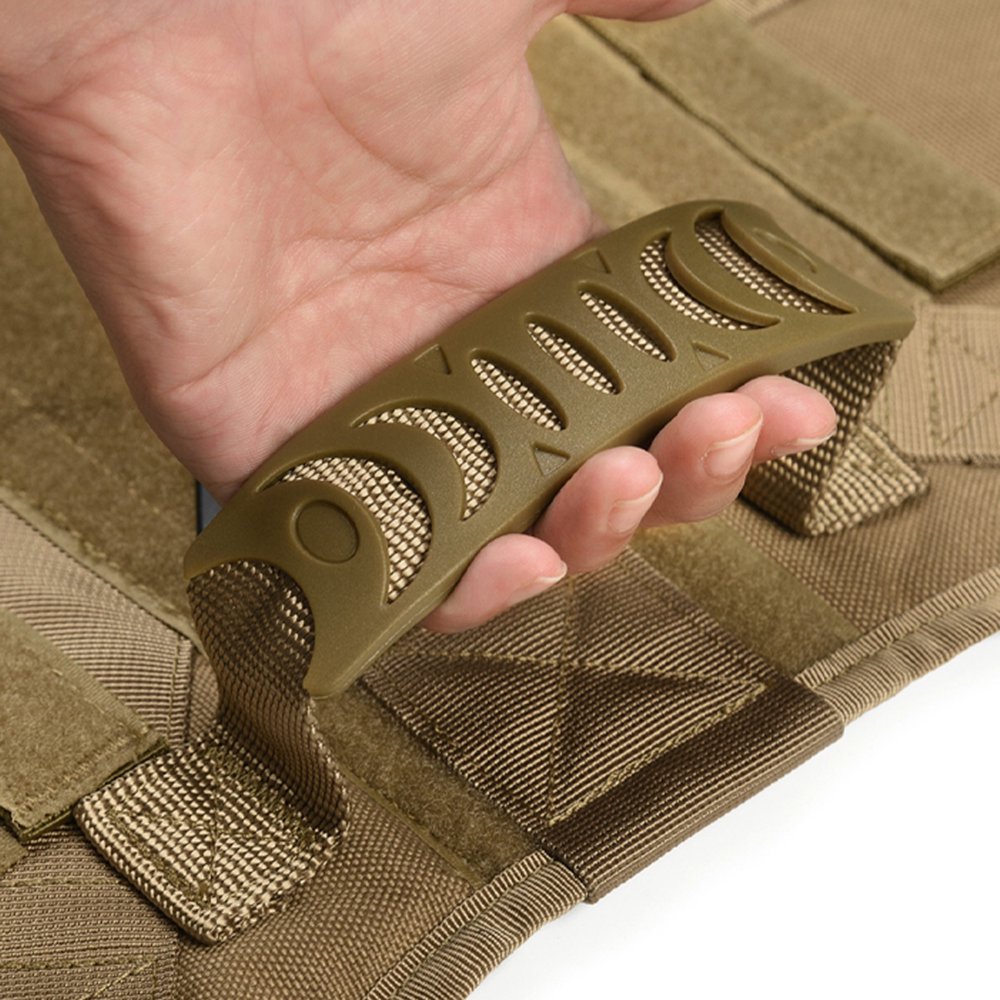 This One-of-a-Kind Dog Harness is 100% Heavy Duty and Made of 1000D Nylon Durable Material for Breathable and Comfortable Wear.
Your buddy will appreciate the impressive strength and comfort the TactiPull brings. They'll feel at ease at whatever activities you plan and will stay relaxed throughout the day.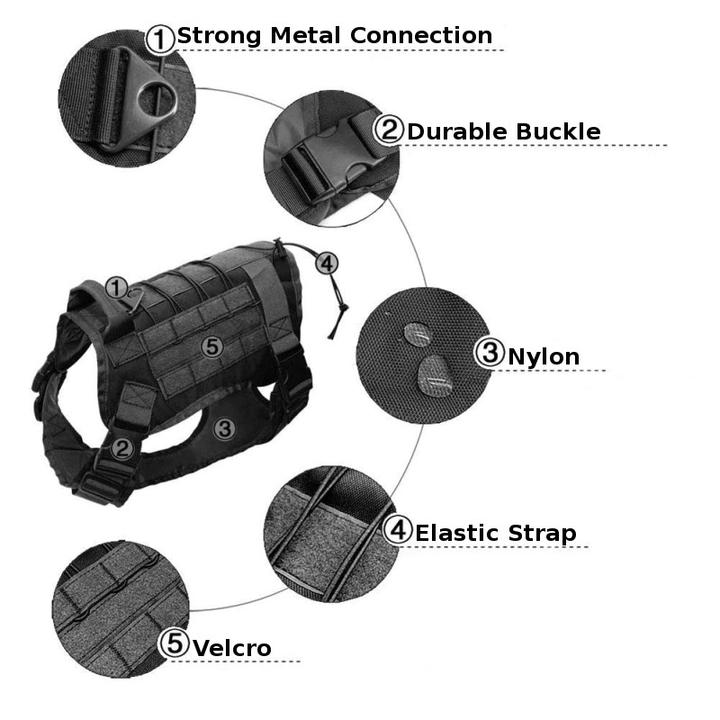 Sizing Chart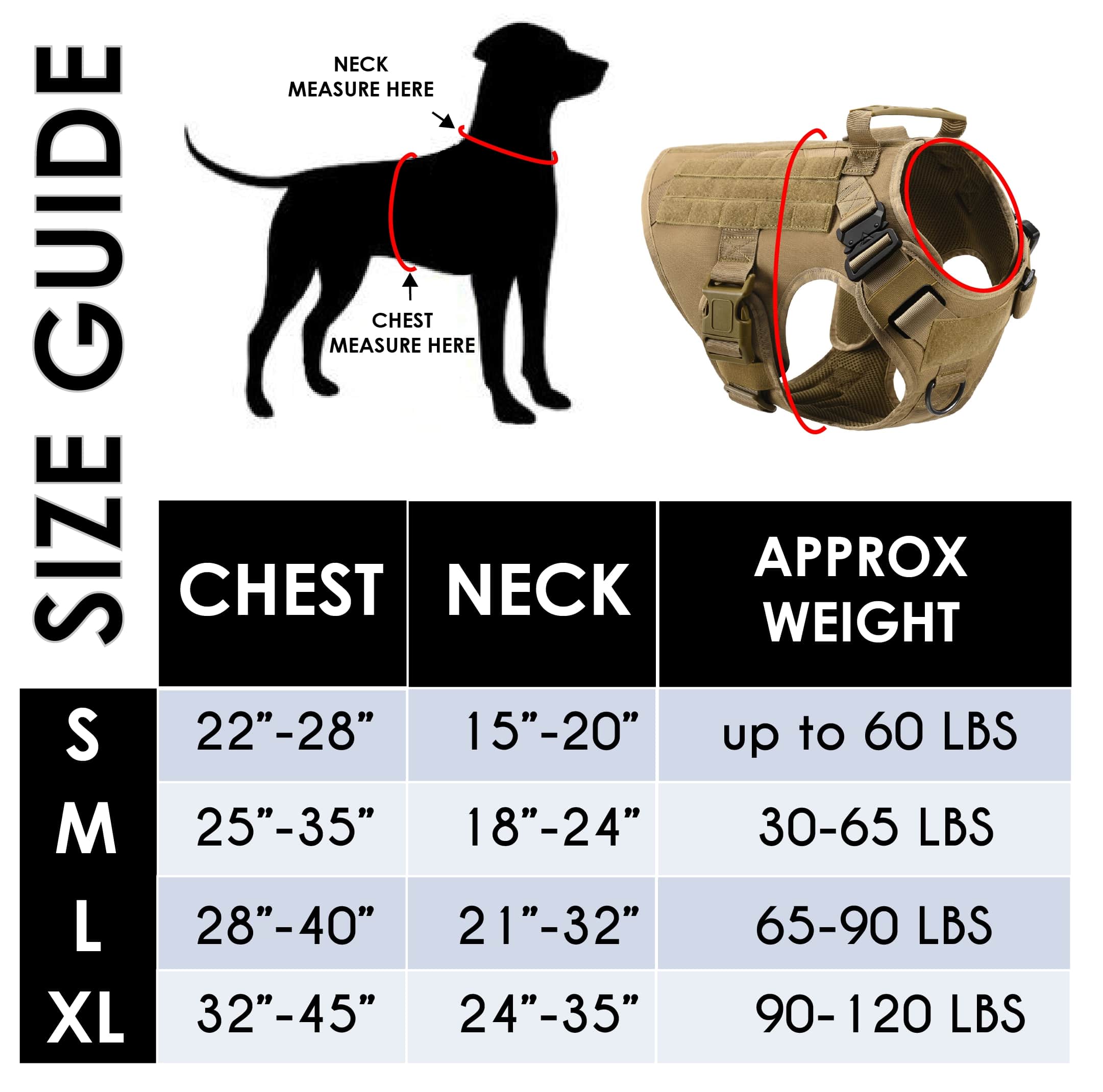 TactiPull Dog Harness Parts:
Metal Connection – Durable leash connection for added safety and long-term quality.
Buckle – Strong and durable buckle for quick and easy use. It is also adjustable to get the right size.
Nylon – High-quality and water-resistant material.
Elastic Strap – Easy to adjust to make your harness more suitable. It can also serve for storing water bottles and other pet supplies.
Velcro – The velcro is used around the whole body. You can also use it to pin badges for added personality.
Package Include