Are you worried about your dog being such a puller? Or you feel anxious about the fact he/she might choke once you set foot outdoor? Then HappyWalks Dog Harness is the right partner for you!
Designed to prevent pulling, tugging, or choking, the HappyWalks Dog Harness aims to make every outdoor adventure with your dog an enjoyable one. The HappyWalks focuses on three essential factors: comfort, handle, and outdoor safety. These features help prevent unwanted accidents from happening outdoors or cause stress to your dog every time he/she tugs or pulls.
The HappyWalks Dog Harness is perfect for all dog sizes. Use it as training or camping gear for your furry friend and they will absolutely love it!
Features:
Suitable for Small Dog: ★Approx. weight: 11-20 lbs. Neck girth: 12.5″-14″, chest girth: 16″-18.5″★. It perfect for small dogs and pups, like Yorkie, Chihuahua, Pug, Cockapoo, Chinese Crested, Shihpoo, Shih Tzu, Russell Terriers, Aussie, Schnauzer, Maltipoo, Jack Russell, etc.
Superior Comfort: The HappyWalks' pulling pressure is evenly distributed to the body to prevent pulling and choking. The dog vest harness has an adjustable chest strap with a snap-on buckle to enable movement freely. You can customize the fit according to your dog's growth.
Sturdy Handle: The rugged nylon handle further enhances your distance from the dog, allowing a more intimate outdoor experience with each other. It is also the best partner for service dogs because it is easy to control.
Impressive Outdoor Safety: The HappyWalk comes with reflective straps to ensure your dog is highly visible at night. You can connect the dog leash on the D-ring to increase safety even on crowded streets. The high-end harness is perfect for daily walking, running, hiking, training, hunting, outdoor adventure, and more!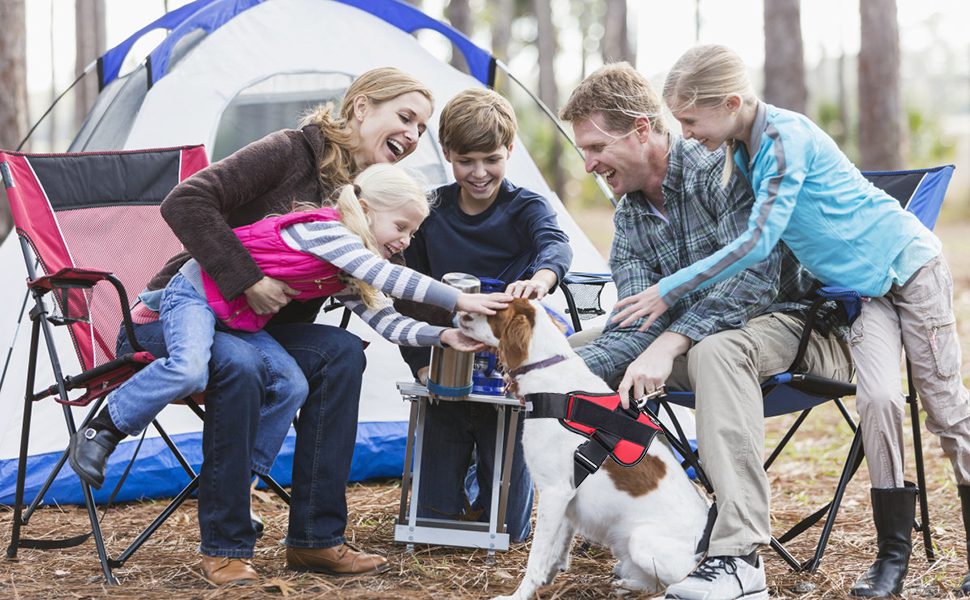 Enhanced Safety for Stress-free Outdoor Dog Activities
The reflective straps ensure high visibility for your dog at night. Its vest's harness comes with a vivid fluorescent trim to ensure clear and bright reflection to prevent losing sight of your dog. So, it helps to keep your DOG & YOU safer in low-light conditions. You'll feel more secure when you're out with your pet.
On the other hand, the fabric material is resistant to tearing and the straps has no elasticity to prevent deforming. This design ensures that the HappyWalk will last longer than other harnesses on the market today. Plus, the soft sponge pad offers a breathable and lightweight feel to safeguard your pet's skin and provide a more comfortable experience.
The D-ring, which is essential in controlling your dog in busy places, is 100% rust-proof and the buckle features an anti-shock engineering plastic for added durability.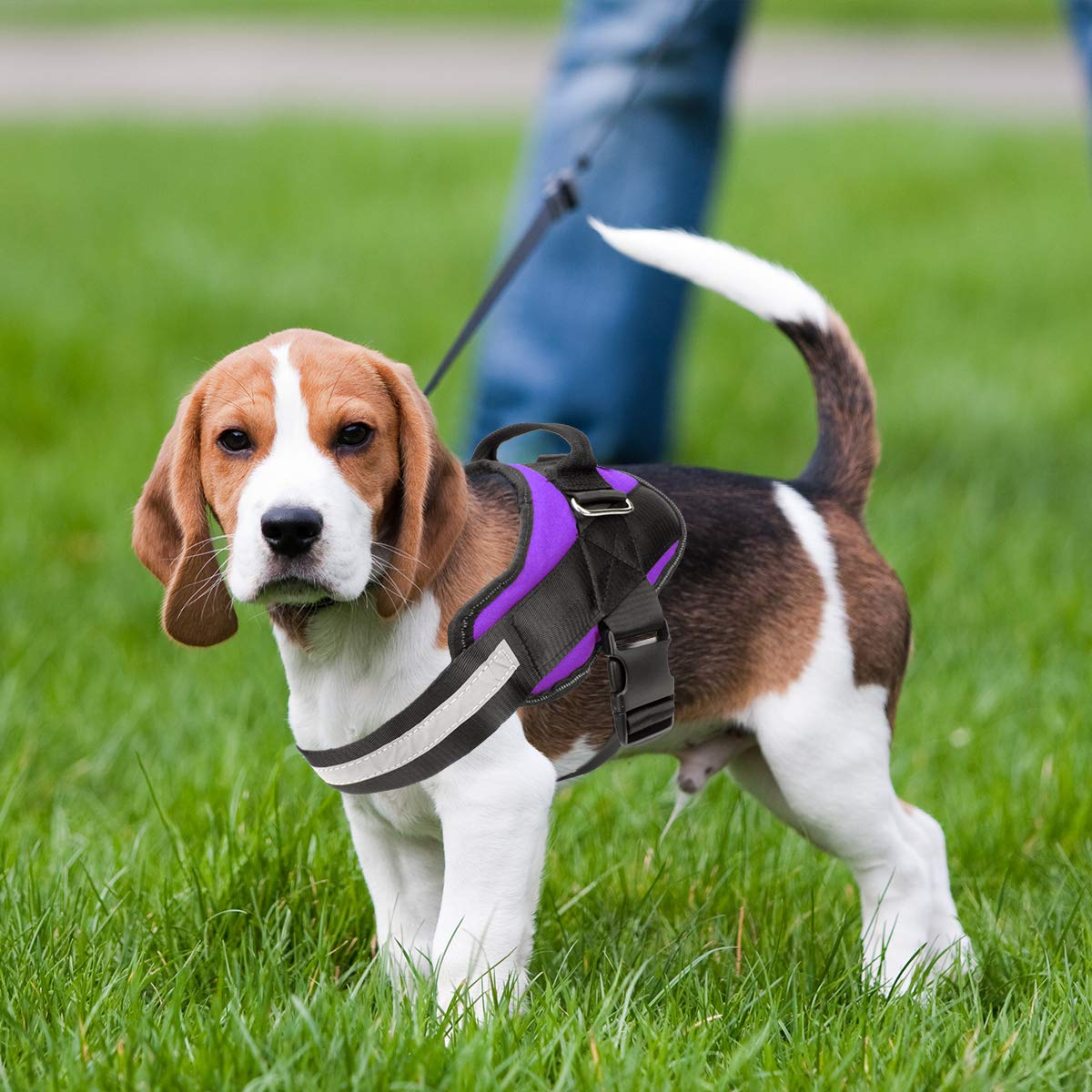 Strong Nylon Handle
The handle design is easy to use and release. It is made of nylon, allowing a tighter and secure interface to prevent tearing. This feature is excellent in controlling your dog once he/she tugs or pulls too hard.
Adjustable Chest Strap
The Adjustable Chest Strap creates a more secure fit for your dog on the chest area to help in easing tension every time they move around. It is also important to ensure that your dog is relaxed every time you go for walks because if your dog feels uncomfortable, most likely, he/she won't act appropriately.
Waterproof Oxford Cloth
This fabric guarantees a breathable yet durable harness for your dog. It supports your dog's movement, such as turning, pulling, jumping, etc., so that they feel comfortable and secure every time.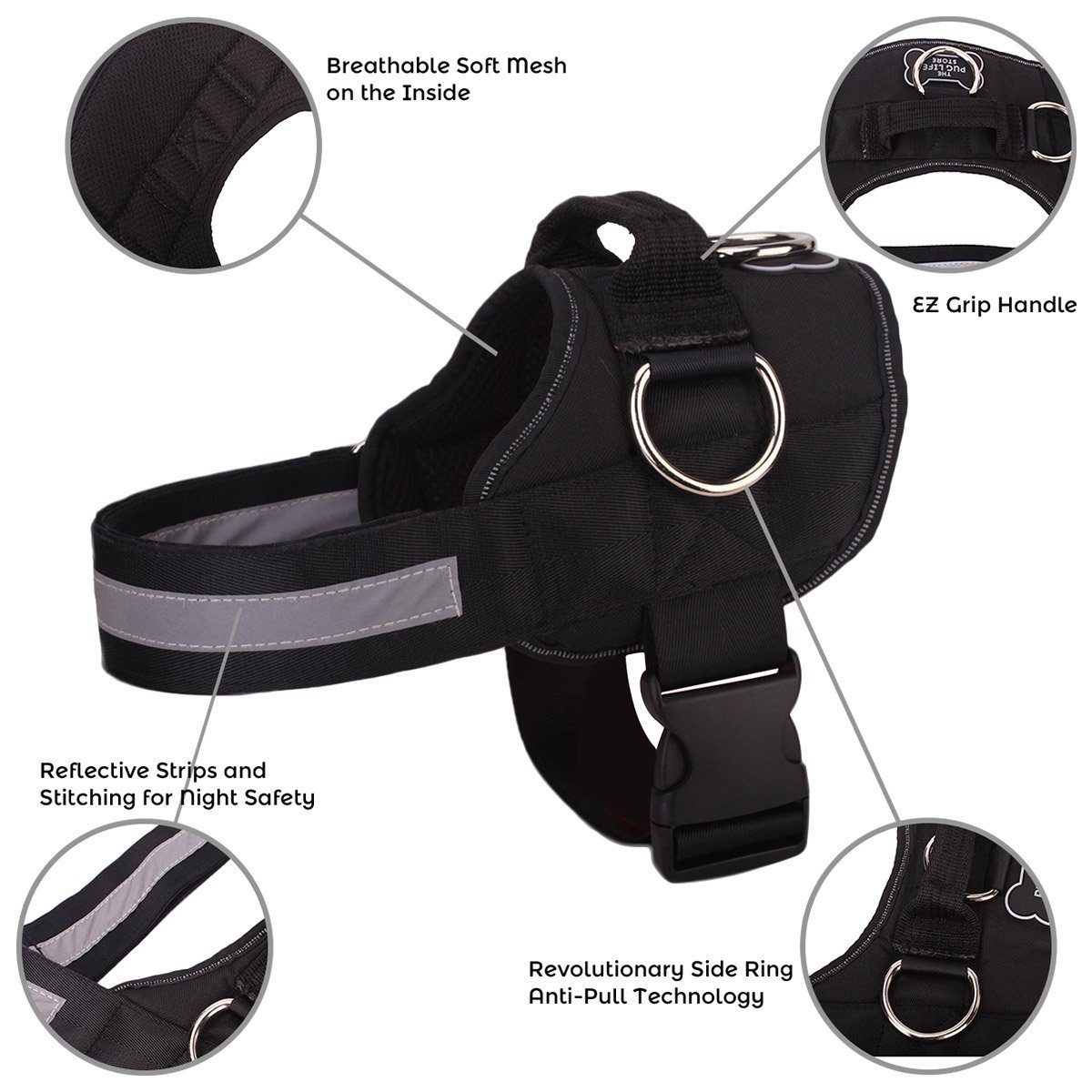 Guide in Measuring Your Dog's Harness Size
Make sure your pet stand on the ground
Measure your puppy's neck girth
Measure your pup's chest girth
It's better to leave two fingers gap to give your dog a snug fit.