Don't Worry About Shear Bleeding Anymore
Here's a Safe Option for Your Pets.
Are you terrified every time you need to trim your pet's nails? Although a well-trimmed paw is essential for your dogs, using a dog nail grinder can be terrifying! Dogs deserve the best care – without the pain! If you are a pet owner and you want to make nail grooming pain-free for your pet, and stress-free for you, one essential to keep in your pet grooming set is the PawrFection dog nail grinder!
"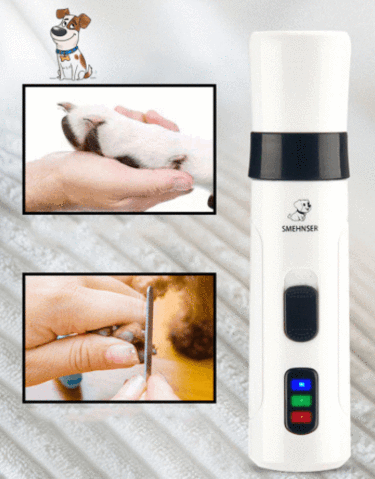 Upgraded Motor and 2 Running Speed
The PawrFection dog nail grinder comes with a top-notch, high-quality motor that is powerful than its counterparts. This dog nail grinder comes with a torque that can be set up to 40 dB to efficiently groom your pets' nails without needing to deal with uneven cats and dull edges.
The new PawrFection is great for both grown-up dogs and puppies. The dog nail grinder comes with 2 different rotation speeds based on the grinding tolerance of your dog. You can go all gentle on your puppies' nails, and you will have enough power for your older dogs' hardened nails.
Three Size Ports For All Kinds of Paws
The PawrFection dog nail grinder comes with 3 ports for different sized nails. You can always find a slot ideal for your pet's paw size and their nail characteristic. Our dog nail grinder for large dogs can also be used on small dogs, cats, rabbits, and other kinds of pets with claws. Versatility is the middle name of PawrFection.

Long Battery Life and USB Rechargeable
This dog nail trimmer is rechargeable and equipped with a USB charging cable to ensure you that it's always powered up and ready for your nail trimming sessions. The PawrFection dog nail clippers are completely wireless – you won't have to deal with unruly, tangled wires. The three indicator light states different working states – the light turns blue when working, turns red when charging, turns green when fully charged.
When it's fully charged, the dog nail trimmer works for up to 7 hours.

Low Noises and Painless Experience
Our electric pet nail grinder will avoid over-cutting a dog's nails and hurting your pets compared with a manual clipper. Nail trimming is already anxiety-triggering for your dogs, so it's important to choose a device that's really gentle and less intrusive. The sound coming from the device will be less than 50db, it can protect your pets from fear, anxiety, and antipathy. Low noises and low vibration will bring great comfort to your dog.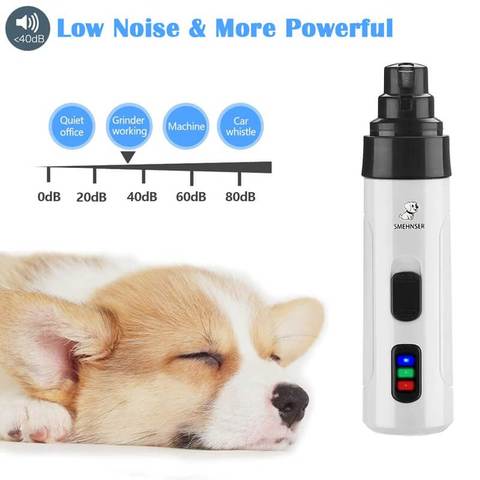 Specifications 
Battery: Built-in battery
Charging mode: USB Charging
Charging time: 1.5 hours
Battery life: 7 hours
Shell material: ABS
Power: 2W
Voltage range: 5V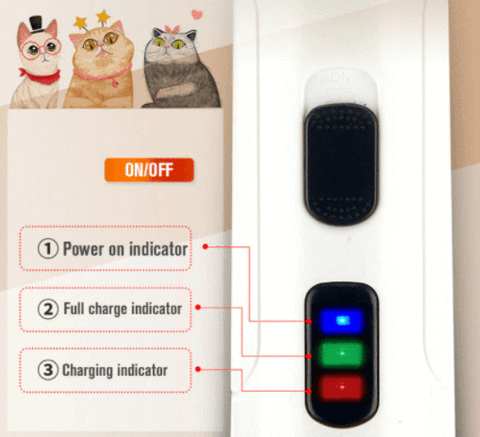 Package Included
1x  Dog Nail Grinder
1x USB Charge Cable
1x Package Box
1x user manual