Pet Grooming Just Got Way Easier for Furmama and FurBaby!
lf you are a responsible owner, you know how important it is to groom your pet's nails. But does your pet get terrified every time you go for his/her nails or when you whip out those nail clippers? Having a product like the FurdiPedi painless pet nail grinder is incredibly useful. This nail grinder operates at low vibration frequency making it a painless, gentle, stress-free experience for you and your pet.
According to PetMD, Over 75% of Pet Owners Struggle with Trimming Their Pet's Nails!

⛔90% of pet owners injure their pet's trying to use nail clippers because they won't sit still.
💸Groomers get the job done, but going every month can be VERY expensive.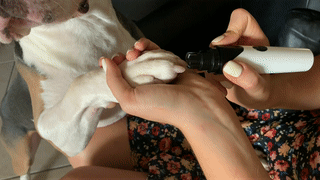 The FurdiPedi rechargeable dog nail grinder is scientifically proven to effectively cut off your pet's nails, painlessly and with ease!
FurdiPedi has been medically tested on both dogs and cats and has been approved for effective painless use on all breeds!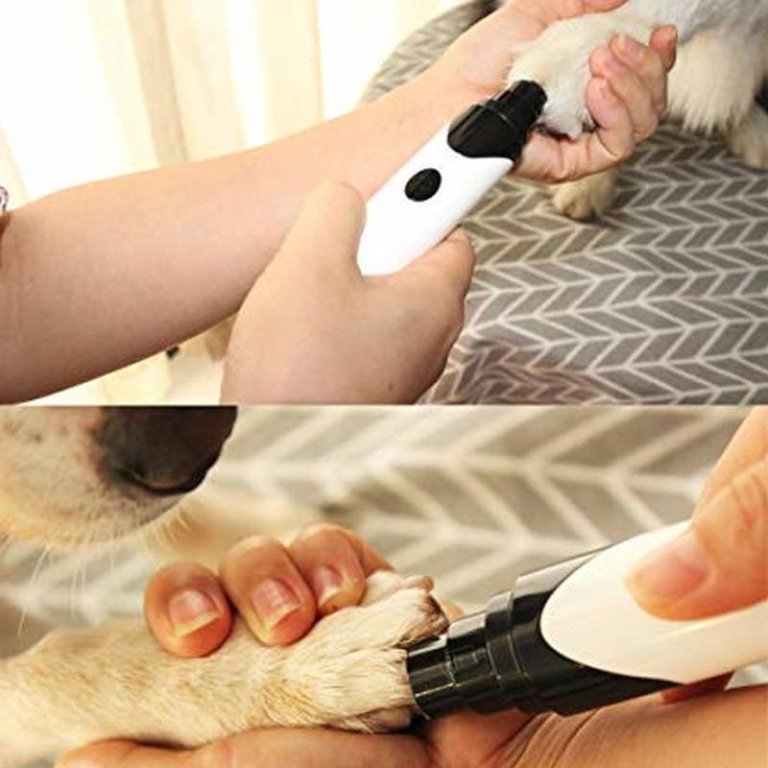 100% Painless – If your pets are terrified of nail trimming, then we've got you covered. Precisely trim their nails round and smooth, no more worries about over cutting, nasty pains or bleeding. Leave your pet's paws touchably soft and your home safe from scratches.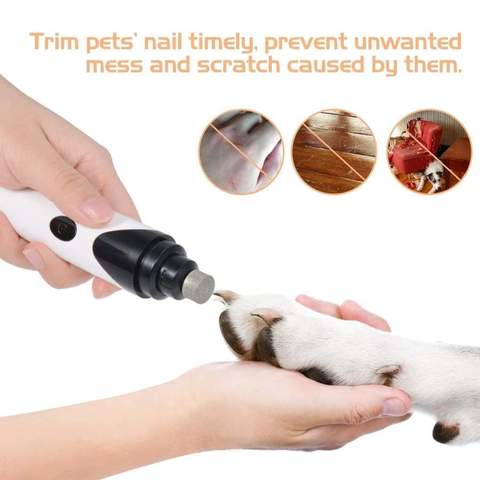 Low Vibration & Noise – The unique built-in mute technology makes the trimmer operate on a very low volume yet still powerful enough to gently remove thin layers of the nail. Sensitive dogs will not get scared any longer, making your nail trimming work easier!

 USB Charging – Save money on buying batteries! Our Rechargeable Dog Nail Grinder comes with a USB port and cable that can continuously operate up to 3 hours once fully charged.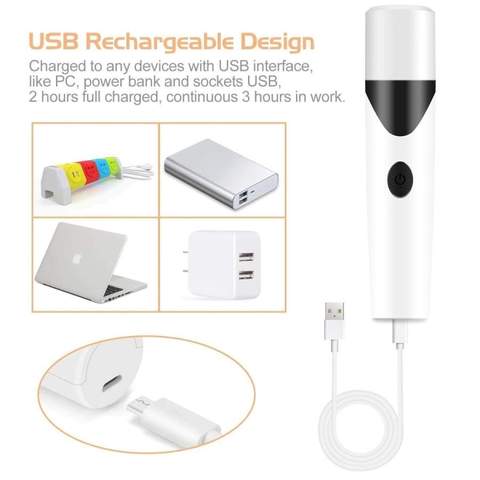 No Mess – Revolutionary nail trimmer for your dog or cat. It's the newest and fastest way to keep your pet's nail trim rounded and smooth with no mess!

 Detachable Grinding Wheel – The Grinding stone can be easily removed for cleaning. Simply rub on the surface with a soft towel and tissue, so that it will remain as effective as ever.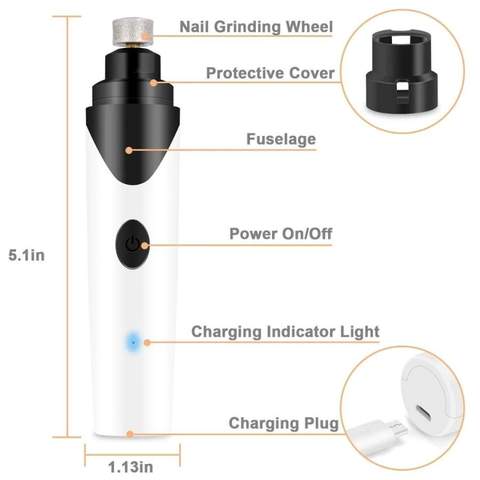 Save Money On Grooming – You can now save hundreds of ££ on going to the vet or groomer. Simply make one purchase and you can easily do it yourself with no risk involved.

 Suitable For All Pet's Size –  Our Rechargeable Dog Nail Grinder comes with three size openings to suit different sized nail. Choose a suitable one according to the size and characteristics of your pet's nail.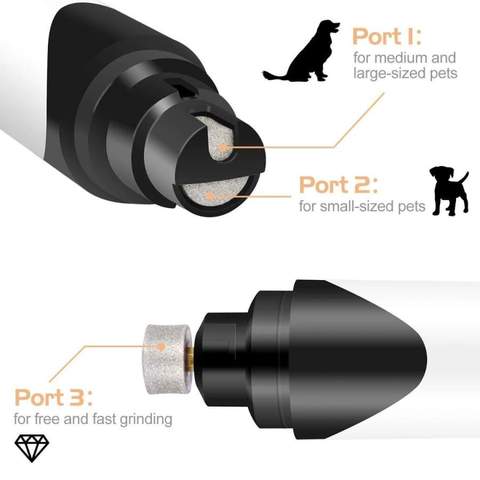 Painless Trimming In Three Simple Steps:
Step 1: According to the pet's size and characteristics of their nails, choose the suitable port/ opening for your pet.
Step 2: Holding the grinder with one of your hands, holding the pet nails with the other hand, put its nail into a port gently, and then begin to grind.
Step 3: Take off the plastic cover of the grinder in an anticlockwise direction, turn it on and gently clean the surface of the nail grinder with eraser, paper or cloth to remove the nail powder.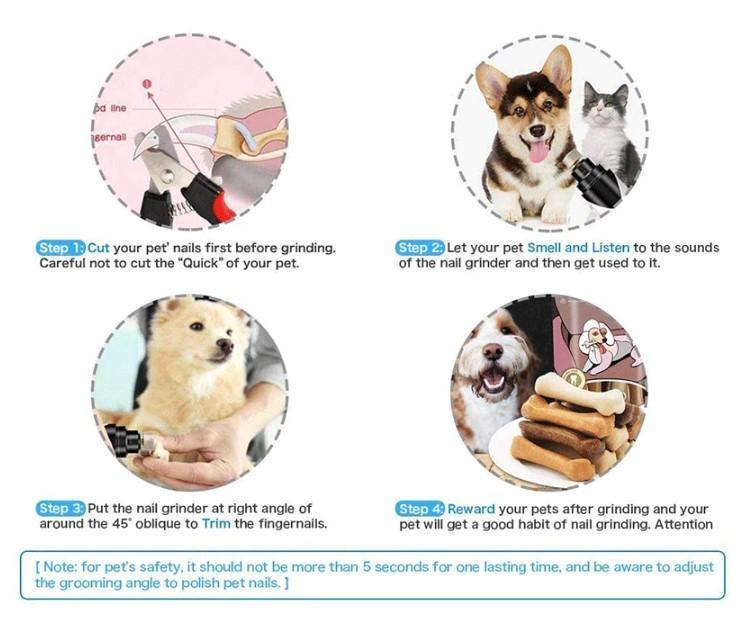 PresentPet™ Tips:
Reward your dog before & after grinding for encouragement.

5 seconds grinding for each nail is enough, any longer is not recommended for pet's safety.

Be sure to adjust the grooming angle to polish the nails
Specifications:
Charging time: 3 hours

Running time: 2 hours

Input: AC100V-240V 50HZ/60HZ

Output:5V/350MA

Charging mode: USB charging

Battery: Built-in battery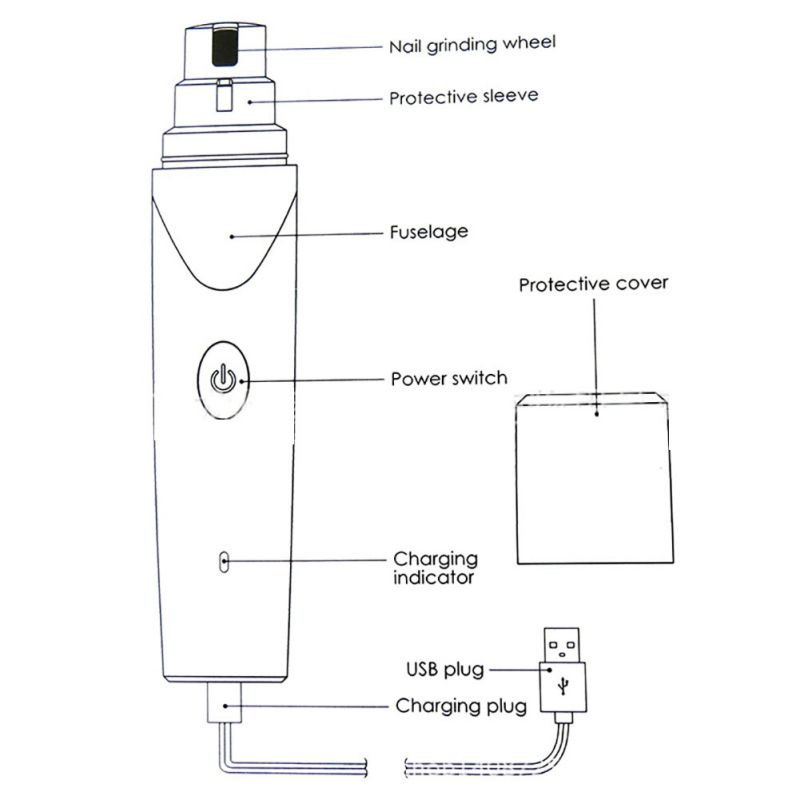 Package includes: 
1x Dog Nail Grinder 

1x USB Charge Cable

1x Package Box 

1x user manual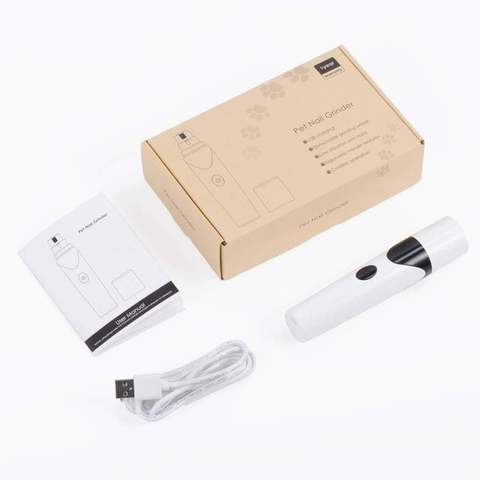 Frequently Asked Questions:
Q: Is nail trimming important?
A: Of course! It is more than a cosmetic chore. Veterinarians warn that unhealthy nails can cause pain and, in rare instances, trigger irreversible damage to the dog. Long nails can cause deformed feet and injure the tendons over an extended period. As the long nail hits the ground, the pressure puts force on the foot and leg structure. (credits to akc.org)
Q: Is this better than a clipper… and why?
A: Many dog owners find a grinder type of nail trimmer a much better option. By using a grinder they are able to keep their dog's nails shorter, smoother and less pointy by grinding than using a nail clipper. It does take a little time and patience to get your dog acclimated to a grinder, but once you do your pet will not dread routine nail trimming anymore since it will be pain-free. Groomers prefer the method of grinding a dog's nails because it slowly sands down the nail and cauterizes the end. Also, with grinders, it's not as easy to get into the quick. When you grind close to the quick, the dog will let you know it so you can stop. With the cutters, you can instantly cut the quick and it's too late. Ouch!
Q: How quickly does it work? Does it take a long time to grind the nail to a shorter length?
A: 

I

t grinds at a perfect rate and is easily controlled. You will be very happy with it because you don't have to worry about cutting the nails too short. We highly

 recommend it to anyone with a pet that needs their nails trimmed regularly

.
Q: Is the grinder quiet? My pets don't like the loud ear-piercing sounds, she is anxious.
A: Our trimmer features super low noise and vibration. So the grinder is whisper quiet and not noticeable. Your pet won't even realize he/she is getting their nails trimmed.
Q: How effective is it long term?
A: Our customer Suzanna has this to say: "I have been using it for almost a year now for my dogs Roxy & Mika and I have had no issues. Super glad that I was able to grab 2 when it was on sale too! 5/5 – Very satisfied."