Roll Out A Fun Playground For Your Pets This Summer With the PetPlayground Portable Dog Pool!
When the temperature's rising, your dogs deserve to have some fun cooling off! Provide them an exciting place to swim in our premium, heavy-duty PetPlayground Portable Dog Pool,  giving your fur friends enough room to fully submerge their body and exercise their legs! Equipped with anti-slip lining, this pet pool also ensures better safety for your pet no matter how active and rambunctious they are. Large dogs can join in on the summer party too, as it comes with high walls so you can fill it with enough water for their enjoyment. That's not all! Included is a repair kit to help you maintain our dog pool as you use it through the years: so your dogs indeed can have time to have more fun! The pool also comes with a drainage spout at the bottom so it's easy to empty after use. When the summer pet party's over, you can easily fold it flat and store it away without hassle.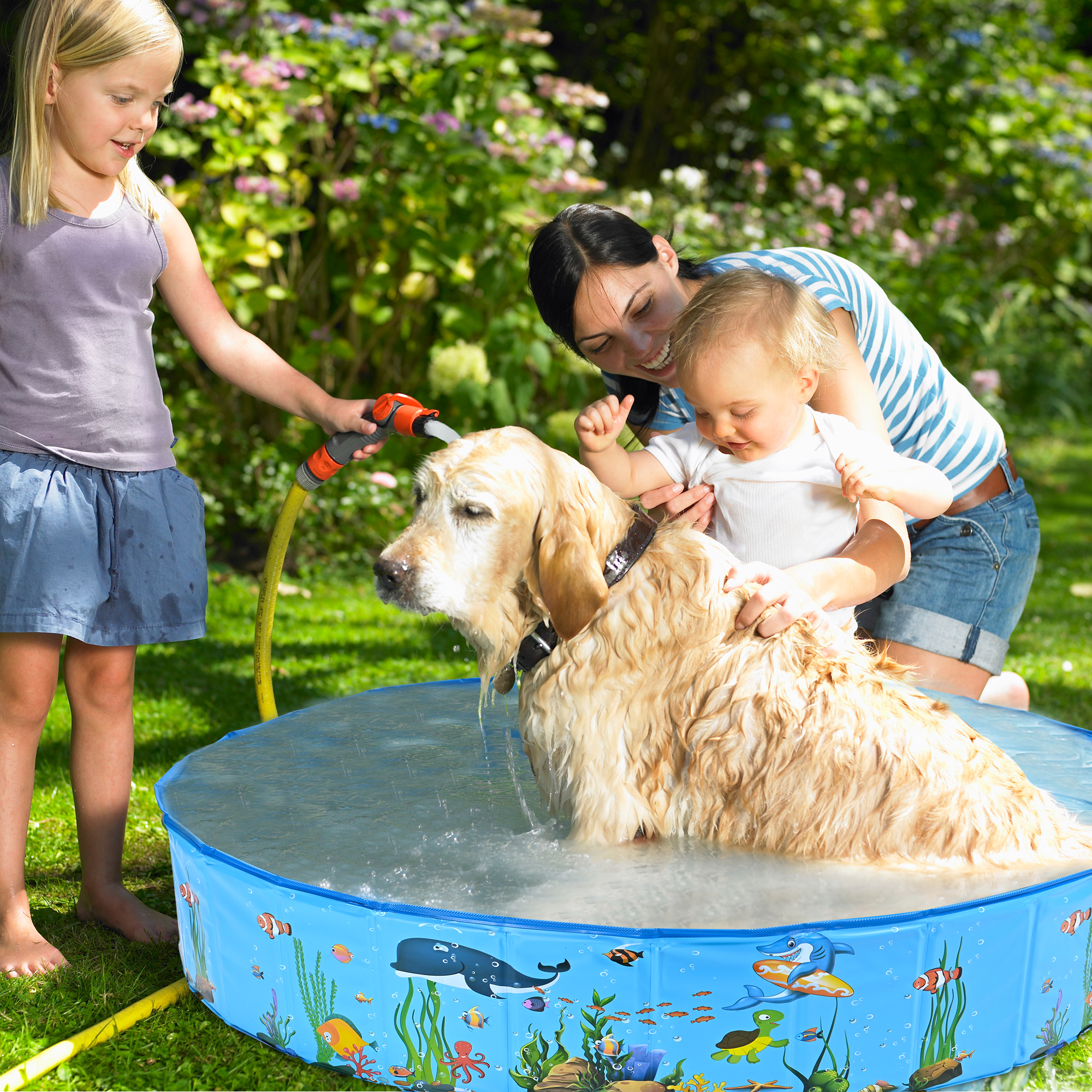 FEATURES
MULTI-PURPOSE – Our collapsible dog pool is designed to give your dogs the best leisure time as they splash under the sun. You can also use it as a pet bathtub, or a swimming pool for your kids too.
HIGH-QUALITY – Made with durable & puncture-proof PVC material and strong board lining, this dog pool can withstand the most playful of pets.
PORTABLE AND EASILY FOLDABLE – You can conveniently fold this pool into the size of a small book when you need to pack it away. It's lightweight and compact enough that you can place it in a bag and take it with you on the go.
EASY TO USE – Instantly set up a mini pool for your pets by expanding it; Drain the valve on the side for easy and fast draining; To make it an all-around pet leisure and care item, the pool also comes with a free bath brush so you can massage your dogs while they bathe, and clean their beautiful fur more thoroughly.
ANTI-SLIP DESIGN – Its bottom is made of thickened, anti-slip material to provide greater protection for your pets and kids while they play.
HAS MANY USES – Also great for small dogs and children, giving them a fun and cooler way to take a dip. With patterns on the covering, it makes for a fun summer present for the kids!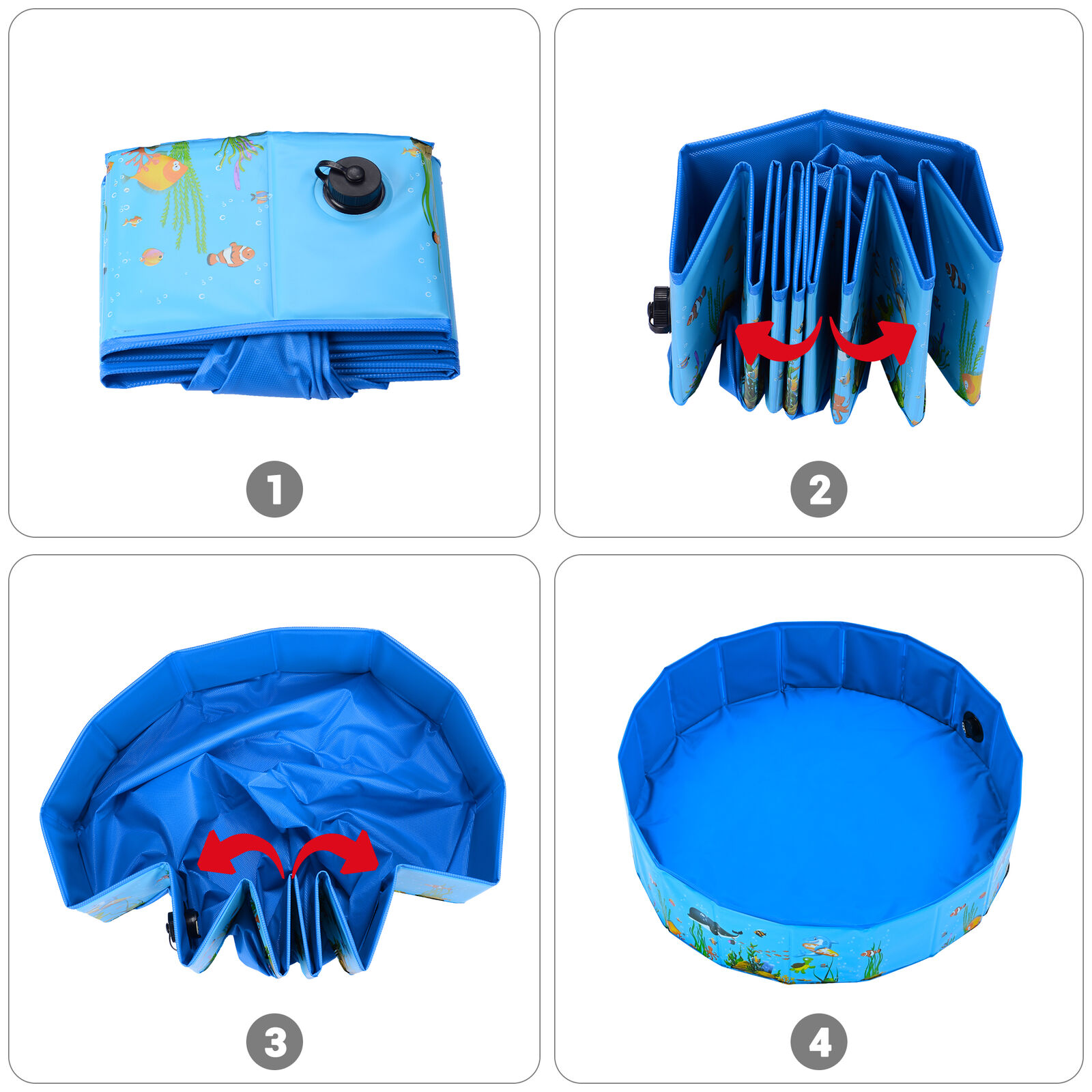 Size:
S (32″ x 8″ / 80cm x 20cm)
Overall Size(Dia.xH): 31 1/2″ x 7 7/8″ (80 x 20 cm)
Net Weight: 3.3 lbs. (1.5 kg)
L (47″ x 12″ / 120cm x 30cm)
Overall Size(Dia.xH): 47 1/4″ x 11 13/16″ (120 x 30 cm)
Net Weight: 8.15 lbs. (3.7 kg)
XL (63″x12″/160 x 30 cm)
Overall Size(Dia.xH): 63″ x 11 13/16″ (160 x 30 cm)
Net Weight: 13.66 lbs. (6.2 kg)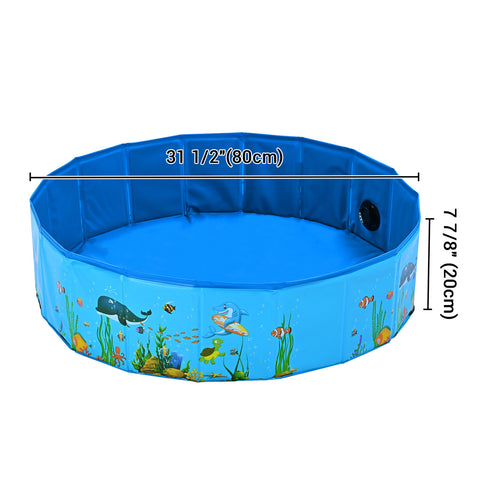 Package Contains:
1x Pet Swimming Pool
1x Bath Brush
1x Sticker
1x Glue
4x Round Films
1x Manual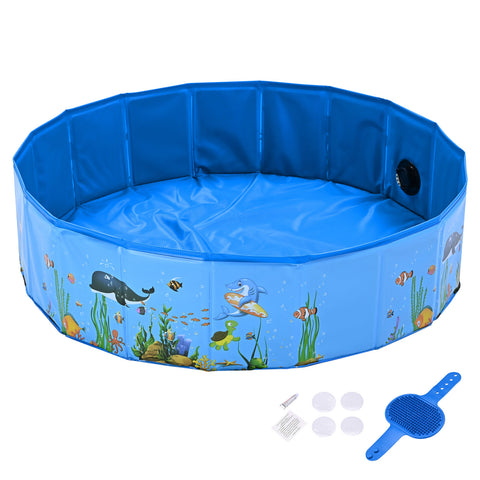 Note:
Please trim your pet's nails before using the pool to prevent damage.