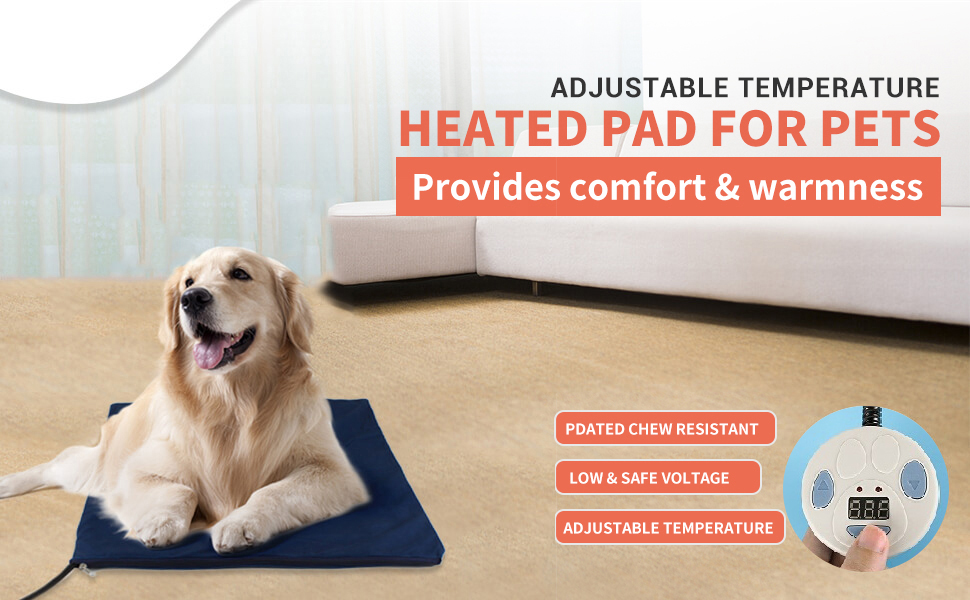 Picture this: It's a chilly winter night, and while you're snuggled up under a cozy blanket, your furry best friend is giving you those puppy eyes, silently pleading for some warmth. Enter the WarmWoof Adjustable Dog Heating Pad, a true game-changer for pet comfort during those frosty evenings!
This isn't just any old pet pad. Imagine a world where you can dial in the perfect toasty setting for your pooch, with five temperature levels to choose from. That's right, whether your dog is a 'likes it warm' kind of guy or a 'craves tropical heat' gal, there's a setting for every preference. And let's talk safety – this pad isn't just warm, it's smart. With UL certification and a chew-resistant cord, it's like the Fort Knox of dog heating pads. No more worrying about your curious muncher turning their new bed into a chew toy.
So, why is the WarmWoof the perfect match for your pet? It's simple. This heating pad combines the cozy comfort your dog dreams of with the safety and quality you demand. Plus, it's like giving your pet a warm hug, even when you're not there. Now that's what I call a win-win in the pet parenting world!
Size Does Matter
When it comes to comfort, size is a big deal! This 24″ x 18″ pad is like a spacious studio apartment for your furball. Perfect for medium to large pets, it's roomy enough for them to sprawl out, roll over, or curl up in cozy bliss.
Dial Up the Warmth
With 5 adjustable temperature settings, it's like having a thermostat for your pet's bed. Whether your pup prefers a gentle warmth or a toasty haven, you can customize the heat to their liking. It's the perfect way to pamper them on those nippy nights.
Safety First, No 'Ifs' or 'Butts'
UL certified and with a low voltage design, this pad is safer than a pup in a blanket fort. Plus, the chew-resistant cord means even the most mischievous nibbler won't turn their bed into a snack.
Waterproof Wonders
Spills? Accidents? No problem! The pad's waterproof design makes clean-up a breeze. It's like having a superpower against messes, keeping your pet's resting spot pristine.
Laundry Day? Easy Peasy!
The machine-washable cover is a dream come true. Just pop it in the wash and voilà – it's like getting a brand-new bed, without the shopping.
Keeping an Eye on Comfort
The LED temperature display isn't just for show; it's your command center for ensuring your pet's ultimate comfort. Like being a pet comfort scientist, you get to experiment and find that 'just-right' setting.
The Goldilocks Zone for Pets
With recommended settings based on pet body temperatures, you're not just warming a bed; you're creating a tailored comfort zone. It's like giving your pet a personalized climate bubble – not too hot, not too cold, just perfect.
There you have it – a pet bed that's more like a luxury retreat for your furry friend. It's not just a bed; it's an experience, a way to say 'I love you' without words. Now, who wouldn't want that for their four-legged family member? 🐾✨
Seize the Snuggle!
Don't let another chilly night pass by without the WarmWoof Adjustable Dog Heating Pad. Imagine the tail wags and happy snoozes that await! This isn't just a purchase; it's an investment in your pet's comfort and happiness. And let's be real, who can put a price on that? Don't wait for the next cold snap to remind you – act now! Your furry friend's cozy winter haven is just a click away. Remember, a warm pet is a happy pet, and a happy pet makes for a happy home.
Tech Specs Unleashed
For those who geek out over the details, here's the lowdown on the WarmWoof Heating Pad:
Size: 24″ x 18″ – Spacious comfort for medium to large pets.
Adjustable Temperatures: Ranging from 77℉ to 131℉, tailored to your pet's preference.
Safety Certifications: UL certified, ensuring top-notch safety standards.
Power: 75W, efficient and pet-friendly.
Materials: Durable, waterproof PVC material with a machine-washable cover.
Extra Features: Chew-resistant cord, LED temperature display for easy monitoring.
Optimal Usage Tips: Don't cover the pad for maximum efficiency; ideal temp range is 97-109.5℉.
There you have it – the perfect blend of cozy comfort, safety, and cutting-edge design. Your pet's new favorite spot is just a few clicks away. Don't miss out on the chance to upgrade their relaxation game! 🐕💤✨