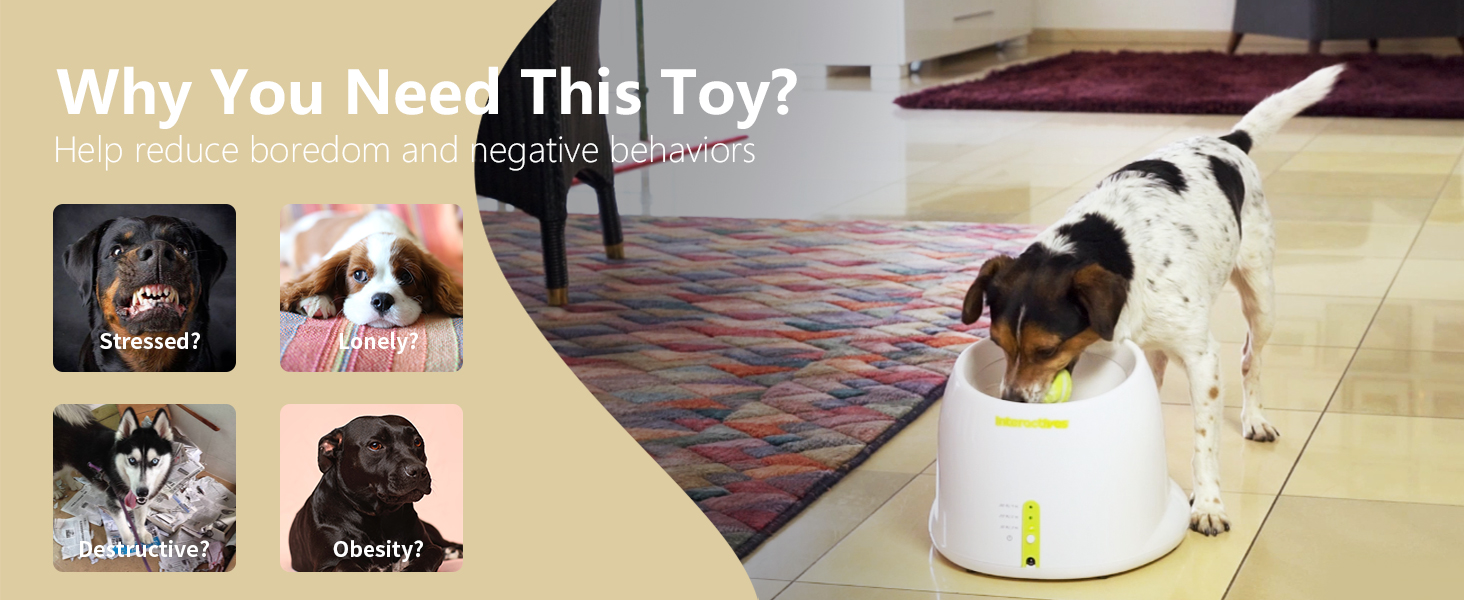 🐕 Hey Fellow Dog Lover!
Oh, do we have a treat for you and your fur baby! Picture this: it's a lazy Sunday afternoon, the kind where you just want to curl up with a good book, but your energetic furball has other plans. Enter the TailSpin Automatic Dog Ball Launcher, the game-changer in the world of dog entertainment, and your soon-to-be personal hero. It's not just a ball launcher; it's a gateway to a tail-wagging, tongue-lolling good time, all from the comfort of your living room.
Now, we know what you're thinking, "Another gadget? Really?" But hear us out! This isn't just any gadget; it's the ultimate playmate for your dog, promising hours of fun and mental stimulation. Imagine the sheer joy on your dog's face as they dash to catch the ball, only to have it launched again for another round of fun. It's the gift that keeps on giving, bringing a whole new spin to the classic game of fetch.
But wait, there's more! This launcher isn't just about keeping your dog entertained; it's about fostering a healthy and happy lifestyle for your beloved pet. With adjustable launch distances, it's a customizable experience that caters to dogs of all energy levels. So, whether you have a sprightly sprinter or a dawdling darter, the TailSpin Automatic Dog Ball Launcher is here to shake things up and bring a whirlwind of fun into your dog's life.
Say Goodbye to Boredom!
Imagine transforming those dull afternoons into a whirlwind of excitement and tail wags. The TailSpin Automatic Dog Ball Launcher is not just a toy; it's your dog's new best friend, promising hours of interactive and mentally stimulating playtime. It's like having a personal entertainer for your fur baby!
Customizable Fetch Fiesta
Whether your dog is a sprinter or a stroller, this launcher has got you covered. With three adjustable launch distances, you can easily switch up the game to suit your dog's mood and energy levels. It's like having a customizable playground right in your living room!
No More Fetch Fails with Compatible Tennis Balls
Forget the frustration of incompatible tennis balls that just won't launch. The TailSpin launcher comes with three specially designed tennis balls that guarantee a smooth and enjoyable fetch experience every time. It's all about making fetch a success, not a stress!
Power Up the Fun, Anywhere, Anytime
With dual power options, the fun doesn't have to stop, ever! Whether you're indoors or taking the fun outside, the TailSpin launcher ensures the game goes on. It's all about uninterrupted fun, wherever you choose to play!
A Healthy Dose of Fun
This launcher isn't just a toy; it's a health booster in disguise! By encouraging physical activity and mental stimulation, it promotes a healthy and happy lifestyle for your dog. Think of it as a fun-filled workout session for your furry friend!
Safety First, Always
We know how precious your furry friend is, and safety is our top priority. The TailSpin launcher comes with guidelines to ensure a safe play environment, encouraging you to keep the balls clean and dry for a safe and enjoyable fetch session. It's all about fun, with safety at the forefront!
See it to Believe it
Still on the fence? Check out the video demonstration on the product page to see the TailSpin launcher in action. It's a visual treat that showcases the joy and excitement that awaits your dog. It's like a sneak peek into the world of endless fun that awaits you!
Don't Let This Opportunity Fetch Away!
Hey there, fellow dog aficionado! We know spotting a gem when we see one, and trust us, this is the jackpot. The TailSpin Automatic Dog Ball Launcher isn't just a purchase; it's an investment in wagging tails and joyous barks. But here's the kicker, a product this fetching won't stay in stock forever. So, why wait? Give your furry friend the gift of joy and excitement, and watch them have a ball, quite literally!
Now, we wouldn't want you to miss out on the fun, would we? Picture the joyous barks and the wagging tails, all thanks to this little gadget of happiness. So, go ahead, make your dog's day, week, month, and year with this fantastic find. After all, nothing says 'I love you' quite like the gift of endless fun. Hurry, before the stock runs out, because good things and TailSpin Automatic Dog Ball Launchers wait for no one!
A Quick Dive into the Tech Wonderland
Alright, tech enthusiasts, because we're about to dive deep into the heart of this marvel of canine entertainment. But fear not, we promise to keep the tech jargon to a minimum, presenting you with a clear, concise rundown of what makes this launcher the cream of the crop.
Dimensions: A compact powerhouse, measuring at just 10.2 x 10.7 x 8.4 inches, making it a perfect fit for both indoor and outdoor spaces.
Material: Crafted from durable ABS construction, promising a long-lasting and resilient performance.
Power Supply: Dual power options to keep the fun rolling, featuring a power adapter and a slot for 6 C batteries for untethered fun.
Launch Modes: Three adjustable launch distances (10 ft, 20 ft, and 30 ft) to keep the game fresh and exciting, all controlled with a simple push of a button.
Accessories: Comes with three 2-inch tennis balls, ensuring a grip-friendly and slobber-free game of fetch.
Safety: Designed with your dog's safety in mind, featuring gentle, non-abrasive balls for a safe and enjoyable playtime.
So, there you have it, a quick tour of the TailSpin Automatic Dog Ball Launcher's technical prowess, a gadget that promises to bring joy and excitement into your dog's life, one fetch at a time!