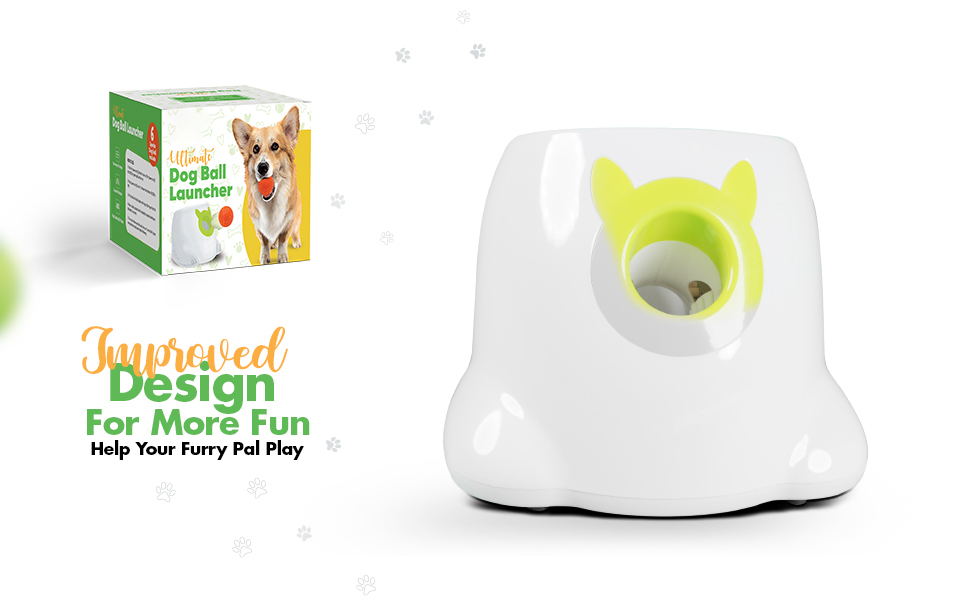 🐾 Hey there, fellow dog lover!
Imagine a sunny afternoon in your backyard, the kind that's just begging for some quality playtime with your furry best friend. Now, picture adding a splash of innovation to this scene with the PupJoy Automatic Dog Ball Launcher, your dog's new favorite playmate, and your arm's savior from the relentless game of fetch. Yes, you heard it right! This gadget is here to take the 'fetch' game to a whole new level, making those tail-wagging moments even more delightful.
Oh, but it's not just a launcher; it's a ticket to a world of fun, exercise, and mental stimulation for your little furball. Whether your dog is a sprightly sprout or a middle-aged mellow, this launcher is designed to cater to all energy levels, promising hours of engaging playtime. Picture the gleam in your dog's eyes as they dash to catch the ball, and the triumphant trot back, ready to go again… and again… and again!
But wait, there's more! This isn't just about keeping your dog entertained; it's about giving them a healthy outlet for their energy, all while saving you time and effort. It's a win-win, really. So, why not add a sprinkle of technology to your dog's play routine? Trust us, your dog will thank you with wagging tails and loving licks.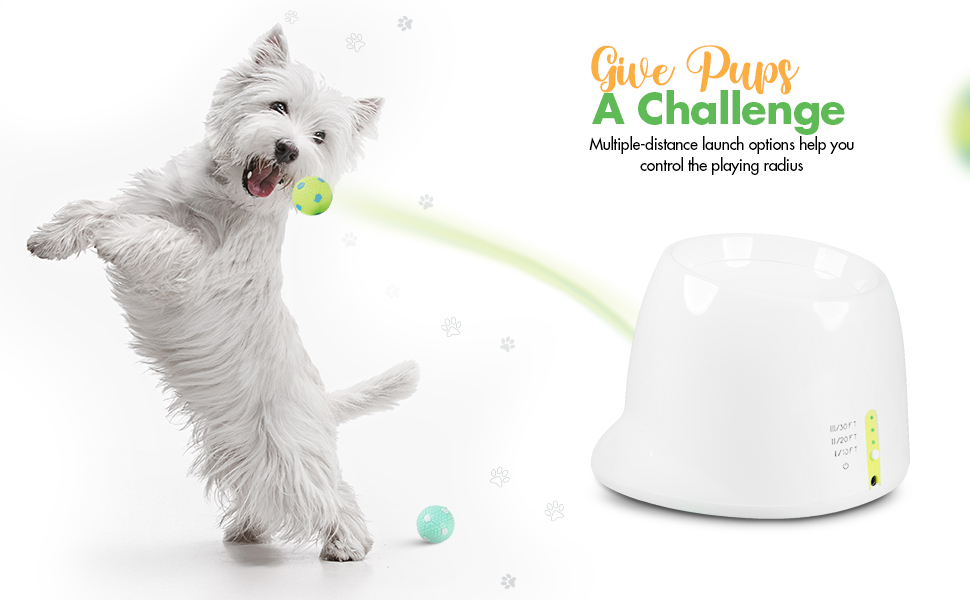 Fetch, Set, and No Sweat!
Imagine saying goodbye to those arm-aching, never-ending fetch sessions. With the PupJoy Automatic Dog Ball Launcher, you can now enjoy a cup of coffee while your fur baby enjoys a game of fetch. It's all the fun, with none of the effort!
Tailored Fun at the Push of a Button
Whether your dog is a 'near and dear' or a 'far and fast' fetcher, this launcher has got you covered. With three adjustable launch distances, you can easily switch up the game to keep your pooch guessing and engaged. It's like having a customizable amusement park for your dog!
Power-Packed Playtime, Anytime, Anywhere
No power outlet? No problem! Whether you're in the backyard or at the park, the dual power supply ensures the fun never stops. It's convenience and portability, all rolled into one nifty gadget.
Grip it Good with Non-Slip Latex Balls
Say goodbye to slobbery, slippery balls! The launcher comes with non-slip latex balls that are a breeze for your dog to grip and retrieve. It's all about making fetch happen, without the slip-ups!
A Brain Game that's Plain Fun
This isn't just a game of fetch; it's a brain-boosting bonanza! The launcher not only keeps your dog physically active but also mentally stimulated, turning playtime into a wholesome exercise for their mind and body.
Fetch Fun, Come Rain or Shine
Don't let the weather rain on your parade! Designed for both indoor and outdoor use, this launcher ensures that your dog can enjoy their favorite game, no matter the weather. It's year-round fun at its finest!
Safety First, Fun Always
We know your dog's safety is your top priority, and it's ours too. The gentle, non-abrasive balls ensure a safe and enjoyable playtime, every time. It's fun, with peace of mind built-in.
User-Friendly Fun for Furry Friends
No complicated setups here! The launcher is designed to be as easy to use as it is fun, making it a breeze to get started with. It's all about keeping the fun rolling, without the fuss.
Portable Playtime Paradise
Take the fun with you, wherever you go! Thanks to its portable design, you can easily pack up the launcher for a day of fun at the park or a weekend getaway. It's your dog's favorite game, now more portable than ever!
Fetch a Deal Before It's Gone!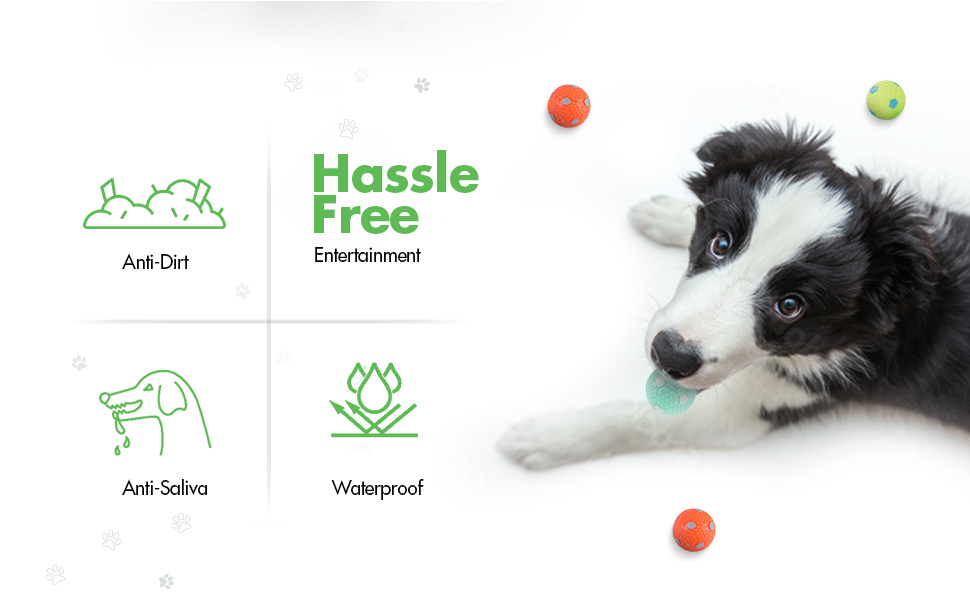 Hey there, fellow dog enthusiast! We know a game-changer when we see one, and trust us, this is it. The PupJoy Automatic Dog Ball Launcher is not just a purchase, it's an investment in endless wagging tails and happy barks. But here's the thing, a product this fetching won't stay in stock forever. So, why wait? Give your furry friend the gift of joy and excitement, and watch them have a ball, quite literally!
Now, we wouldn't want you to miss out on the fun, would we? Picture the joyous barks and the wagging tails, all thanks to this little gadget of happiness. So, go ahead, make your dog's day, week, month, and year with this fantastic find. After all, nothing says 'I love you' quite like the gift of endless fun. Hurry, before the stock runs out, because good things and PupJoy Automatic Dog Ball Launchers wait for no one!
A Peek Under the Hood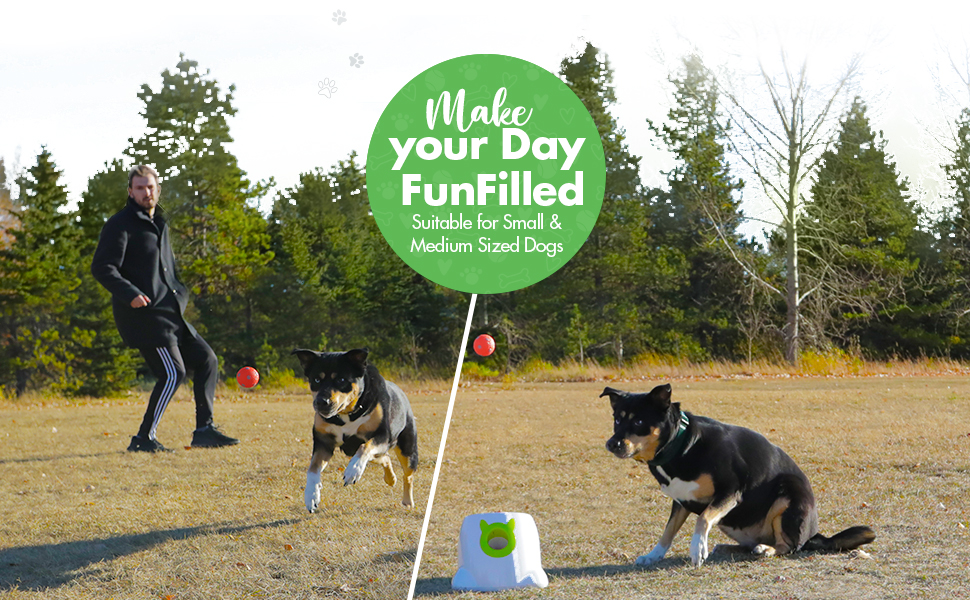 Alright, gear up tech enthusiasts, because we're about to dive deep into the heart of this marvel of canine entertainment. But fear not, we promise to keep the tech jargon to a minimum, presenting you with a clear, concise rundown of what makes this launcher the cream of the crop.
Dimensions: A compact powerhouse, measuring at just 10.2 x 10.7 x 8.4 inches, making it a perfect fit for both indoor and outdoor spaces.
Material: Crafted from durable ABS construction, promising a long-lasting and resilient performance.
Power Supply: Dual power options to keep the fun rolling, featuring a power adapter and a slot for Type C batteries for untethered fun.
Launch Modes: Three adjustable launch distances (10 ft, 20 ft, and 30 ft) to keep the game fresh and exciting, all controlled with a simple push of a button.
Accessories: Comes with six non-slip latex balls, ensuring a grip-friendly and slobber-free game of fetch.
Safety: Designed with your dog's safety in mind, featuring gentle, non-abrasive balls for a safe and enjoyable playtime.
So, there you have it, a quick tour of the PupJoy Automatic Dog Ball Launcher's technical prowess, a gadget that promises to bring joy and excitement into your dog's life, one fetch at a time!