The Ball Launcher That Will Double Your Dog's Fun! Cut the Waiting Time and Throw Balls On and On and On with the PuppoThrow Automatic Ball Launcher!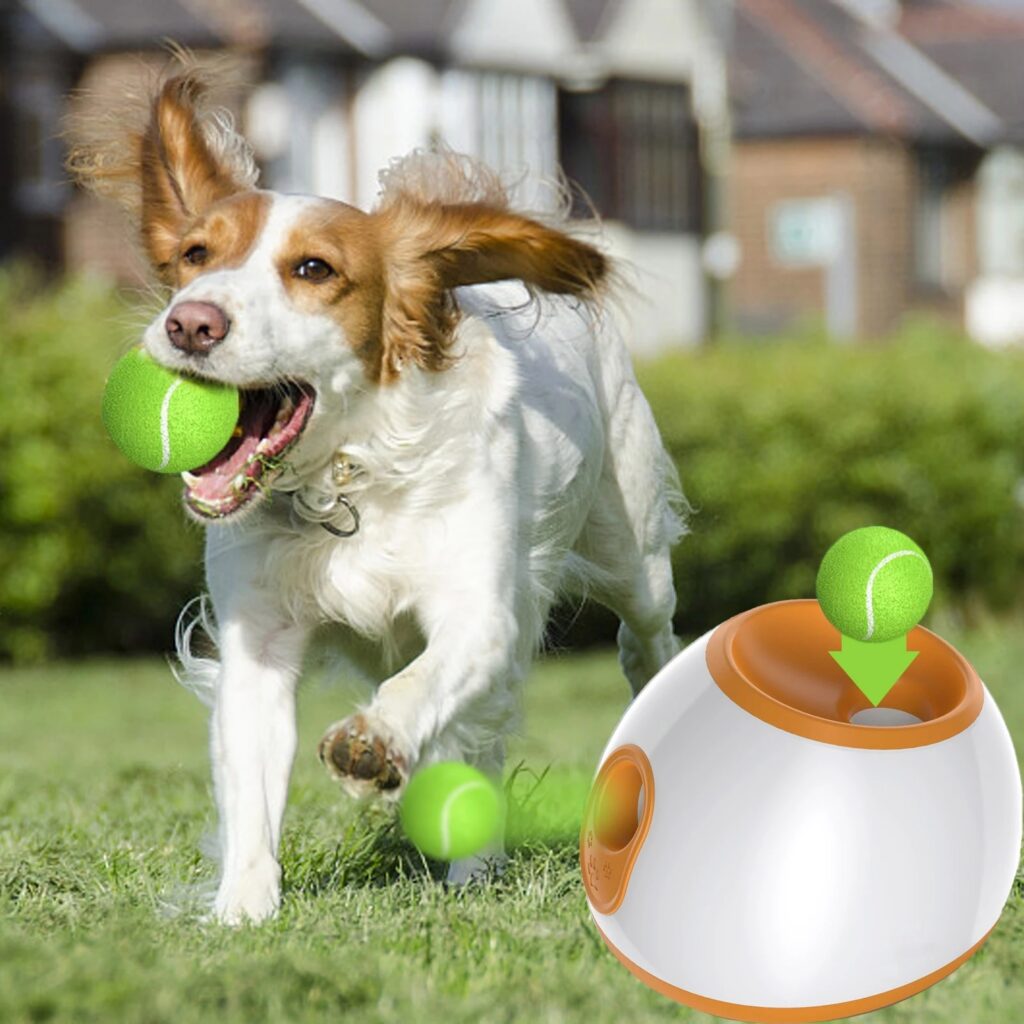 Is Your Dog a Big Fan of Throwing Balls? Make Each Game Quick, Easy, and Endless with the PuppoThrow Dog Ball Launcher!
Dogs go crazy over ball games!
When you throw a ball, they're all about it! They want to chase balls around and they seem to have boundless energy for it.
The PuppoThrow automatic dog ball launcher is a device that can help your dog play non-stop ball fun without depleting your energy! 
This automatic ball thrower for dogs can propel balls at a distance of 10 feet, 20 feet, and 30 feet. 
This device is so easy to use — your dog can even use it without your help!
If you want to help your dog with his love for ball fun, we recommend the PuppoThrow!
PuppoThrow Automatic Dog Ball Launcher Features
The Most Easy-to-Use Dog Ball Dispenser That Keeps Your Dog Entertained Even When They Are Alone. Although we recommend that you accompany your dogs every playtime, you can also trust the PuppoThrow to entertain your dogs even while they're alone. Once plugged on, the dog ball launcher will work continuously.
Get Automatic Ball Launches After Just Plugging In The Device. With this dog ball launcher, your dogs can enjoy independent play easy and fun, all you have to do is plug it in, choose your launching distance and then drop in a ball.
You Can Easily Adjust the Distance for Propelling the Ball. This tennis ball launcher for dogs can throw balls to 10ft, 20ft, 30ft, which can easily be changed with the push of a button.
Can Be Powered On By AC Plug or By 6 C Batteries. The package includes 1 ball machine, 1 adapter, 3 tennis balls, 1 instruction manual. The ball machine Works with 6 pcs C batteries ( not included ), or with AC adapter (included).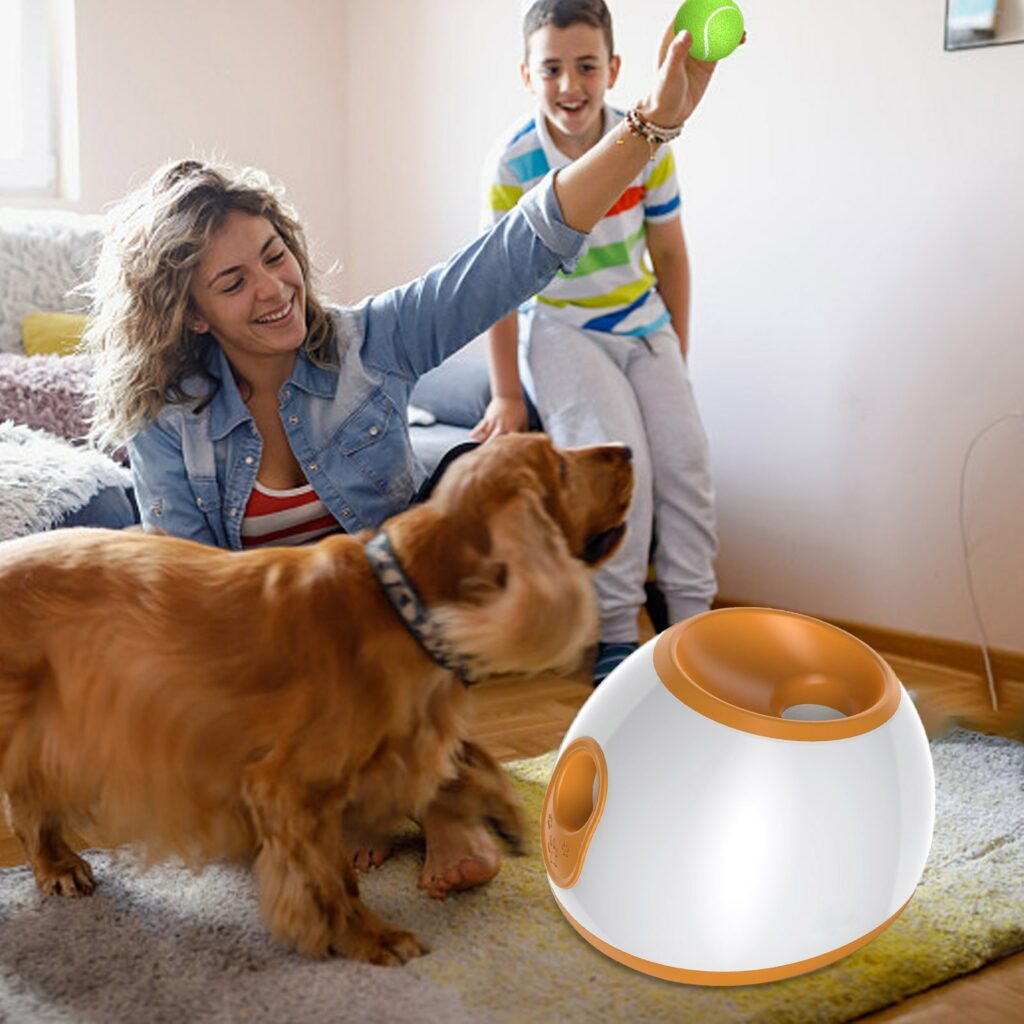 The toy is sure to bring hours of interactive fun between your dog and you.Your furry friend will have a blast fetching the ball,while you can enjoy looking at the ball launcher machine do all the throwing for you.
Make sure to let your dog take breaks from the ball launcher machine every 15-20 minutes.Fetching can be exhausting,and sometimes dogs love it that much that they do not know when to stop.
WARNING
Even if your dog can play with the ball launcher machine alone,supervise him/her while playing.Don't let the dog bite the electrical cable.

Please always inspect the launch tube to make sure it's clean before playing,in case any objects or dirt stuck in the tube.

Do not operate when any part of the product is wet or standing in water.Do not use when raining.An electric shock hazard may exist if the unit is plugged in while or after it has been exposed to water.
Specification:
Material: ABS
Color: Orange White
Size 26*26*20cm/10.24*10.24*7.87 inches
6*C Batteries (Not Included)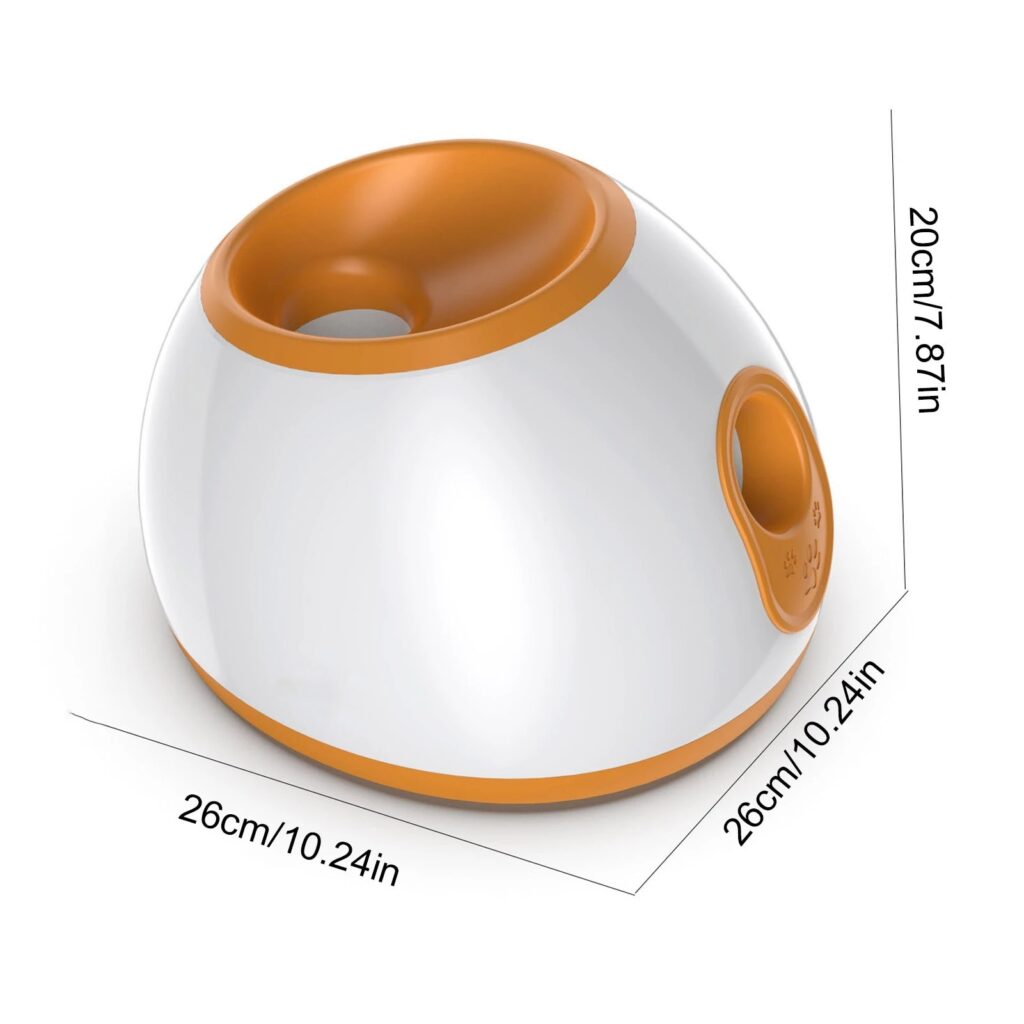 Packing List:
1* Ball Launcher
1* Adapter
3*Balls