The Best Automatic Dog Ball Launcher That Will Help Your Dog With Their Daily Exercise and Socialization! 
Provides Hours Of Exercise And Entertainment For Your Dog Without You Having Too End Up Getting Exhausted and Worn Out!
Your energetic puppies, and play-loving older dogs will have the time of their lives with this automatic dog ball launcher that will help them enjoy hours of endless ball fun with the BumbBub!
With the simple push of a button, the dog ball launcher can hurl the ball 10, 20, or 30 feet! It offers your dog entertainment as well as practical training aids. This is the premium choice of automatic fetch games for both indoor and outdoor use.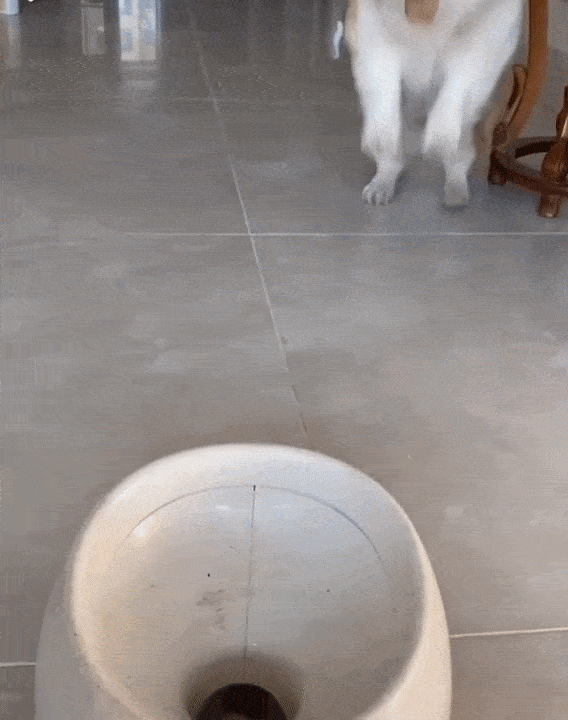 🐾 Automatic Ball Launcher That Throws Ball Without You Having to Exert too Much Energy:

 Instead of throwing the ball for hours (which can leave you super exhausted), you can use this automatic dog ball launcher to propel balls forward. You can simply sit down and watch your dog have all the fun!
🐾  Fun Exercise for Dog:

 Tire out an energetic dog, train a puppy or simply enjoy an afternoon of fun with your furry friend thanks to this tennis ball launcher. The automatic launching process provides physical and mental stimulation for your dog, keeping them entertained and out of trouble.

🐾 Tennis Balls Included:

 There's no need to purchase extra balls – this machine comes with three mini tennis balls included so you're ready for play right away.

🐾 Portable & Compact Size: Compact body does not take up much space. Easy to place, space-saving, and simple to put in position.
Two Power Supply Modes: The tennis ball launcher is powered by either 6 C Batteries or the included Power Adapter.

How to Use
1. Press the power button and once the machine has started up
2. Select a throw distance of 10, 20, or 30 feet (3m, 6m, or 9m).
3. Insert a tennis ball from above and watch as it's magically launched. Each launch will be followed by a 10-second pause.
Specifications:
Material: ABS
Size: 27 x 26 x 21 cm
AC Adapter or 6*C batteries (not included)
Package Includes
– Automatic Ball Thrower For Dogs
– Power Adapter
– User Manual
– 3 Tennis Balls