PoofPuff: Your Trusted Foot Partner for Your Dog
Make outdoor walkies fun and more enjoyable for your four-legged friends with PoffPuff Dog Shoes. Our dog booties are the perfect partner for older dogs, search and rescue dogs, sled dogs, and even dogs with paw inflammation and foot injury by giving them the full support they need to make every step comfortable.
Why does your dog need PoofPuff?
Enjoy backpacking, hiking, mountain biking, trail running, and other outdoor adventures with their humans.
Protect your dog's paws from hot sand, ice and snow, shells, rocks, and any other harsh surfaces that they may encounter.
Protect your sofa, your beautiful garden, or anything fragile from your dogs' sharp claws.
Keep the house clean even after walking your pet in rainy weather and on muddy grounds.
Keep people from getting scratched by your dog's nails while playing with him.
Keep your dog safe in the evening or early morning with reflective straps.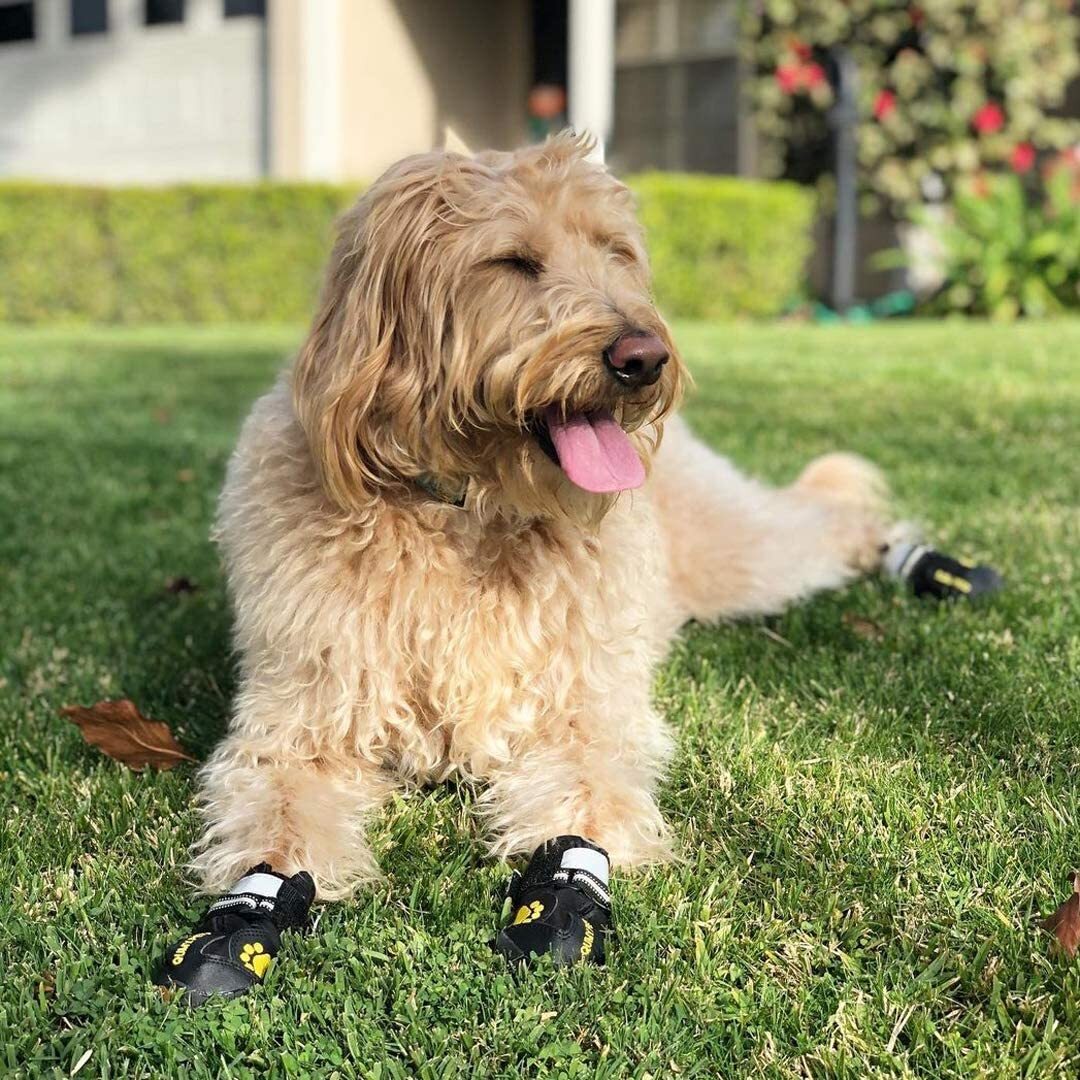 What makes PoofPuff the best foot partner?
Easy to put on/off
Our dog shoes expand with a wide split seam opening and two adjustable straps that make it easy and quick to put on the dog's paws. Tighten the straps as much as possible to ensure the shoes stay snugly no matter how much they move.
Protection against hot summer roads
The PoofPuff high-quality fabric makes these boots excellent in protecting your dog's paws from being burned in the hot summer. At the same time, it maintains the interior soft and breathable to paws so they won't feel irritated while wearing them.
Comfort on rainy days
These dog shoes are made with water-resistant material, preventing rain from entering the shoes, keeping the dog's paws dry and clean whenever it pours.
Cozy and warm for winter adventures
Our PoofPuff Dog Shoes can keep your dog's paws dry, warm, and clean on cold winter days to enable them to play as much as they want without getting frostbites.
Get comfy with hard floors.
With our tough and anti-slip sole, our PoofPuff Dog Shoes can provide stability and traction to enable your dog to walk comfortably on hard floors, prevent slipping, and offer protection from sharp thorns and hot pavement.
Enjoy daily walkies
These dog shoes are perfect for daily walks by protecting their dog's paws against spiky stones, asphalt, grass, etc. PoofPuff dog shoes will make your dog fall in love with your daily walk time.
Perfect for hiking and camping
Long-term hiking can cause serious damage to your dog's paws. So if you're planning to do some hiking with your dogs, getting them quality and comfortable dog shoes are essential. Let your dog enjoy the outdoor time while also giving its paws good protection with PoofPuff.
For better seaside beach walkies
When you take your dog to the beach or desert, these dog shoes can well protect the paws from the gravel and stones so that the dog can better enjoy the scenery.
No-mess indoors
When your dog comes back from their outdoor walkies with PoofPuff Dog Shoes on, you don't need to wipe off muddy or sandy paws, keeping your house clean all the time. Also, clean shoes are suitable for indoor use to prevent dogs from scratching carpets or wooden floors.
Perfect for night walking
These dog shoes have two reflective straps, making your dog visible and safe at night. If you like to take your dog for night walks, it is necessary to consider the dog's safety.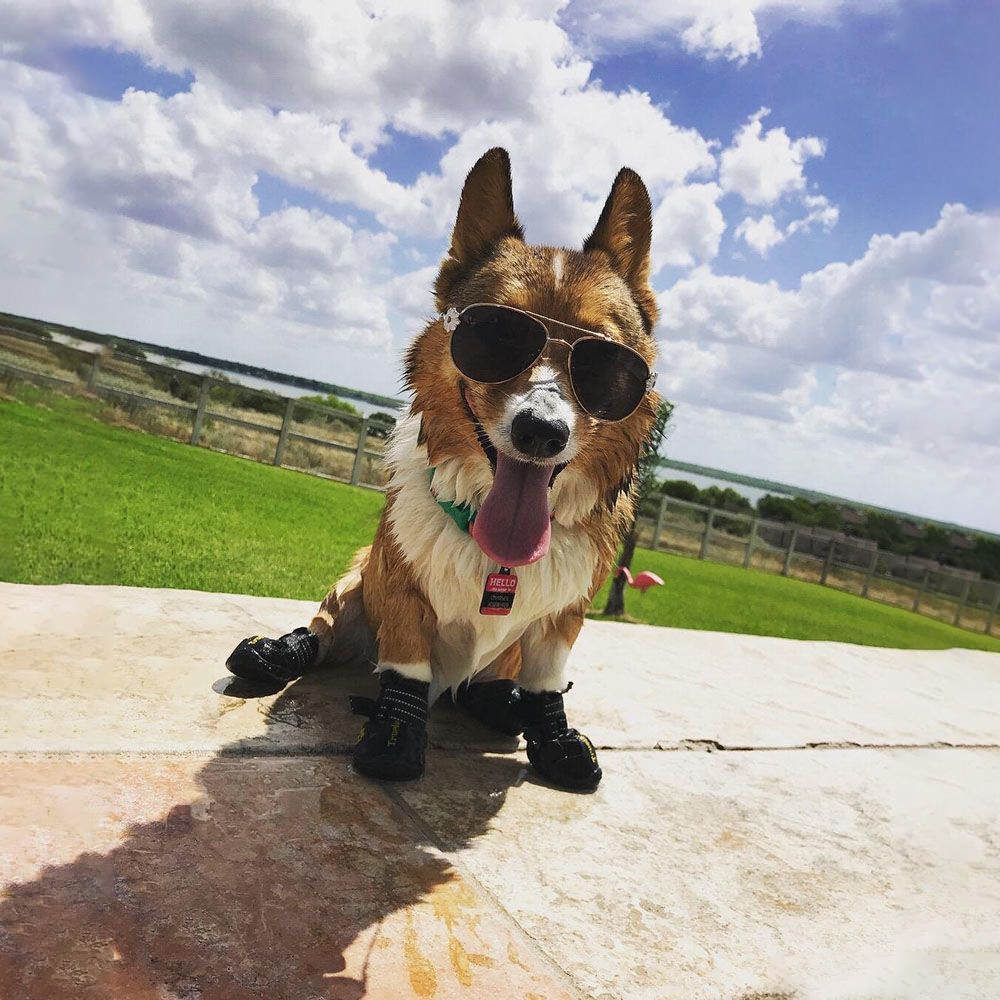 Features
Trail-ready Dog Boots: Perfect for protecting your dog's paws from hot sand, ice and snow, shells, rocks, and any other harsh surfaces that they may encounter. Your lovely dogs can enjoy backpacking, hiking, trail running, and any other outdoor adventures with you anytime.
Secure and Adjustable: Designed with a wide opening that makes it easy to put boots on or off. A reliable hook-and-loop cinch closure system ensures a snug, secure fit on all paws. Two adjustable and reflective straps to ensure a tight fit also make your dog safe at night.
Fashionable and Comfortable: Our dog booties come in packs of 4 with cute dog paw embroidery. The dog shoes are soft, lightweight, and hand-washable. Non-slip rubber material ensures a firmer grip. Waterproof material keeps the paw dry and warm. Breathable fabric keeps dirt and debris out.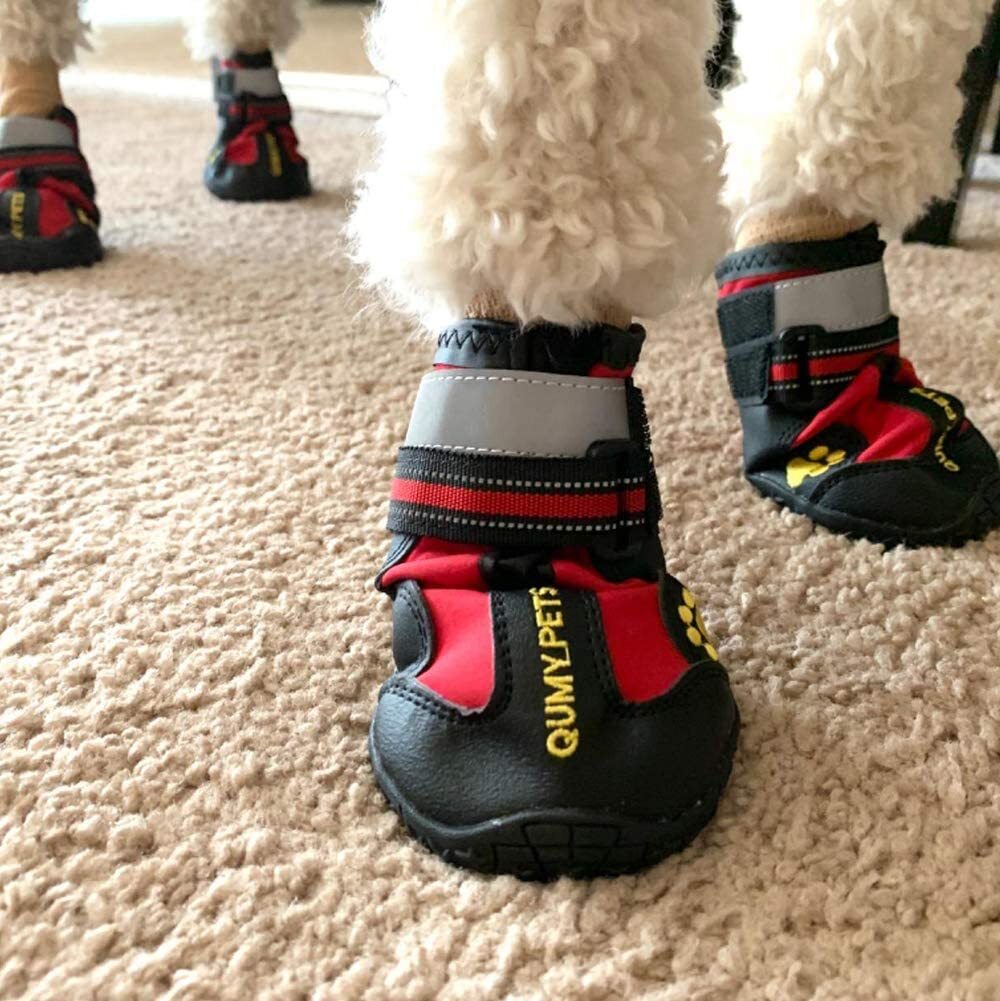 4 Tips for Breaking in Dog Boots
1. Adjust Boots
When you first get the boots, work them in your hands so the sole becomes more pliable. Because of their weight, small dogs have a tough time softening their boots' outsole, so breaking them in with your hands can help them become more comfortable quickly.
2. Take it Slow
Start by putting the boots on in the house for a couple of minutes. Then, try short adventures outside, gradually increasing the time spent in the boots. We recommend using treats or toys and keeping the activity fun and rewarding to focus away from the boots. Along with breaking in the boots, you'll help your dog get accustomed to wearing them.
3. Stop and Check
Each time you use the boots during the break-in period, stop and check for rubbing and hot spots. This is also a great time to review the strap tension and fit to ensure the boots stay secure.
4. Try Socks
Like socks help with our shoes' overall comfort, boot liners can help a dog's overall comfort, providing a soft wicking layer between the paw and the boot. Socks can also help protect the de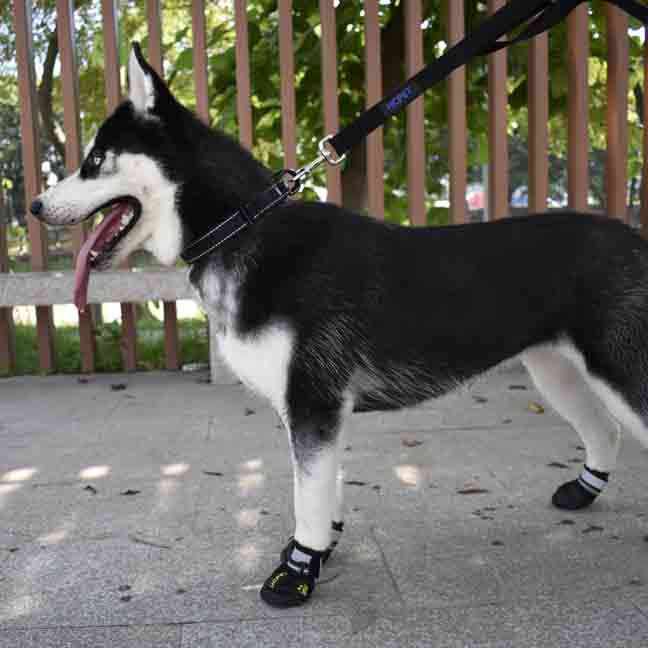 How to figure out your dog's size
Step1. Have your dog stand on a piece of paper.
Step2. Lift the dog's opposite paw so that the weight is placed firmly on the paw that is being measured.
Step3. Mark both sides of the widest part of the paw
Step4. Measure the distance, choose the correct size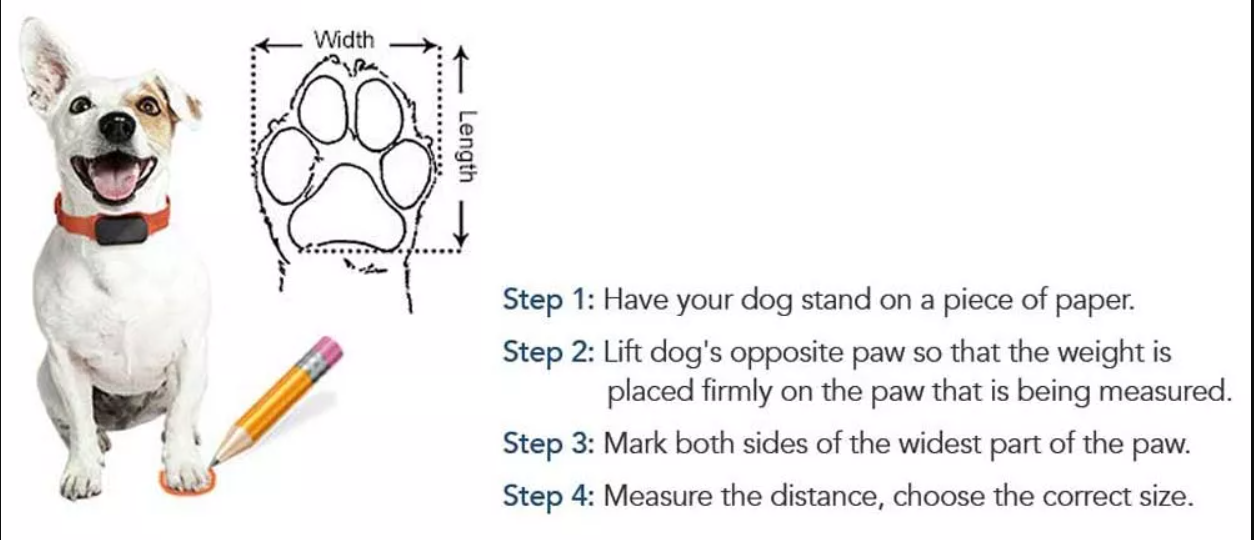 Package Include: