The Perfect Winter Shoes for Your Four-legged Friends.
You don't have to worry about your pet getting frostbites while walking on icy roads this winter season. Our Fino-Wear Waterproof Winter Boots are here to keep them warm in the long winter days and ensure they get the protection they need during this cold season.
The Fino-Wear is made of lightweight and soft materials designed to keep your pet's feet secure during winter. It is also waterproof to ensure all-day comfort and guarantee your dog's paws stay clean to avoid any bacteria build-up so that you can maintain their good health no matter where you go.
Great for Indoor Wear Too!
Whether you go for outdoor walkies or stay cozy indoors, the Fino-Wear Dog Shoes are your pet's best friend. With our soft-sole and light fabric, your pets will never want to take them off. By having your four-legged friends wear Fino-Wear every day, you can prevent scratches on your expensive furniture. This is also an excellent practice in maintaining your floors clean all the time, especially if you have active little doggies who love to play outside.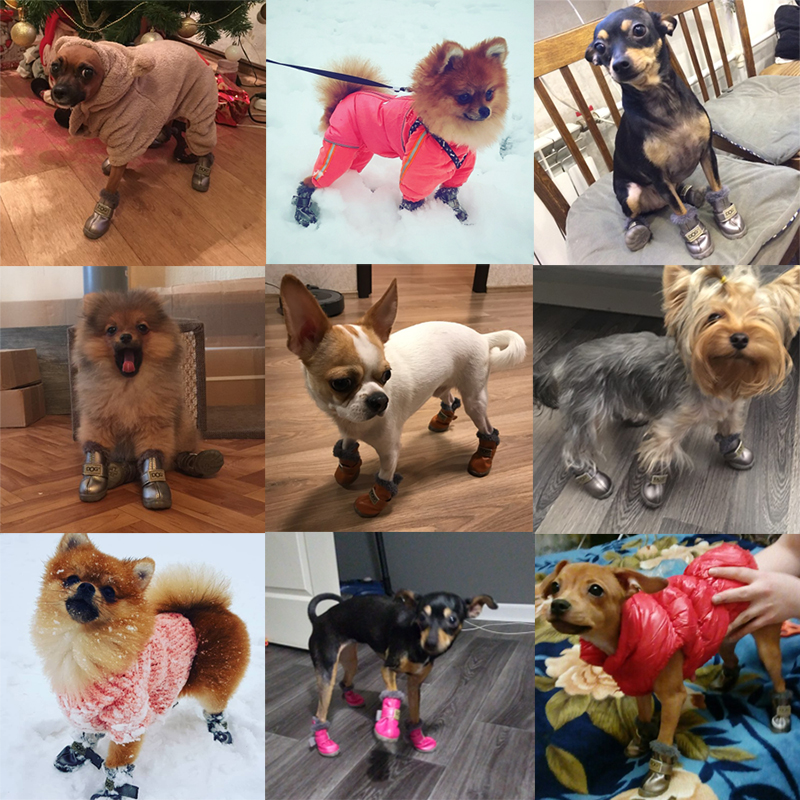 Anti-slip Protection for All-day Winter Outdoor Walkies.
Our Fino-Wear Dog Shoes feature an anti-slip design that will cover your pet's feet and let them enjoy the winter with comfort. It ensures their feet are warm and cozy while you walk them around in the snow.
Buy these beautiful sets of shoes to provide comfort and protection to your pet's feet in unmanageable conditions. These will most likely sell out very fast, so be sure to get yours while you still can!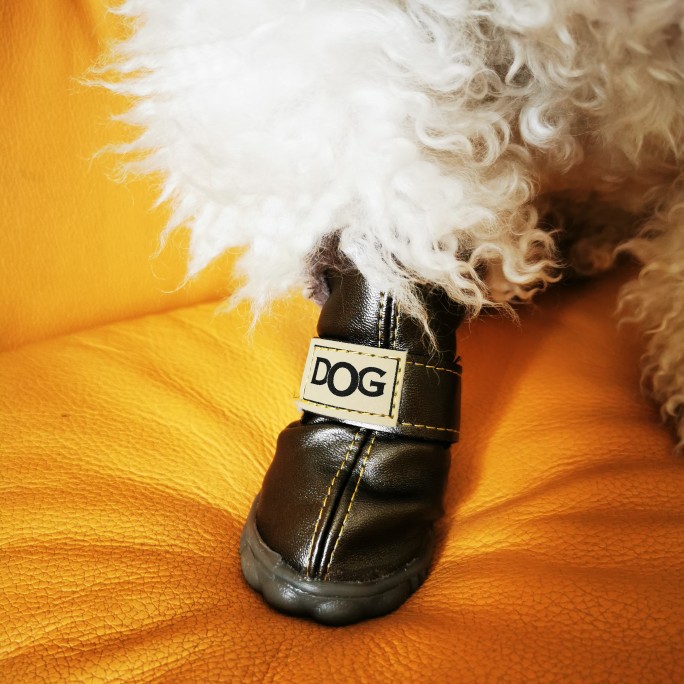 The Advantage of Having Dog Shoes for Your Pet.
Dog boots allow your pet to feel at their best on wet or frozen surfaces. This fashionable accessory offers a trendy option for the comfort and overall health of your four-legged friends.
Walking with our dogs is part of our daily life. They run and jump around for hours, so they need to be comfortable on their paws. It is obvious that without protection, his claws can get damaged, or his pads get irritated.
Our Fino-Wear Boots help preserve your dog's paws when there are bad weather conditions or soils not suitable for your dog's pads—for example, snow, hot tar, or gravel.
When you walk with your dog, paths, roads, or sidewalks can be sprayed with abrasive products that could be dangerous to their health. Also, treatment products used on the ground can damage your dog's paw pads, too, such as salts used in winter, which are corrosive. Therefore, putting on the Fino-Wear Dog Boots ensures that they are 100% protected, preventing severe damages and pain that could transpire in the long run.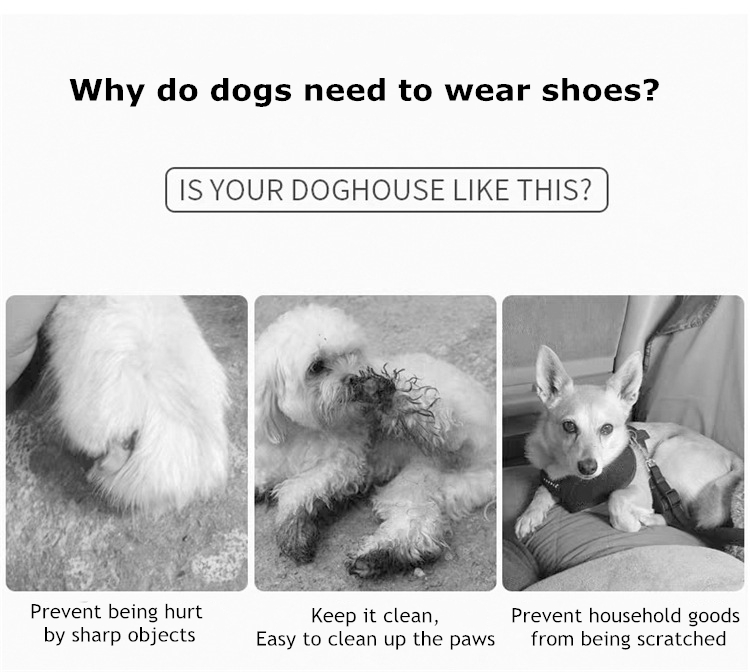 Features:
ATTRACTIVE DESIGN & FIT SMALL DOGS: Our puppy dog shoes feature a suitable feel for protecting your puppy's paw with an opening velcro design. It's effortless to put on and take off, and the length can be adjusted freely to give your puppy comfortable daily walking.
WATERPROOF & ANTI SLIP DOG BOOTS: These warm small dog booties are designed for any indoor or outdoor place and keep your pet safe and warm. With Fino-Wear, you can maintain your dog's paws and indoor floorings clean, prevent dog damages at home, and most importantly, prevent cold, snow, slat, sharp thorns, hot and ice pavement from getting into your dog's paws.
ANTISKID SOLE MAKE PET SHOES DIFFERENT: The beautiful high-quality PU material is easy to clean and always makes the surface of the dog boots modern-looking. Meanwhile, the insides of the dog shoes come with a grey warm lining to protect your dog's paws and keep them warm in the winter or cold weather.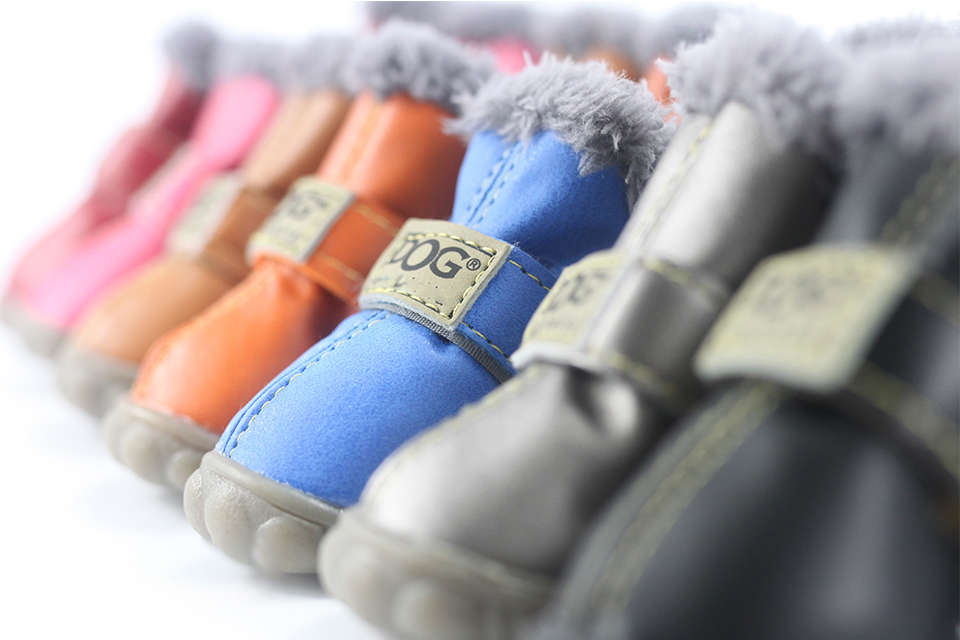 More Reasons to Love the Fino-wear
These dog shoes can prevent wet and moisture from causing problems with your dog's paws.
The adjustable velcro straps help keep the grip fit and slip-free.
It's super warm, and the boots are made with plush, soft fabrics that are 100% comfortable.
The perfect shoes for your hairy friend when it feels cold in the winter.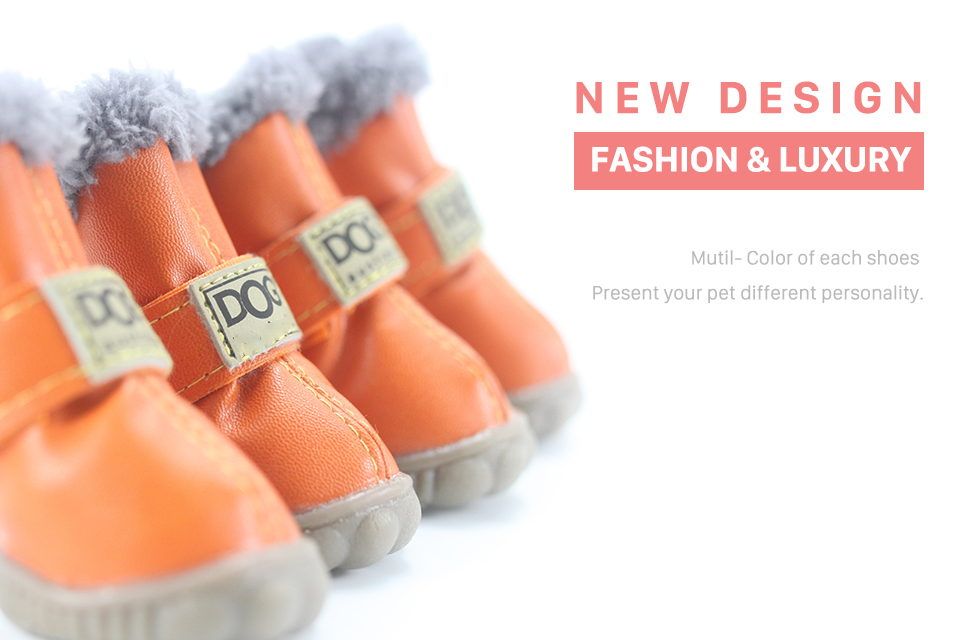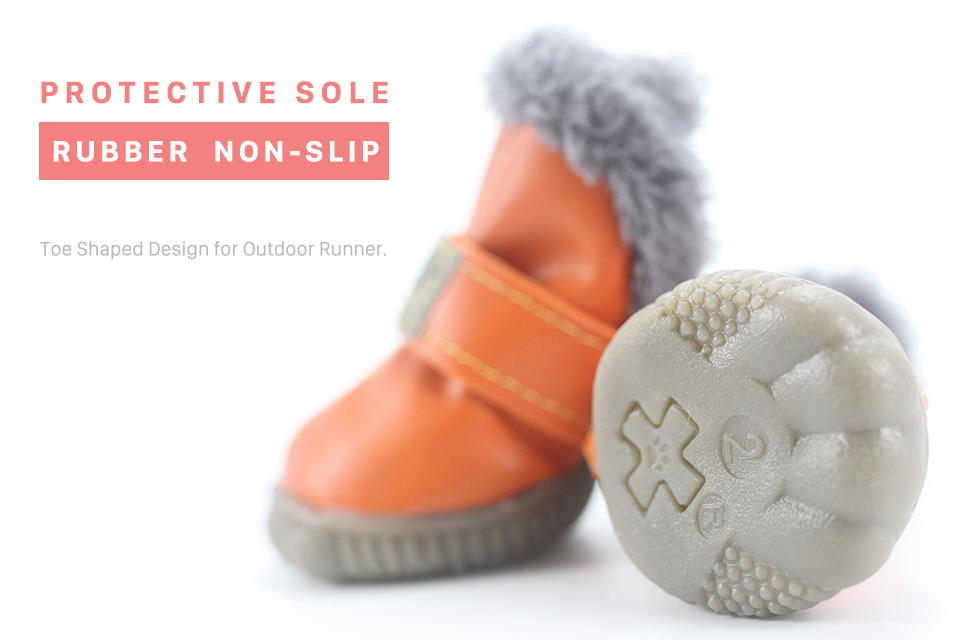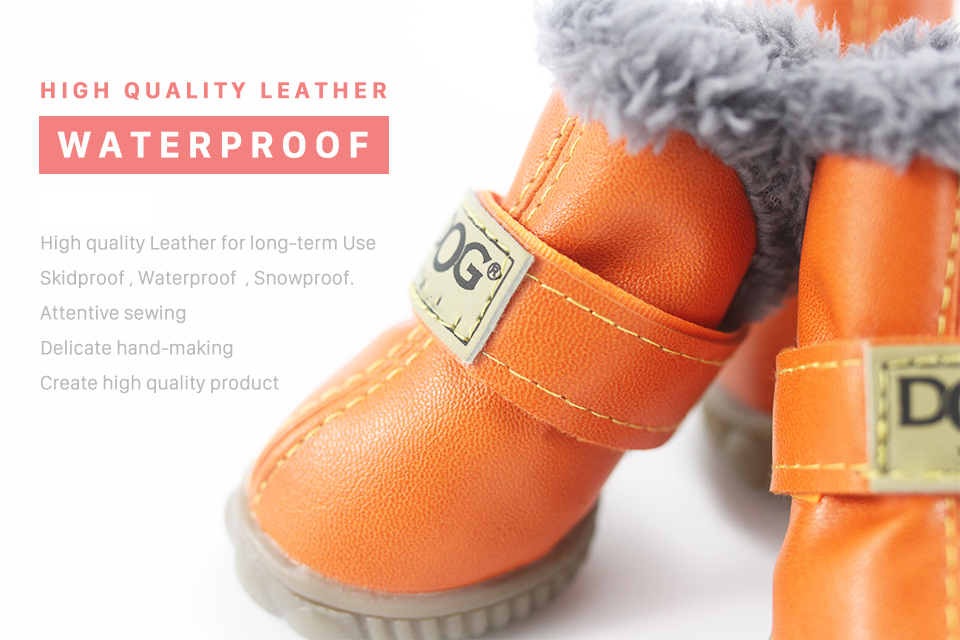 Specifications:
Material: High-quality Leather
Feature: Skidproof,Waterproof, Snowproof.
sole: Non-slip & Rubber & Protective Sole.
Size: XS, S, M, L, XL
Color: Black, Blue, Pink, Red, Yellow, Silver, Brown, Orange
Suit for: Puppy, Cat, Small Dog, Medium Dog
Dog breeds: French Bulldog, Beagle, Poodle, Yorkshire Terrier, Dachshund, Miniature Schnauzer, Pembroke Welsh Corgi, Cavalier King Charles Spaniel, Shih Tzu, Boston Terrier, Pomeranian, Havanese, Shetland Sheepdog, Chihuahua, Pug, Maltese, West Highland Terrier, Shiba Inu, Bichon Frise, Papillon, Scottish Terrier, Miniature Pinscher, Cairn Terriers, Lhasa Apsos, Italian Greyhound…
SIZING INFORMATION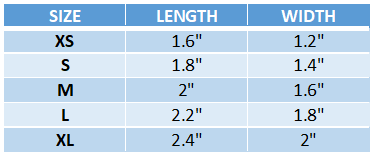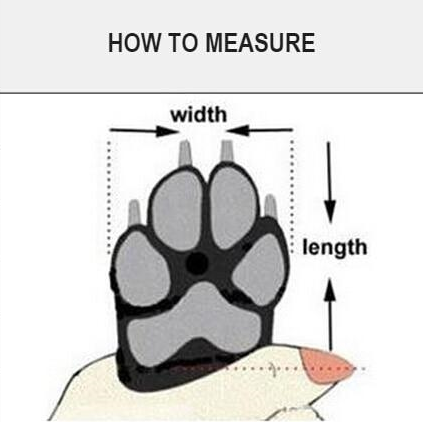 Package: