Behavioral problems are a sign of an unhappy dog. Correct them before it's too late with PawTrue!
Is training your dog getting too stressful as they grow? Here's an easy solution for a well-behaved dog.
The PawTrue is a remote-controlled training collar to improve training effectiveness and constructive behavior training used by dog owners and professional dog trainers. This device uses a mild and adjustable static stimulation to correct bad behavior and ensure all your commands are understood and obeyed.
PawTrue is excellent in:
Controlling your dog's unwanted barking
Prevent them from running or straying away
Effectively communicate commands
Ensure your dog stays well-behaved whether indoors or outdoors
Get the PawTrue today and experience these amazing features: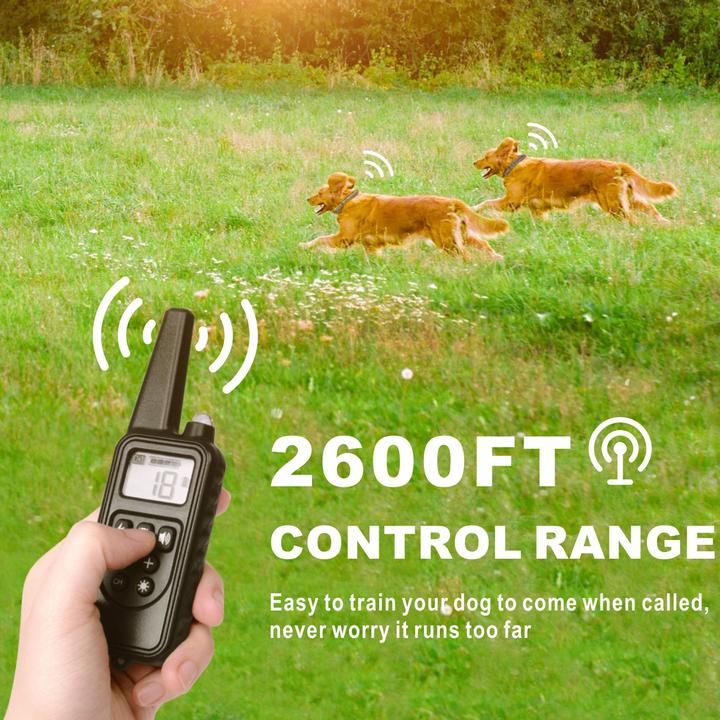 Multiple Training Mode 
Control your dog's behavior and actions easily with the gadget's multiple training options. This dog shock collar + remote comes with beep, shock, and vibrate modes to help teach dogs basic obedience and control any rowdy behavior, even if they are 875 yards away. 
Ideal for Disciplining Pet
You can use this control if your pet is exhibiting aggressive behavior, excessive barking, gnawing, biting, nibbling their leash, or unguarded wandering.
Safe Key Button Lock
One thing that you want to avoid when it comes to training your dog about proper behavior is accidental shocking to prevent unnecessary traumas. Shock stimulation should only be used to tag bad behavior so that it easily registers in your dog's memory. The PawTrue comes with a safety lock to prevent accidental shocking from happening and ensure your dog feels safe and happy while training.
Control Multiple Collars
Make behavior training a fun play with your dogs using PawTunes multiple collar control. This feature enables you to control up to 3 collars at once, giving your dogs more fun while training.
Adjustable Static Level
With PawTrue's adjustable static level ranging from 1-99, you can choose the appropriate sensations ideal for your pet's size. Ideal for dogs ranging 15lbs-100lbs. 
Long Remote Battery Life
You'll never have to worry about the PawTrue running out of power. Thanks to its lithium-ion battery, it lasts longer than standard shock collars on the market, giving you more hours to train your dog.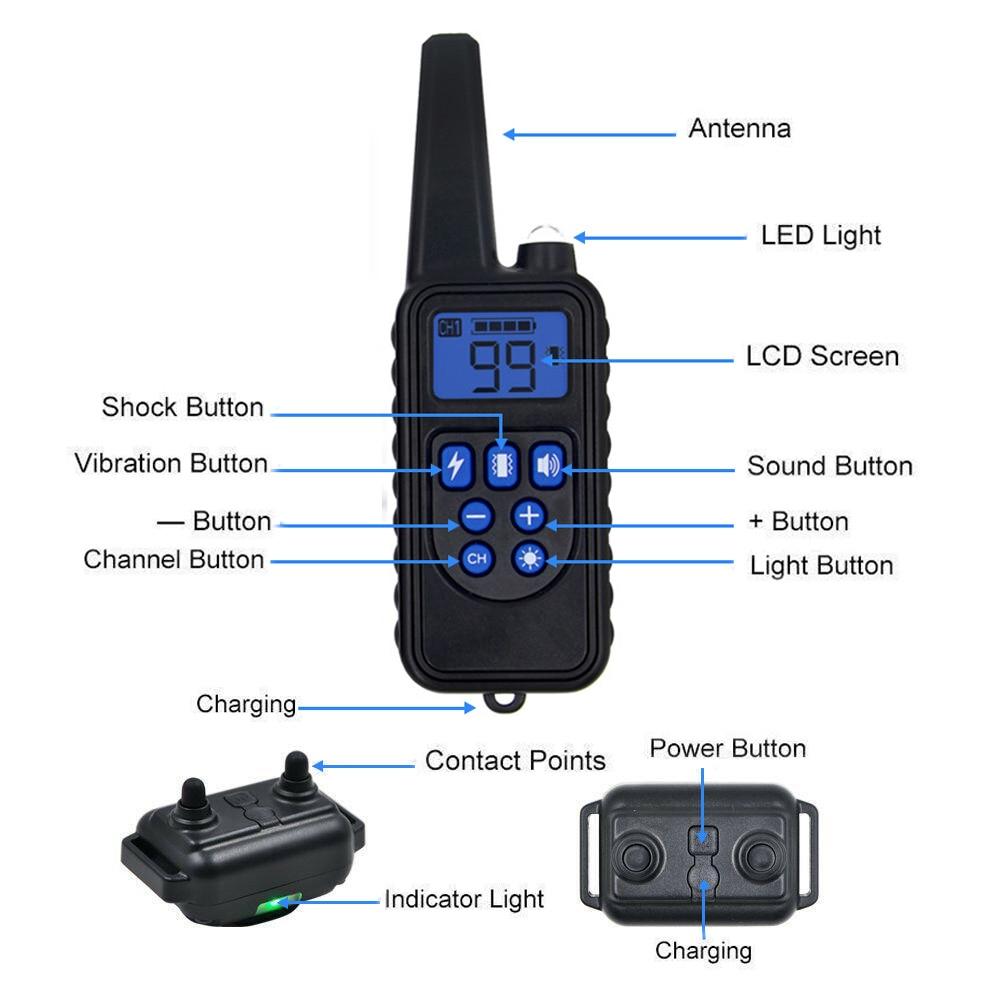 Over 10,000 Customers Love PawTrue's effective and safe training for dogs of all sizes and breeds.
Worth every penny spent
If set up properly and done routinely, this e-collar can really get the job done. It's perfect for off-leash training and constructive behavior training regardless of the dog's age. I personally use shock mode to train my dog, but you can always set your own preference. 
Steve Jackson, Verified Purchase
This product solved all the problems I've been dealing with my dog in just 1 week!
At first, it was difficult for me to figure out how to use the trainer consistently. I would always check whether it's on or not because sometimes it seems it doesn't work. But thankfully, I was able to figure it all out, and since then, the results have been amazing. It helped train my dog to stay well-behaved in the presence of strangers and visitors. I was also able to deal with her excessive barking that threatened our neighbors at night. In fact, 95% of all the problems I've been complaining about were solved by this device, and it's really rewarding for pet owners like me. My advice in using this device for the first time, always to read the manual. Then, if your dog follows the command effectively, don't forget to give positive reinforcements like treats or attention so that they'll feel appreciated.
Edgar, Verified Purchase
Specifications:
Input: 100 – 240V, 50 / 60Hz
Output: 5V, 0.5A
Transmitter Battery Voltage: 3.7V
Receiver Waterproof Level: IP67
Battery Type: lithium-ion battery (built-in)
Transmitter Charging Time: 4 hours
Transmitter Standby Time: about a week
Receiver Charging Time: 4 hours
Receiver Standby Time: about a week
What's Included:
1 x Remote Control Transmitter
1 x Dog Collar Receiver
1 x Nylon-Fabric Collar Strap
1 x Power Cable
1 x Test Lamp
2 x Silicone Protective Caps
1 x User Manual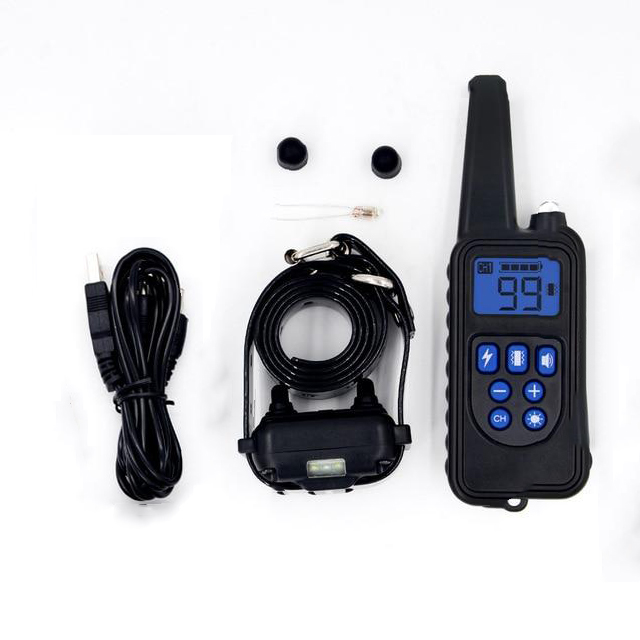 Training Tips for Safety and Effectiveness
Please charge before first use.
Take it slow. Train one skill at a time to prevent causing confusion.
It is highly recommended to use the Vibration mode before using the Shock mode.
Please start at the lowest shock level (Level 1) and test the Shock level on your hand first before using.
Observe your dog's reaction closely during training. Reduce training intensity or duration if your dog becomes too tired, inattentive, or anxious.
Examine the contact area daily for signs of irritation or rash. If signs of irritation or rash are present, discontinue using the device until the skin is healed.
To avoid your dog from getting collar-wise, please do not leave the collar on for a prolonged period unsupervised. When the collar gets your dog's attention, reinforce the behavior with a verbal command.
Frequently Asked Questions
Should my dog wear this e-collar all the time?
Ans: No. You should only use this device to train your dog. One thing we want to avoid is complacency, which could affect your overall training.
Is this device suitable for big dogs like Golden Retrievers, German Shepherd, etc.?
Ans: Yes. The PawTrue supports dogs from 15 lbs to 100 lbs. The static level of the PawTrue is also adjustable up to 100 to fit the necessary stimulation for dogs of all sizes and breeds.
Is the shock mode painful for my dog?
Ans: No. The PawTrue uses mild stimulation to ensure it's 100% humane for dogs. Over 10,000 dog owners and professional trainers have approved this method and seen positive results.
Is the collar waterproof?
Ans: Yes. Our collar receiver is 100% waterproof to support your dog no matter how active they are.
My dog is deaf and I'm not happy with shocking, can I still use this trainer?
Ans: Even though our shock mode is designed to deliver mild stimulation, you can always switch to vibration mode to accommodate you and your dog's preference.