The Most Humane Way to Train Your Dog and Correct Bad Behavior
Is your dog getting out of control sometimes, and your neighbors are worried about their safety every time your dog is out? If so, don't fret. Our PawSense Training Remote + Collar is here to solve 90% of your pet's bad behavior.
Designed using the latest in electronic training collar technology and mild to aggressive shock stimulation, the PawSense is equipped with all the right features to guarantee safe and effective constructive behavior training to dogs of all breeds and sizes.
Getting your dog's attention and ensuring your commands are well-complied is now made easy with PawSense. With up to 99 levels of static correction, get access to today's most effective behavior training without hurting your dog.
Here's how PawSense delivers excellent results:
Supports advanced range technology that goes up to 875 yards (2600 feet) to correct unwanted behavior
Includes 4 training modes, such as Shock, Vibration, Beep, and Light to accommodate your dog's preferred training method
One size fits all collar that supports from 5 lbs to 133 lbs weight
Designed with an adjustable strap and IP6X waterproofing to deliver quality training anytime, anywhere
With PawSense as your training partner, a well-behaved dog is within reach. There's no need to worry about excessive barking, wandering off, and other unwanted behavior that could put you and your neighbor's safety at risk. You and your dog will be the talk of the town once your PawSense training is complete!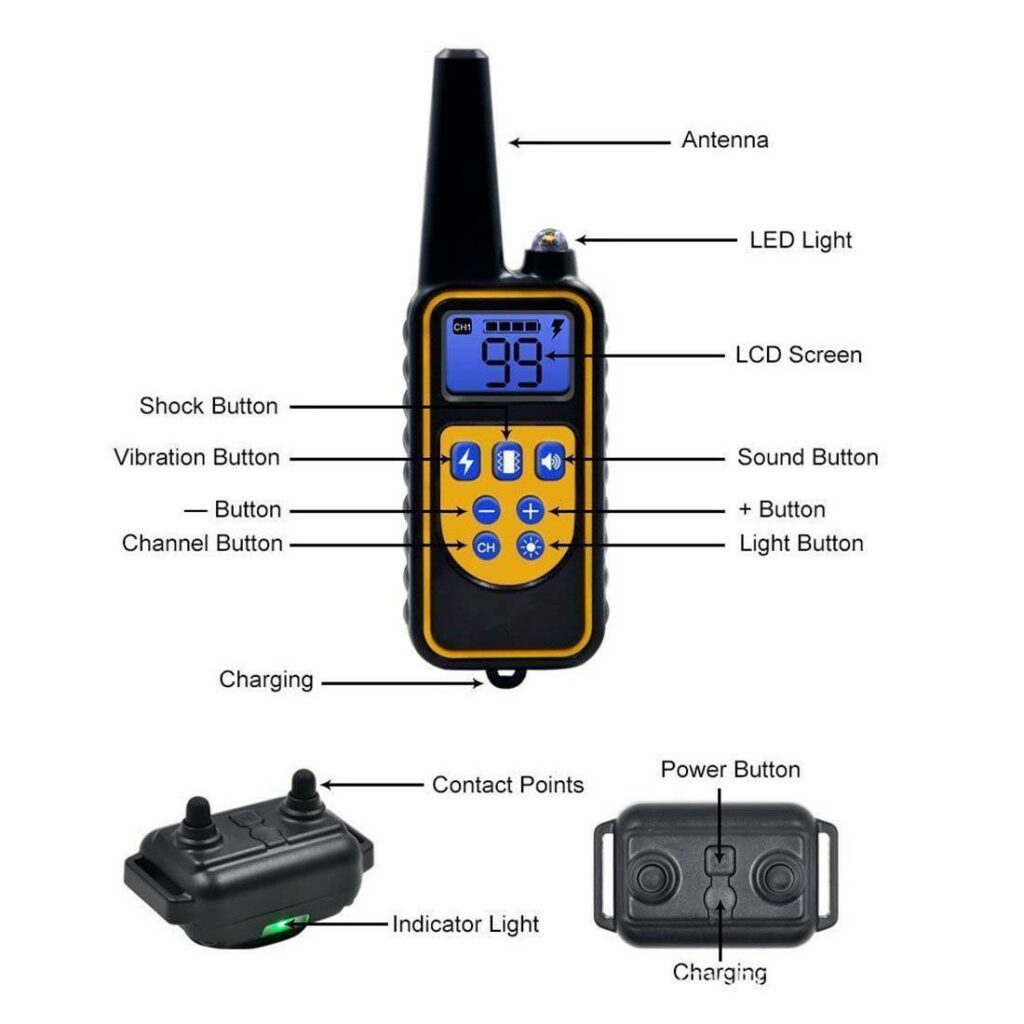 Key Benefits:
875 Yards Remote Range. Take charge of your dog's training even at a distance. PawSense's remote range supports up to 875 yards (2,600 ft) distance (without obstacles). It's the perfect tool to bring along during your trips to the park to control your dog's behavior and segway behavior training. This e-collar can also control up to 3 receivers at a time, giving you better efficiency in training your pets altogether.
4 Training Modes. Each dog has its own preferred intensity level and training method. With PawSense, capture what works best for you and your dog by adjusting the collar's intensity level from 0-100 for Shock mode or using other methods such as Vibration, Tone, or Light mode. These 4 types of stimulation are effective in correcting excessive barking, aggression, and other behavioral disobedience. And, it's widely used by expert trainers and first-time pet owners, so know that your and your dog's training preference is available.
IP6X Rainproof and Rechargeable. No matter if it rains or snows, the PawSense got your training covered. Our PawSense Training Remote + Collar is IP6X waterproof-certified and is 100% rechargeable so that you can use it anytime, anywhere! The device also features a power-saving design and memory function to accommodate your training variations.

NOTE: Please make sure to charge the product before FIRST USE.

Adjustable Collar for Best Fit. Best comfort offers better results. The PawSense receiver/collar is 100% adjustable to fit different dog sizes and breeds. The soft collar neck size can be adjusted from 7.1 inches to 25.6 inches, which is perfect for medium to large dogs above 20 lbs. It also features

Soft Silicone Contact Points for a SAFER and MORE COMFORTABLE wearing than other metal ones. Yes, we can assure you that the device will never damage your dog's skin or fur.

100% Satisfied Guarantee: We are committed to providing our customers with high-quality products and the best shopping experiences. If you meet any issues, just send an email to us and all issues will be solved within 24 hours.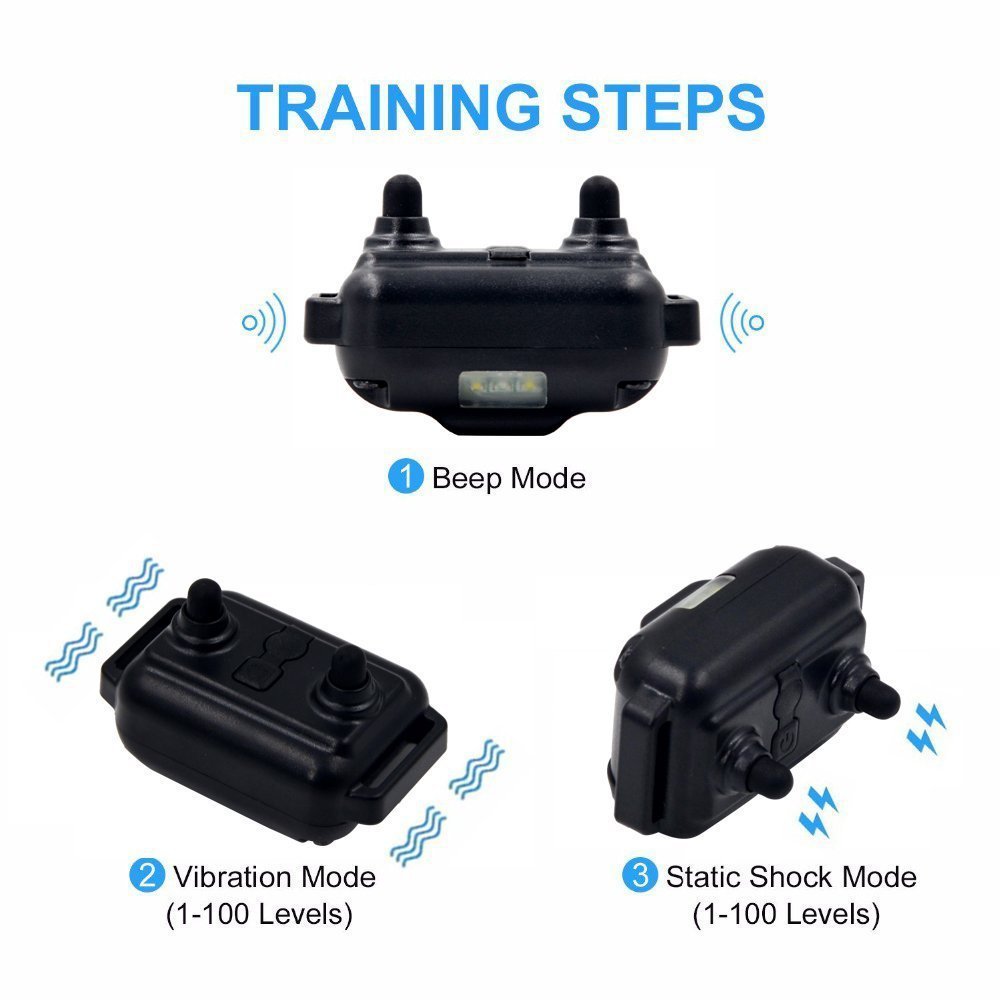 The Well-Behaved Dog Science
If you're a pet owner, nothing worries you more than seeing your dog uncontrollably barking at pedestrians or chasing wild squirrels while getting a walk at the park. Those judging stares of other pet owners near you force you to question yourself about responsibility or "if you're fit to be a fur parent." Training e-collars like the PawSense is every pet owner's MUST-HAVE tool for a well-behaved dog. It comes with proven and recommended training modes you need to correct bad behavior or any disobedience that your dog usually does. With just a few minutes of training a day, you're guaranteed to bring out the best version of your furry friends.
4 Training Modes:
LED Light, Vibration, Shock, and Sound mode are optional.
LED light mode helps you to locate your dogs in the dark environment, at dusk, or in thick foggy conditions.
Vibration and static shock mode are adjustable from 0-99 levels.
The Sound mode creates an audible warning.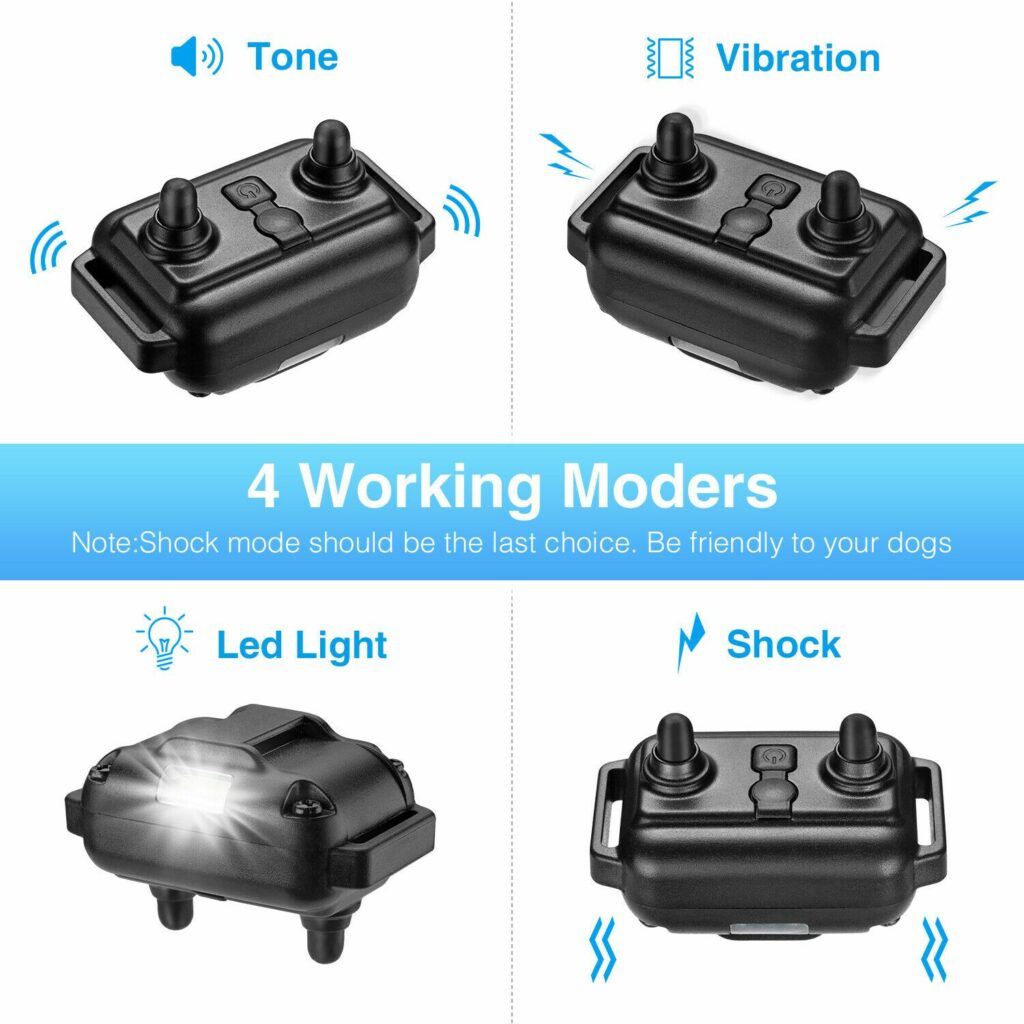 With over 30,000 orders of PawSense, our customers are 100% happy about the results. Here are some of the best reviews we've received!
A great tool to correct my overly friendly dog
My baby is usually well-behaved, but sometimes, she gets super excited at the opportunity of saying "hello" to another dog or person. And oftentimes, she goes beyond the boundaries I set, so I wanted to correct that. This tool is perfect for this concern of mine. At some point, I don't even need to use the Shock mode because she responds very well to the Vibration and Beep tones. I know that responsiveness may be different for different dogs, but I do not doubt that this device will work for any dog. I'm so glad to have purchased this.
Rodger & Dodger, Verified Purchase
Excellent for off-leash training
I own a couple of e-collars, but this one is an absolute standout. The variety of training modes available is a luxury if you want to train your dog in different skills. You can also use different modes to create distinctions of different commands so that you ensure responsiveness. Next, the waterproof support is also excellent to have, especially if you love to hike with your dog. And it's durable, too. No matter how fast your dog runs or how much they move, this training collar can withstand everything on its way. Most importantly, this PawSense is a great tool to use for off-leash training. The available modes and wider coverage can help you get the result you wish. I highly recommend this device.
Jacob, Verified Purchase
Specifications:
Item Type: Dog Training Collar
Material: Tough ABS plastic
Color: Black
Remote Control Distance: 880 yards over 2600 feet
Waterproof Level: IP6X
LCD Display:
Packing Size: 19.5 * 15 *5.5cm
Packing Weight: 410g
Dog Weight: 5lb-133lb
Package Includes:
1 x User manual & dog training methods
1 x Transmitter
1 x Charging Cable
1 x Test Bulb
1 x Receiver
1 x Black Nylon Belt
2 Contact Points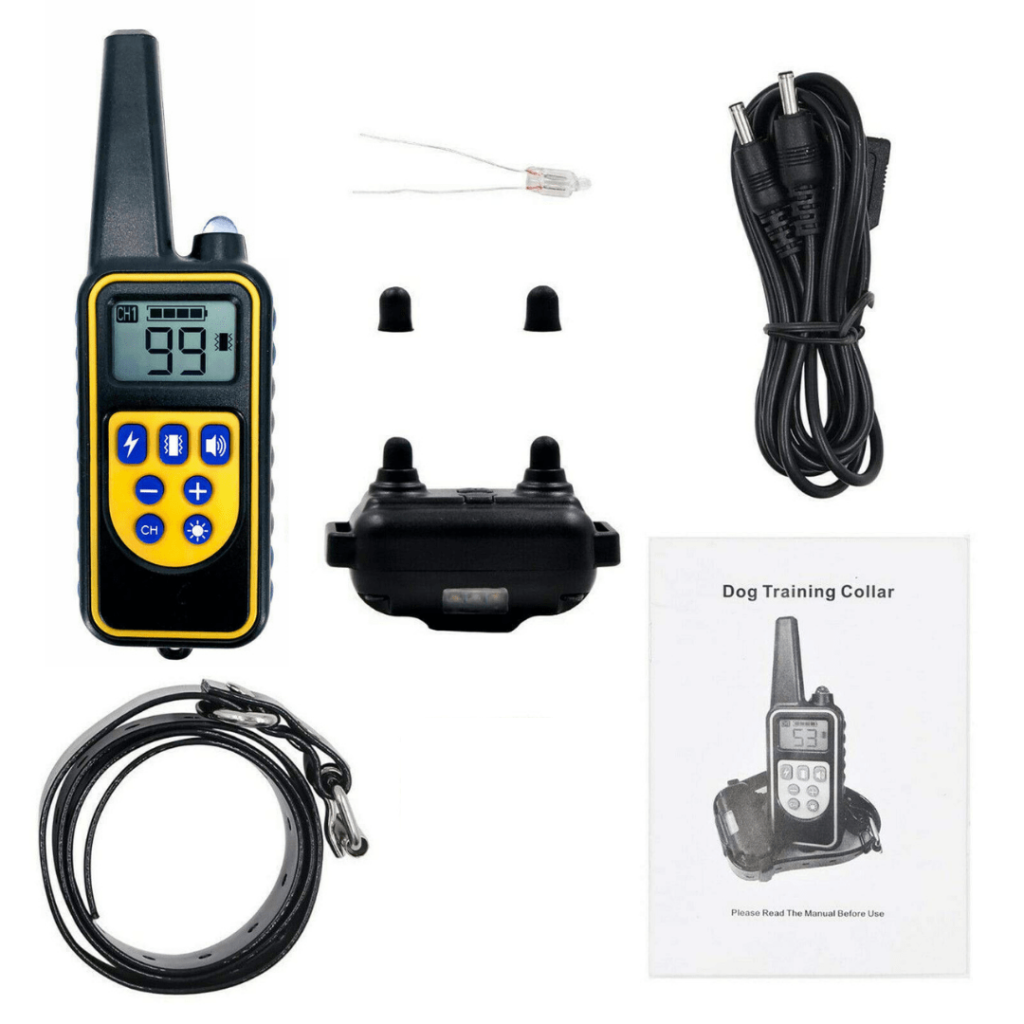 Tips:
Please charge before first use.
Eliminate one misbehavior or teach one obedience command at one time. If the training gets too fast, your pet may become confused and rebel.
Use the Vibration mode first before using Shock mode. Test the Shock level on your hand before using it on your dog.
Observe your dog's reaction closely during training. Reduce training intensity or duration if your dog becomes tired, inattentive, or anxious.
Examine the contact area daily for signs of irritation or rash. Discontinue use until irritation or rash on sensitive skin is healed.
Please start at the lowest shock level (Level 1) and test on your arm before using it on your dog.
To avoid your dog from getting collar-wise, please do not leave the collar on for a prolonged period unsupervised. When the collar gets your dog's attention, reinforce the behavior with a verbal command.
Frequently Asked Questions
How far can this e-collar support?
Ans: The PawSense can support up to 875 yards or 2,600 ft distance without obstacles, making it the perfect training tool to use for parks and outdoor settings. If in case you wish to train your dog indoors with lots of obstructions, the PawSense is guaranteed to work just fine.
I'm not very tech-savvy, is the PawSense easy to use and pair?
Ans. Absolutely, yes! The PawSense is one of the easiest devices to use for constructive behavioral training. The device is set with minimal set-up and quick pairing.
Is the collar adjustable?
Ans. Yes. The PawSense receiver/collar is adjustable from

7.1 inches to 25.6 inches. This dimension is perfect for medium to large dogs above 20 lbs.

Does the collar work to automatically sense my dog's barking?
Ans. No. This device is responding to the selection the user chooses on the transmitter.
Do you have to leave this collar on all the time?
Ans. No. The PawSense e-collar is only used during training to prevent complacency. By using them exclusively for training, it will give your dog a sense of attention, which is perfect for training.