Simple and Effective Trainer to Correct Your Dog's Bad Behavior
Are you running out of patience trying to stop your dog's aggressive behavior? Here's every dog owner and professional trainer's secret: The PawPride.
This Dog Training Tool + Collar is designed to make well-behaved dogs a reality for all pet lovers. Equipped with one of the best training stimulations and a high-tech wireless receiver, this device can correct your dog's bad behavior with excellent precision and coverage.
With PawPride:
Get faster results than standard training collars
Take charge of your training preference with multiple stimulation options and training modes
Develop training routines that are comfortable for your dog
Enforce better behavior with safe and effective methods
Suitable for Most Dog Breeds and Sizes
Big or small, furry or hairless breed—no problem! The PawPride is 100% customizable to fit your dog's sensitivity and your training preference. From multiple stimulation levels to different training modes to adjustable collar fitting, this e-collar provides you with everything you need to unlock your dog's best behavior.
Here's how the PawPride can help transform your dogs into well-behaved pets:
Control your dog's training even at a distance
Is your pet wandering off? Is he barking on strangers while you're in the park? With PawPride, you can send in sensations to remind your dog that it's not okay. The PawPride can support up to 500 yards distance so that no matter how far they run, you can stay on top of your training all the time.
Multiple Stimulation Options
PawPride comes with 8 modes for stimulation to fit your dog's training preference. You can choose from nick, continuous static, or beep options. Most owners and trainers even use these different modes to help their dogs distinguish different commands for easy recall.
Choose your preferred stimulation level
Feel free to choose your preferred intense level with just one button. With a stimulation level that ranges from 1 to 99, you can choose the appropriate intensity for your pet's needs and size. 
Fits dogs of all sizes. 
The PawPride collar can fit dog necks measuring from 5" to 22."
Waterproof
Created with DryTek technology, the collar is 100% waterproof so you can use it for whatever activity you'll have with your pets.
Adjustable 3 Training Modes
The pet safe dog training collar comes with 0-5 customization levels—including Static Shock, Vibration, and a standard Tone (Beep) Mode. These are effective methods to help correct barking, sitting, walking, attacking, and other behavioral obedience issues.
Through-Wall 1500FT Remote Range
PawPride's high-tech collars enable the wireless remote range to reach up to 1500ft (500 yds) barrier-free, but it also works well with obstacles and other obstructions. Good for training your dog(s) indoor or outdoors.
100% Waterproof & Rechargeable
The PawPride's collar/receiver is 100% waterproof. Both receiver and controller are rechargeable and can be charged together with an adapter at the same time. It only takes 2-3 hours to fully charge the device and can work up to 7 days on standby for the receiver and 30 days on standby for the remote controller.
Adjustable Collar Strap & Comfortable Remote
The collar is adjustable to fit a wide range of dog sizes. The length of the collar strap is 700mm (27.55 inches) and can be cut down to size for smaller dogs. The Remote Controller is ergonomically designed, comfortable to use, and easy and convenient to carry.
Please note the collar is not recommended for use for more than 8 hours. Turn it off after training.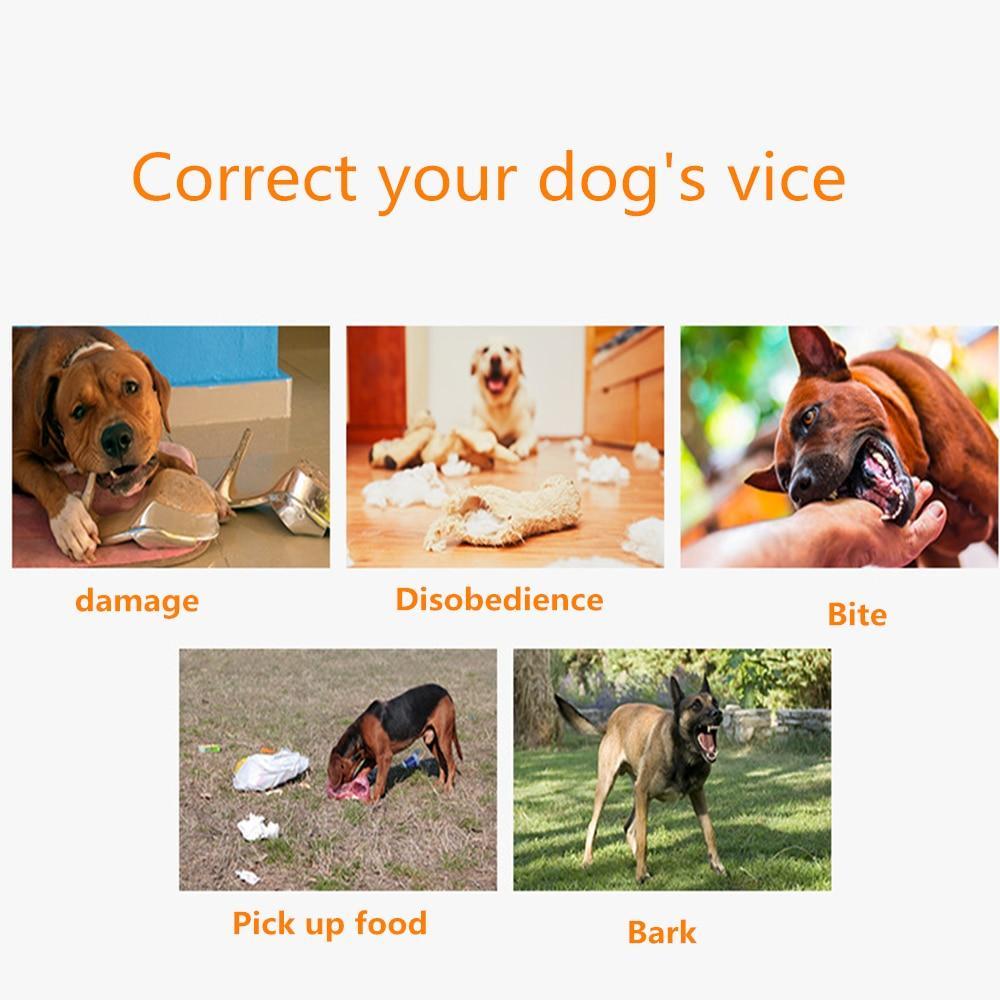 What our customers said about PawPride:
The Best Shock Collar We've Ever Tried
We love how sleek and effective this shock collar from PawPride is. It's easy to use and gets the job done without causing too much stress to our dogs. We also appreciate the amazing battery life of this device. Whether we take it outdoors or train indoors, the PawPride lasts longer than other brands we've tried in the past. As per the training modes available on this device, you will love the variations provided, especially if you have multiple dogs with different breeds and sizes. Overall, the results are amazing. I've been recommending this training collar to some of our friends, and they love it too!
Joshua, Verified Purchase
---
PawPride's Functions in a glance:
Comes with separate function buttons on the remote transmitter for quick and easy switching during training
Receiver Collar is waterproof to support a variety of training you have planned
Includes 5 level shock & vibration for an effective behavior correction among dogs of various breeds and sizes
The receiver comes with a low battery indicator and charging indicator for notification
Rechargeable unit with high-quality lithium battery for longer support and use
WARNING: Please avoid using the PawPride on extremely aggressive dogs
Do not use this product if your dog is aggressive, or if your dog is prone to aggressive behavior. That's because aggressive dogs can cause severe injury and even death to their owner and others. If you are unsure whether this product is appropriate for your dogs, please consult your veterinarian or a certified trainer.
Not recommended for dogs under 6-month-old.
What's Included:
1 x Remote Control Transmitter
1 x Dog Collar Receiver
1 x Nylon-Fabric Collar Strap
1 x Power Cable
1 x US Power Plug
1 x Test Lamp
2 x Silicone Protective Caps
1 x User Manual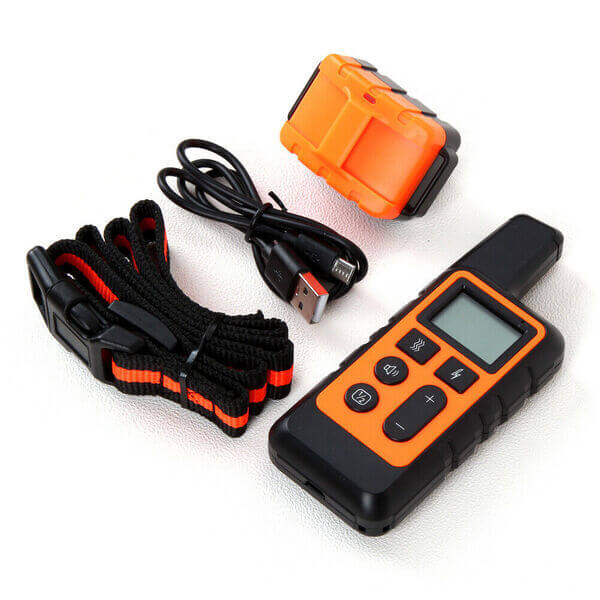 Friendly Tips for Better Training
Please charge before first use.
Eliminate one misbehavior or teach one obedience command at one time. If the training gets too fast, your pet may become confused and rebel.
Use the Vibration mode first before using Shock mode. Test the Shock level on your own hand before using it on your dog.
Observe your dog's reaction closely during training. Reduce training intensity or duration if your dog becomes tired, inattentive, or anxious.
Examine the contact area daily for signs of irritation or rash. Discontinue use until irritation or rash on sensitive skin is healed.
Please start at the lowest shock level (Level 1) and test on your arm before using it on your dog.
To avoid your dog from getting collar-wise, please do not leave the collar on for a prolonged period of time unsupervised. When the collar gets your dog's attention, reinforce the behavior with a verbal command.
Frequently Asked Questions
I have multiple dogs. Is this training collar easy to switch between dogs?
Ans: Yes. It's super easy between dogs. All you need to do is move the side up or down depending on which dog you are on.
Is this 100% waterproof?
Ans: Yes. The PawPride uses DryTek Technology to ensure the collar and receiver are safe against environmental forces.
Is the collar adjustable?
Ans: Yes. You can adjust the collar according to your dog's size.
Will the transmitter work even inside the building?
Ans: Yes. Barrier-free, the PawPride collar and receive can work up to 1500 ft or 500 yards, but it also works well with obstructions or walls.
Will this work with dogs with thicker hair?
Ans: Yes. The PawPride's collar is designed to fit most dog breeds and sizes. Also, you can increase the intensity of the shock stimulation to ensure the message is sent during training.