Outleash: a Lightweight, Custom-fit Pack for Your Pup.
Exploring the outdoors is a fun way to create sweet memories with your dog, but they also need additional supplies to make their adventures worthwhile. So instead of adding more weight to your "already bulky backpack," let our OutLeash Harness and Dog Backpack do the heavy-lifting for you.
With OutLeash, there's no need to worry about carrying the stuff for your furry friends before going for trips. It's comfortable, snugly fits, ergonomic, and waterproof to support your dog through your adventure.
Elevating you and your pups bonding.
Explore new places and enjoy new adventures with your pup using our high-quality performance gear. Keep your dog safely equipped for any escapades you might venture out on together. With the OutLeash Dog Backpack, you can explore, travel, have fun, and grow closer to one another, all while your pet comfortably carries any extra gear and essentials he might need—such as food, water, and toys.
This solid and durable dog backpack is a day-tripping dog lovers delight—a saddlebag style backpack that's perfect for quick getaways as well as everyday errands you take with your best friend. Let your doggie help lighten your load safely, comfortably, and efficiently with OutLeash Harness and Dog Backpack.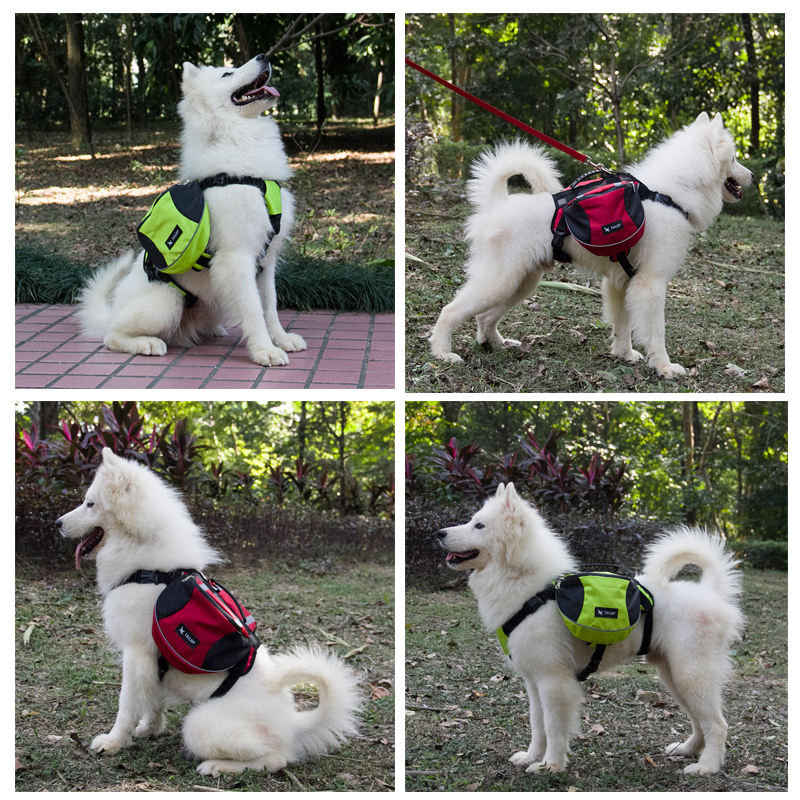 Is your dog new to wearing a harness or backpack? No problem.
It is recommended for dogs not to carry more than 25% of their weight in their backpack. If your dog is new to Dog Harness With Backpack, start with a light load and work up to a heavier load as your dog gets accustomed to wearing our Tear-Resistant Dog Harness With Backpack.
Why choose the OutLeash Harness & Dog Backpack?
You can have your dog carry their biscuits/waste bags/water or even some of your lightweight items; keys, cellphone, etc.
Highly convenient to everyday walk/run
Comfortable, easy, and fun for dogs to carry
Walk anywhere with your dog, knowing that his needs are taken care of.
Now you can enjoy hiking, shopping, etc., with your dog, without having to carry all of his essentials too.
Go on new adventures together and share the load.
What our customers say:
"As soon as received, as soon as tried. Strong and good quality fabric. It's effortless to install. The pocket can be easily removed from the harness even when the dog is wearing it. He got used to his "backpack." He is quickly very comfortable with it, and wearing it does not bother him at all. I highly recommend."
Sybil, California (Verified Purchase)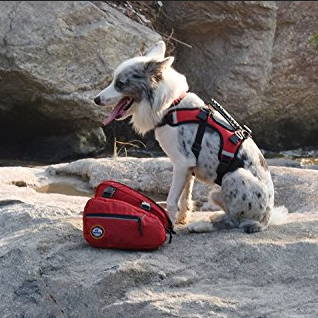 What to expect from OutLeash?
Material: The OutLeash Harness & Dog Backpack is lightweight and breathable. It's made with oxford mesh materials to keep your dog's body relaxed and bring long-term durability. The total weight is only 14 oz, which is safe and comfortable for dogs to carry around.
Efficient Load: The saddlebag

design of the OutLeash provides your dog with a comfortable way to carry their essentials for the trip. It can hold water bottles, poop bags, toys, collapsible dog bowls, first aid, etc.

Adjustable Dog Backpack With Harness: The a

djustable straps are easy to adjust and secure. This feature also contributes to distributing load and increasing comfort. It's also non-slip to ensure the backpack stays in position whenever your dog decides to walk or run on rocky roads.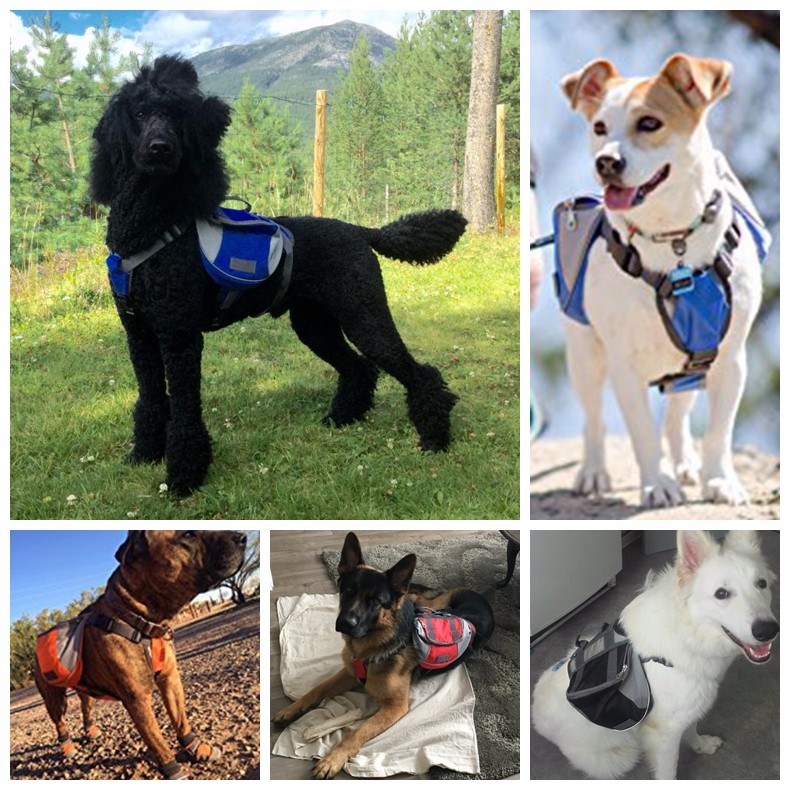 We're made with military-grade material.
The OutLeash Harness & Dog Backpack is one of the most durable and long-lasting packs for dogs of all sizes. It is made of premium 600D nylon—a fabric strength that is suitable to survive the harsh conditions of the outdoors. Plus, the OutLeash is designed with soft padding in all pressure areas to guarantee comfort whenever you and your furry friend decide to go.
100% no-chafe design.
We value safety at all times, especially your dog's delicate skin. The OutLeash chest strap is located mid-way down the dog pack to prevent excessive rubbing on your dog's fur. Also, we have designed this dog backpack with breathable mesh lining to ensure it stays soft and cool to avoid sweat rash.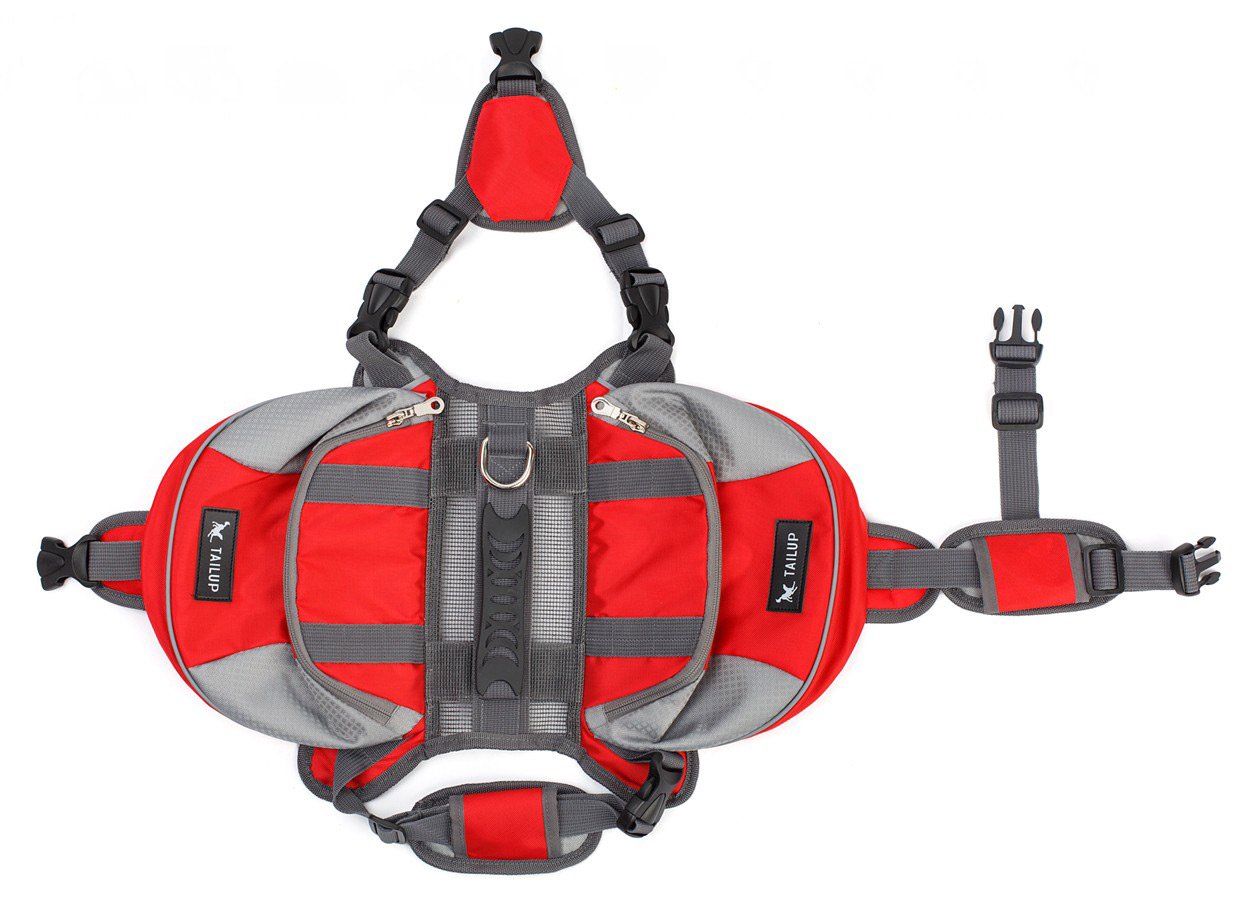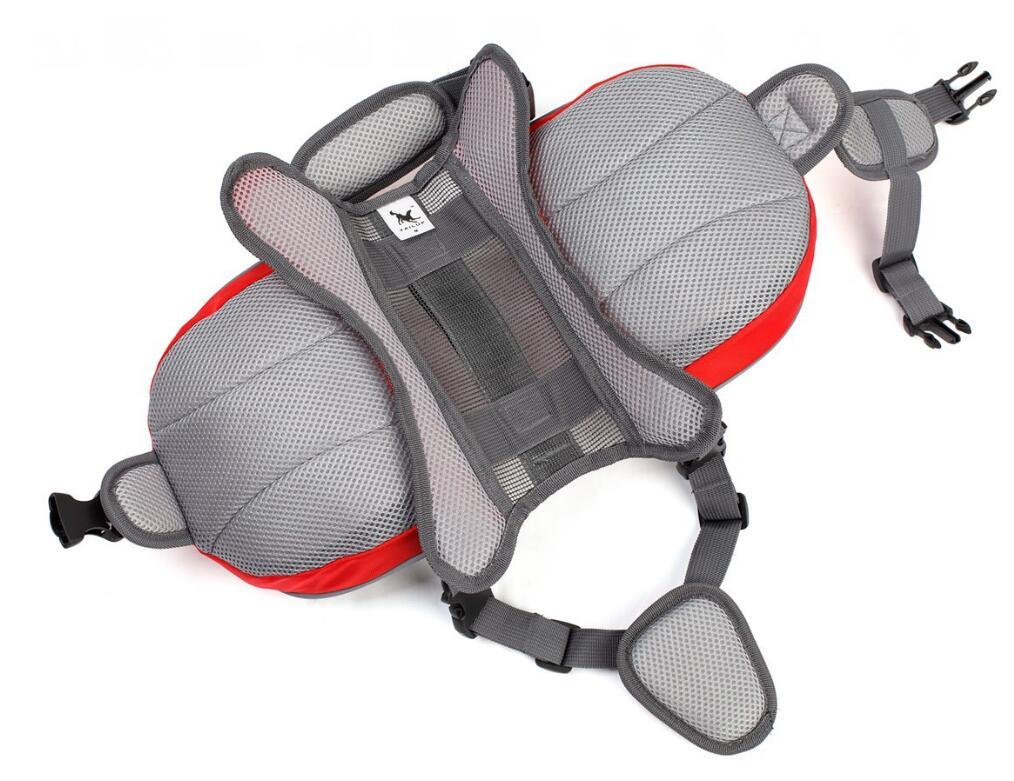 Sporting a MOLLE system attachment
We've designed the OutLeash with 2 MOLLE system side straps to attach all kinds of pouches or other equipment easily. This feature gives every pet owner better customization and handling of all your dog's travel essentials.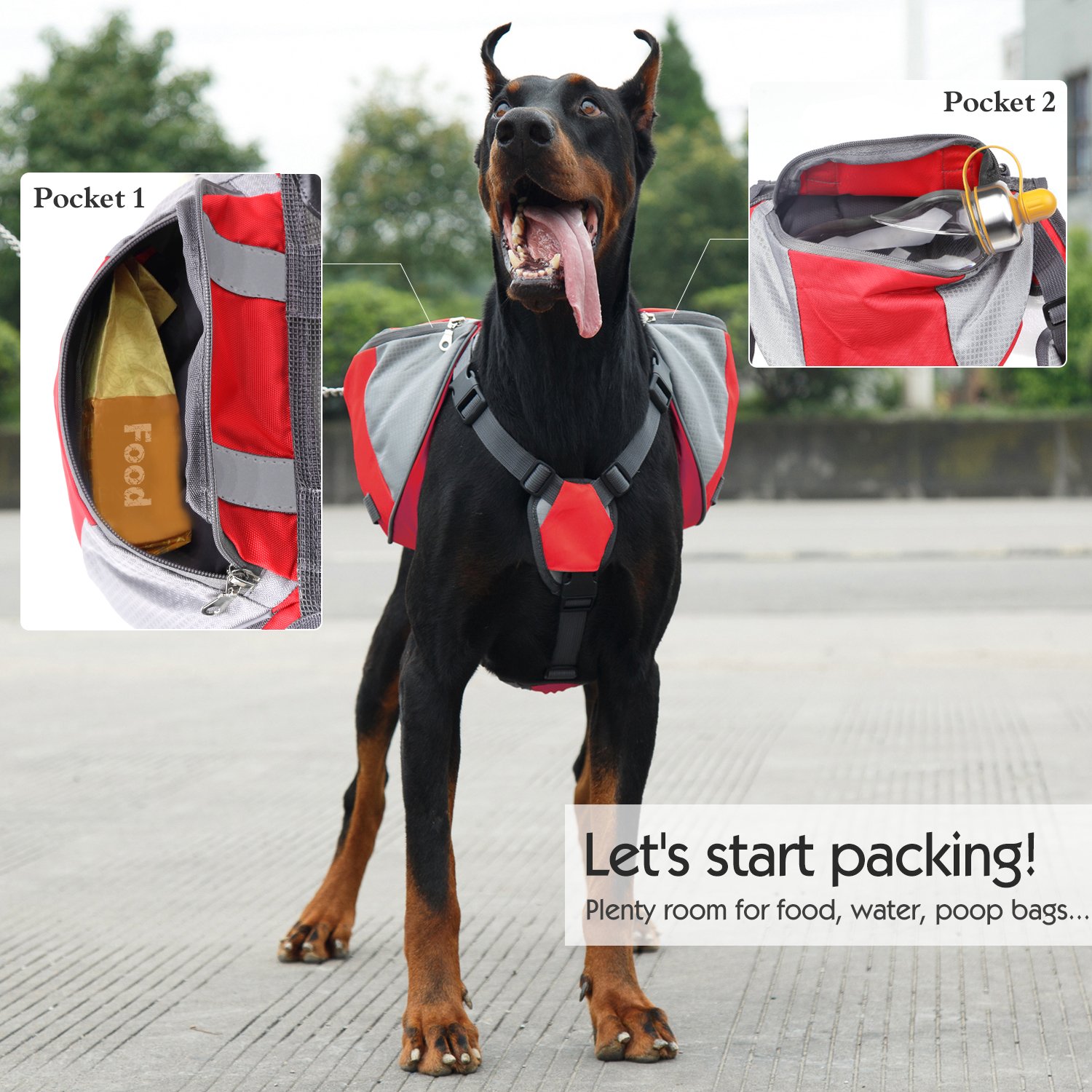 Various colors.
The OutLeash comes with a full line of vibrant colored dog packs that you can choose from. Your style, our comfort.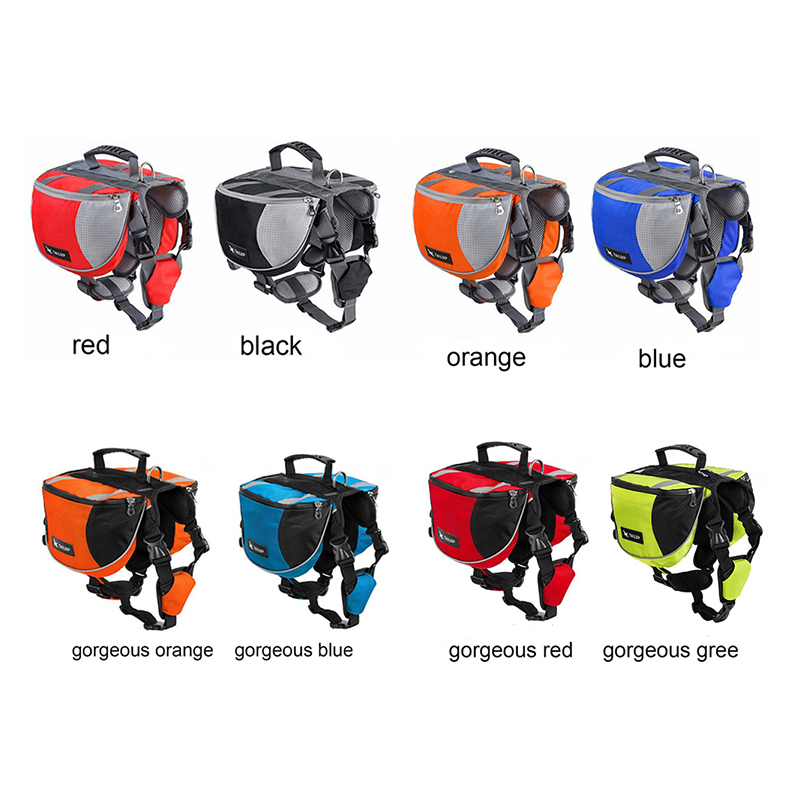 Includes 3 detachable pouches
The OutLeash Harness & Dog Backpack comes with three different detachable pouches. Two pieces harness patches for a full range of expansion.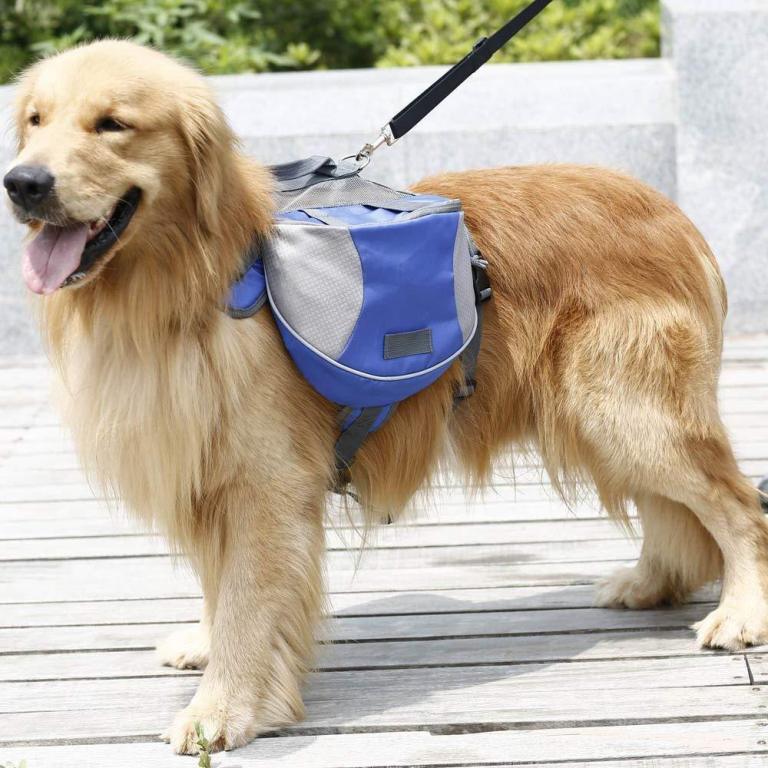 Features:
A customizable fit with five points of adjustment allows for a full range of motion.
Trail-ready details: stash pockets and external gear loops.
Two leash attachment points: single-piece, anodized aluminum V-ring, and webbing loop.
Two"1-lite" collapsible, BPA-free hydration bladders are available.
A cross-load compression system secures pack contents.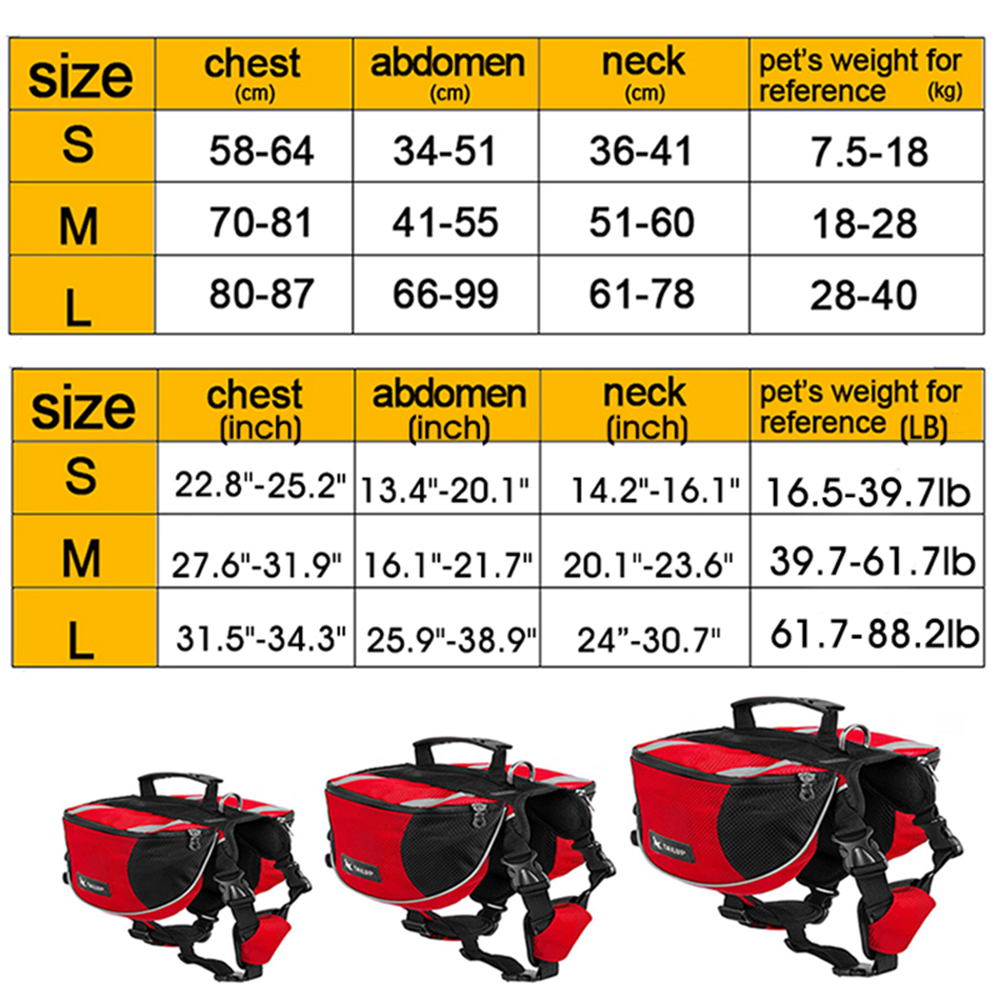 Specification
Material: Nylon
Type: Dog Saddle Bag, Dog Backpack, Dog Pack
Features: Reflective Strip, Easily Adjustable, Waterfall
Net Dimensions (cm): 25*25*15
Net Weight (kg): 0.38
Function: Windproof, Waterproof
Occasion: Walking, Hiking, Running, Sports Outdoor

Package Include