Comfortably Protects Your Pet.
As animal lovers and pet owners, we always want our fur babies to be safe and healthy. However, whatever we do to secure and protect them, there will always be times that they will get wounds and scratches. For them to recover faster, we give them cones to prevent them from licking their wounds. But sometimes, these traditional cones are uncomfortable, interfere with their peripheral vision, and interrupts when they eat. We want to make these fur friends as comfortable as possible while they recover. So, we introduce NynFluff, an inflatable dog collar that is the best alternative to your bulky traditional cones!
NynFluff is an inflatable dog collar that lets your pets still enjoy their food and comfort while they recover! Easily tie it around your pet's neck, and it's good to go.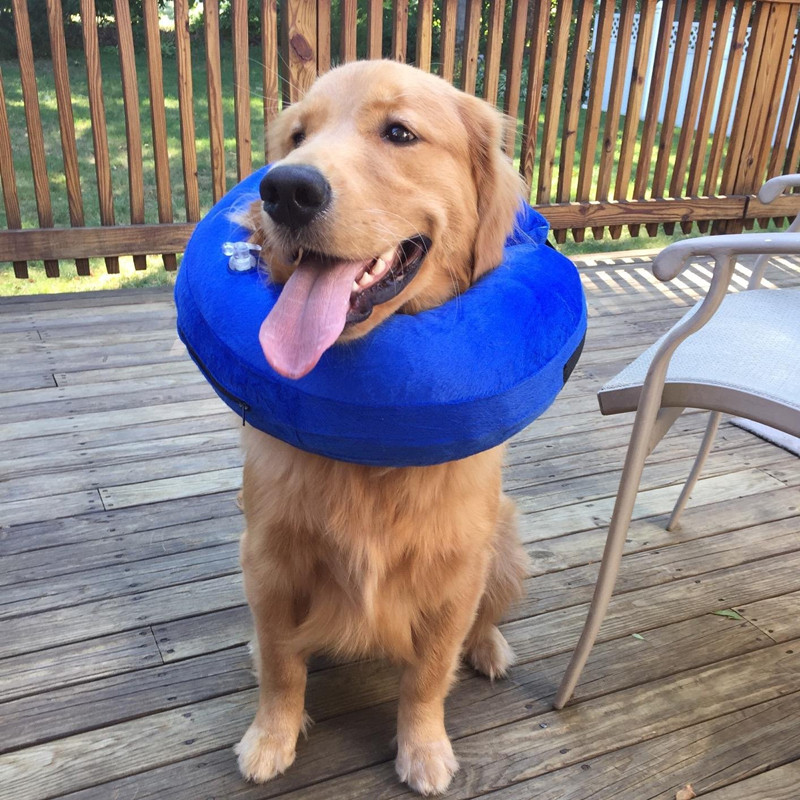 Get the Measure to Fit Your Pet's Right Size.
Make sure to buy the right size as per your pet's breed consulting the size chart. Three sizes are available for different breeds. Made from soft materials, so the collar is non-rash and scratch-free.
To wash the collar, unzip the collar and take out the cotton inserted inside. Wash the upper fabric either by hand or in the machine. Dry and stuff the cotton back inside.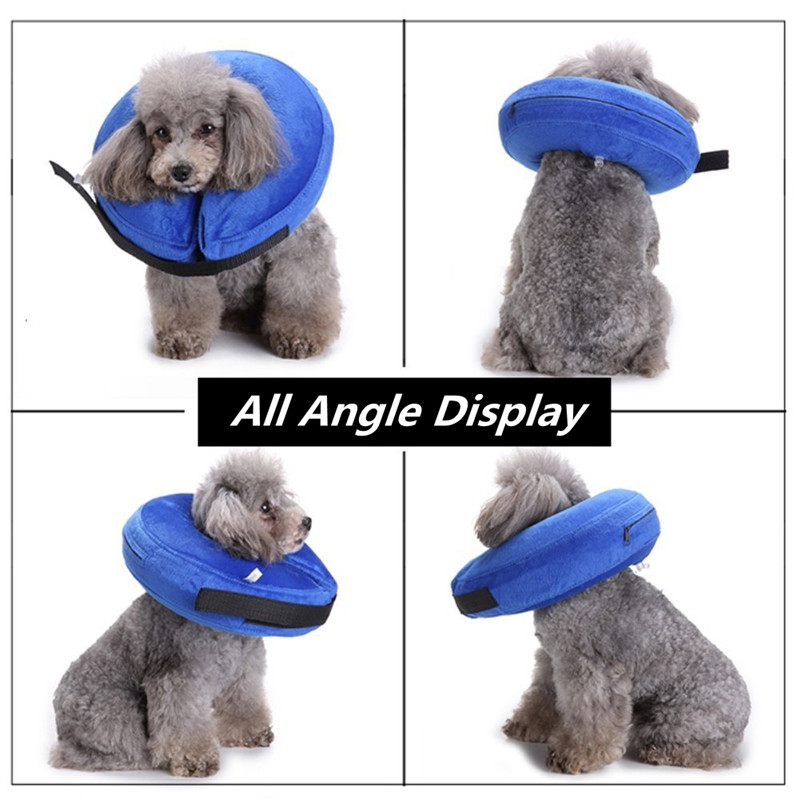 Features:
SCRATCH AND BITE RESISTANT — The inflatable collar is designed to protect your pets from injuries, rashes, and post-surgery wounds. It will prevent pets from biting and licking their injured area or surgical site and promote recovery from surgery or wounds.
COMFORTABLE –Inflatable design and the soft outside material will let your dog wear it comfortably, and it does not block your pet's vision. They can eat, drink, sleep and play normally.
EASY TO STORE — Inflatable recovery collar, you can deflate it and store it in a small space when you do not use it, and there is a zipper opening on one side, you can take the bag out and wash the outside cloth
ADJUSTABLE – There is a buckle on the opening of the collar. You can adjust the buckle for a perfect fit and put the buckle side at the back of your dog's neck in case of biting.
DURABLE AND STABLE — The premium protective collar is soft and washable, it will not mark or scrape furniture, and you can insert your pet's everyday collar through the inner ring loops for stabilization. Measurement differences may exist. The recommended size is just a suggestion and NOT a guaranteed fit as every dog is different. If you have any questions, please feel free to contact us.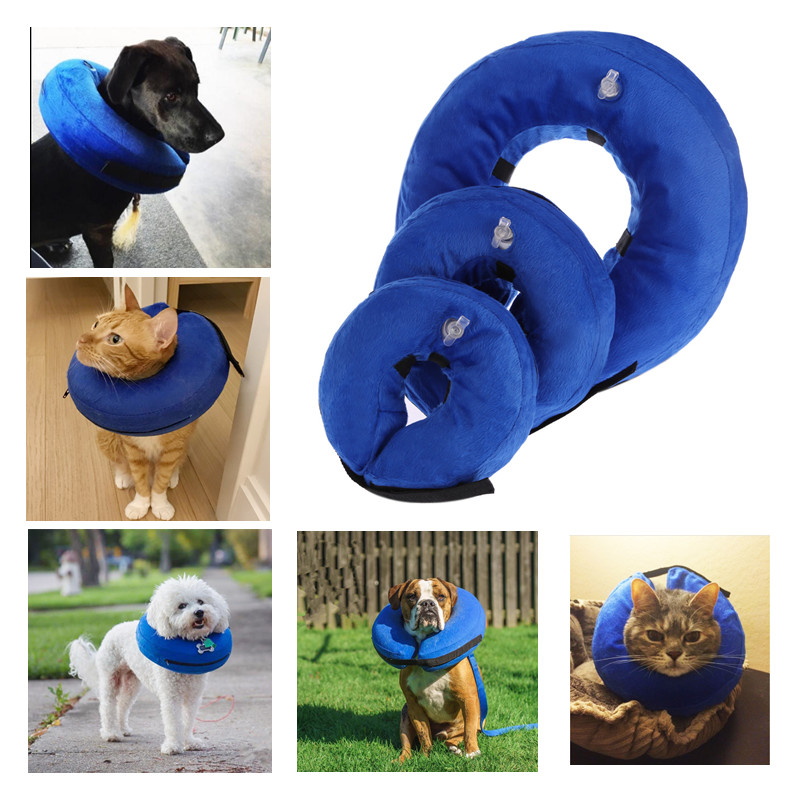 Specifications:
Color: Blue
Shape: Round
Material: PVC/Velvet
Feature: Padded, Quick Release
Style: Cute
Suit for: Cat, Puppy, Small Dog, Medium Dog, Large Dog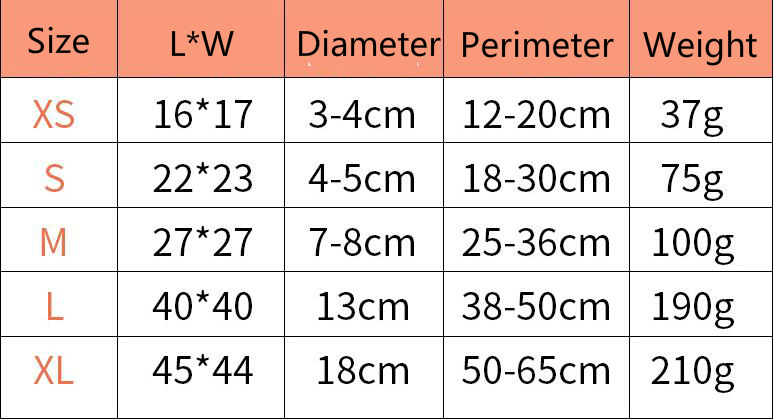 How to Use:
Insert your pet's everyday collar through the inner ring loops of the collar.
Inflate the collar via air valve(pinch & blow). Inflate until it feels full but not hard. (80% full is enough)
Fasten your everyday collar onto your pet, stick the buckle, place it at the back of the neck, and adjust it for a perfect fit.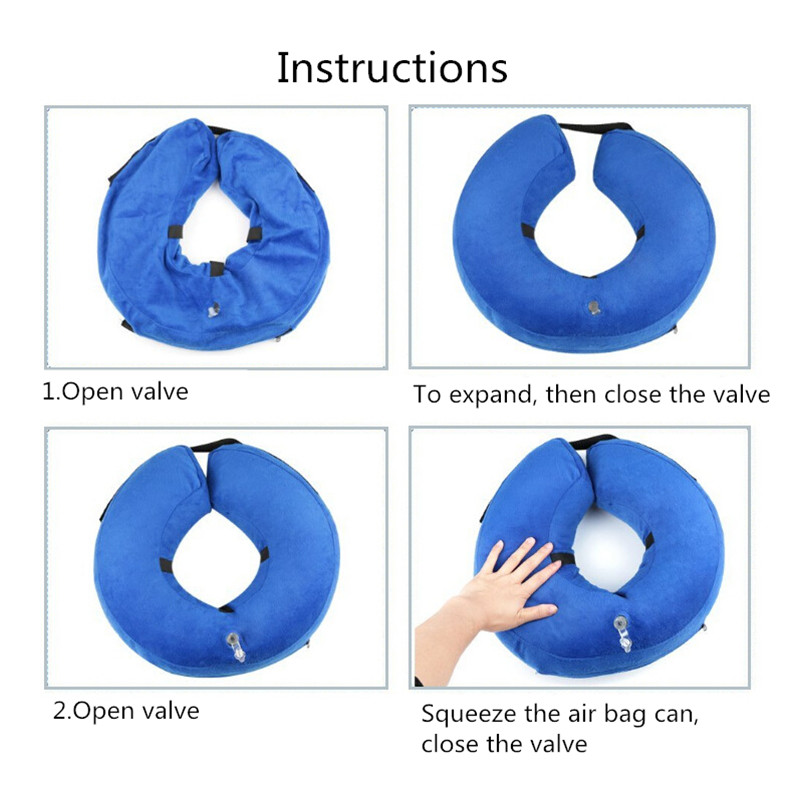 Package Included:
1*Protective Inflatable Collar