The Breezy Cone for Better Pet Care
Your pet will be needing a dog cone at some point in their lives. Whether for wound protection, skin issues, or to prevent them from scratching a sensitive cut in their body, dog cones help speed up the healing process. Most dog cones in the market can be frustrating when it comes to performance and comfort. Not with the CanineCone – a light, comfortable, and effective dog cones for various dog health concerns.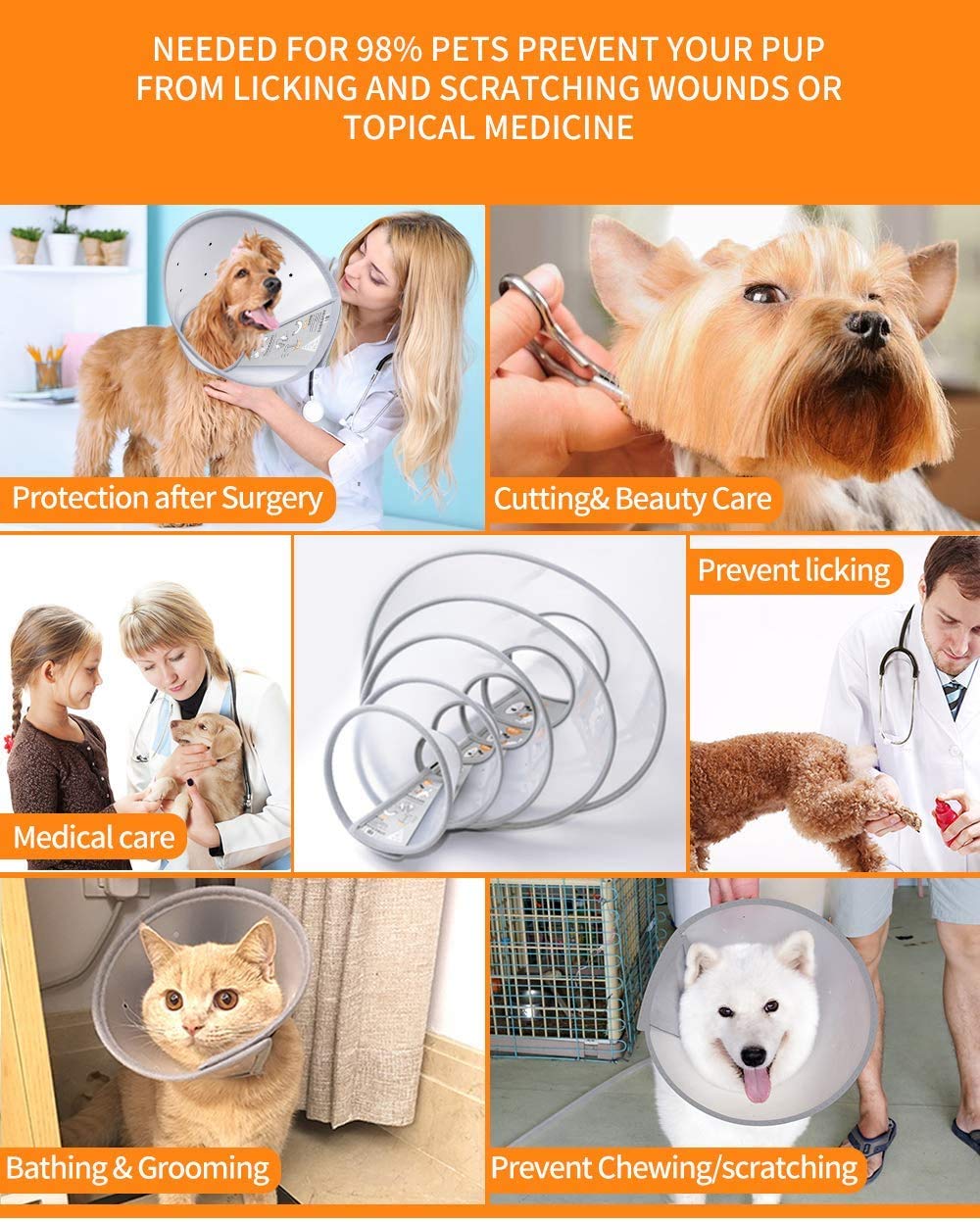 Why Pets Need CanineCone
Dogs have a natural reaction to wounds, itches, and assorted types of skin irritation. It's natural for them to lick or chew or scratch the area to help them feel better. But dogs who lick or chew their wounds can cause further tissue damage or introduce bacteria into the wound, which may trigger a serious infection or make a skin issue go worse. You need to do more than just tell your dogs to "stop doing that!"
Dog cones are used to prevent dogs from nibbling at inflamed areas of skin that can arise as a result of a foodallergies or an insect bite allergy. The CanineCone pet cone collar is designed to speed up the healing process in wounds and allergies. The cone features an upgraded shape with AlR vent to make the cone more comfortable and breathable, and ideal for your dogs full recovery.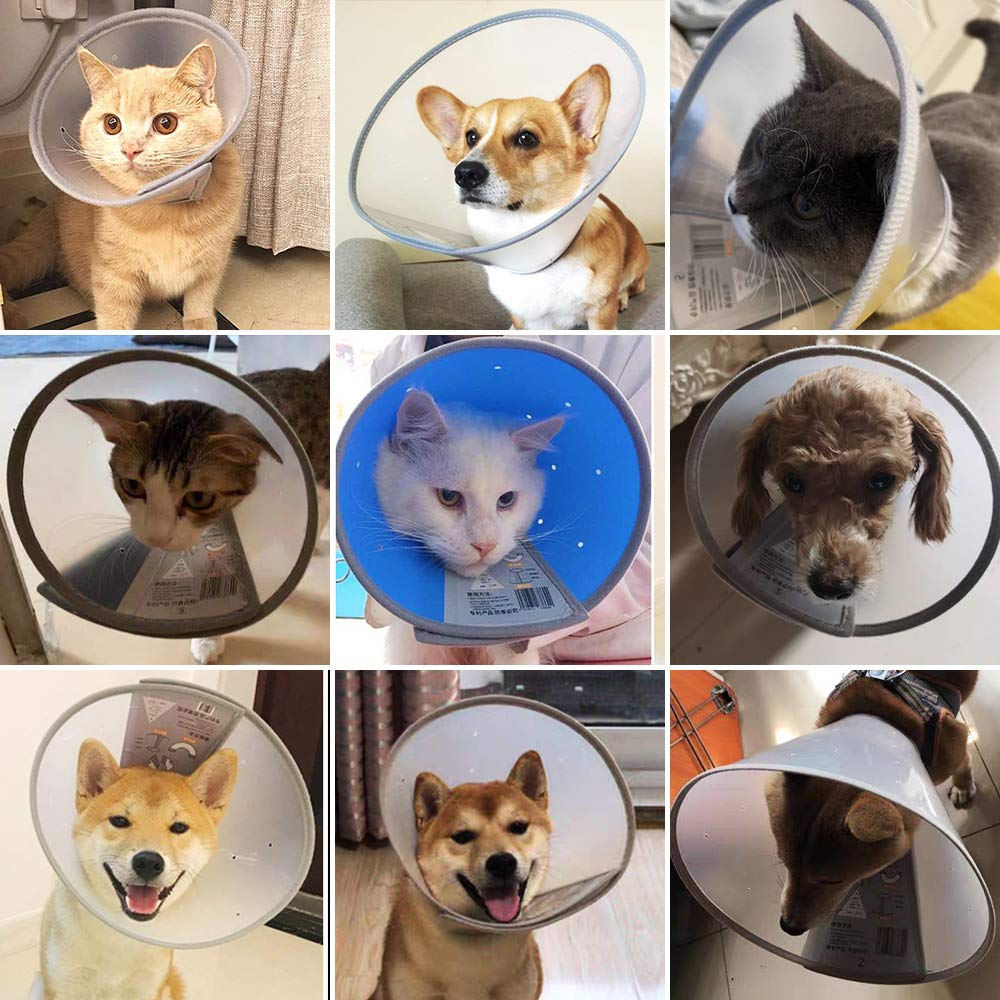 Features
The most comfortable dog cone! A neck cone is a safe and necessary method for the recovery of dogs and cats after surgery or any kind of skin irritation to avoid licking wounds or stitches. An effective humane way to heal your pets' wounds or injuries and reduce the risk of possible infection. CanineCone is designed to promote breathability and comfort by adding air vents and making the material lighter.
The sturdy cone does not easily yield. Despite its lightweight feature, the CanineCone isn't susceptible to bending and cracking – it's ideal for even the rowdiest of dogs.
High-quality material. The cone comes with quality lightweight plastic with soft flannel stitching to protect the neck. Suitable for cats and dogs. Tapered Collar Size: Neck Girth 3: 9-11.25 inches, Depth 5.5 inches; Please use it closer to the head of your cat puppies for better function. Ref. Size chart, use a soft measuring tape, and wrap around your dog's neck to find a suitable size (sufficient allowance) before buying a pet cone.
Better ventilation, better flexibility. Matte clear cone with all-around air vents providing better vision for dogs and cats and less restriction for pets' movement!
Adjustable for dogs and cats of various sizes. Adjustable by velcro for a better fit for your dogs, not too loose or too tight. Soft cotton edge for comfortable and safe wear.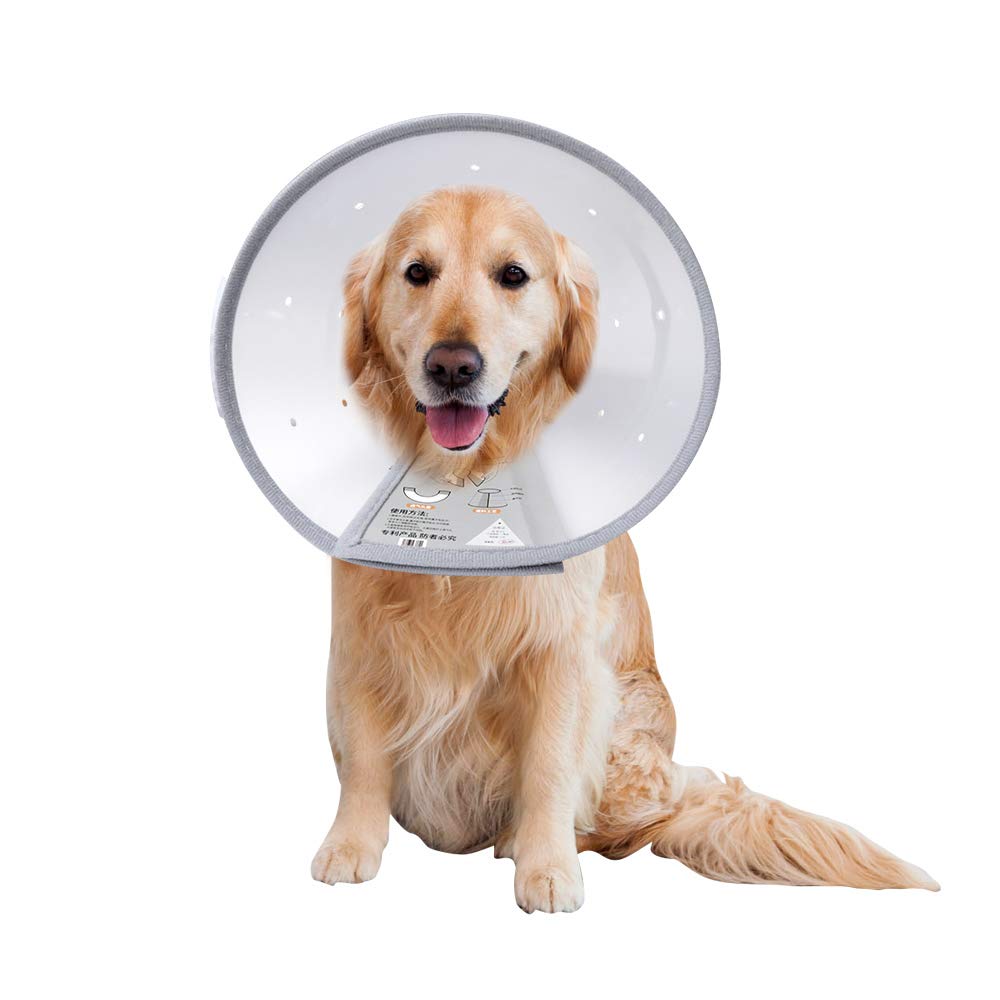 How to Determine Size:
Neck circumference, use a soft tape measure or piece of string and wrap comfortably around from the base of your dog's neck.
Size in inches from neck to muzzle.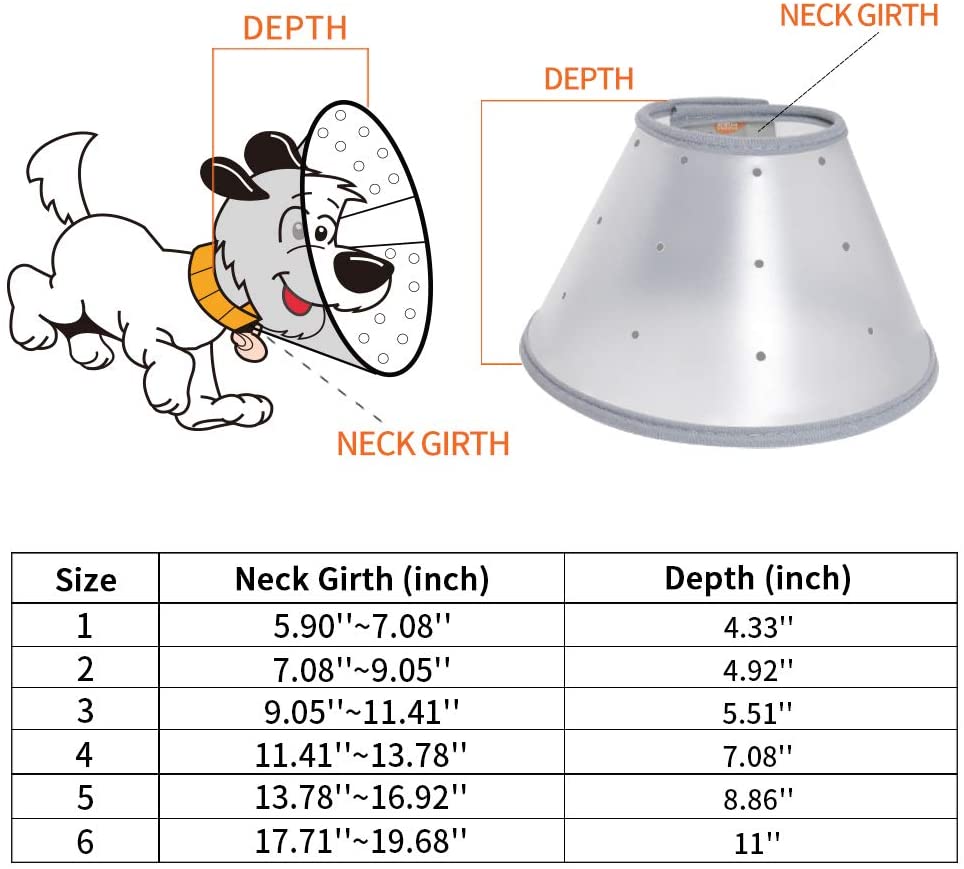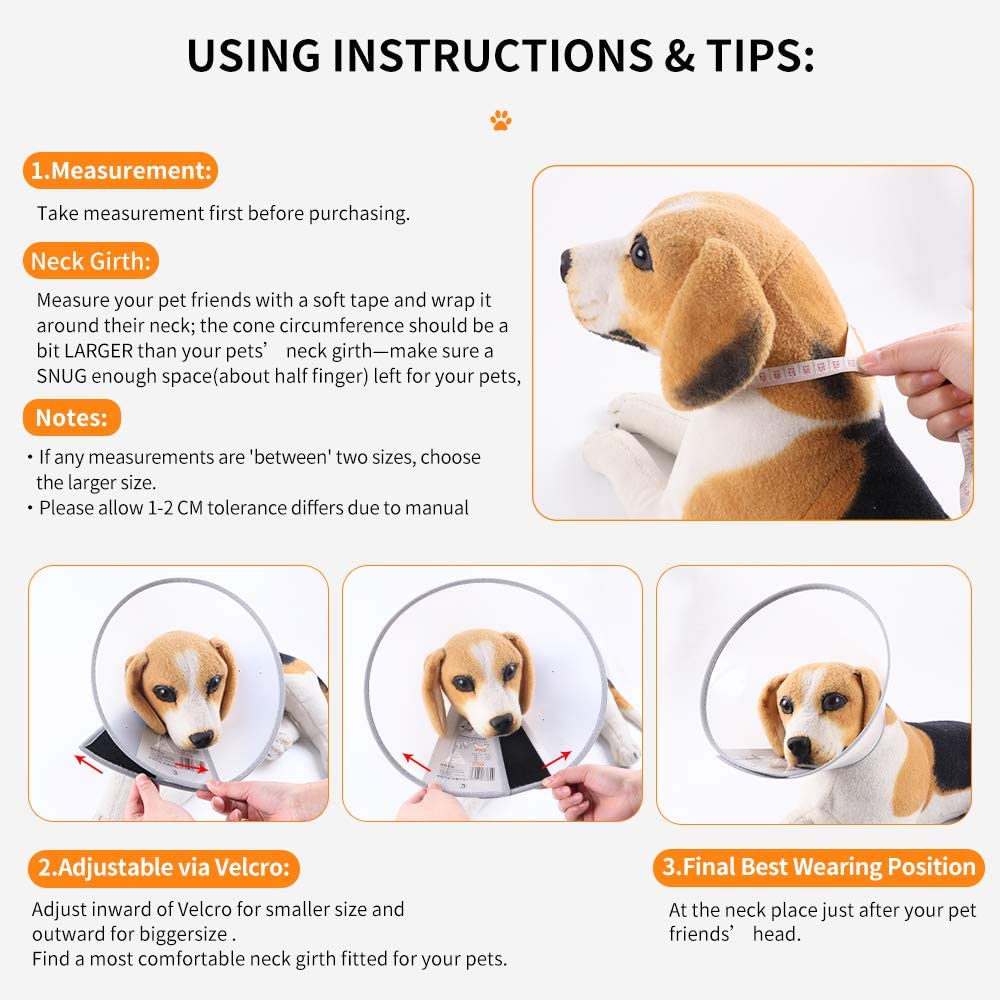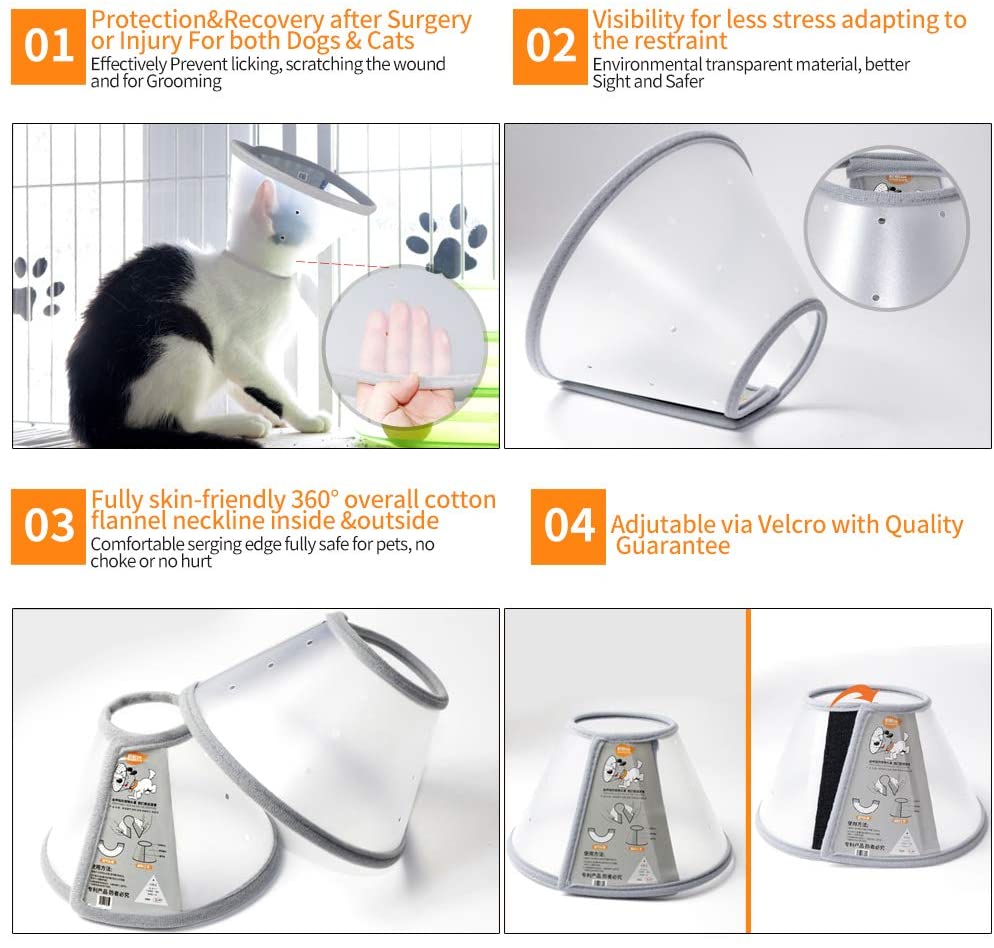 Package Include