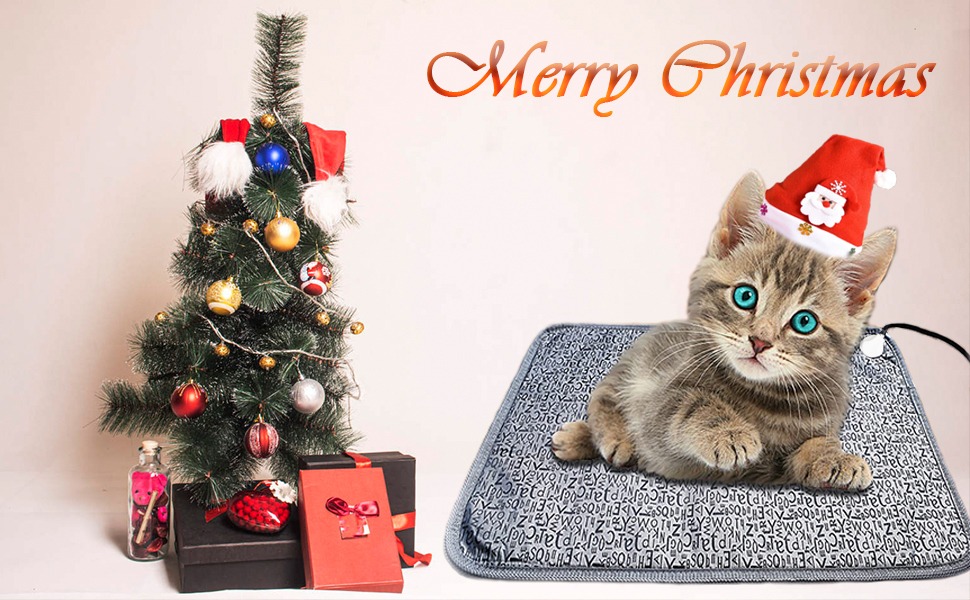 Alright, fellow cat enthusiasts, gather 'round! Have you ever caught your kitty giving you that 'it's-too-cold-to-function' look? Well, worry no more! Introducing the KittyCradle Warming Pad – the ultimate all-season cat throne that guarantees purr-fect comfort year-round. It's not just a mat; it's a warm embrace for your feline friend, every day, every season.
Imagine this: a chilly autumn evening, and there's your furball, sprawled out on the KittyCradle, basking in cozy bliss. This isn't just any heating pad; it's a waterproof, chew-resistant, and overheat-protected wonder mat! It's like a personal sunspot for your cat, but without the sunburn risk. Let's dive into why this KittyCradle is the cat's pajamas of warming pads! 🐱🔥🍂
"Just Right, Day or Night!"
The KittyCradle has adjustable temperature settings. Whether it's a brisk morning or a chilly night, your kitty can bask in the perfect warmth. It's like a personal thermostat for their royal highness!
"Adventure-Ready, Indoors or Out!"
Designed for both indoor and outdoor use, this mat is like a portable sunbeam for your adventurous kitty. Whether it's on the sofa or in an outdoor house, your cat won't miss a cozy moment.
"Safety First, Cuddles Next!"
With its built-in overheating protection, the KittyCradle is like a guardian angel, ensuring your pet's safety while they lounge in luxury.
"Easy-Peasy Cleaning!"
Washable and easy to clean, this mat is a dream for busy pet parents. Spills and messes? Just a quick wipe away!
"Perfect for Every Purr-sonality!"
Whether you have a playful kitten, a senior cat, or a pet in recovery, this mat offers comfort and warmth to all. It's like a universal 'feel-good' gadget for your furry friends.
"Warm Up in a Whisker!"
Quick heating means your cat doesn't have to wait long for their cozy spot. It's like hitting the fast-forward button to comfort!
"Chew-Proof Peace of Mind!"
The chew-resistant cord means you can relax knowing your curious kitty won't turn their new favorite spot into a snack.
So, are you ready to upgrade your cat's comfort game with the KittyCradle Warming Pad? 🐱💤🔥
"Snuggle Up in Style!"
Don't let your feline friend wait another day for the cozy comfort they deserve. The KittyCradle Warming Pad is just a click away from turning your pet's naptime into a luxurious retreat. Act now and give your cat the gift of warmth and safety. Remember, a warm cat is a happy cat, and a happy cat makes a happy home. This isn't just a purchase; it's an investment in your pet's well-being. So, why wait? Let's make those kitty dreams of comfort come true today!
"The Tech Behind the Comfort: KittyCradle Specs"
For those who love the details, here's the technical lowdown on the KittyCradle Warming Pad:
Temperature Settings: Two adjustable modes for quick heating and sustained warmth.
Versatility: Suitable for both indoor and outdoor use.
Temperature Range: 86-122°F (30-50°C) with overheating protection at 167°F (75°C).
Safety Features: Includes guidelines for safe usage, waterproof, and anti-bite design.
Material: Soft PVC envelope for comfort and durability.
Maintenance: Easy to clean and washable.
Suitability: Ideal for various pets including kittens, senior cats, and pets in recovery.
Heating Time: Quick heating capability, approximately 10 minutes.
Safety Structure: 6-layer protection with UL-approved heating wire.
Cord Design: 6.6ft cord, bendable stainless steel, dual chew-resistant, and electric shock-proof.