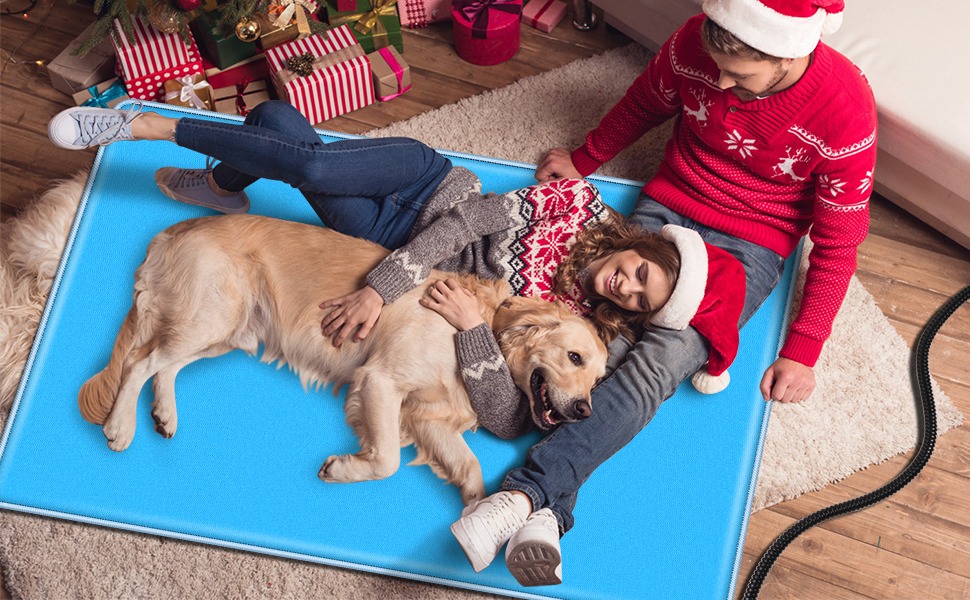 Hey there, fellow pet pamperers! Have you ever caught your senior furball giving you the cold shoulder, literally, during those nippy winter months? Well, fret no more! The CuddleCat Deluxe Pet Heating Mat is here to thaw that chilly relationship. It's not just a heating mat; it's a warm embrace on a frosty day for your aging companion.
Imagine this: your beloved pet, snuggled up and blissfully snoozing on a mat that's just the right kind of warm. With the CuddleCat mat, you're not just giving them warmth; you're gifting them a little slice of cloud nine. Safe, cozy, and oh-so-relaxing, it's like a spa day, every day, for your four-legged friend. Let's dive deeper into why this mat isn't just another pet product, but a cold-weather essential for your senior pet's golden years! 🐾❄️🔥
"Chew On This, Not the Cord!"
Got a pet who thinks cords are chew toys? Worry no more! The CuddleCat mat's dual chew-resistant cord makes it a durable dream for those nibbly pets.
"Just the Right Warmth!"
Ever wish you could dial in the perfect temp for your pet? This mat's consistent temperature control keeps your fur baby in the Goldilocks zone – not too hot, not too cold, but just right!
"Five Layers of Safety Love"
The CuddleCat mat isn't just cozy; it's like a safety fortress with its 5-layer protection. Your pet's well-being is wrapped up in layers of care.
"Stable and Safe – No Slip, No Trip!"
The anti-creep interface keeps the mat right where it should be, avoiding any pet (or human) mishaps. It's like having an anchor for your pet's comfort zone.
"Smart Heat for Smart Pets"
Worried about overheating? The built-in sensor is like a smart thermostat for your pet – it knows when to switch off to keep things just right.
"Tough on the Outside, Cozy on the Inside"
Thanks to the waterproof and flame-retardant Oxford cloth and PVC, this mat is like a rugged raincoat that offers snug warmth.
"Safety Certified, Pet-Approved"
UL-certified with top-notch flame retardant capabilities – it's like a firefighter's suit for your pet's bed, ensuring their absolute safety.
"Size Does Matter!"
Whether you have a petite kitty or a grand old dog, there's a size for every pet, making sure no one misses out on the cozy action.
"Automatic Off for Peace of Mind"
The auto power-off function adds an extra layer of safety, making sure your pet's warm bed is never a worry. It's like having a guardian angel watching over their sleep.
Ready to give your senior pet the warm, safe, and cozy winter they deserve? The CuddleCat Deluxe Pet Heating Mat is more than a product; it's a warm embrace on a cold day! 🐾❤️🔥
"Warm Tails, Happy Hearts!"
Don't wait for the chill to set in! Grab the CuddleCat Deluxe Pet Heating Mat and give your furry family member the warmth and comfort they deserve. This isn't just a purchase; it's an investment in your pet's happiness and health. So, why wait? Your pet's dreamy, warm haven is just a click away. Act now and let your pet bask in the warmth of your love – after all, a cozy pet is a happy pet!
"The Inside Scoop: CuddleCat Specs Unveiled"
For those who love the details, here's the tech breakdown of the CuddleCat Deluxe Pet Heating Mat.
Chew-Resistant Cord: Dual layer for enhanced durability.
Temperature Range: Consistent heating between 95-113°F (35-45°C).
Safety Protection: 5-layer structure with UL-listed heating wire.
Stability: Interface fixed anti-creep feature.
Temperature Sensor: Built-in sensor with 113°F (45°C) overheating protection.
Material: Oxford cloth and PVC, offering IP67 waterproof and flame-retardant properties.
Flame Retardancy: High-grade V-0 capability.
Sizes: Available in small (19.7″x15.7″), large (35.4″x23.6″), and extra-large (47.2″x27.6″).
Safety Certification: UL-certified heating wire for safety.
Power Off Function: Automatic power-off for overheating prevention.
These specifications showcase the CuddleCat Deluxe Pet Heating Mat as a safe, comfortable, and versatile heating solution for pets.