Super Quiet, Automatic & Self Cleaning Litter Box — so you don't have to keep scooping!
Are you sick of scooping those nasty cat poops? Then let the KattiLina do the job for you! This automatic, self-cleaning litter box keeps your cat hygienic and your home fresh without laying a finger. It's the most convenient solution to cleaning up your cat's litter!
✅ Easy cleaning, no scooping required!
✅ Self-cleaning to avoid build-up
✅ Traps odor to prevent unwanted smells
✅ Spacious so your cat stays comfortable
KattiLina is designed to make your life as a cat parent easy!
You don't have to keep torturing yourself if collecting your cat's litter is your most-hated chore. With KattiLina, you can keep everything clean and fresh even when away!
😺 Our KattiLina Automatic Litter Box is self-cleaning. It sifts litter while spinning slowly to avoid build-up and ensure your cat stays hygienic all the time. So even when you're at work, you're assured that your home stays fresh and your cat happy.
😺 Absolutely, NO ODOR! Our design comes with a covered waste bin and a replaceable carbon filter to trap odor effectively. No matter if you leave the KattiLina working for days, it'll keep litter at a minimum and the smell controlled.
😺 We're motorized but super silent. We don't want your cat to feel threatened or scared when the device operates. Our design ensures that your furry friend feels safe and secure every time they use the litter box.
😺 Better space, excellent bearing capacity. Our new model comes with 20% more space for your cat to sit comfortably. It can hold up to 15 lbs. to do their business without breaking the litter box.
😺 Higher sidewalls, keep the mess at bay. Yes, the last thing we want is sweeping those sand after every use. Our litter box is secured with high sides to prevent litter from creating a mess.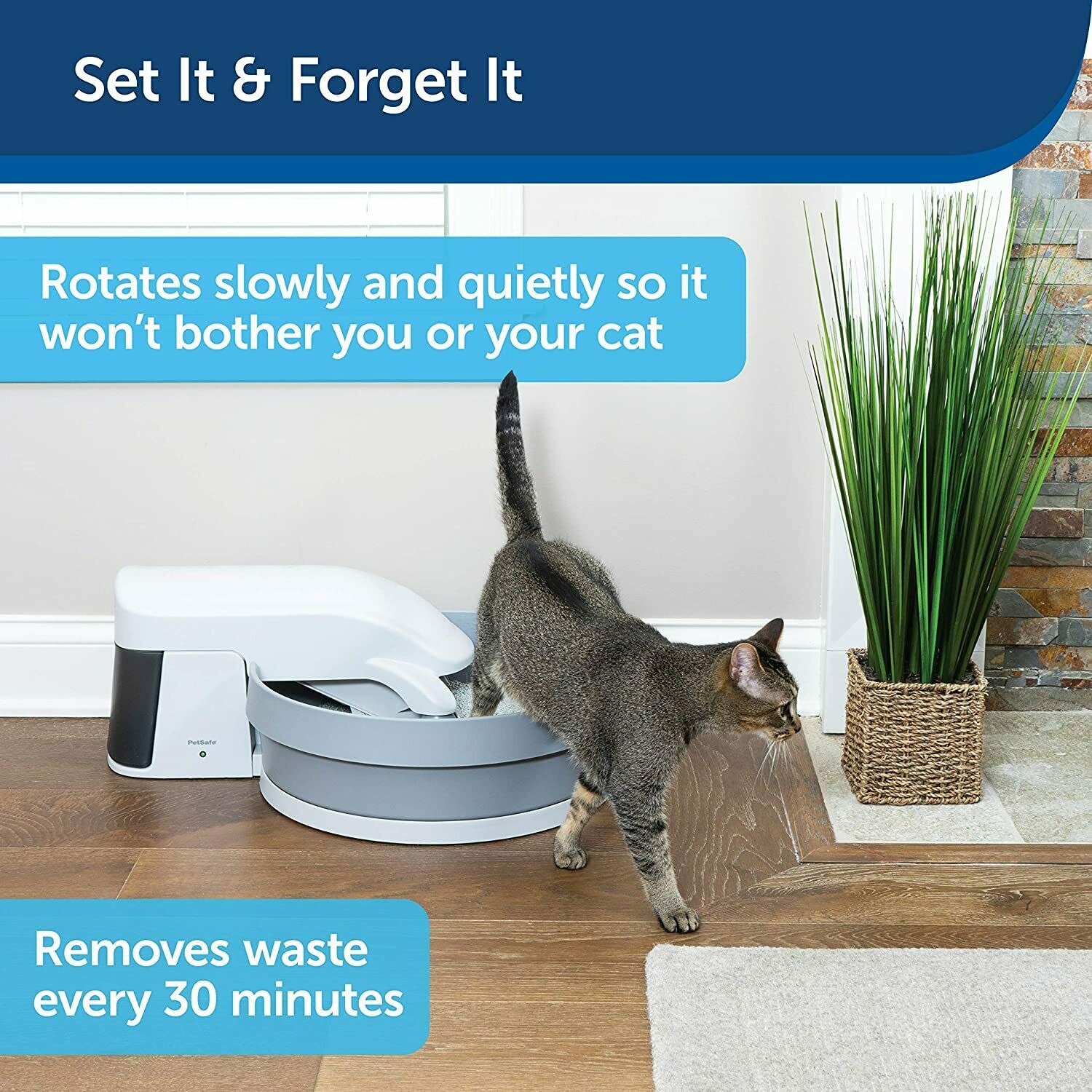 More About This Item:
SELF-CLEANING LITTER BOX: Bowl rotates and sifts clumps from the litter, making a complete rotation every hour and a half
REDUCED ODOR: The waste bin is covered to help contain the odor, and a replaceable carbon filter acts as a second layer of odor defense
WHISPER-QUIET: The motor is quiet, making it easy to forget about your cat's litter box. The LED light ensures that the system is running smoothly.
EASY-TO-CLEAN: Waste bins can be lined with recycled plastic shopping bags or nothing for an eco-friendly, scoop-free cleanup.
You'll love the KattiLina Automatic and Self-Cleaning Litter Box!
This automatic litter box's rotating, slow-spinning conveyor sifts through your cat's litter and removes waste every 30 minutes, making 1 full rotation every hour and a half.
The best part (aside from never having to scoop again) is that this litter box controls smelly odors by depositing waste in a covered bin that has a replaceable carbon filter to trap odors. Out of smell, out of mind. Your pet deserves the best. Let KattiLina do the nasties for you!
Package Includes
1 * Automatic Litter Box
1 * Replaceable Litter Box Carbon Filter
1 * Power Adaptor