No More Scooping, Better Odor Control, Self-Cleaning Litter Box for Your Furry Friend.
Sometimes, manually scooping your cat's feces with a traditional scooper can get messy. Not to mention the awful smell that comes with it if you don't have the luxury of cleaning your cat's litter box regularly.
With Cat-n-Mama Self-Cleaning, Automatic Litter Box, taking care of your furry is now made easy and convenient. This no-motor, easy-remove design removes your pet's waste quickly and effortlessly and keeps your home smelling clean and fresh all day.
It's Motor-Free and Electric-Free
Unlike other self-cleaning litter boxes, the Cat-n-Mama does not use electricity to operate. Our design follows the roll-and-collect method which is the safest and most practical way to maintain your cat's litter box.
Simply roll the self-cleaning unit to the right, and the device will automatically collect the mess that goes through our patented grill into the removable tray. Simple, safe, and 100% convenient!
✔ Self-cleaning
✔ Easy to use
✔ Saves litter
✔ Less dust
✔ Requires no filters, liners, or electricity
✔ Patented grill
✔ Includes a pull-out tray scoop for quick removal of waste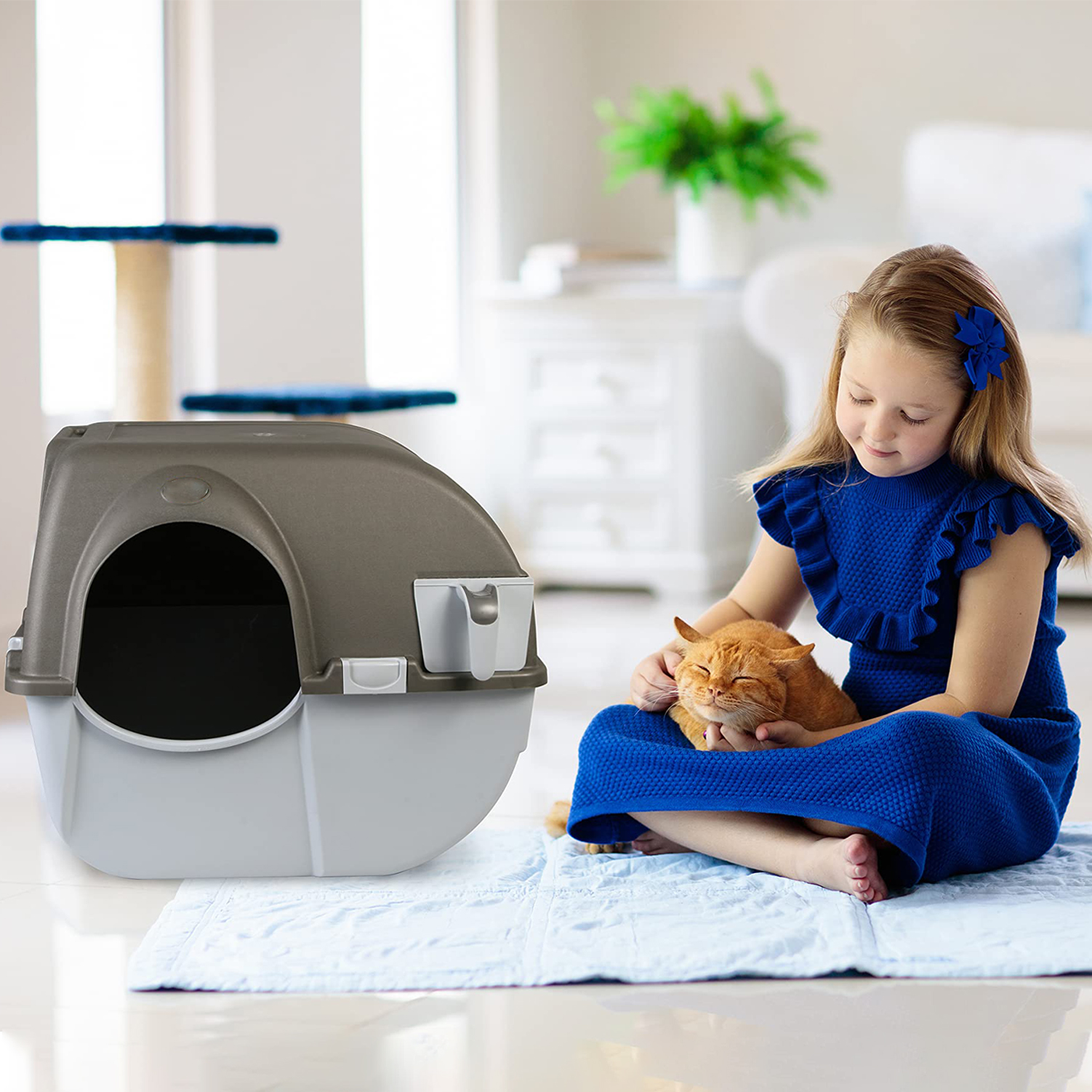 Features:
NO ELECTRICITY, LINERS, OR FILTERS REQUIRED: The Cat-n-Mama maintains cleanliness on its own. It keeps odor at a minimum and easily separates wastes for convenient handling.
PATENTED GRILL: Our patented grill works to conveniently separate the waste to the pull-out tray. No scooping is required.
DURABLE LOCKING CLIPS: No matter how much your cat moves inside our litter box, the frame of the Cat-n-Mama stays on and sturdy.
PULL-OUT TRAY INCLUDED: You don't have to wear gloves the next time you dispose of your cat's litter. Our Cat-n-Mama Self-Cleaning, Automatic Litter Box comes with a pull-out tray to easily throw all dirt in one go.
UPDATED MODERN COLORS: We don't want to compromise your house's aesthetics. Our litter box is designed to be neutral to fit any corner of your home.
Simple and Easy to Use
The Cat-n-Mama Self-Cleaning Litter Box features stronger locking clips, a durable sifting screen, and stronger plastic.
Step 1: The first step is as simple as rolling the litter box up to the top (tap the bottom to release any clumps). The clean litter is sifted through our sifting grid, while the debris is separated in the tray removable.
Step 2: Once you roll the litter box to the lower upright position, simply pull out the waste tray. All debris collects in the removable tray for disposal.
Step 3: Tilt the litter box to the left to deposit clean litter back into the bottom of the box. It's as simple as that. No electricity, liners, or filters are required.

Package Include: