Get Your Pooch Up & Going On Your Next Adventure, With the HappyPaws Folding Dog Stairs!
Picture this: everyone's excited to go on a roadtrip, and almost everybody's in the car except for one particular member of the family, whose four legs find it challenging to get up your vehicle safely and steadily. Often have this particular problem with your pooch? Not to worry when you've got a set of dog stairs to help your dog climb up hard-to-reach places, such as cars, beds, or couches. We've especially created something in mind for the pet owner who loves to go on trips with their furry friends. When you want to bring your pup (or kitty) with you to your next adventure, no need to carry them up: the HappyPaws Folding Dog Stairs has got them covered. These are no ordinary stairs, as they can be adjusted for up to 30 inches high so your pet can reach everything from small cars to big, hulking trucks with little effort. It also ensures that they climb worry-free with its anti-slip rubber grips, so you won't hear any whimpers from your pooch while they go up.
And – own a Pomeranian or Golden Retriever? Big or small, these dog stairs are designed to accommodate small to larger breeds, even if they've got heavier steps than usual thanks to its sturdy material. Now, taking your furbaby to that next adventure has become easier with the HappyPaws Folding Dog Stairs!
Features
WITH A LATCH-ON HOOK (RECOMMENDED FOR TRAVELLING): Just hook it up to your car's tailgate and you & your pet are good to go on that roadtrip!
HELP THEM CLIMB SECURELY WITH ITS ANTI-SKID RUBBER GRIPS – Equipped with anti-slip rubber grips at the bottom so your pets have a steadier climb.
GREAT FOR DOGS OF ALL SIZES & BREEDS: With its durable material, our dog stairs can accommodate pooches for up to 100lbs.
ADJUST IT TO THE PERFECT HEIGHT – Depending on your vehicle, and the size of your pooch, these stairs can be easily adjusted to the right height thanks to its foldable, accordion-style design that measures 40″ (minimum) to 60″ (maximum).
CARRY IT ANYWHERE – Weighing only 10lbs, these stairs can be folded and carried easily, so you can easily bring it with you while travelling with your pet.
PREMIUM QUALITY MATERIAL – Made with premium quality, environment and pet-friendly materials for comfortable yet long-lasting use.
EASY TO CLEAN – Simply wipe the stairs with a wet towel with soap, or hose it clean and then wipe it dry.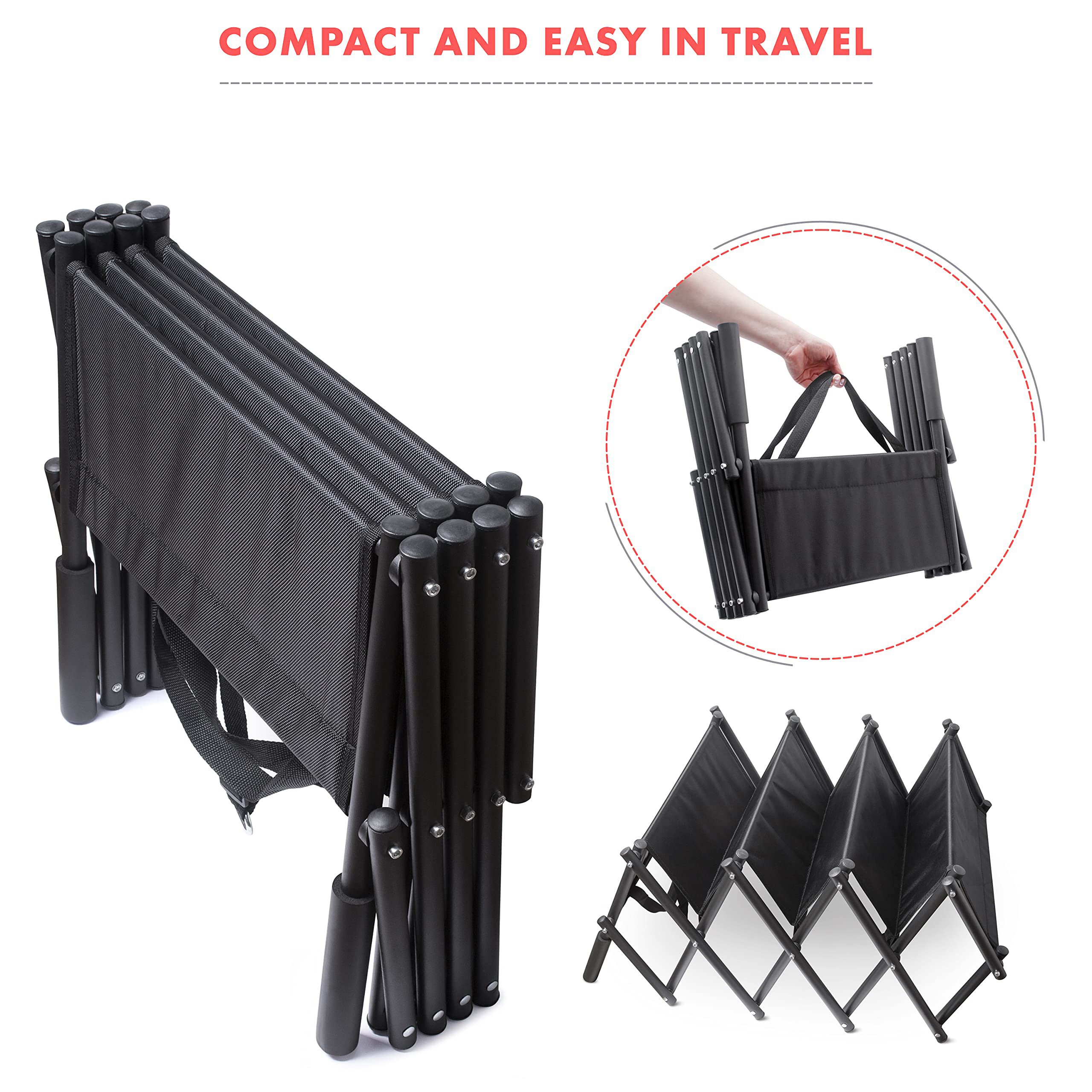 Package Includes