Cozying Up With Your Pups Is Easier With The Curio Case Upholstered Dog Stairs!
There's a certain preciousness to the feeling of being half-asleep, yet getting pleasantly surprised when our pup cozies up and cuddles with us.
Still, for small to medium-sized dogs, this can be a challenge particularly as their short legs can prevent them from climbing up properly, leading to less hugs and more sad whines and whimpers. Now, with the help of the right dog stairs, you can lead the way for your pooch to give you more loving snuggles, or for them to simply reach their favorite spot in bed. Introducing the Curio Case Upholstered Dog Stairs, a great addition to your bedroom that can provide a comfy, sturdy, yet stylish way for your pup to climb up more easily. This is a set of dog stairs that is guaranteed to last you for years, as its CertiPUR-US Certified Foam ensures lifetime durability, while also securing every step your dog (or cat) makes thanks to its wider and deeper steps designed for greater stability and less slippage. It even doubles as a handy compartment for your pet's treats and toys!
Key Features
MADE FOR MATTRESS USE: Best for small to mid-sized pets so they can reach your bed more easily.
MEASURES OVER 14″ TALL: Each step also measures around 5″, providing a shorter, gentler climb.
ONLY 3 STEPS: Made for cats, dogs, and other pets to safely and easily reach your bed, couch, chair, or window seat.
DESIGNED FOR COMFORT, PARTICULARLY FOR ELDERLY PETS: With its gentle yet durable CertiPUR-US Certified Foam, these stairs can help your furbabies climb more comfortably, particularly for the seniors who have leg or hip problems.
CONVENIENTLY ADDED STORAGE: Each step has a padded, removable top that opens up to reveal added storage space perfect for keeping pet toys, treats, blankets, and other items.
GREAT FOR SMALL DOGS AND CATS: Designed with wide and deep steps so smaller pets can more easily find their footing and climb up.
SUPPORTS UP TO 100 POUNDS – Has a sturdy fiberboard construction that can carry small to medium-sized dogs.
FOLDABLE DESIGN – Folds flat for easy storage, making it easy to bring along while traveling. Its simple design and upholstered fabric also matches just about any interior.
PREVENTS MARKS AND SCRATCHES ON FURNITURE – Protects your furniture from marks and scratches, as your pets no longer have to jump to get on your furniture and accidentally damage them.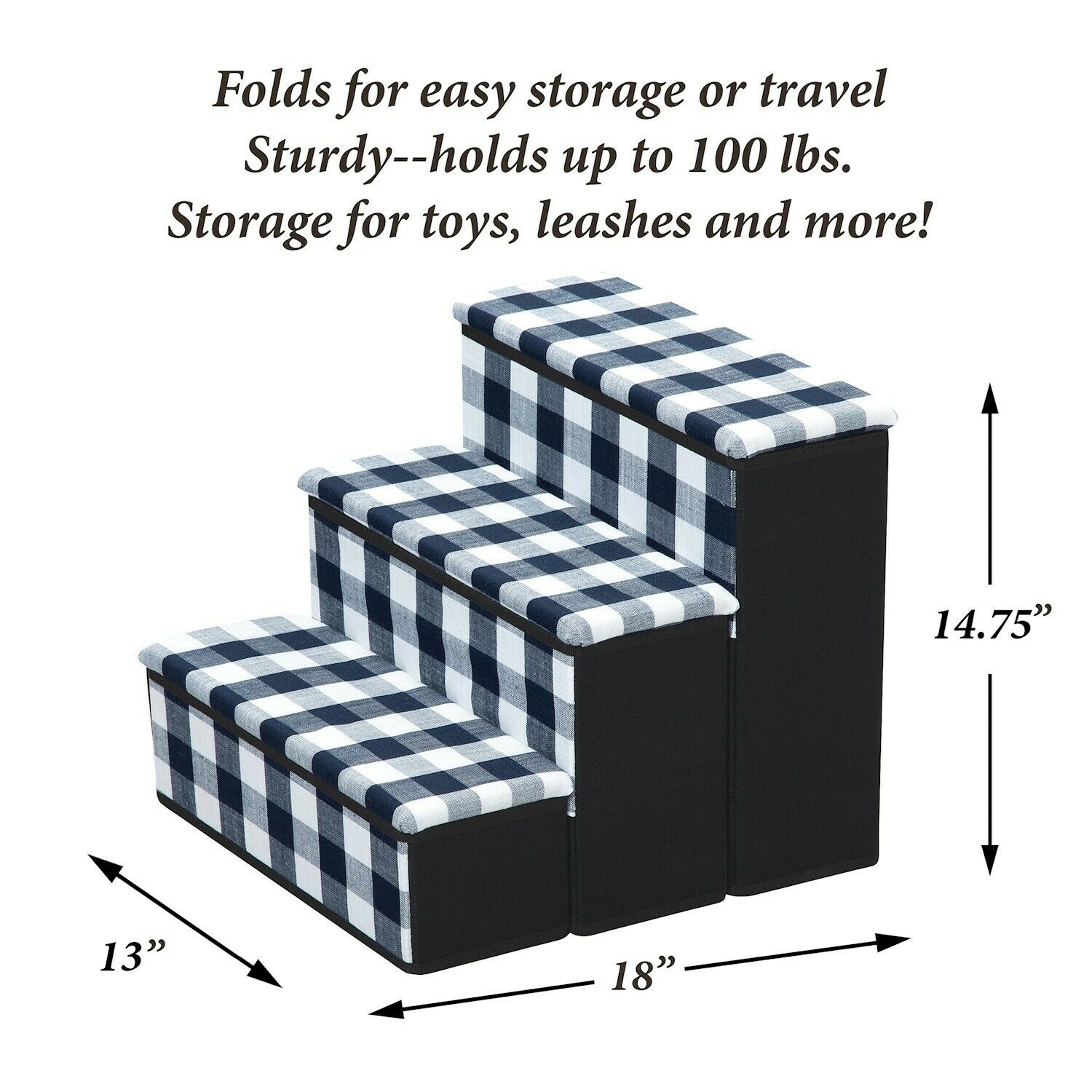 Still looking for reasons why you should get the Curio Case Upholstered Dog Stairs? Here are more reasons why:
✅  Quick and easy to assemble.
✅  Provides a smooth and comfortable surface for your pet.
✅  Has a lightweight and portable design.
✅  Collapsible and collapsible for easy storage.
✅  Makes for an amazing gift for pet owners.
Snuggling up with your four-legged friends is priceless. Make it easier for your furbaby to do so with the Curio Case Upholstered Dog Stairs: add it to your cart today!
Package Includes