The Fluffiest, Fur-friendly, Soothing Fluffy Cat Bed for Winter and Colder Days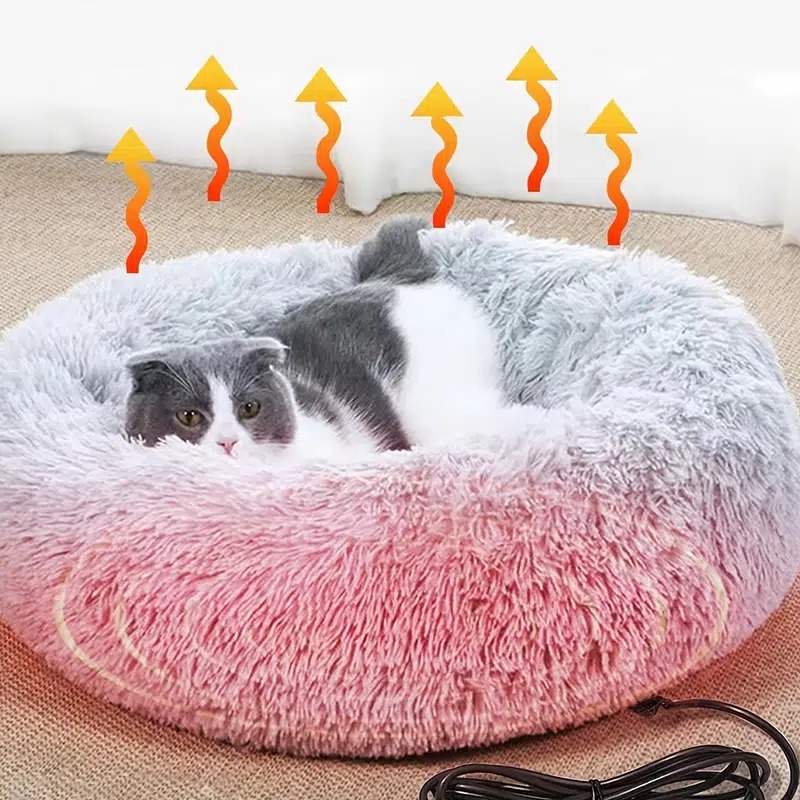 All-around and Effective Heating to Relieve Your Cat's Cold-induced Pains and Anxiety
Is the cold affecting the mood and activeness of your cat?
The FluffMuff is every cat's best friend. This heated cat bed doesn't just provide heat — it gives a soothing, comforting sensation that cats need during colder days.
This automatic heated cat bed distributes a total heat of 28 degrees C once turned on. Pet experts designed this heat level to provide warmth without causing discomfort to your cat. The lingering heat makes your cat at home on their new heated bed.
FluffMuff's warmth also addresses common pains including joint pain, stiffness, inflammation, and muscle pain. This heated cat bed is also perfect in relieving your pet's anxiety and stress.
Why Choose the FluffMuff Heated Cat Bed? 
✔️ Helps ease joint pain, stiffness, and inflammation
✔️ Keeps your pet warm and cozy all year round
✔️ Improves pet anxiety and restlessness
✔️ Soft and fluffy, like sleeping on a cloud
✔️ Suitable for small/medium dogs and cats
✔️ Machine-washable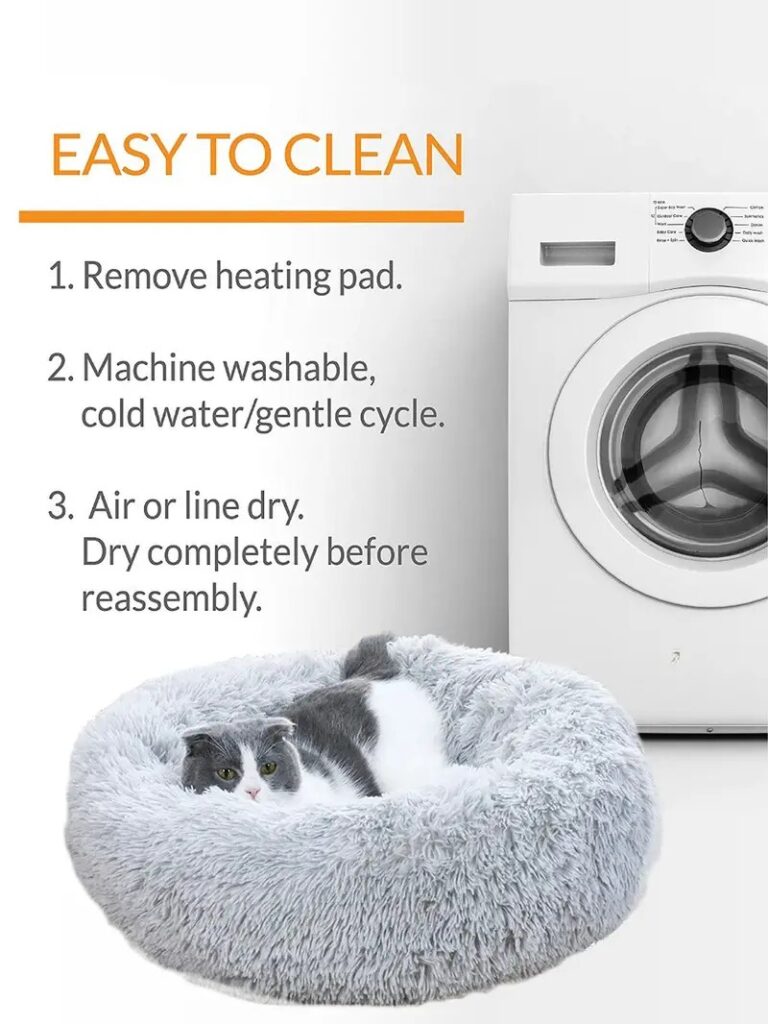 FluffMuff Heated Cat Bed Features
Heats the Bed Up to 28 degrees C — An Ideal Temperature to Keep Pets Rested and Relaxed
For pets that need a little extra TLC to stay warm and cozy in the cold winter months. The heated donut bed warms up to 28° Celsius/ 82° Farenheit, making it the perfect spot for a toasty winter nap.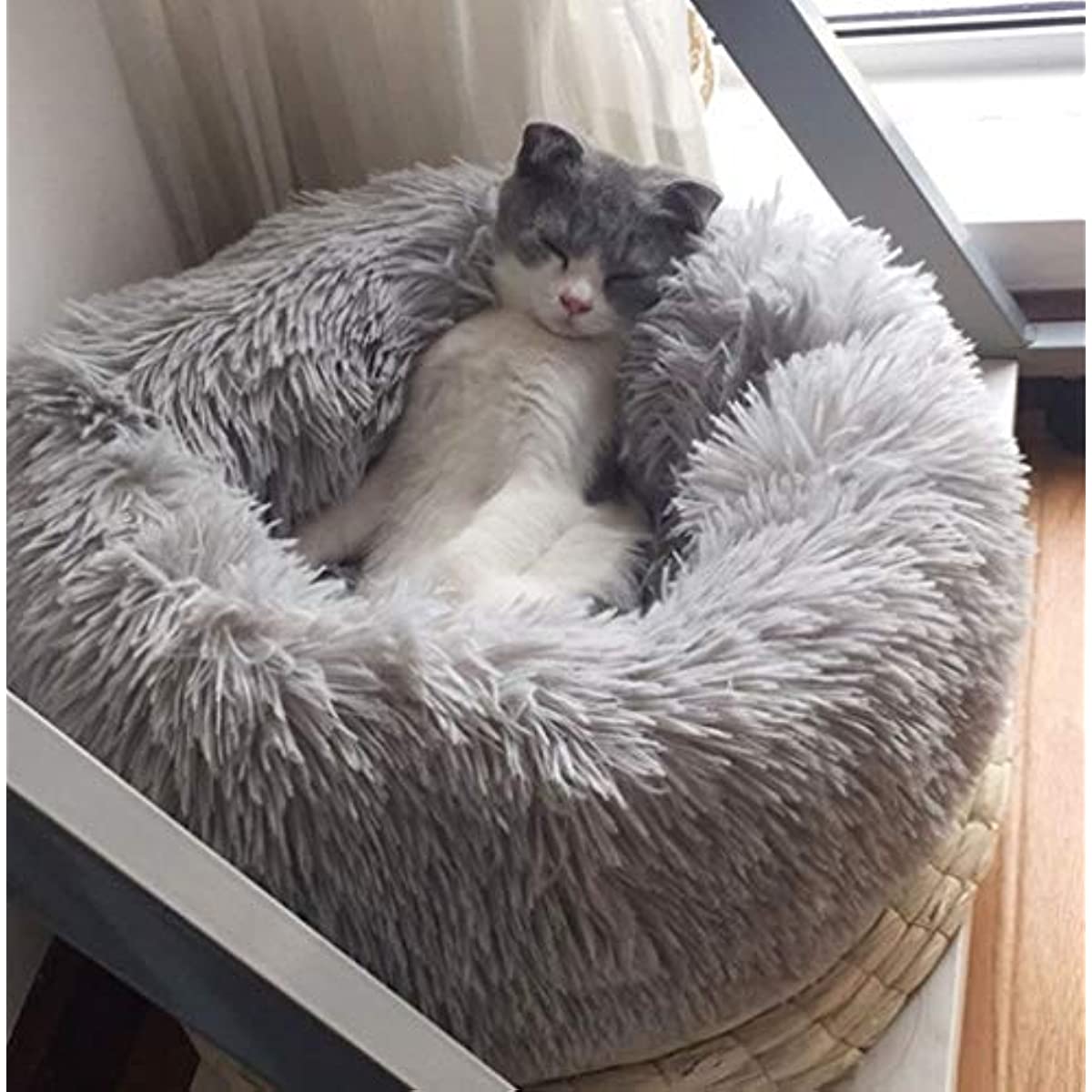 The Heated Cat Bed That Effectively Relieves Stiffness and Joint Pain
The FluffMuff is a vet-recommended, safe and effective relief to aging pets and pets that suffer from inflammation, muscle pain, joint stiffness, or arthritis during the cold, winter days.
The infrared heat promotes increased blood flow to target areas of discomfort, delivering nutrients, oxygen and proteins to keep tissues healthy while eliminating toxin build up and reduce inflammation.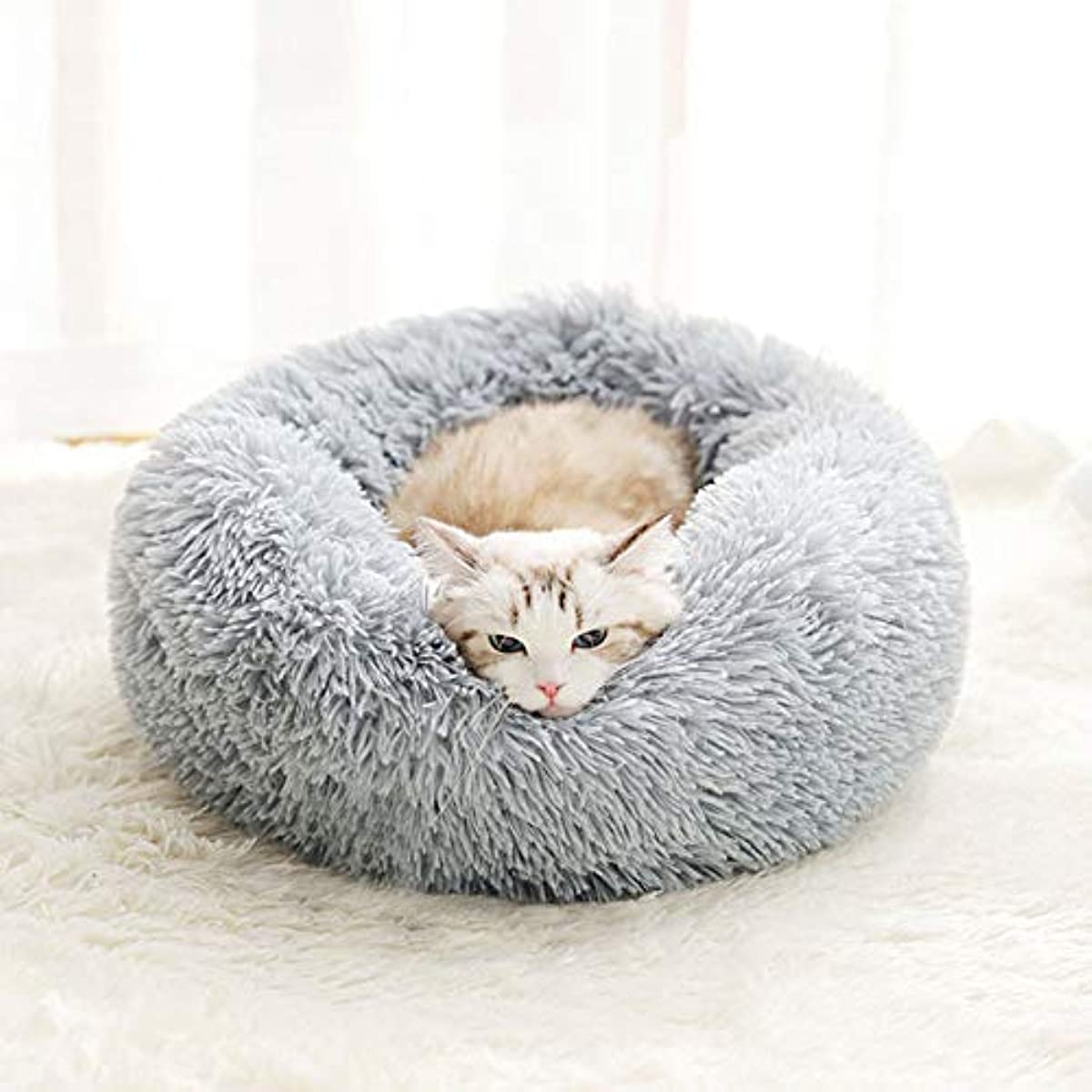 Donut Shaped Pillow Makes a Great Soothing Cat Bed for Cats Dealing with Anxiety and Nervous Tension
The donut bed's raised edge envelops your pet's body, while the heated plush surface adds an added layer of warmth, security, and comfort. Taken together, these features help to soothe your pet's sensory system, reduce feelings of loneliness, and calm anxiety.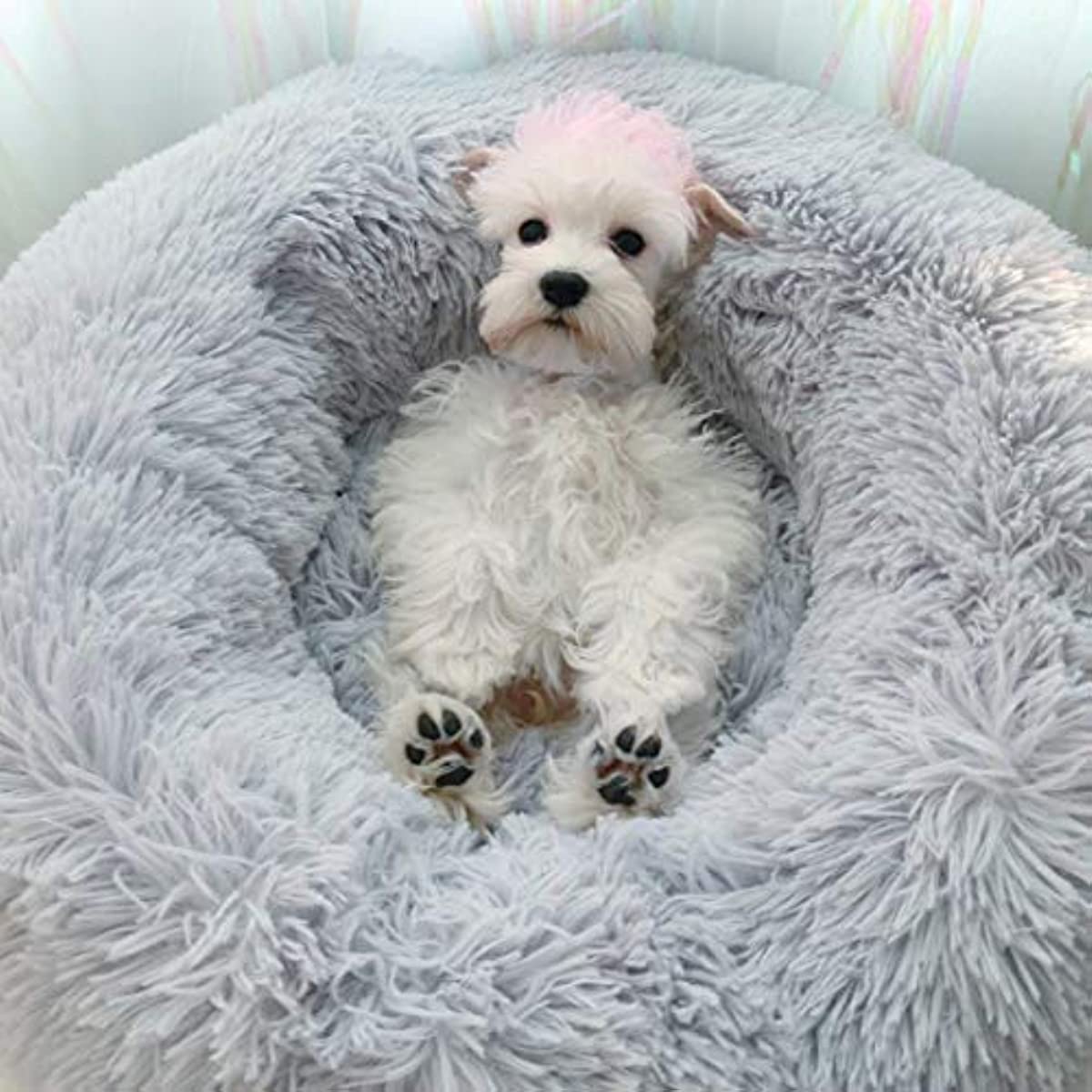 The Heated Cat Bed That Provides That Fluffy, Non-static, Ultimate Comfort
The soft, plush polyster fibers are safe on sensitive skin and form a luxurious resting spot to give your pet the best sleep of their lives.
Also Works for Dogs!
The design of the FluffMuff is ideal even for dogs and puppies.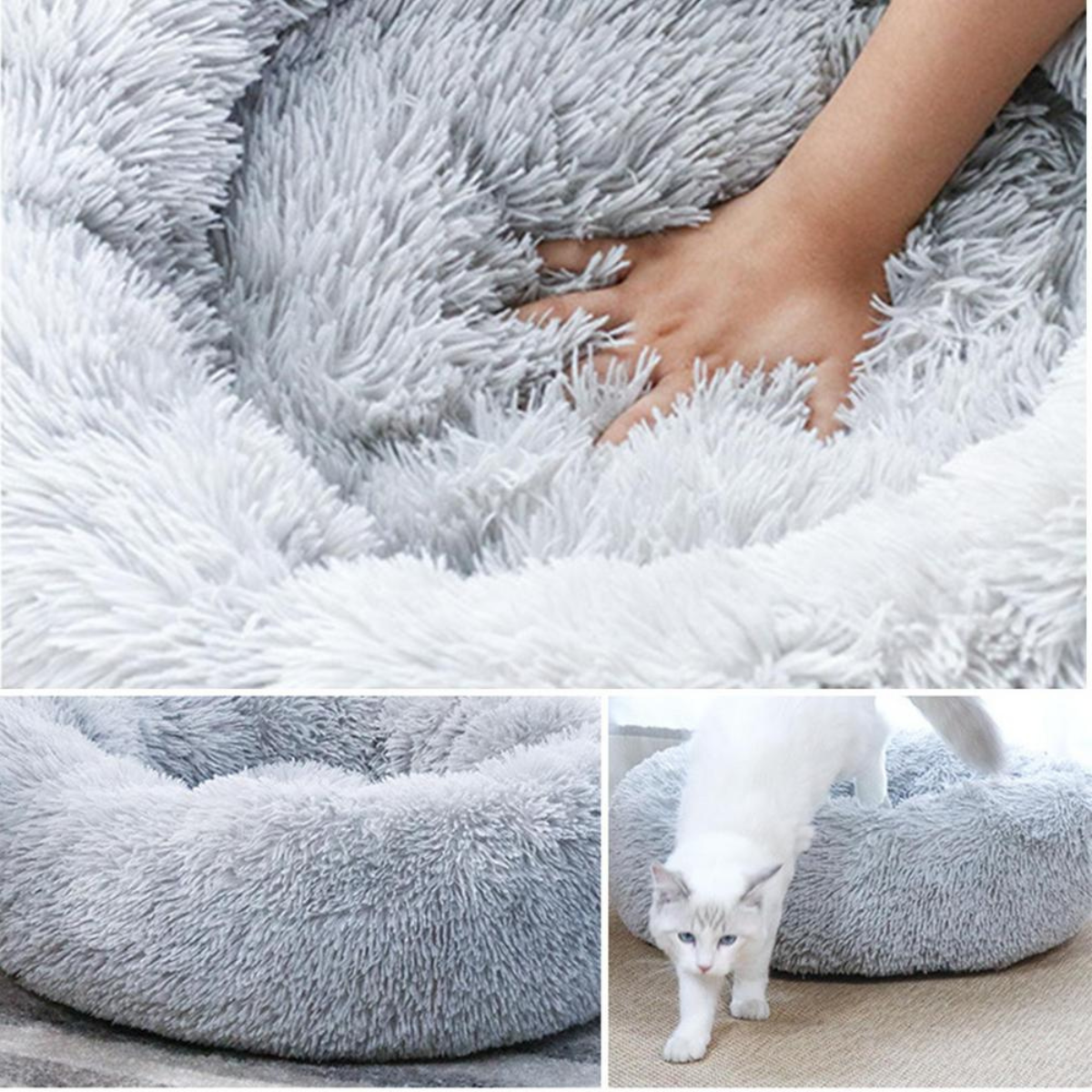 Specifications
Diameter : 40CM /50CM /60CM

Function : Heated through USB cable

Material : Plush + PP Cotton 

Recommended for : Small and Medium Dogs or Cats (up to 22 lbs)
Package Includes: 1×Heated Cat Bed