Getting Your Dog in and out of Your Car Is Now Made Easier!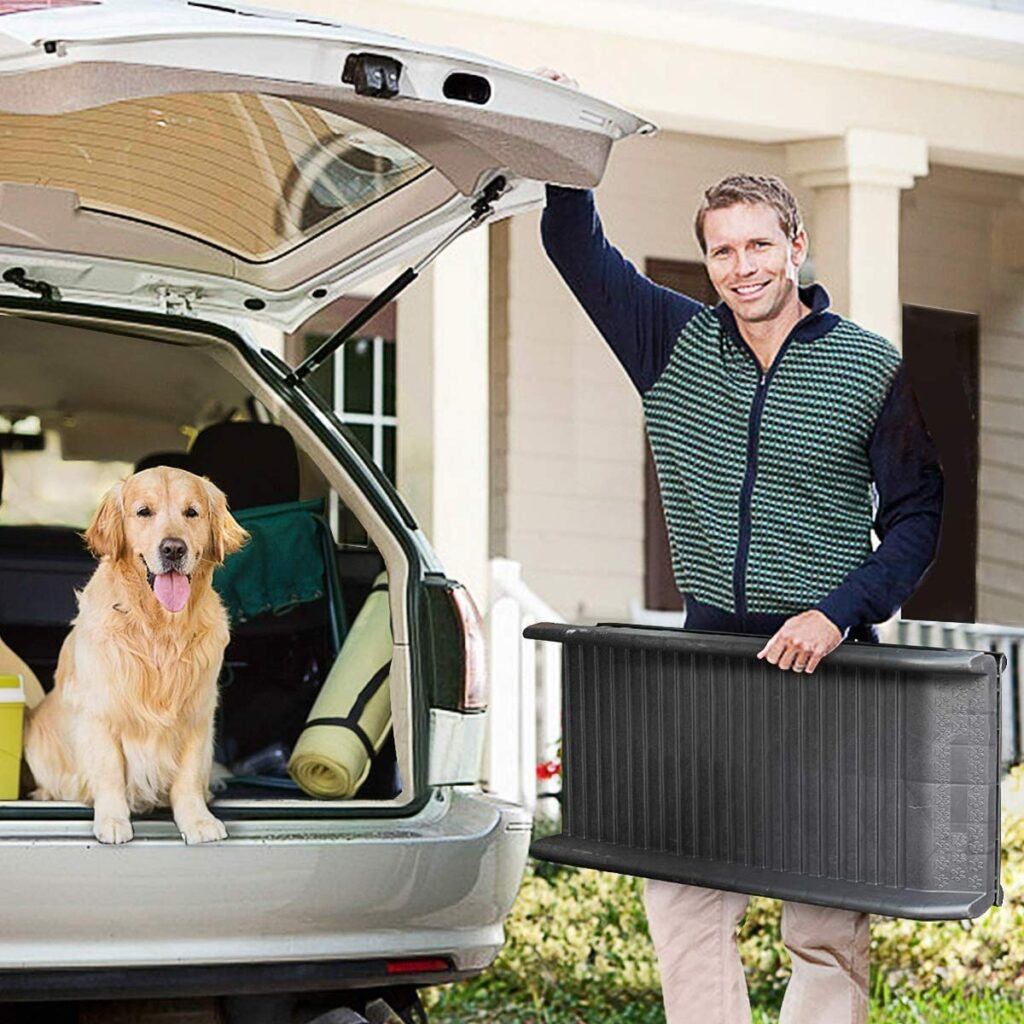 The Dog Ramp that Provides Safety in Every Step!
If getting your dogs to climb up higher spaces becoming a struggle for you and your dog, know that you don't have to put up with it forever! Now, you can count on the DoggoPoggo foldable dog ramp to help your pets climb up and down cars, chairs, seats, and beds with ease! This new and improved lightweight dog ramp is the best match for dogs of all sizes.
🐾🐾🐾🐾🐾🐾🐾🐾🐾🐾
DoggoPoggo is For You If…
You want to keep your pets safe every time they move up and down on areas taller than they are. 
Are your pets straining too much when they get inside your car? Do they need to jump at such a considerable height just to get down? The DoggoPoggo dog ramps helps dogs navigate taller spaces with ease. With this foldable, heavy duty dog ramp for both small and big dogs, your pets won't have to do risky jumps and leaps again.
You have senior dogs who are at higher risk of injuries.
The older your dog is, the more fragile they are. One jump could mean a debilitating injury. If your senior dogs need special care, you can count on the DoggoPoggo.
You have small-sized and teacup pets that are struggling with climbing up (or going down). 
If you own a chihuahua, a pom, or a corgi with those little legs, you know how much they struggle when you tell them to go up with you in the car, beds, and seats. If you are looking into making important spots accessible for your teacup doggos.
You are having a hard time carrying your dogs. 
Is your back suffering from hoisting up your 100lbs dog into higher areas? The DoggoPoggo can help you. You can say goodbye to painful knees and back coming from carrying your dogs. This dog ramp for dogs of all sizes can do the job for you.
You want your pets who are afraid of heights to climb with confidence.
Even dogs who are afraid of heights can easily maneuver their way up and down seats and cars with the DoggoPoggo!
🐾🐾🐾🐾🐾🐾🐾🐾🐾🐾
DoggoPoggo Features:
🐶The lightweight dog ramp that can cater up to 200lbs dogs! The DoggoPoggo has an all-plastic construction – this is just a 10-lbs pet ramp. However, this product can hold dogs over 200 lbs. This is a safe walking surface for even the largest dogs.
🐶Anti-slip rubber foundation elevates the safety for your dogs. The DoggoPoggo features rubber grippers that keep ramp stable while in use. This feature provides ultra safety for your pets on slippery places.
🐶 Easy, space-saving design you can bring while traveling!  The ramp can fold in half for easy carrying and storage. Indentions beneath the railing provide a convenient handle and a safety release latch which helps minimize accidental openings.
🐶 Includes a high-grip traction to prevent pets from slipping while walking. The high traction walking surface provides a textured surface that is similar to truck beds and skate boards to help prevent slips – this is a perfect for older pets or pets with mobility issues.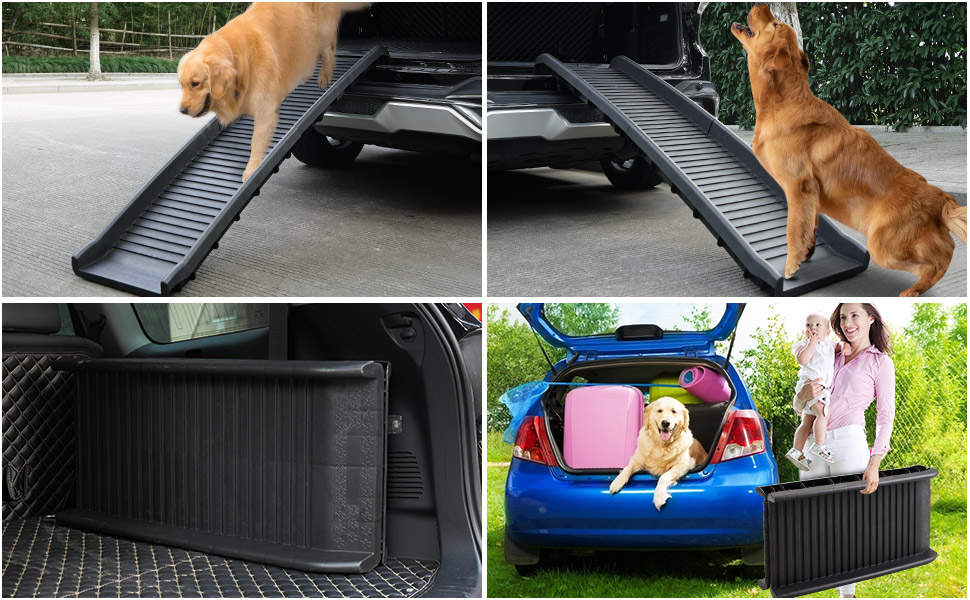 🐶 The design includes side rails for extra protection. Rails on both sides help your pet feel more secure when walking up and down the ramp.
🐶 A dog ramp that's easy to clean and maintain. Use mild detergent or simply hose off any dirt.
🐶 The best dog ramp for older, injured pets. Your pets who are sporting injuries deserve pain-free comfort. The pet ramp gives another option apart from pet steps, which may hurt their joints or injured legs.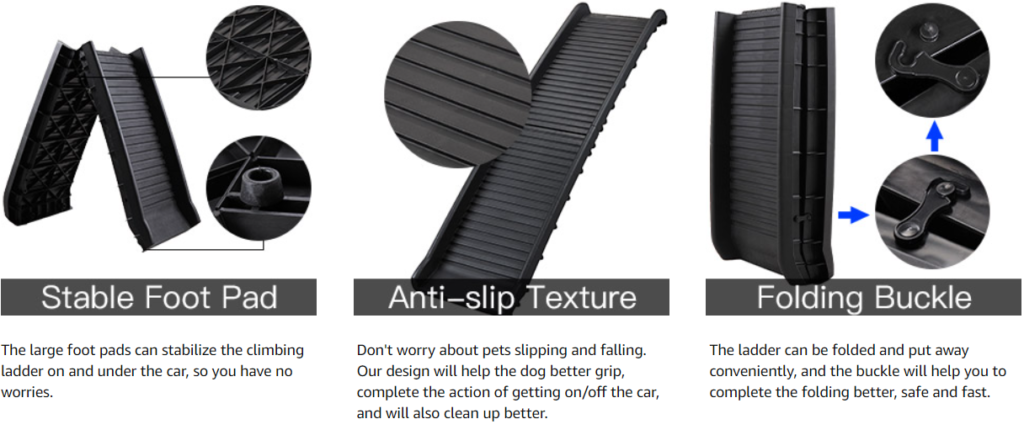 Specification:
Color: Black

Material: PP + anti-skid sandpaper

Dimensions: 31″x 16″ x 7″(L x W x T)

Unfolded Dimensions:61″ x 15.5″ x 6.2″ (L x W x T)

Max capacity:200 LBs

Net weight: 9 lbs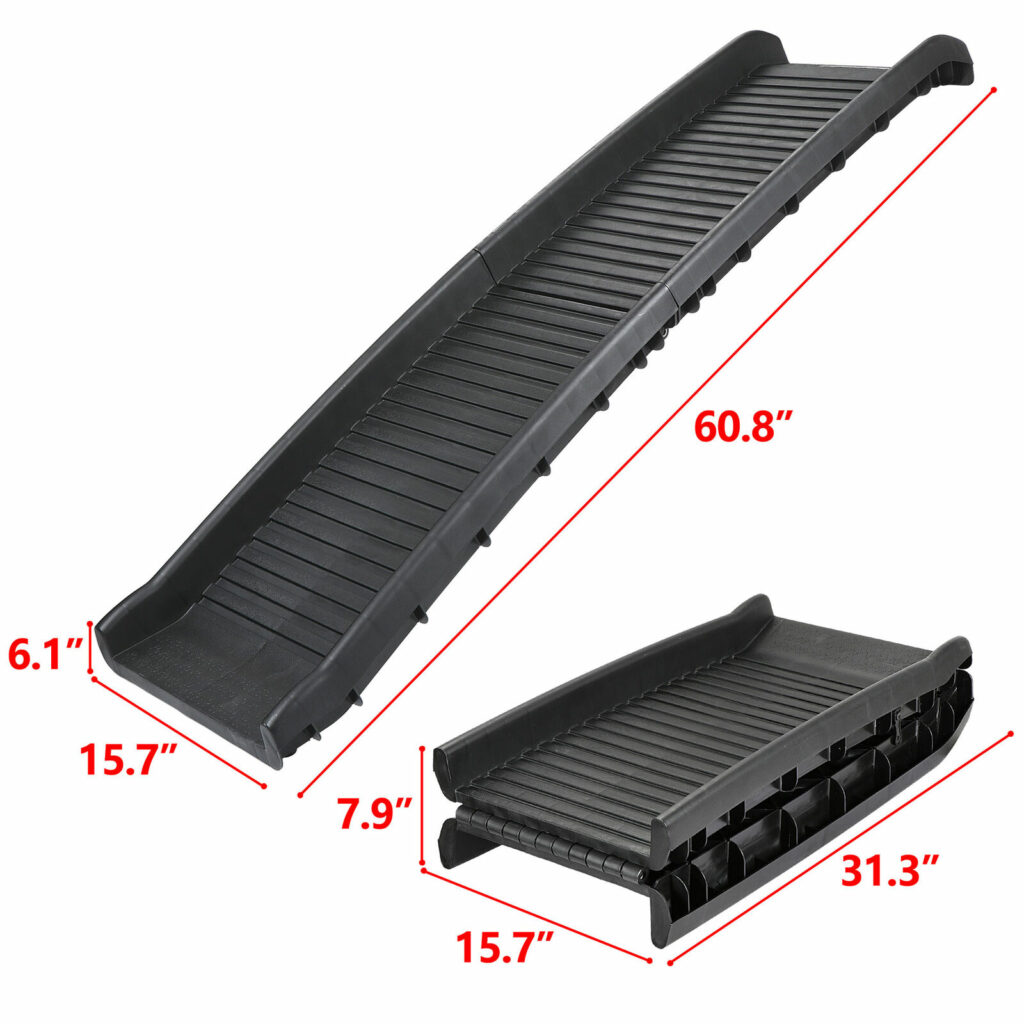 Note:
If ramp is wobbly, it may be due to using it on the side of a car which has doors that obstruct a linear placement and cause the ramp to sit at an angle.

If the ramp is at an angle and only one of the two upper corners is placed on the seat, the ramp will wobble