Never Let Your Pets Miss a Meal!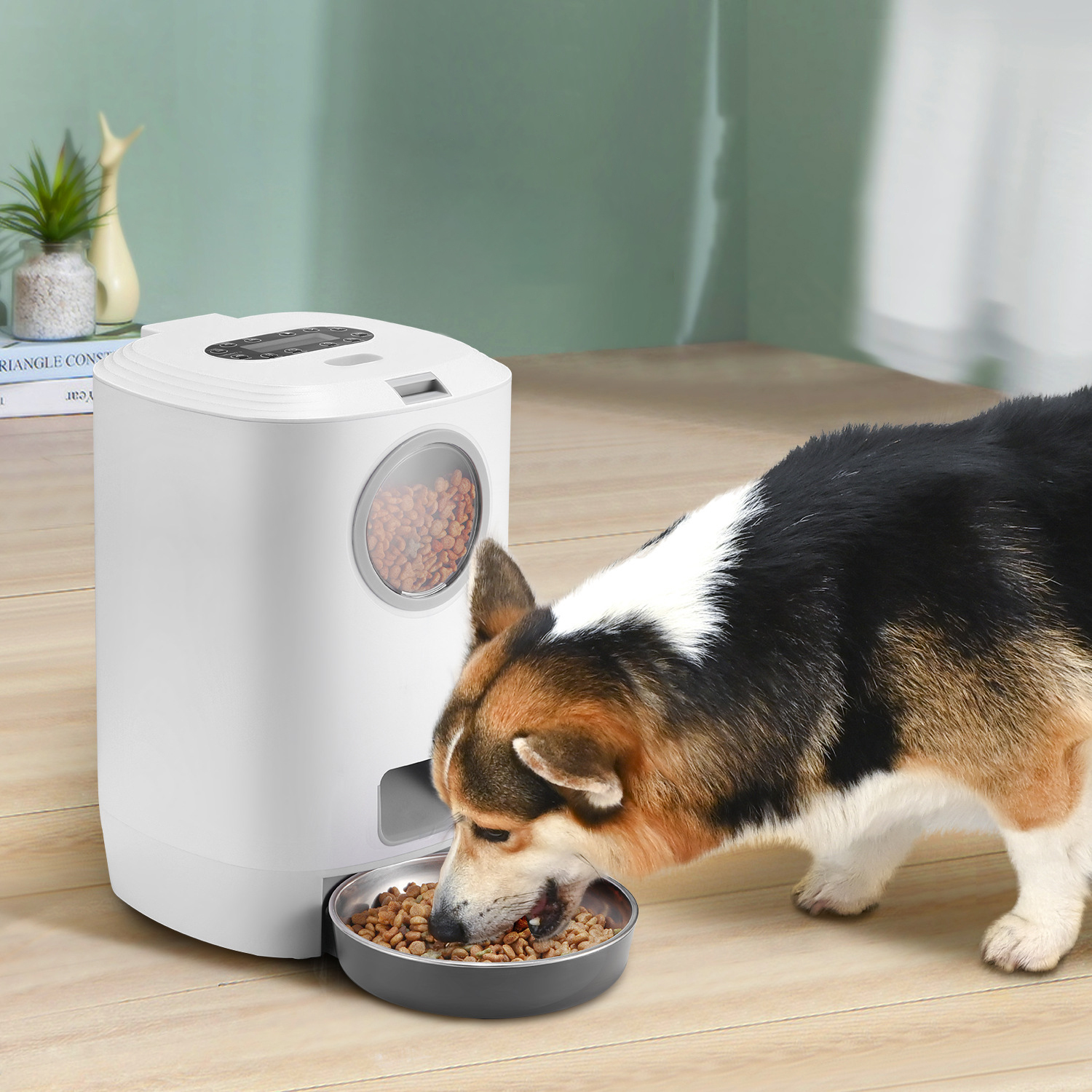 Is feeding your dog making you feel a little lazy? Do you stress out on the complicated process of feeding your pets – all the taking out of dog food, placing them in their food tray? Do you feel like you can't relax while you're outside because you have to continuously think of your dog's feeding sessions? If you want to make pet care easier, WhiWhisk should definitely be in your must-have list.
High Capacity Cat Liter Can Feed Your Pets for Days
Are you working overtime? Are you leaving your pets for a few hours and you won't be missing any feeding schedules? The WhiWhisk is a specially designed automatic cat feeder that feeds your pets with food without fail. The container includes a capacity of 4.5 liters – just the enough amount to keep your pets fed.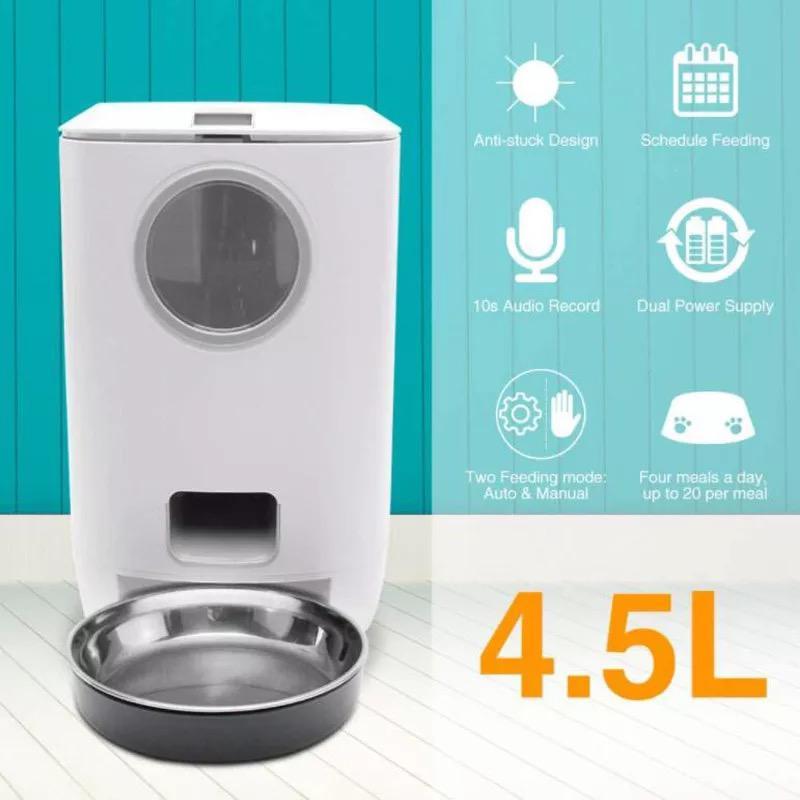 Set the Time for Feeding
Are you worried that you might miss the right time to feed your pets? The WhiWhisk comes with a feature which allows you to set the feeding schedule so you won't have to deal with missed feedings and grumpy pets.
You Can Pre-set Up to 4 Meals a Day
This feeding machine can help pet owners set up to 4 meals a day to ensure pets are well-fed, and not left hungry. Also, the device comes with an anti-stuck design that removes your worries that pet food will get stuck and your pet will go hungry!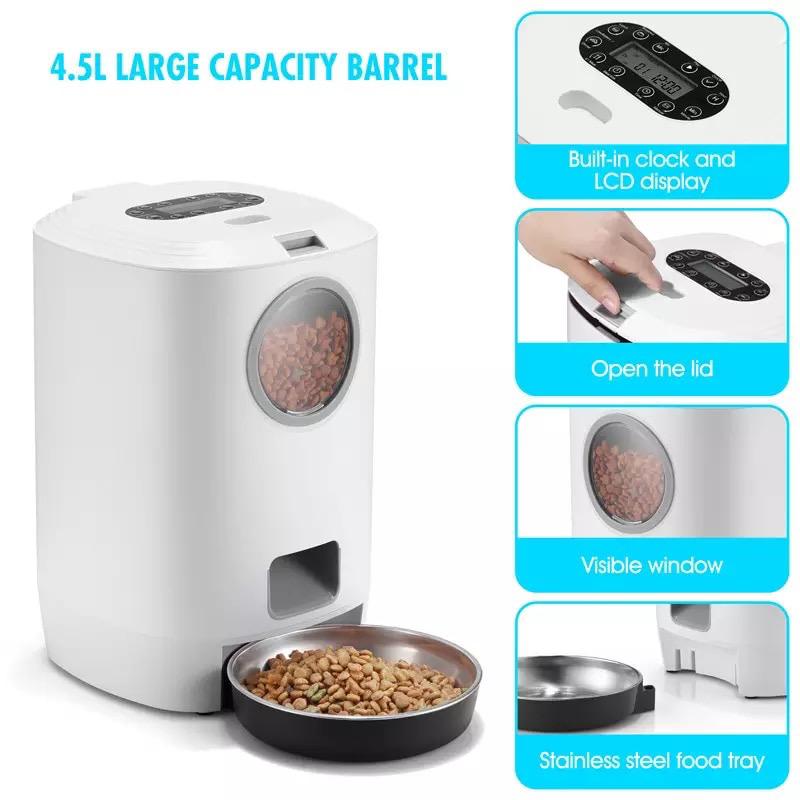 Easy to Clean and Maintain
The food tank of the automatic pet feeder is removable, and the stainless steel food tray is removable for easy cleaning. The special button protection design is easy to install, and the base is stable and non-slip to protect pets. The built-in infrared sensor can monitor whether the food is full.
Content is 100% Visible!
You won't have to guess if there's still food inside the container. You can easily peek right through the container which offers visibility of remaining pet food.
The No-mess Way of Feeding Your Pets
The WhiWhisk provides pet owners are ensuring their most beloved furbabies are fed, full, and happy!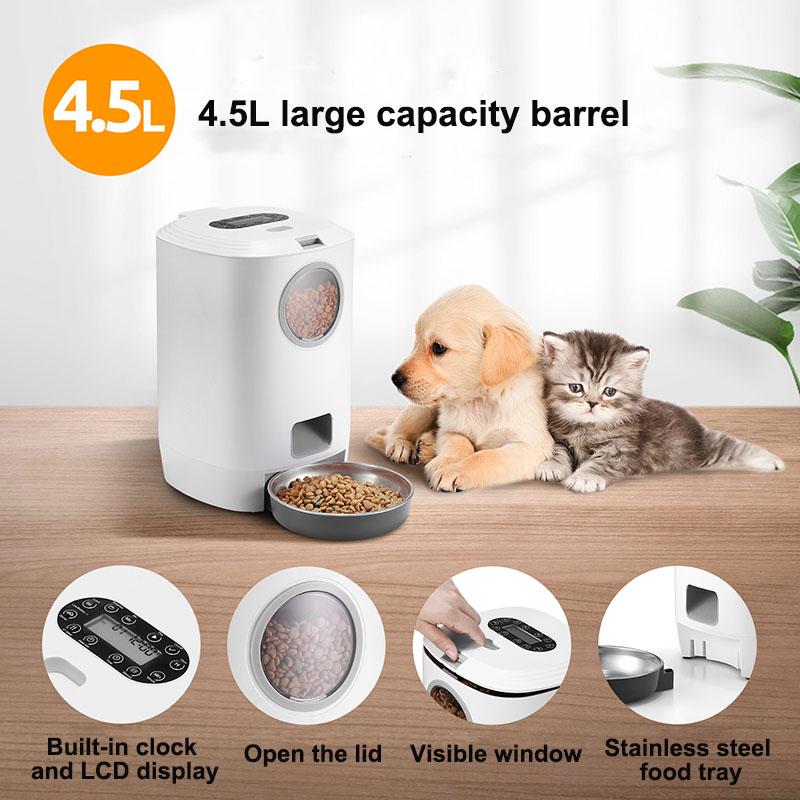 Specifications
Material: ABS + stainless steel
Input: AC 100 to 240 V
Output: 5 V/0.2 A
Feeding Times: 4 meal ( breakfast, launch, dinner and 4th meal)
Voice record: 10 second
Color: As picture shown
Power Supply: batteries(not included) or adapter
Weight: 3.54 pounds ( 1.61kg )
Size: 18.6×32.4×35.6cm( 7.32×12.76×14inch)
Package include:
1×feeder
1×USB cable
1×Power adapter
1×Manual