Why Does Your Pet Needs a Smartfeeder?
Are you always busy and always not at home that you sometimes forget to feed your pet? Do you feel guilty whenever your furry friend nudges you for breakfast, and you can't give them what they want because you're always busy? If you answered "yes" to all these questions, consider switching to an automatic pet feeder like PetServ.
Pets need love, care, and attention. However, looking after our pet on top of work, personal errands, and family time is quite tricky. So PetServ Automatic Pet Feeders will help change the game. It allows feeding your pets whenever you're at work or out for a short vacation. It creates less stress, no guilt, and a healthy relationship between you and your fur babies. 
Your pet will love to be feeding on time! PetServ is the ideal appliance for feed your pet. It is an automatic manual model of our product line, with a load capacity of 4L, which fulfills all the feeding functions.
▲Exact portions
▲Programming and planning meals
▲A simple way to keep your pet fed in time
▲Controlling the diet without wasting food.

Smartphone Programming: Control your pet's mealtime from anywhere using your smartphone. It can program up to 15 meals to feed on your pet's schedule.
Record A Custom Message: Keep your pet excited about meal times! Press and hold the record button to begin recording a voice message to be played as each feeding dispenses. 
Low Food Sensor: The feeder automatically notifies you when food levels are low. At the same time, you'll also receive an alert if the hopper becomes empty. 
Battery Backup: The PetServ feeder is wall-powered and/or battery-powered. In case of a power outage, the feeder will continue to function on 3 D-size batteries to assure your pet gets fed (batteries not included).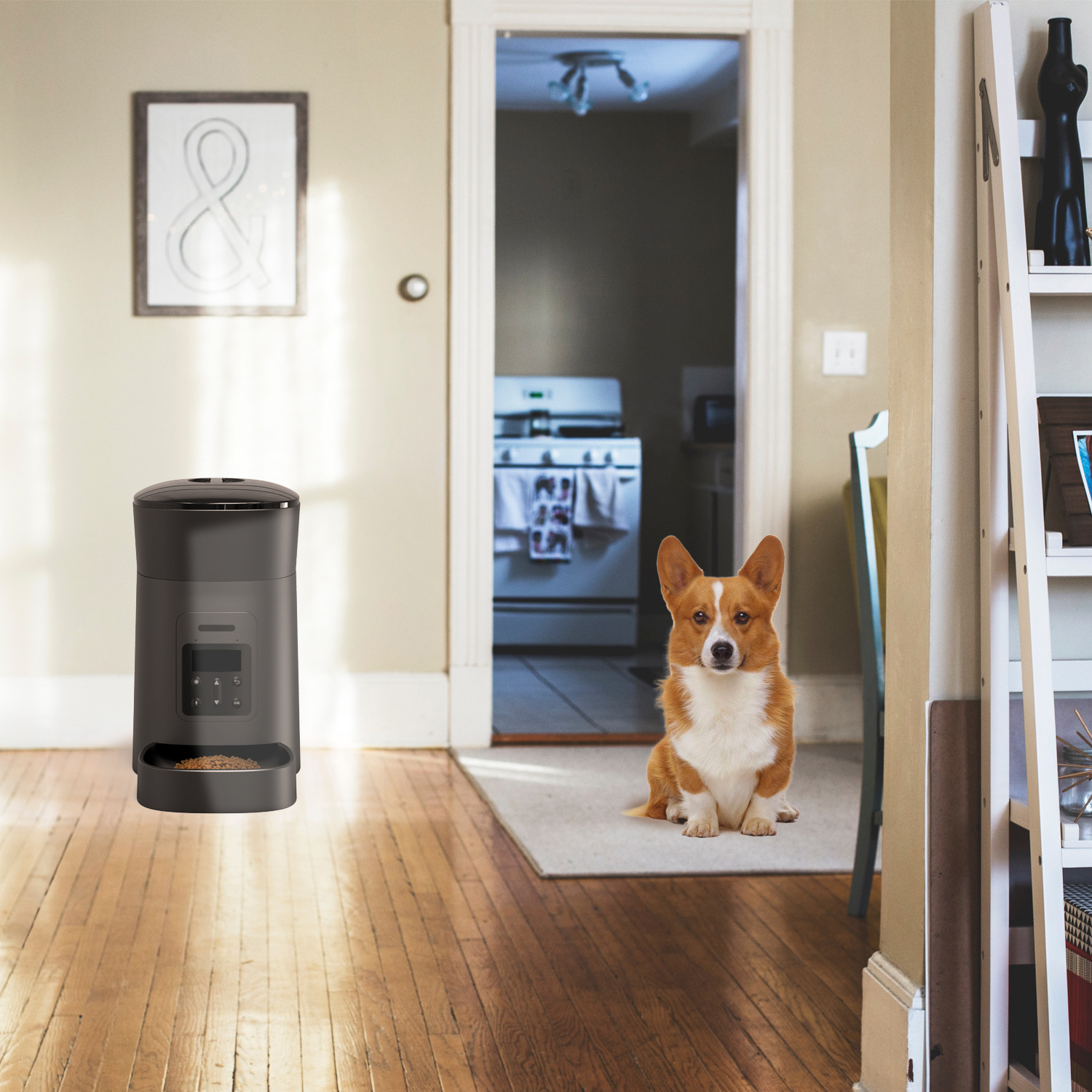 Key Features of PetServ
Automatic & Precise: PetServ allows you to feed your pet on schedule (1-4 meals per day and up to 20 portions per meal). The automatic dispenser gives you the peace of mind that your cat will always have food on time.
High-Quality Materials: The Automatic Feeder is made of the finest materials: food-grade plastic (the plastic cover), food-grade stainless steel (the bowl), silica gel (the impeller).
Practical Design: A clog-free design and a child lock keep pets/kids away from accidental use. The cable protector (3.3 ft., included) prevents unintentional breakage and damage. Keep your pet safe!
Two Kinds of Power Supply: It has a 5V DC adapter and three alkaline backup batteries (not included). A two-way power supply ensures that your pet gets food consistently, even in case of outages.
Voice Recording: Record a personalized voice message (up to 10 seconds) that will play on a loop each time it dispenses food to inform your pet about the mealtime.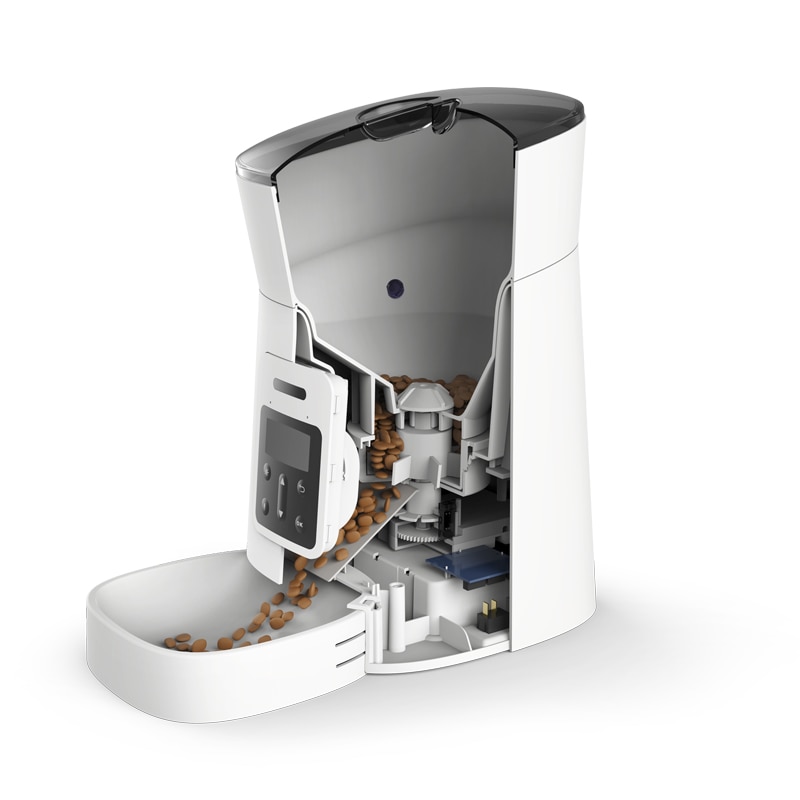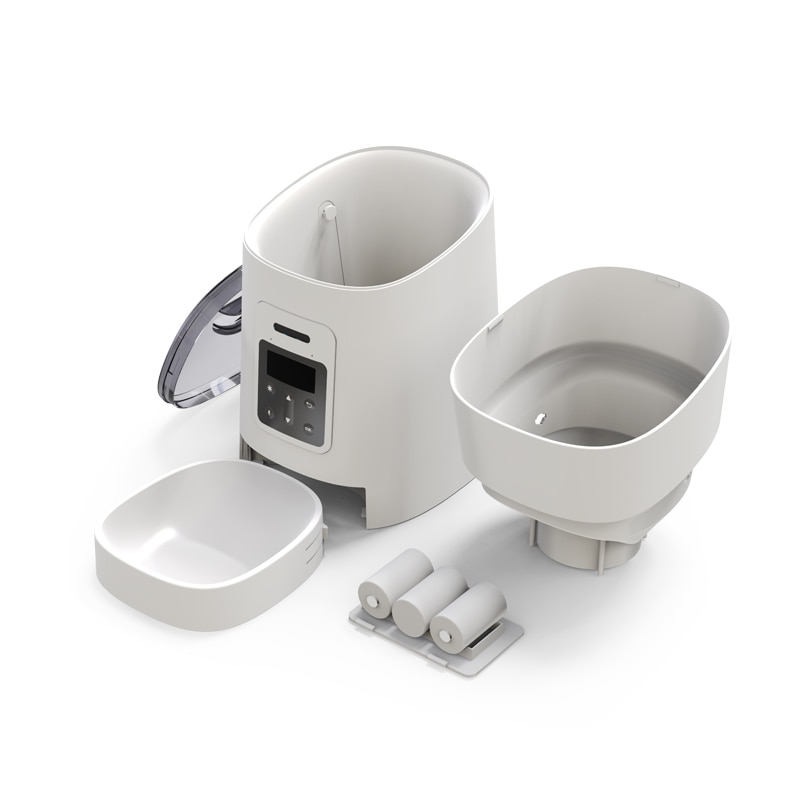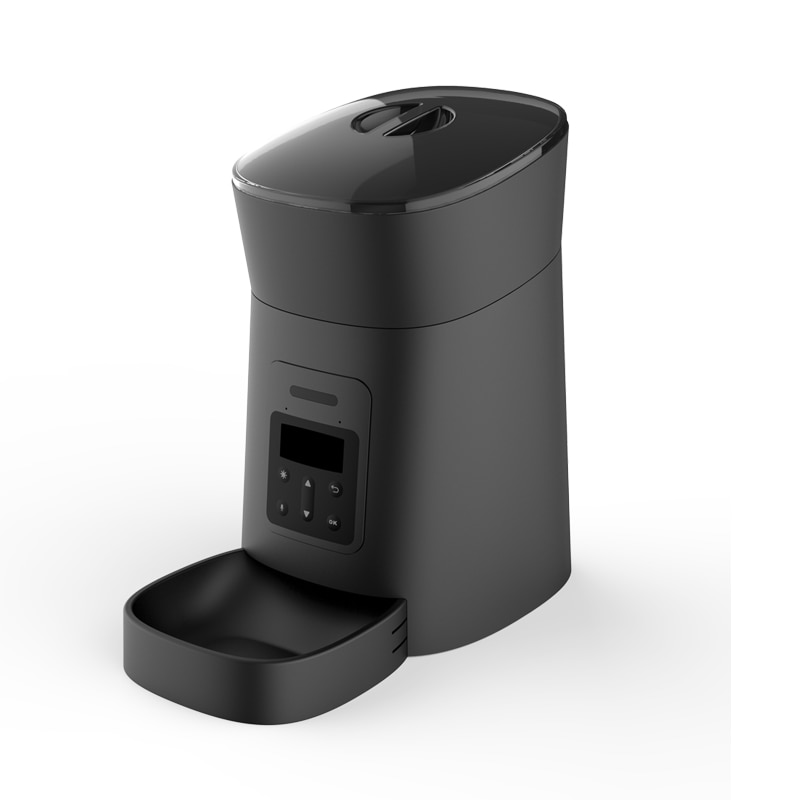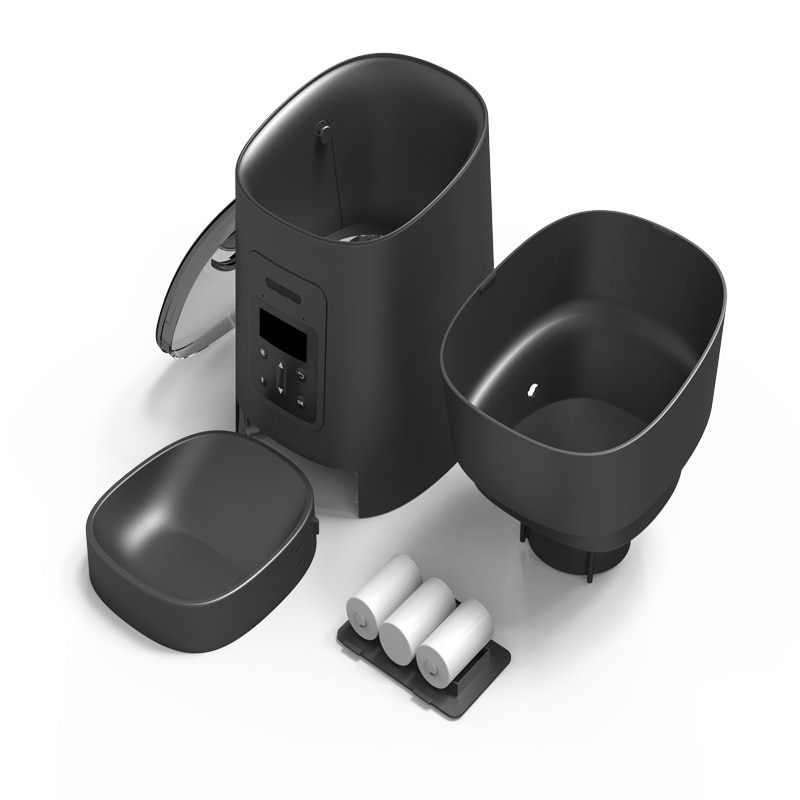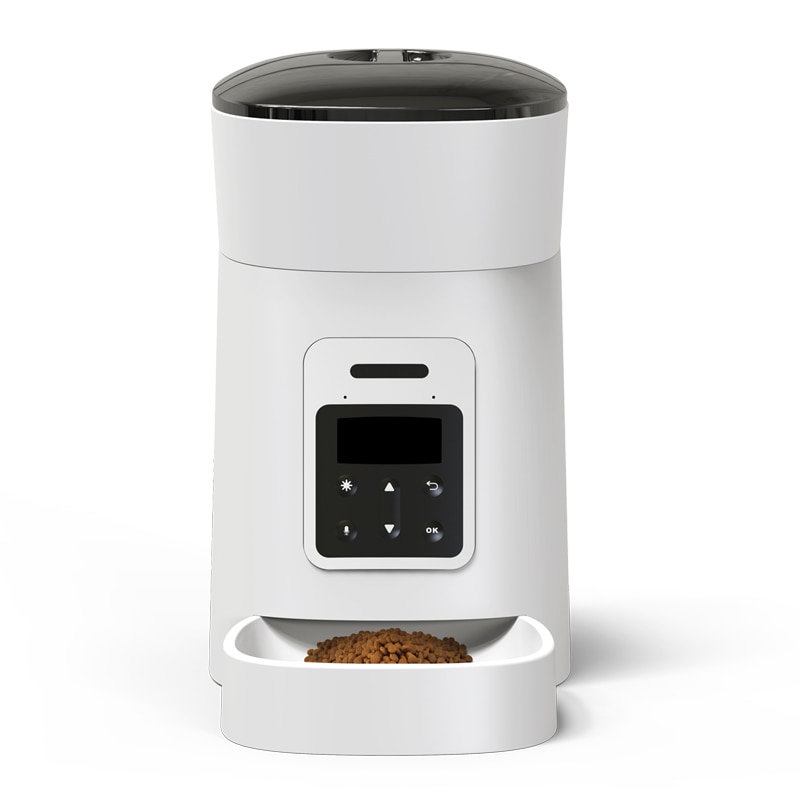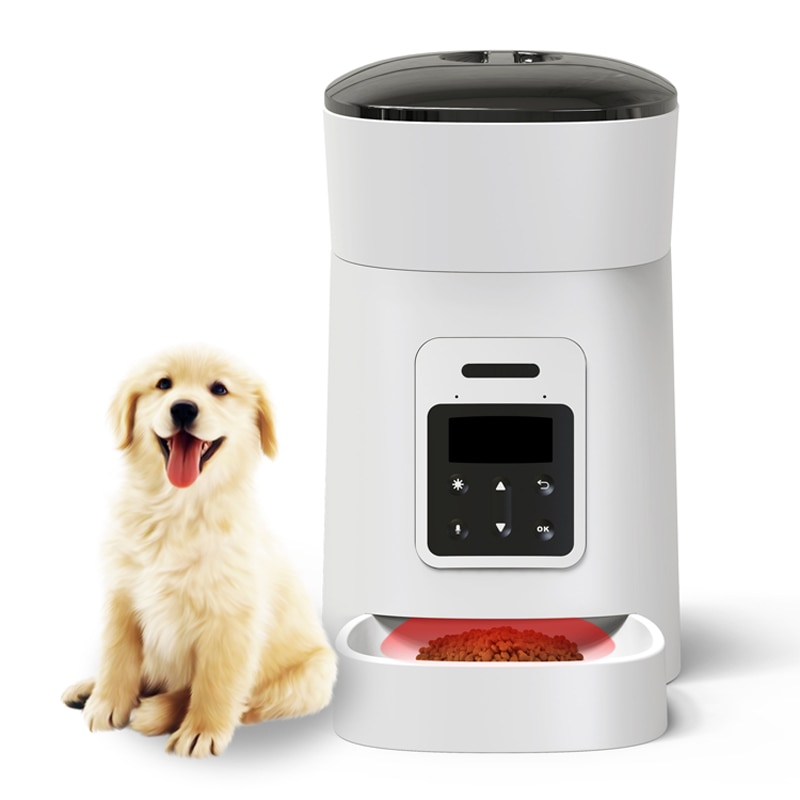 Exclusive anti-jam system
Nothing worse than not being at home, and our pet's food gets stuck.
PetServ has designed this innovative technology to solve this problem automatically, allowing continuous feeding on time.
The device reverses the feed dispenser until the supply duct is unclogged.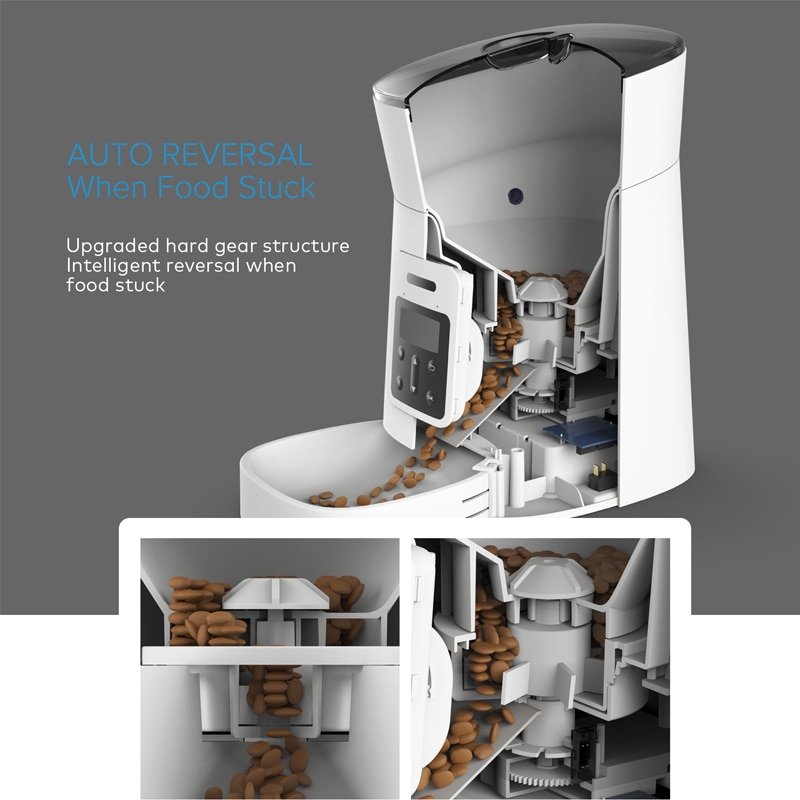 The Power Backup
The device works connected to a USB adapter in the event of a fortuitous power cut. The backup of the batteries guarantees continuity in the meals.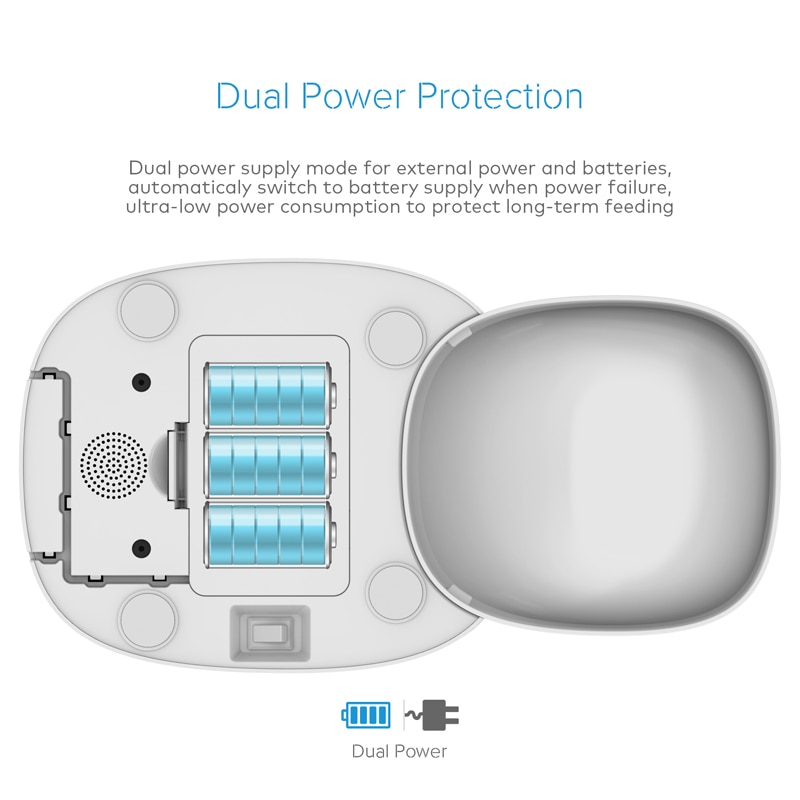 Precision in Meals
PetServ achieves precise measurement of the portion of food supplied by the applied technology of a weight sensor and an infrared sensor, optimizing the amounts according to the previously selected quantity and warning when it is short of food. The led light alarm indicates that it is time to refill the food container.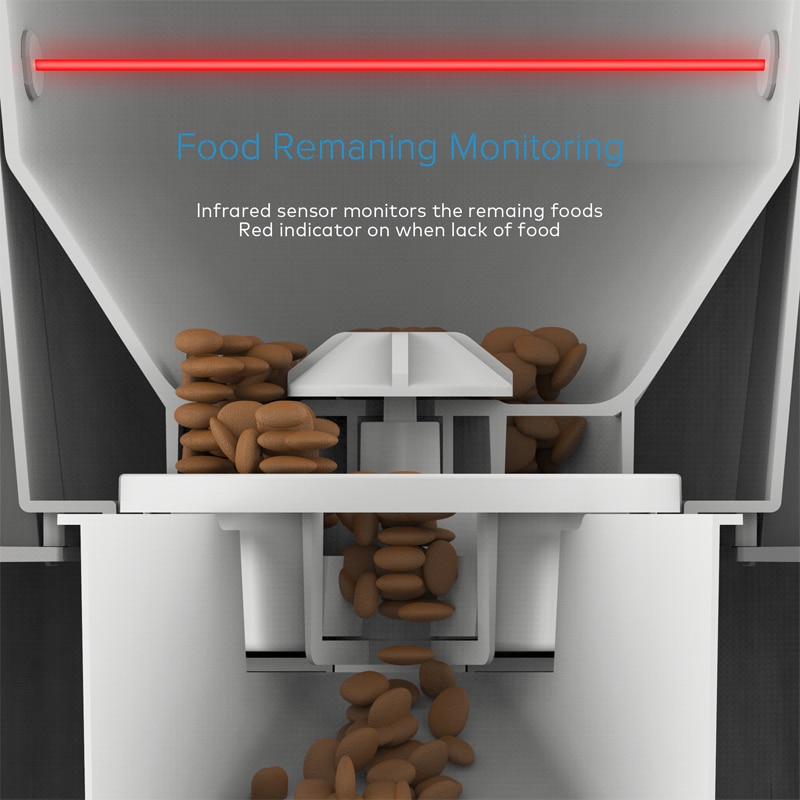 Explore! You will love it.
PetServ also has a Detachable Plate & Visible Cover Design to quickly the surplus food in the barrel, a dual power solution.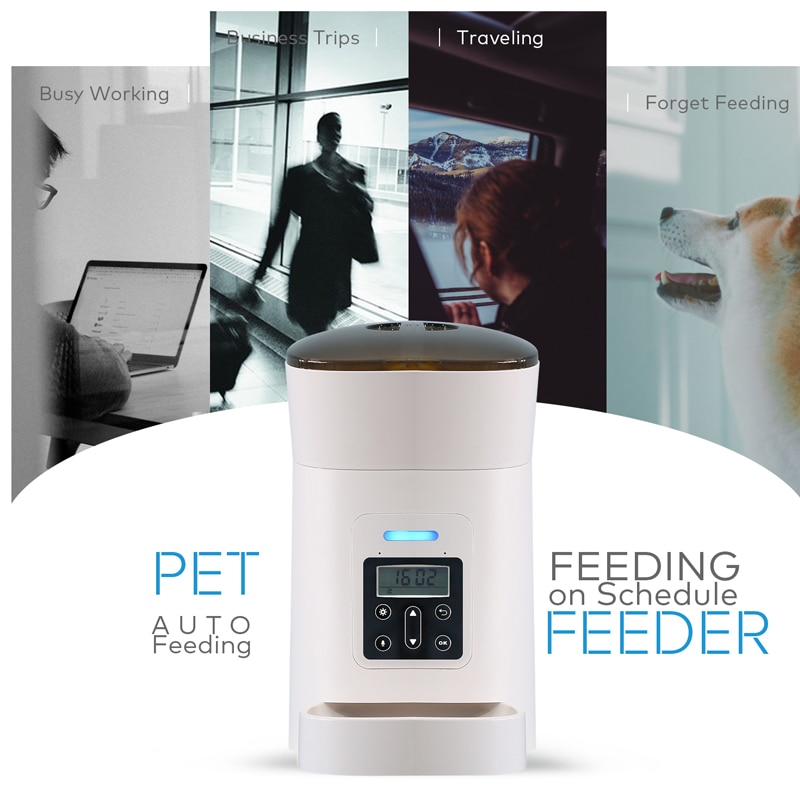 Easy to clean and set
The removable food-grade plate and container make cleaning this equipment simple and easy, helping to keep it tidy and clean.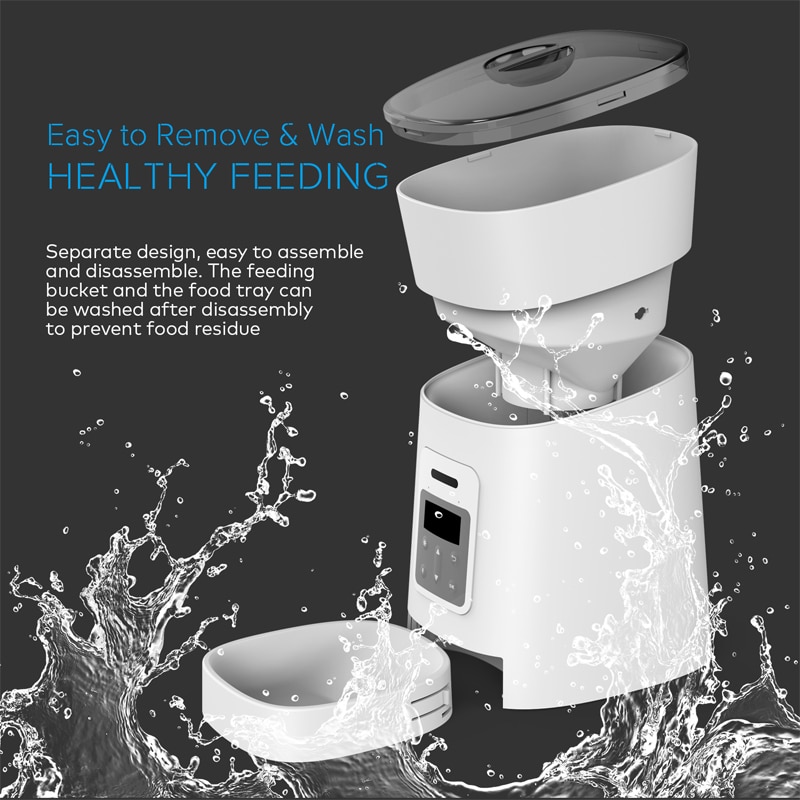 The Advantages of Scheduling
Completely programmable manually, with specific functions, make this equipment an element of comfort for you and your pet.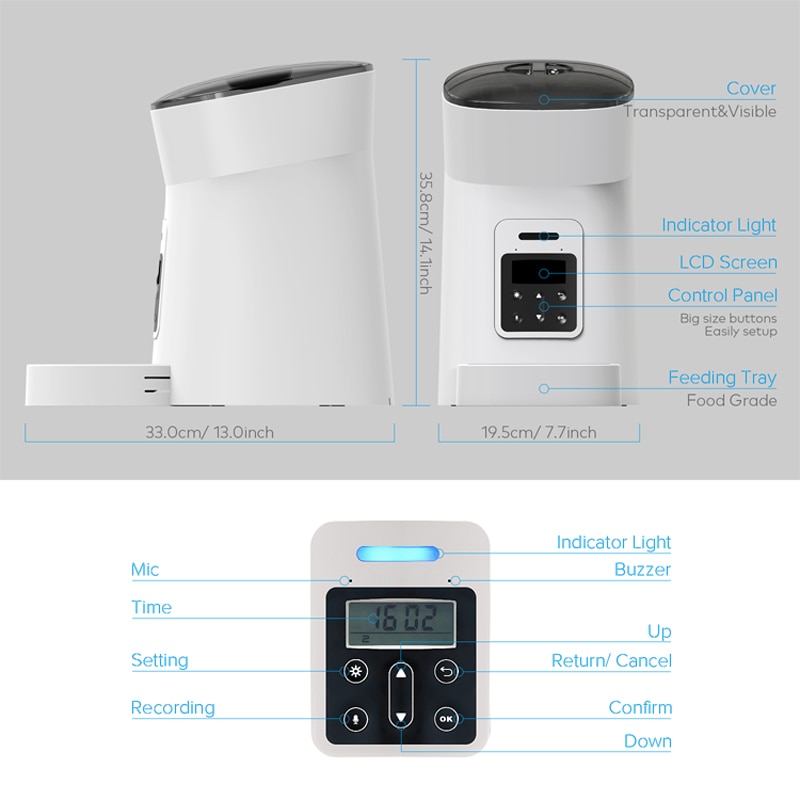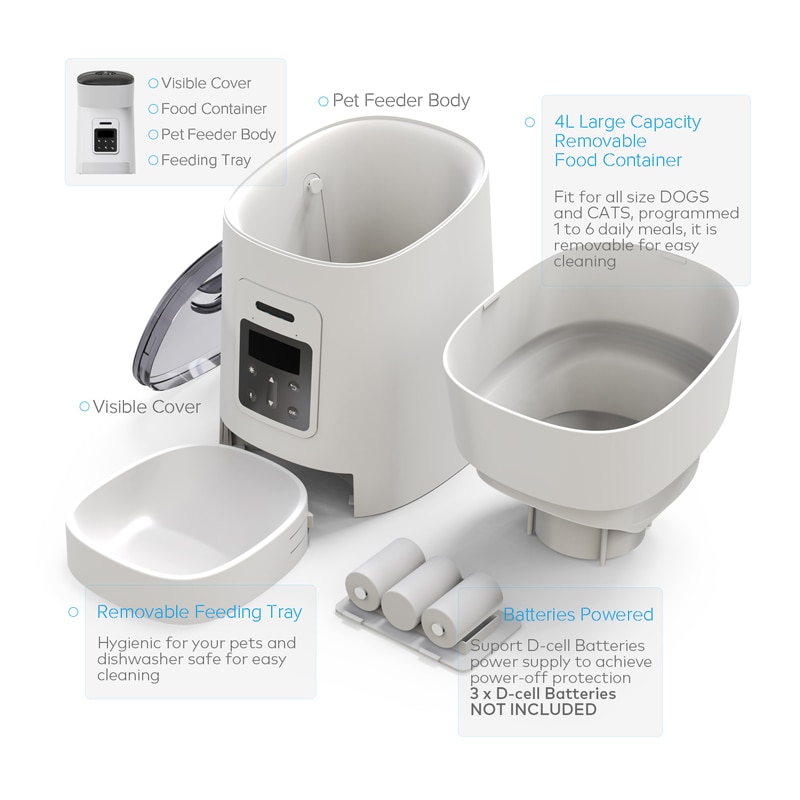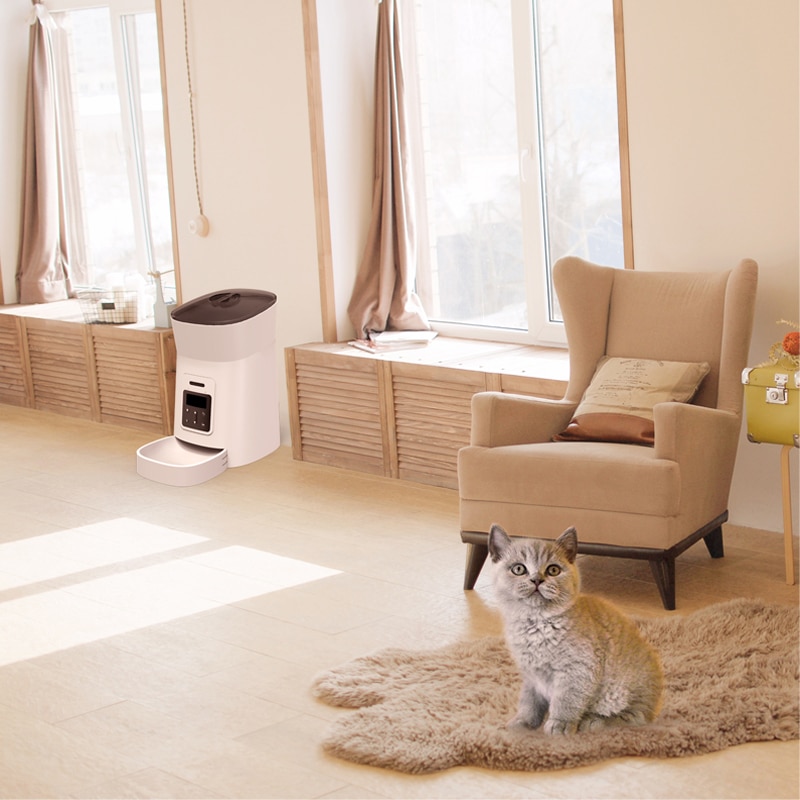 Package Include
1*automatic cat feeder(not include battery)