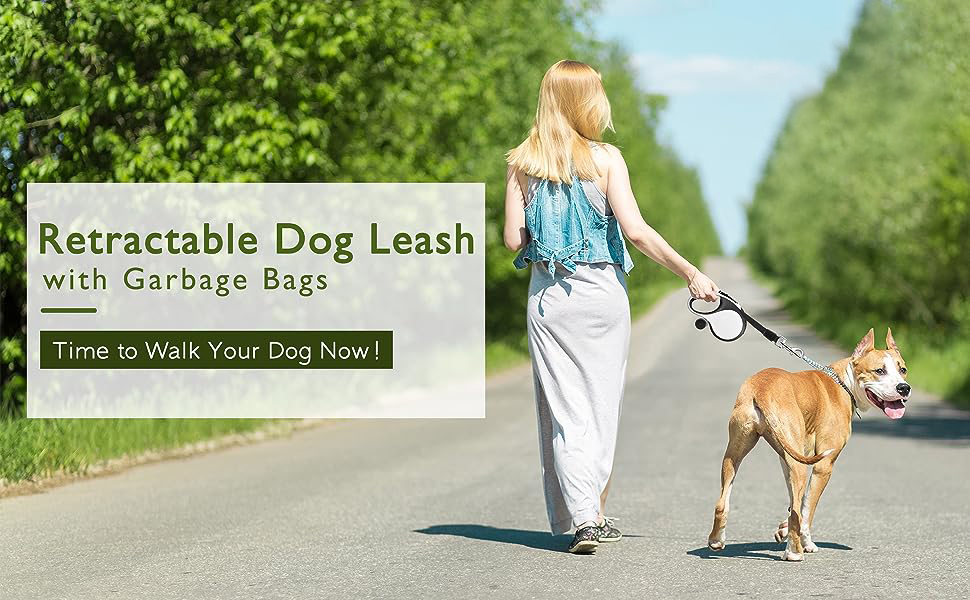 🐾 Hey there, Fellow Fur Parent!
Imagine a sunny morning, the birds are chirping, and your furry best friend is wagging their tail, ready for that delightful morning walk. But wait, you don't just want any walk, you want a walk that screams comfort, convenience, and style, don't you? Well, guess what? Your doggo's walk is about to get a glamorous upgrade that even the squirrels will envy!
Enter the TailTrail Advanced 26FT Retractable Dog Leash – the epitome of a perfect blend between sophistication and functionality. Picture this: a leash that combines the strength to control your burly bulldog with the grace to let your elegant Siamese cat strut their stuff. Yes, it's not just a leash, it's an experience, a statement, a lifestyle!
🐕 The Walk of Fame Awaits!
Now, let's talk details, because we know you're all about that! This isn't just a leash, it's the VIP ticket to the most fabulous walk in the park. With a heavy-duty, no-tangle rope that extends a generous 26 feet, your fur baby has the freedom to explore, sniff, and mark their territory (within reason, of course!) all while you hold the reins with ease and style. And let's not forget about that removable dispenser, a handy little addition that makes those little "accidents" a breeze to clean up.
So, step out in confidence, knowing that the TailTrail Retractable Dog Leash is not just a purchase, but an investment in countless joyful, hassle-free walks with your four-legged friend. Ready to give your pet the walk they deserve? The TailTrail is here to make every walk a walk to remember!
Freedom Unleashed!
Imagine giving your fur baby the freedom to explore, sniff, and prance around with a whopping 26 feet of leash! It's like giving them their little adventure land, where they can be the kings and queens of their domain, all while you hold the royal reins, tangle-free!
Built Like a Tank, Moves Like a Ferrari
This leash isn't just built to last, it's built to impress! With a high-strength nylon rope housed in a robust ABS hard shell, it's the epitome of strength meets style. And don't even get us started on that rust-proof hook – it's like having the reliability of a tank with the sleekness of a sports car!
Hold Me Closer, Tiny Handler
Say goodbye to those hand cramps and hello to the most comfortable walk of your life! The non-slip handle is like shaking hands with a cloud, offering you a grip that's not just comfortable, but downright delightful. One-handed operation? You betcha, because your other hand should be free to wave at your adoring fans!
Safety First, But Make it Fashion
Night walks just got a glow-up! With reflective components that shine bright like a diamond in the night, you and your fur baby will be the stars of the evening stroll. Plus, with a quick lock system that's as easy as a flick of a wrist, you've got control and style, all rolled into one!
The Little Extras that Make a Big Difference
We know it's the little things that count, and boy, does this leash deliver! With a removable dispenser that's as handy as a pocket on a shirt, and a high-capacity battery that keeps the good times rolling, you've got everything you need for a walk that's nothing short of fabulous!
One Leash to Rule Them All
Whether you're the proud parent of a majestic Maine Coon or a dashing Dalmatian, this leash is the one-size-fits-all solution to your walking woes. It's like having a universal remote for your pets, giving you the power to walk them all, with style and grace!
Customer Service that Wows
And because we know that peace of mind is priceless, we've got a customer service team that's ready to wow you with their responsiveness and assistance. It's like having a best friend who's always there to help, making your TailTrail experience nothing short of magical!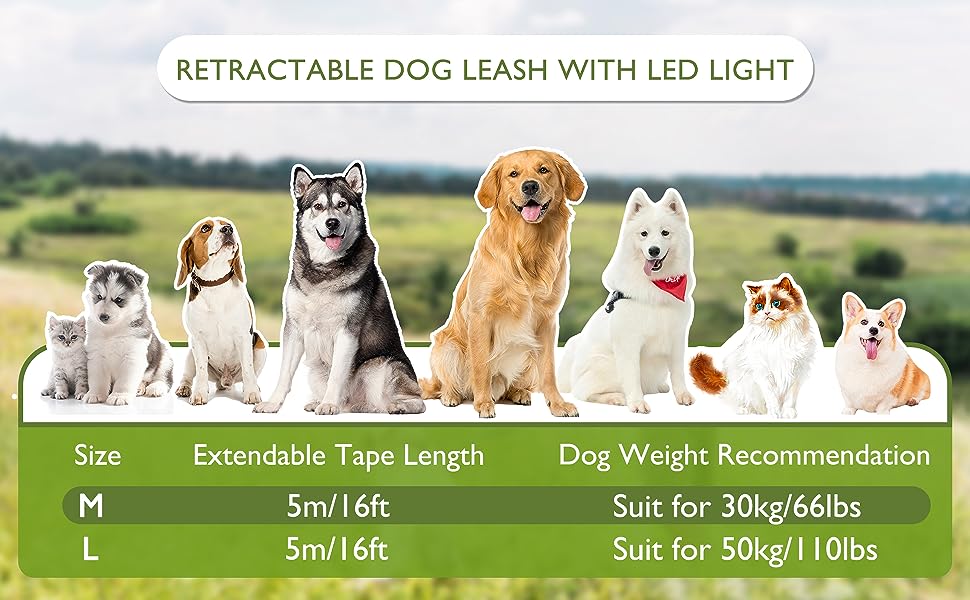 Step Up Your Walk Game, Today!
Hey there, fabulous pet parent, the universe just aligned to bring you the leash of your dreams, and trust us, you don't want to let this one slip through your fingers! Imagine stepping out with your fur baby, turning heads and wagging tails wherever you go. It's not just a walk, it's a statement, a revolution, a daily dose of fabulousness that awaits you and your pet. So why wait? Step into a world of comfort, style, and downright awesomeness with the TailTrail Advanced 26FT Retractable Dog Leash. But hurry, because a leash this fabulous won't stay on the shelves for long!
Join the TailTrail Revolution!
We know a star when we see one, and darling, you and your pet are about to shine brighter than ever before! Join the legion of happy pet parents who have transformed their walks into a joyous parade of fun, freedom, and flair. Remember, a walk with TailTrail isn't just a walk; it's an event, a celebration, a daily dose of joy that's just a click away. So go ahead, add a sprinkle of magic to your daily walks. Click that 'Buy Now' button and join the TailTrail revolution today. Your fabulous journey awaits!
The TailTrail Tech Talk
For those who appreciate the finer details, here's a peek under the hood of the TailTrail Advanced 26FT Retractable Dog Leash:
Leash Length: A generous 26 feet of high-strength nylon rope, giving your pet the freedom to explore while you maintain control.
Material & Construction: A robust ABS hard shell casing housing a rust-proof hook and internal coil spring mechanism, promising durability and longevity.
Handle: Ergonomic non-slip handle designed for comfort and easy one-handed operation.
Safety Features: Reflective components for night-time visibility and a quick lock system for enhanced safety and control.
Extras: Comes with a removable dispenser for convenience and a high-capacity battery powering the retractable mechanism.
Versatility: Suitable for large breed dogs and cats, offering a versatile solution for pet owners with different types of pets.
Customer Support: Backed by a responsive customer support team, ready to assist with any concerns or queries.
Ready to embrace the future of pet walks? The TailTrail Advanced 26FT Retractable Dog Leash is here to revolutionize your walking experience, offering a blend of style, functionality, and unparalleled quality. Get ready to step into a world of joyous walks and happy tails with TailTrail!