Hey There, Canine Connoisseur!
Oh, we see you, the discerning pet parent, the one who knows that a walk isn't just a walk, it's a grand adventure, a daily dose of joy sprinkled with a dash of glamour. You're not just looking for a leash; you're on the hunt for the pièce de résistance of dog walking accessories. Well, brace yourself, because we're about to introduce you to the GripLeash 26FT Heavy-Duty Retractable Dog Leash, the leash that's about to make you and your fur baby the talk of the dog park!
Step into a World of Unleashed Comfort and Style!
Picture this: a sunny morning, a wagging tail, and a leash that promises not just a walk, but a strut down the runway of your neighborhood. Yes, darling, we're talking about a leash that combines the strength to reign in a boisterous bulldog with the finesse to let a graceful greyhound sashay with style. It's not just a leash; it's a ticket to a walking experience that's as smooth as your pup's coat and as refreshing as morning dew!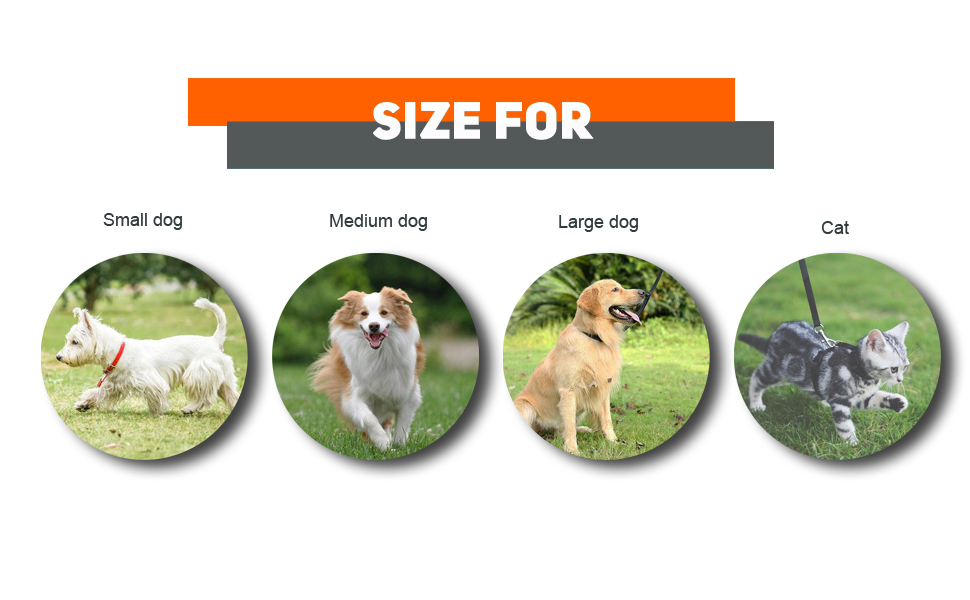 The GripLeash Revolution: Where Function Meets Fashion
Now, let's get down to brass tacks, because we know you're all about the details. Imagine having the power to control, pause, and lock the leash with just one hand, freeing the other to snap those adorable pet selfies or wave at your fellow fabulous pet parents. And let's not even start on the tangle-free nylon tape; it's like having a personal assistant that ensures every walk is a breeze, no knots attached!
So, are you ready to step up your walk game and join the GripLeash revolution? Trust us, once you go GripLeash, there's no going back!
Stroll in Style with 26 Feet of Freedom!
Oh honey, imagine giving your fur baby a whole runway to strut their stuff! With 26 feet of nylon tape, your dog can explore, play, and flaunt their fabulous tail to the world, all while you hold the reins with grace and ease. It's like giving your pet their very own red carpet at the park!
No More Tangle Tango!
Say goodbye to the frustrating dance of untangling leashes. The GripLeash promises a smooth, knot-free experience, letting you and your pet sashay down the street without a care in the world. It's like having a personal assistant smoothing the way for your pet's grand entrance wherever you go!
One-Hand Wonder!
Ever wished for an extra hand during walks? Well, your wish is our command! The GripLeash offers one-handed brake, pause, and lock system, freeing your other hand for important tasks like holding your coffee or waving at your adoring fans. It's like having a magic wand that controls the pace of your walk with a flick of your wrist!
Night-Time Glamour and Safety!
Who says safety can't be glamorous? With reflective nylon tape, you and your pet will shine bright even during those moonlit walks, adding a touch of sparkle while keeping you both safe. It's like having a spotlight that follows you, making every night walk a star-studded event!
Light as a Feather, Strong as a Rock!
Don't let the heavy-duty tag fool you; this leash is a breeze to carry around, offering strength without the weight. It's like having the strength of a bodyguard with the grace of a ballet dancer, a perfect combo for those stylish yet comfortable walks!
A Leash that Loves Your Large Fur Baby!
Whether you have a robust Rottweiler or a magnificent Mastiff, this leash is designed to handle the grandeur of medium to large dogs with ease. It's like having a bespoke accessory crafted just for your majestic fur baby, offering comfort and style in one package!
Customer Service that Sparkles!
And because we believe in sprinkling a little magic wherever we go, our customer service team is here to dazzle you with their responsiveness and assistance. It's like having a fairy godmother on speed dial, ready to assist you in making your GripLeash experience nothing short of magical!
Grab the Leash that Leads the Pack!
Hey there, fabulous pet parent! The universe just aligned to bring you the leash of a lifetime, and trust us, you don't want to miss out on this golden opportunity. Imagine stepping out with your fur baby, turning heads and wagging tails wherever you go. It's not just a walk, it's a daily dose of fabulousness that awaits you and your pet. So why wait? Step into a world of comfort, style, and downright awesomeness with the GripLeash 26FT Heavy-Duty Retractable Dog Leash. But hurry, because a leash this fabulous won't stay on the shelves for long!
Become a Part of the GripLeash Glam Squad!
We know a star when we see one, and darling, you and your pet are about to shine brighter than ever before! Join the legion of happy pet parents who have transformed their walks into a joyous parade of fun, freedom, and flair. Remember, a walk with GripLeash isn't just a walk; it's an event, a celebration, a daily dose of joy that's just a click away. So go ahead, add a sprinkle of magic to your daily walks. Click that 'Buy Now' button and join the GripLeash glam squad today. Your fabulous journey awaits!
GripLeash Tech Specs: The Nitty-Gritty
For those who appreciate the finer details, here's a peek under the hood of the GripLeash 26FT Heavy-Duty Retractable Dog Leash:
Leash Length: A generous 26 feet of high-strength nylon tape, giving your pet the freedom to explore while you maintain control.
Material & Construction: A robust ABS hard shell casing housing a rust-proof hook and internal coil spring mechanism, promising durability and longevity.
Handle: Ergonomic non-slip handle designed for comfort and easy one-handed operation.
Safety Features: Reflective components for night-time visibility and a quick lock system for enhanced safety and control.
Extras: Comes with a removable dispenser for convenience and a high-capacity battery powering the retractable mechanism.
Versatility: Suitable for medium to large dogs, offering a versatile solution for pet owners with different types of pets.
Customer Support: Backed by a responsive customer support team, ready to assist with any concerns or queries.
Ready to embrace the future of pet walks? The GripLeash 26FT Heavy-Duty Retractable Dog Leash is here to revolutionize your walking experience, offering a blend of style, functionality, and unparalleled quality. Get ready to step into a world of joyous walks and happy tails with GripLeash!