A Smooth And Enjoyable Ride You And Your Pet Will Enjoy With K-Nine 3-Wheel Foldable Red Pet Carrier!
Would you rather just stay home than go through all the trouble of taking your pet out, worry about their safety, and stress instead of having a good time? What if your pet is injured and can't walk normally? We've got exactly what you need!
The K-Nine 3-Wheel Foldable Red Pet Carrier is an ultra-lightweight, easy-to-fold stroller that will keep your pet moving with you at all times. Whether you are traveling, shopping, playing with your friends, or walking to the park, it will be the best ride for your best pal and a hassle-free stroll for you!
Features
SOLID ZIPPERS. Our pet carrier uses fiber zippers instead of plastic zippers to make it very solid and with 5000 more times working life. You won't need to worry about your pets sneaking out.
DURABLE WHEELS. Our cat & dog stroller has three durable wheels, with two swivel front wheels for easy navigation. They are made of strong, high-quality plastic for a smooth ride through malls and parks for hours long.
COMFORT FOR PETS & OWNERS. Any pet that weighs up to 33 pounds will love to enjoy the sights or take a nap in the comfort of his own wide padded space. Owners will love also the extra storage areas for their water bottles, keys, treats, toys, etc. It has everything you need for a comfortable and enjoyable time with your lovely pets.
KEEP YOUR PETS SAFE. Our pet stroller features rear brakes for safety and will not move on its own. You can enjoy your time shopping, exercising, or talking to friends, knowing your pet is safe inside its spacious carrier.
LIGHTWEIGHT AND FOLDABLE. You can easily open and fold the K-Nine pet carrier, making it perfect if you're always on the go. It's lightweight and compact so you can put it in your trunk and store it away in a cabinet.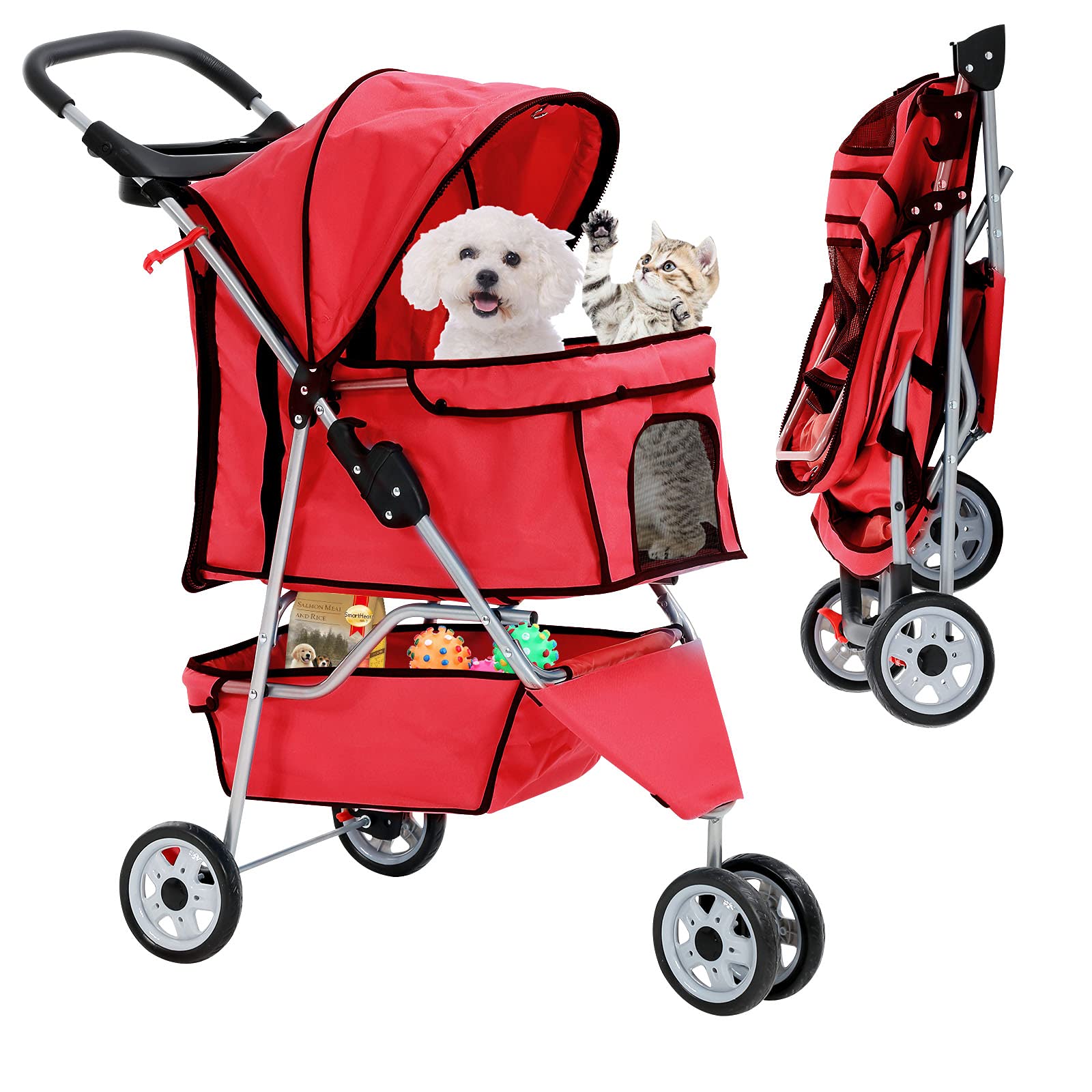 Why Choose The K-Nine 3-Wheel Foldable Red Pet Carrier
Nylon Joints & Aluminum Alloy Frame
Its sturdy structure is made of lightweight and quality materials. It is easy to fold, carry around, and fit into the trunk of your car.
360 Degree Swivel Front Wheels
Its large 6″ wheels easily can change the direction of the stroller to glide easily over smooth or rough terrain.
Rear Safety Brakes Wheels
You only need to step on the brakes to enjoy your personal time while your beloved pet stays safe and comfortable inside.
Waterproof Fabric
Our pet carrier is made of high-quality waterproof cloth so you don't have to worry about the interiors or exteriors getting wet.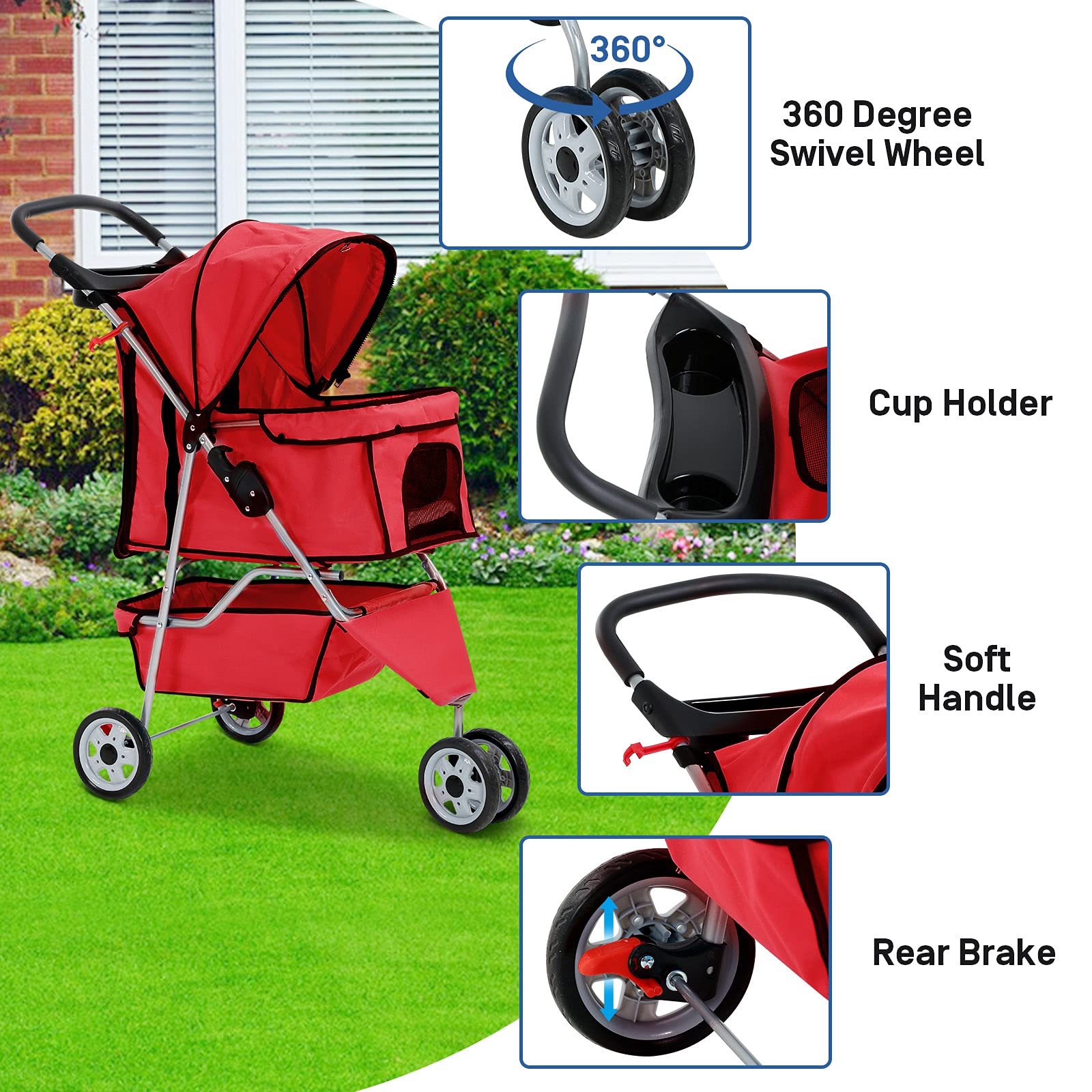 Removable Cleaning Pad
There are removable, easy-to-clean cushions in the car, giving your pet a comfortable environment.
Durable Zipper
You can zip the mesh window down so they don't try to jump out while allowing them to breathe easily when traveling.
Cup Holder
There is a cup holder under the handle for you to conveniently put and easily reach for your cellphone, coffee cup, or water bottle.
Large Extra Basket
There are extra storage areas for your pet treats and toys or to hold the owner's personal belongings, handbag, or purchases.
Package Inclusions