It's Always A Great And Hassle-Free Time Bonding With Your Best Pal Thanks To The GenX Pets Foldable Dog Stroller & Travel Carriage!
Kitties and pups are man's best friends. How pleasant would it be to take your furry friend along on long walks or jogs and enjoy the charming scenery on a sunny afternoon?
The GenX Pets Foldable Dog Stroller & Travel Carriage is the best way to keep your lovely pet with you in all of your adventures—whether it's traveling to the park, walking around the block, or even shopping at the mall!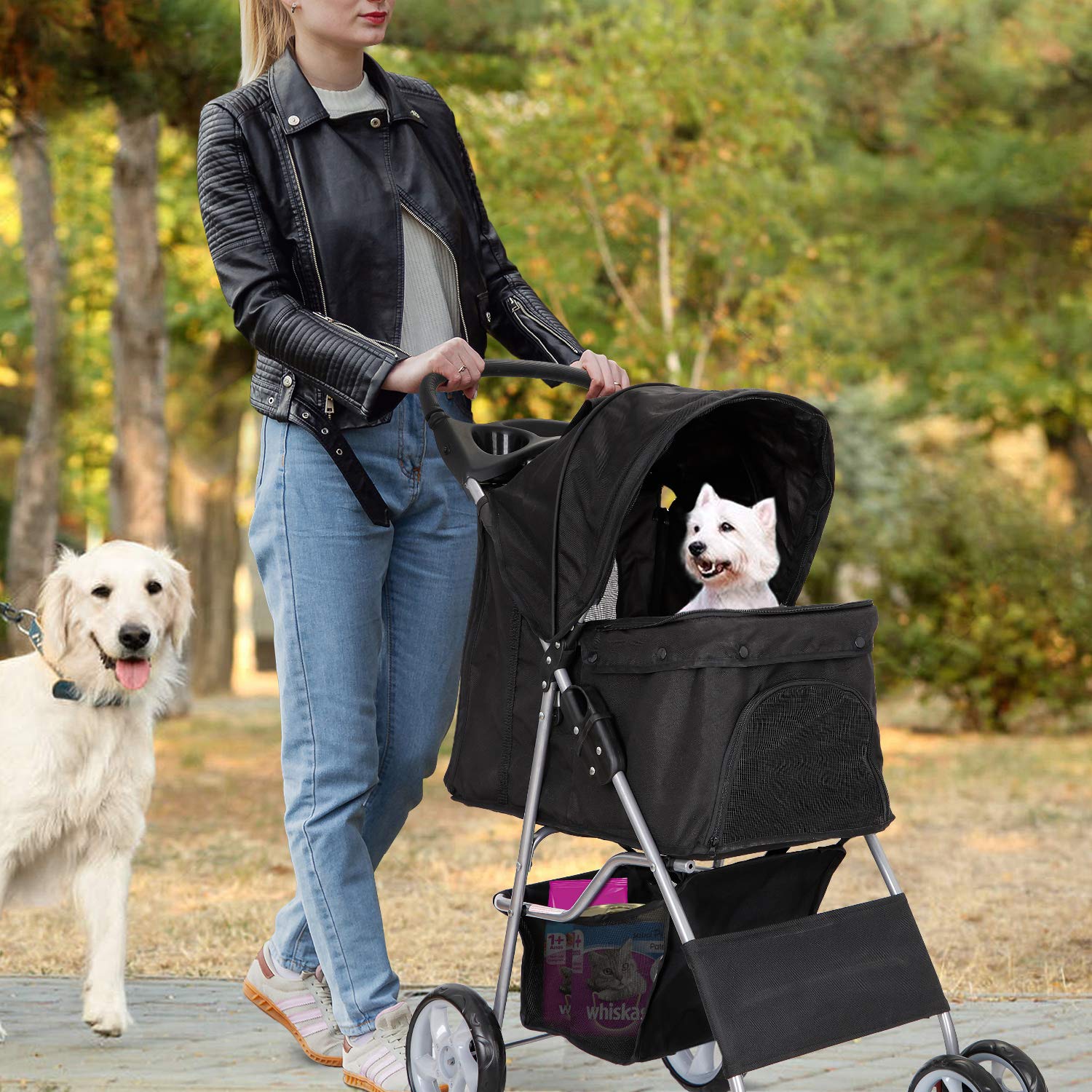 Features
EASILY STORE AWAY. Folds up into a compact size for convenient storage that saves space in your cabinets or trunk.
UNFOLD AND GO. Set up this dog stroller with ease and in an instant—no special tools required.
A HAPPY STROLL. Breathable mesh covers provide proper ventilation and a great view for your best pal.
WATERPROOF OXFORD CLOTH. Made to be low maintenance with high performance.
COMFORT ALL THE WAY. Includes a padded bottom to provide added comfort for long strolls.
EXTRA STORAGE. Features dual cup holders and a center tray for both of your belongings.
CONVENIENT DESIGN. Front and back zipper access will be easier for you to put your pet in and out.
SAFETY FIRST. Four wheels ensure a stable ride with rear brakes for safe use.
THE ONLY ONE YOU NEED. Constructed of stainless steel tubes durable enough to last years of use.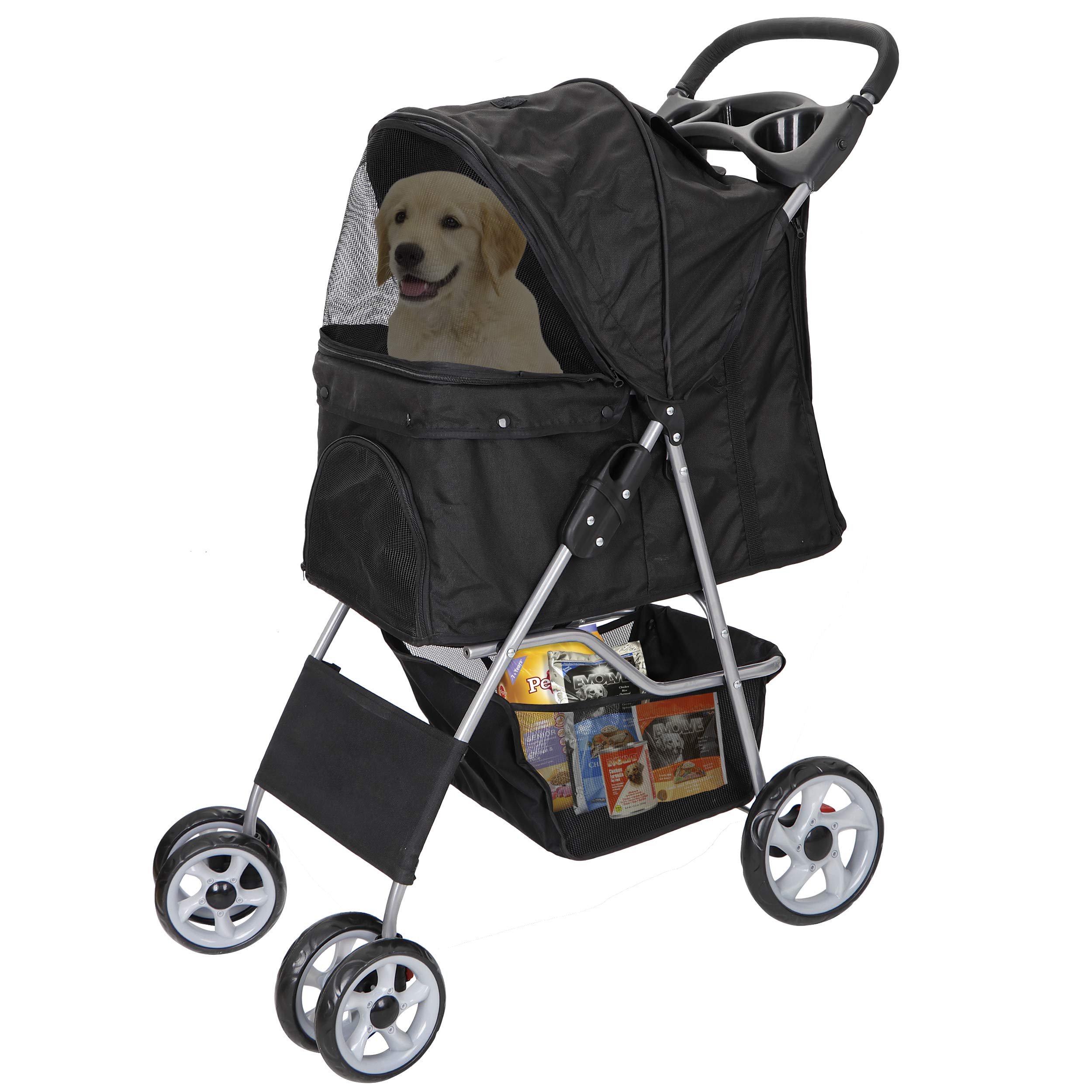 Durable and Comfortable
It's made of durable Oxford cloth that's water-resistant and tough enough to hold up to 30 lbs. You will never have to worry about your pets getting wet while inside the stroller. The padded foam bottom provides added comfort, so your little furry friends will feel surrounded by love and warmth.
Mesh Window with Zippers
It features front and back zipper access for ease of use. The mesh windows not only satisfy your pet's curiosity but allow them to enjoy the outside world, sunshine, and scenery while promoting adequate airflow and making them feel cool and comfortable. At the same time, the top mesh panel helps you keep a close eye on them inside the stroller.
Convenient Design
Quickly set the dog stroller up with no tools required. Afterward, just fold it up to its compact, space-saving size for convenient storage. The dual cup holders and center tray near the handle are for storing dog toys, treats, a water bottle, your phone, keys, etc. It's ideal for taking your little friend anywhere with you—whether it's to the park for a walk or to the mall for shopping.
Flexible Wheels
Four wheels roll the stroller around. The two front wheels have a 360° swivel for smoother transportation, even on the roughest terrain. There are locking brakes for safety, security, and to keep the stroller in place. It's perfect for carrying around an injured, sick, scared puppy or a senior dog.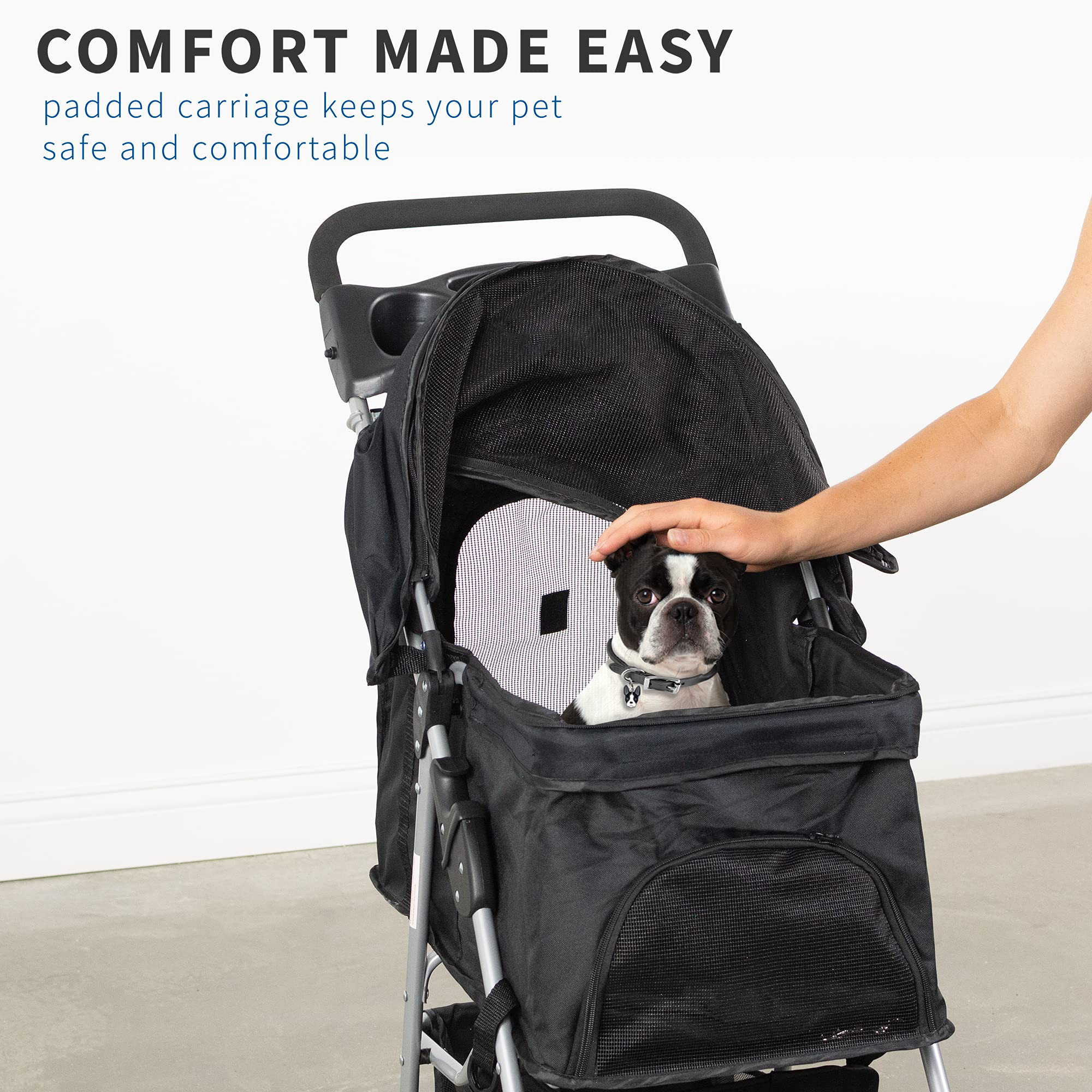 Specifications
Color: Black
Material: 400D Oxford + Stainless Steel
Product Size: 39.4″x29.5″x18.5″
Rear Window: 9.8″x7.5″
Top Small Window: 6.7″x4.7″
Internal Space Size: 21.7″x13.4″x21.3″
Bottom Storage Basket: 10.6″x10.6″x10.2″
Handrail Spacing: 13″
Cushion: Sponge 21.7″x13.4″
Weight Capacity: 35lbs
Package Inclusions