Give your best friend a safe space to play and move around when you're gone for some time with the Fun O' Pets Collapsible Exercise Playpen. No need to worry about them running loose around the house.
Suitable for both indoor and outdoor use, this is great for nursing mothers and their little ones, an alternative yard without the harsh fences, or for playtime and a breath of fresh air.
It's lightweight, easy to set up, and folds neatly into its tote with handles, so you can take it with you when you go camping, to the park, or on your next weekend getaway.
And don't think this animal playpen is just for dogs or cats. Rabbits, guinea pigs, hamsters, and even gerbils can enjoy the free-roaming space too!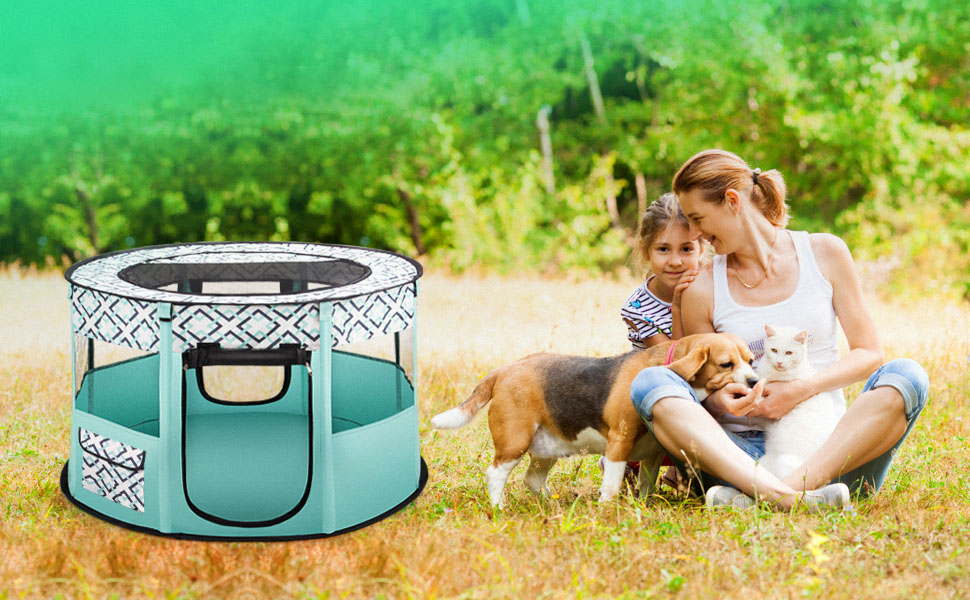 Features
Portable and Lightweight. This foldable pet playpen is a great alternative to a traditional kennel. Being light, but strong makes it ideal for travel, camping, and easy mobility. It also folds up when not in use for easy transport and storage. It comes with a practical carrying case.
Strong Durability, Easy to Assemble. The protective seams and reinforced corners ensure the safety of your little pups when playing. It is made of quality waterproof material and features a spacious 8-panel design to provide a spacious interior for your pet to play.
Pet-Friendly Design. Two doors roll up and snap open without getting in the way providing easy access for your pets, and a 360-degree open mesh to provide a clear view of the environment. The outer bag can store other things like pet toys and snacks.
Practical and Versatile. A great tent for dogs, cats, rabbits, and other small animals. Open it up on your lawn, garden, or anywhere in your house, and give your pet more space to play or nap. You can even use it as a delivery and nursing room for new pet moms.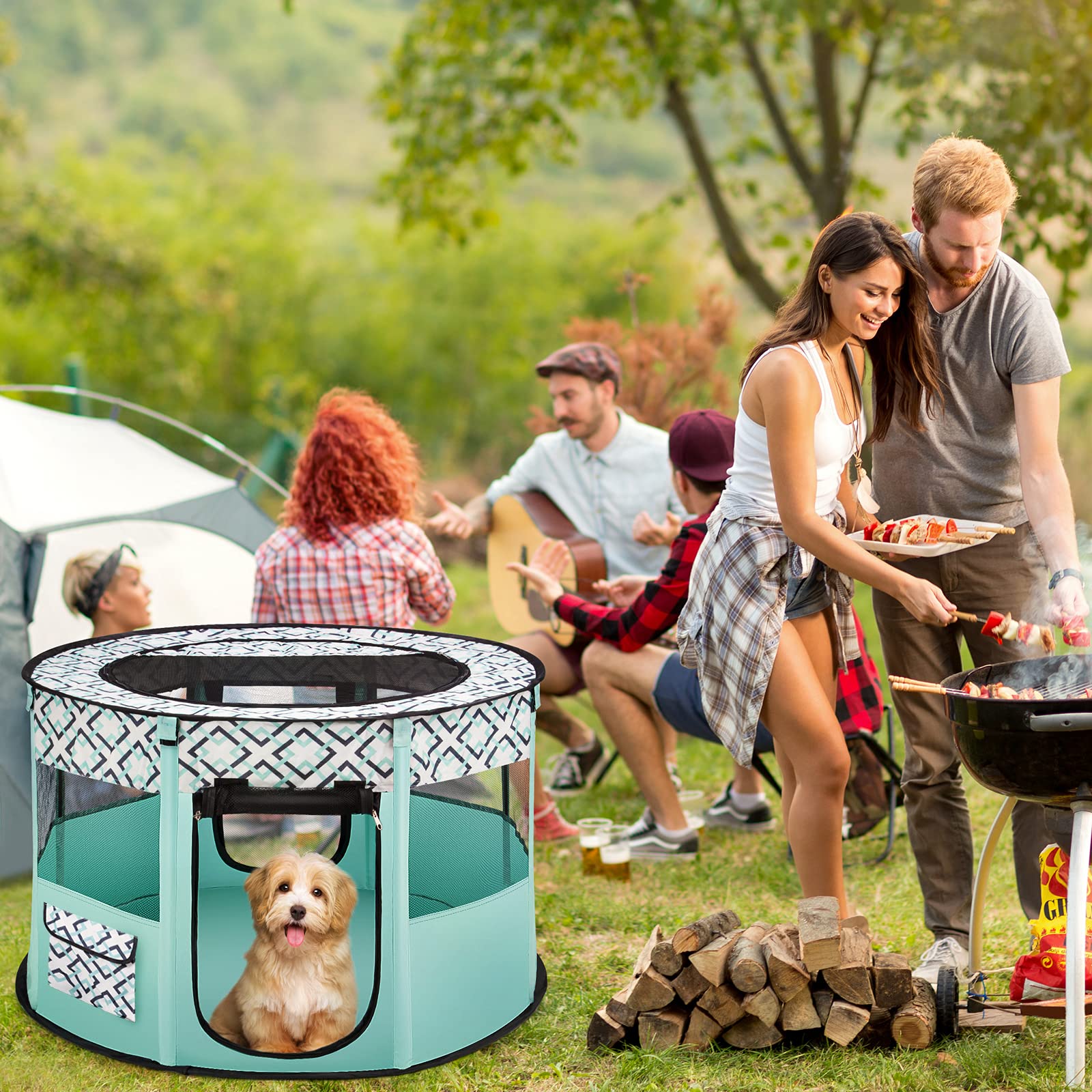 Why Consider a Pet Playpen?
Gives your pet more space to play and move around when you are gone for some time. Free your mind of any worries from letting your pet run loose around the house. Lightweight and portable, perfect for an on-the-go family who loves to travel.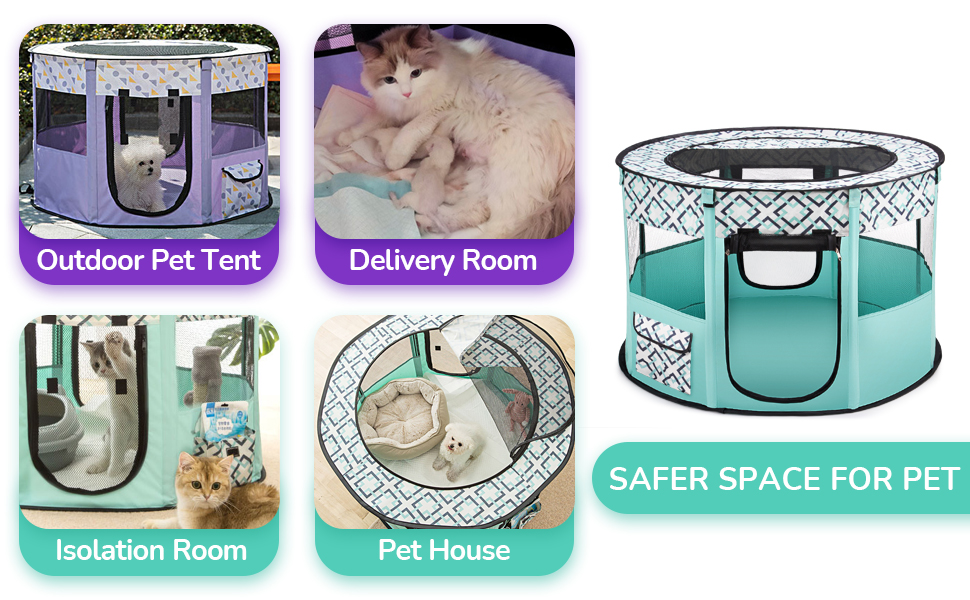 Size Options
Small: 72 x 72 x 45cm/29 x 29 x 16in approx.
Medium: 90 x 90 x55cm/36 x 36 x 22in approx.
Large: 110 x 110 x 60cm/43.5 x 43.5 x 23.5in approx.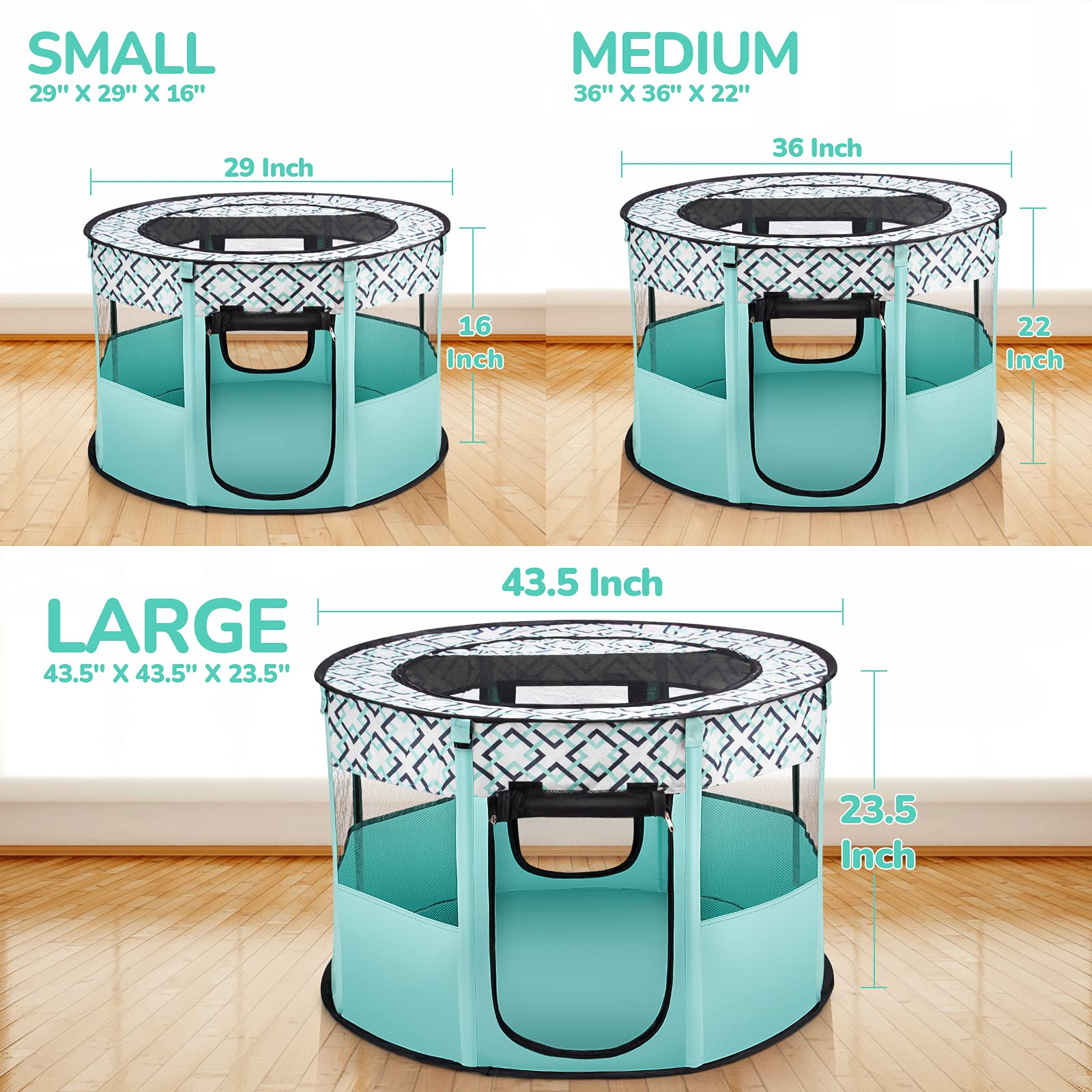 Easy Installation
To unfold the playpen, remove the playpen from the carry-case.
Push the sticks into place and repeat for all connections.
Zip the top zipper.
Your amazing pet play.
Care Instructions
To clean, hand wash only in cold water.
Do not bleach or fabric softener.
Do not drain or tumble dry, air dry.

Product Specifications
High-Quality, Waterproof 600D Oxford Fabric
Extra Pocket for Neat Storage
Breathable & Comfortable Space for Pets
Foldable & Portable With Storage Bag
Soft, Sturdy Exercise Playpen
Package Inclusions
1 x Foldable Pet Playpen
8 x Sticks