Your Dog's Happy Protector from the Rain.
Keep your pet comfortable and dry even in the worst weather conditions. And, when it comes to protection, there's nothing better than the DogCamp Outdoor Dog Raincoat!
The DogCamp is made of 100% polyester waterproof fabric, which is breathable, wear-resistant, tear-resistant, durable, and easy to clean. And yes, no matter how hard it pours, it'll keep your furry friend all warm and dry. It even comes with fastener straps on each leg and a full cover on the dog's face to give your dog total protection.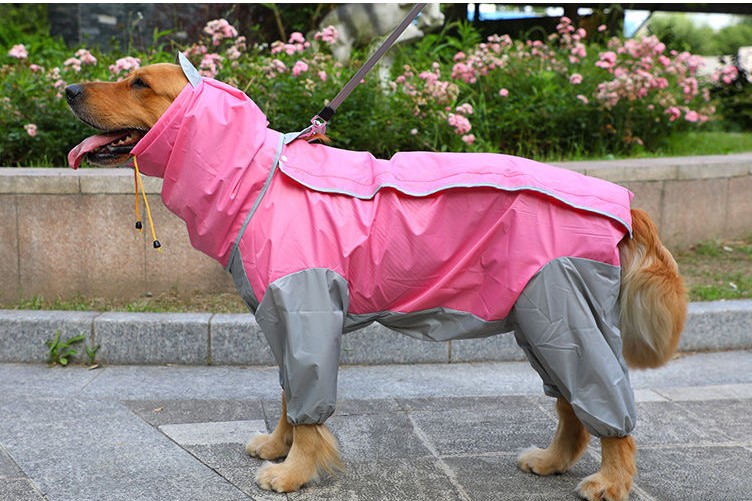 You can take it anywhere!
The DogCamp can give your dog protection from the rain anywhere you'll go. It can be folded up into a front pocket so that it's quick to unfold whenever it pours. And it's machine-washable too, so there's no need to worry about getting it all wet and dirty.
What's more? It comes with a built-in belt hole that connects the belt to the collar under the raincoat so that your dog can dash at any time.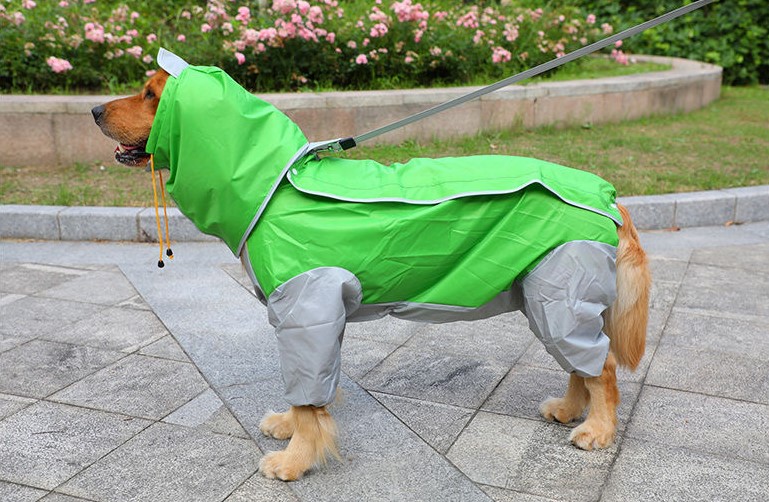 FEATURES:
Double Waterproof Design: This feature is suitable for blizzards, typhoons, hurricanes, and rainstorms. It also comes with windproof and tear-proof functions to ensure it can withstand all weather conditions.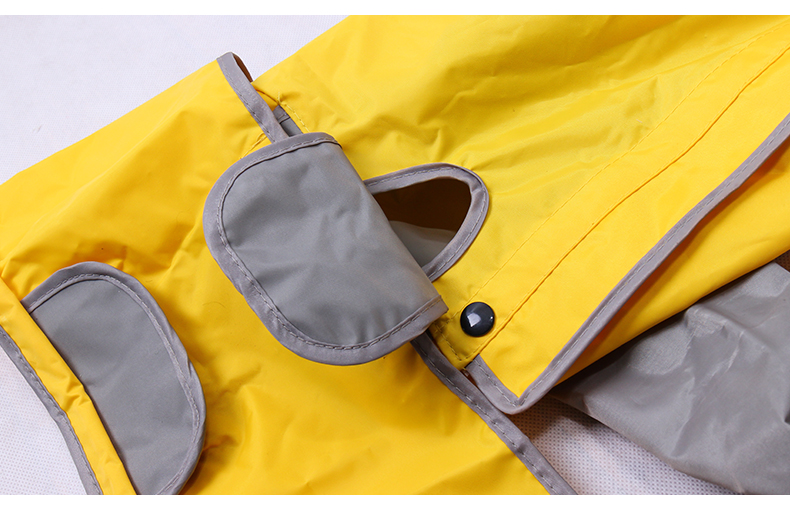 Cuttable Hole for Peeing: If you have a male dog, the DogCamp comes with a convenient hole that you can cut to allow your dog to pee freely. Meanwhile, if your dog is a female, you can keep it as is.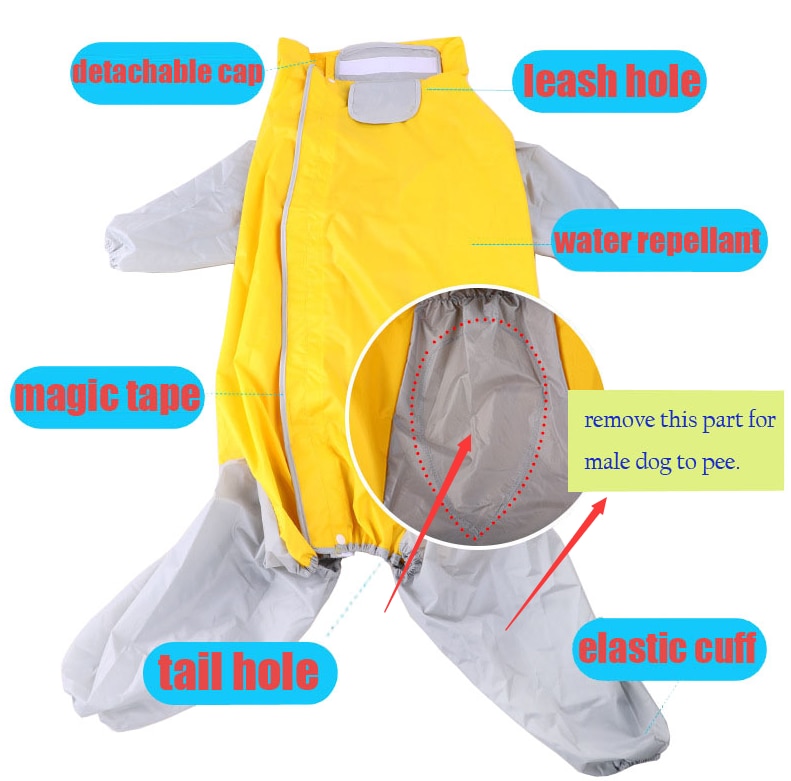 Easy to Wear: Our DogCamp Raincoat comes with a button closure and velcro design to ensure an easy, comfortable, and easy to put on and off fit. The back is designed with velcro, which is convenient to wear and prevents water from entering. Meanwhile, the hat is detachable (has a drawstring), and can be adjusted to make your pet feel comfortable.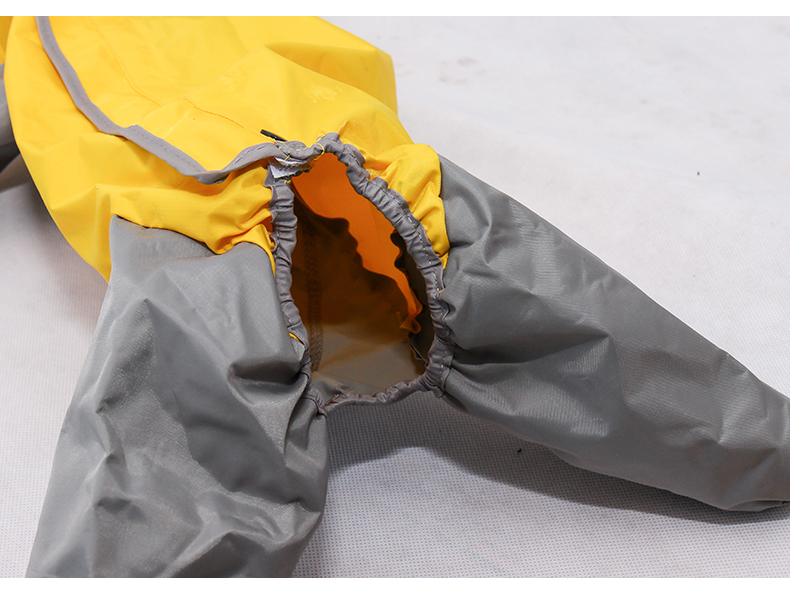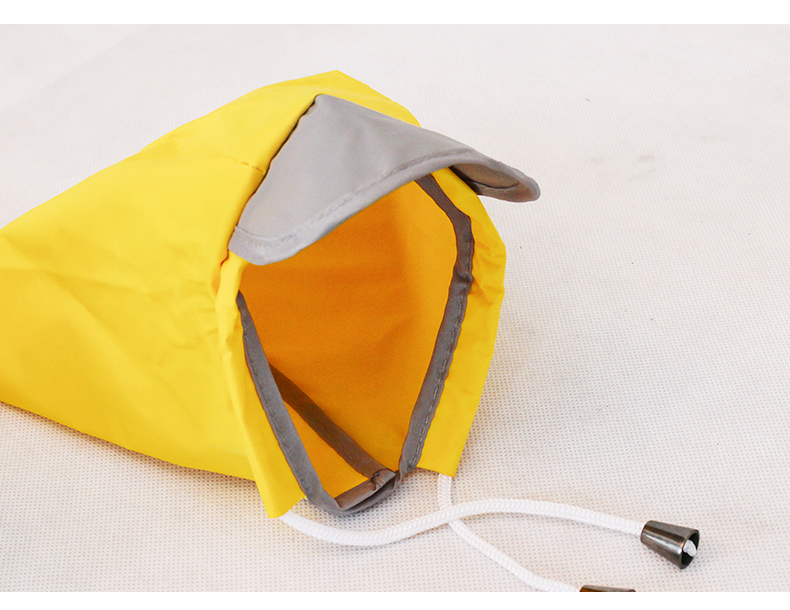 SIZE CHART
Tips:
Manual measurements may have 1-3 cm errors.
The real color may slightly differ from pictures due to your device screen's resolution, brightness, contrast, etc.
For growing dogs, please choose a size bigger than the actual one.
Please measure the size of your pets precisely and refer to our sizing chart in advance.
Specification
Material: Polyurethane (PU).
Color: Yellow, Pink, Green
Size: 12 | 14 | 16 | 18 | 20 | 22 | 24 | 26 | 28 | 30